Courtesy of Club del Doge at The Gritti Palace, a Luxury Collection Hotel, Venice
Winter isn't exactly peak season for tourism in Venice—and that's exactly why it's the best time for you to visit. Unlike summer, when the city belongs to out-of-towners, La Serenissima in winter is deserted, quiet, and, yes, serene. If the mist-shrouded canals and melancholy romance aren't enough of a draw, rooms at luxe hotels like The Gritti Palace and the Baglioni Hotel Luna are available for a fraction of their high-season rates, while landmarks like Saint Mark's Basilica sit blissfully empty. There's still plenty of excitement, if you seek it: Carnevale kicks off on January 23, breathing life into the city's sleepy streets with food, music, and dancing. Sure, Venice is enchanting any time of year—but go now, while you can have it all to yourself.
—Krisanne Fordham
From January 23 through February 9, La Serenissima sloughs off its winter gloom and comes alive for Carnevale, an annual open-air festival that fills the city with music, dancing, and masked party-goers. There are events every day—from colorful boat parades on the banks of Cannaregio to masquerade balls—but the highlight of Carnevale is the world-famous masked costume contest that takes place in Piazza San Marco on February 7. Also not to be missed: The King's Banquet, a nightly feast held at Venice's magnificent historic shipyard, Arsenale, beginning January 30 (tickets must be booked online in advance).
PLAN YOUR TRIP: Visit Fodor's Venice Guide
Courtesy of Vela Spa
Every winter, from the beginning of December until the end of Carnevale, Venice's largest square, Campo San Polo, is turned into a gigantic ice-skating rink. The ovoid rink, which can accommodate up to 200 skaters, features a decorative ice sculpture at its center and is flanked by market stalls selling food, mulled wine, and local arts and crafts. A day pass to the rink is quite reasonable for Venice: €10 for adults and €8 for children, with rental skates included. Pro tip: visit after dark to avoid the crowds and skate amid the glittering city lights.
PLAN YOUR TRIP: Visit Fodor's Venice Guide
Courtesy of Caffè Florian
Hot Chocolate at Caffè Florian
Being Italy's oldest coffee house, opened in 1720, the iconic Caffè Florian is worth visiting any time of year. But during the chilly, dark days of winter, its plush red velvet banquettes and warm ambiance are especially enticing. What you're here for is the hot chocolate: it's thick, creamy, and ganache-like, served in a porcelain cup with biscotti for dipping. It's no wonder that literary greats like Casanova, Goethe, Proust, and Dickens were said to be regulars, finding inspiration in the caffè's charming atmosphere and belly-warming beverages (try Casanova's namesake hot chocolate, topped with mint cream and chocolate shavings).
PLAN YOUR TRIP: Visit Fodor's Venice Guide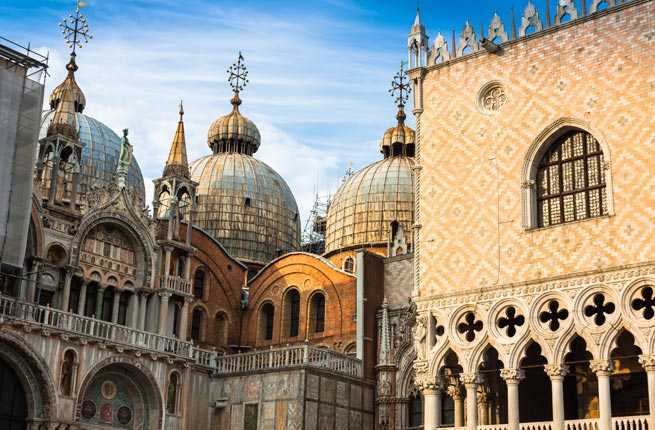 Perszing1982 | Dreamstime.com
There's no denying the magnificence of Saint Mark's Basilica, Italy's most famous Byzantine cathedral, even when it's packed with tourists. But in the off-season, when it's deserted? Downright magical. You don't have to line up for hours for a peek at its glittering cupolas and priceless relics, or fight through a suffocating crush of tourists to admire the lavish, gem-studded Pala d'Oro (High Altar). On those chilly winter mornings, you'll have the Basilica—and its 40,000 square feet of gold-backed mosaics—practically to yourself.
PLAN YOUR TRIP: Visit Fodor's Venice Guide
Alzaika | Dreamstime.com
A gondola ride might not sound appealing in below-freezing temperatures, but winter is actually the most romantic time to hop on board. From December through February, the canals are hauntingly quiet, shrouded in mist and illuminated by soft, hazy winter light—like a scene straight out of a movie. Steer clear of the congested Grand Canal, which is best seen by the cheaper traghetti ferries anyway, and head for the gondola stops along the small, narrow side canals for a more tranquil and authentic experience. Added bonus: being low season, it's much easier to broker a lower price with your gondoliere (you can likely knock €5–10 off the steep €80 average for a 30-minute ride).
PLAN YOUR TRIP: Visit Fodor's Venice Guide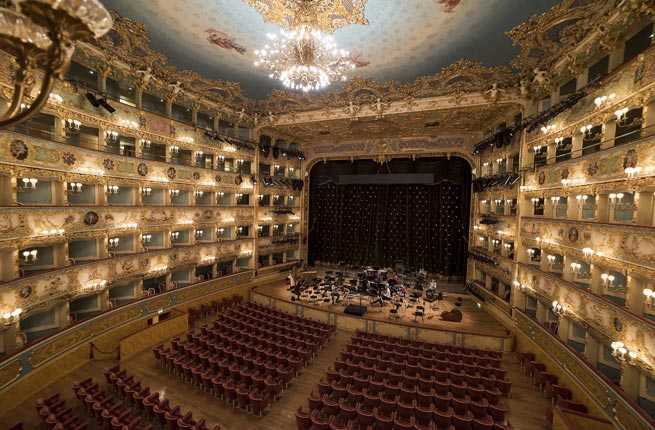 Olegslabinskiy | Dreamstime.com
A trip to Venice would be incomplete without enjoying the spectacular acoustics at Teatro La Fenice, one of Europe's oldest and most beautiful opera houses, built in 1792. This winter season offers an especially crowd-pleasing program of Mozart and Verdi, brought to life by one of the country's top new conductors, Daniele Rustioni. At this time of year, you can score a gallery ticket for as little as €38—but you don't even need to catch an opera in order to gawk at La Fenice's jaw-dropping interiors. Every day, guides offer one-hour tours of the theater for just €10 (you might even catch a rehearsal, if you're lucky).
PLAN YOUR TRIP: Visit Fodor's Venice Guide
There's no better place to "waste" a chilly winter afternoon in Venice than at its most charming bookstore, Libreria Acqua Alta (literally translated as the "High Water Bookstore"). Tucked behind a canal in the Castello sestiere of Venice, it's packed with thousands of new and used hardcovers, paperbacks, magazines, and comic books messily shelved in gondolas and old rowboats to keep them dry during high tide. Settle in one of its cozy corners with a good book, or stop and chat with the bookstore's 73-year-old owner, Luigi Frizzo, who speaks six languages and will happily regale you with stories from his world travels.
PLAN YOUR TRIP: Visit Fodor's Venice Guide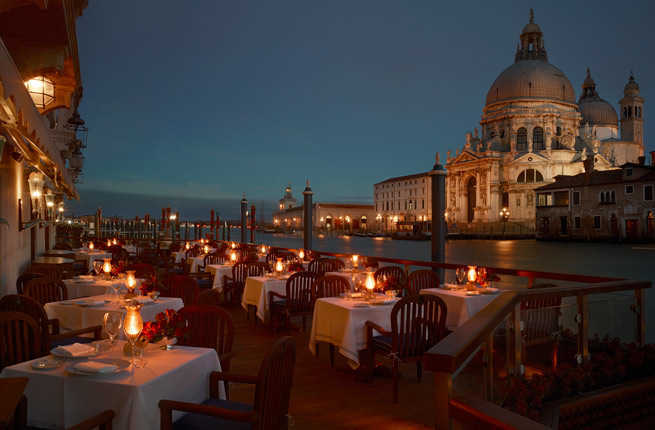 Courtesy of Club del Doge at The Gritti Palace, a Luxury Collection Hotel, Venice
Club del Doge is an institution in Venice: for starters, it's the signature restaurant of the historic Gritti Palace hotel and boasts some of the best views over the Grand Canal in the entire city. This winter, you'll find a hearty menu crafted by award-winning Chef Daniele Turco, filled with Venetian comfort food favorites like white bean soup, cuttlefish ink pasta, and four kinds of risotto (the basil-lemon risotto with citrus cream and flower petals is outstanding). The restaurant is packed nightly with locals and visitors even during low season, so make dinner reservations at least a week in advance.
PLAN YOUR TRIP: Visit Fodor's Venice Guide
Courtesy of Baglioni Hotel Luna
Venice's oldest hotel dazzles any time of year, but it's especially inviting in the winter with its burning fireplaces and plush, 12th-century decor. With only 68 rooms, the Baglioni Hotel Luna is intimate all year round, but during low season you'll have the whole place practically to yourself, and at a fraction of the regular cost (deluxe rooms can be booked for as low as €270 per night in January, compared to €490 in July and August). This winter, the hotel will host a number of Carnevale-related events in its fresco-covered Marco Polo Ballroom, including a masquerade ball on January 30 and dinner show on February 6 (tickets must be booked online in advance).
PLAN YOUR TRIP: Visit Fodor's Venice Guide
Courtesy of Peggy Guggenheim, Venice; Photo by AndreaSarti/CAST1466
Peggy Guggenheim Collection
This year's winter program at the Peggy Guggenheim Collection is one of the most exciting yet, with the newly launched exhibition A Recent History showcasing the work of American and European artists in the postwar era. If it's your first visit to the museum, begin by exploring their outstanding permanent collection—one of Italy's most important modern art collections—featuring works by Picasso, Miró, Dalí, and Pollock. The Nasher Sculpture Garden, which features installations by Fritz Koenig and Yoko Ono, is also worth a visit and is one of the few lush green spaces in all of Venice. Speak Italian? The museum also offers art classes taught by local artists from February through March.
PLAN YOUR TRIP: Visit Fodor's Venice Guide