Wynn's Hotel
35–39 Lower Abbey St., Dublin, Co. Dublin, Dublin 1, Ireland
A few doors down from the Abbey Theatre, Wynn's began its life as a Dublin boardinghouse in 1845, and its beautiful stained-glass awning has become something of a landmark as a romantic meeting spot for locals since. The hotel is bustling and friendly, with a faint sense of a bygone era, but comfortable and stately. The street has an excited buzz around curtain time, too.
YOU SHOULD KNOW Some guests have reported concerns about noise because of the hotel's central location, and particularly if there are events in the property itself, but you can ask for a quiet room.
room
Although the rooms are not huge, they include nice touches, including fireplaces and ornate cherrywood beds. The decor attempts to blend a hint of the past with a sleeker modern look, not always successfully, but overall there's a warm, comforting feel to the design.
Photo: Deluxe Double
Photo: Classic Twin
Photo: Bathroom
bathroom
Bathrooms are surprisingly spacious, some with walk-in showers, and some with bath tubs with showers.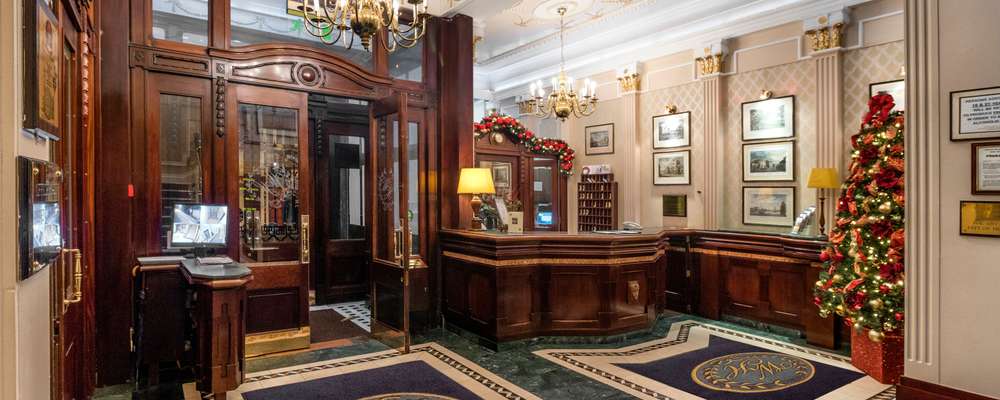 Photo: Lobby
lobby
The lobby has the stately old feel that befits a hotel of the Wynn's heritage, with a dark wood reception and an old-fashioned pigeonhole key display behind the desk.
Photo: Lobby
Photo: Basement Gym for residents only
gym
The 24-hour fitness suite is underground but has machines, weights and free water.
Photo: Basement Gym for residents only
Photo: The Playwright Restaurant
dining
The hotel's classic restaurant, The Playwright, does a pre-theater special where you can pop back for coffee after the show.
Photo: The Playwright Restaurant
Photo: Saints & Scholars Lounge
drinking
The attractive Saints & Scholars lounge, with its handsome teak and mahogany bar, is a nice spot for a drink. It also serves carvery in the day and a bar menu at night.
The late Irish playwright Hugh Leonard apparently once had a vision of the hotel's lounge bar, imagining that if he peeked behind the sofa he would find the Irish lyricist Percy French singing: "Are ye right there, Michael?" One too many of the hotel's Irish coffees and you might find yourself in a similar state...
Photo: Saints & Scholars Lounge
LOCATION
Getting Around
The hotel is very central, just over the river from Temple Bar and close to most of Dublin's main attractions.
Restaurants
Try Chapter One (10-minute walk) for excellent international food and famous Irish coffees in the Dublin Writers Museum. Or eat in the unique setting of The Church (8-minute walk), a beautiful converted church with large outdoor terraces that serves as a cafe, bar and nightclub.
Bars
The Celt (6-minute walk) is a friendly nearby local, with Irish music every night. Or try secretive Vintage Cocktail Bar (8-minute walk) - there's no sign, just ring the doorbell - for some refined, tasty 1920s-style boozing amid the more raucous surroundings of Temple Bar.
WHY WE LIKE IT
Harking back to a different age in hotels - where beautiful stained glass entrances were de rigeur and Irish writers having visions of your bar were a weekly event - Wynn's has vintage charm, but still delivers on the comfort and professionalism you'd expect from a modern hotel.
QUICK FACTS
HOTEL INFO
Phones: 01-874–5131