Braghetta | Dreamstime.com
Berlin has a reputation for being the "New York of Europe." It's a cultural hub with cutting-edge art galleries, buzzing art bars, and colorful street art. Just as the city is gearing up for building the city's new Museum for Modern Art, here are eight must-see highlights of Berlin's art scene, from an elegant historic museum to David Bowie's old haunt.— Nadja Sayej
Travelwitness | Dreamstime.com
Located at the northern tip of Museumsinsel (Museum Island), this museum is a blast from the elegant past, as most of the items here were created before the 18th century. Built in 1904, the Bode Museum has a collection of Byzantine art, including hundreds of Renaissance, Gothic, and Prussian masterpieces in bronze, marble, and porcelain. The oil paintings lining their galleries originate from Italy, Greece, and Egypt, including rare finds on wood and fabric. The ground floor houses more than 500,000 ancient coins and artifacts dating from the 7th century BCE to the present day. They also have the world's largest gold coin, which is a pizza-sized Canadian dollar worth one million dollars. The museum's architecture is a masterpiece in itself, crowned with a large dome facing the river Spree.
PLAN YOUR TRIP: Fodor's Berlin Guide
Ernst Arno Baur
Set in the west end neighborhood of Charlottenburg, this famed French brassiere was once a hangout in the 1970s for art scene regulars like German artist Martin Kippenberger (who paid for his drink tab in paintings, which hang on the walls here) to David Bowie and Iggy Pop, back when they were roommates in Berlin in 1978. Nowadays, it's become more upscale and diners can indulge in Champagne, oysters, and foie gras. Even today, this is an unofficial social club for the art crowd.
Insider tip: Their fine selection of French wines and German beers are best enjoyed on the front patio in the summertime.
PLAN YOUR TRIP: Fodor's Berlin Guide
Courtesy of the Boros Collection/NOSHE
This former bunker, set the central Mitte district, was built in 1943. It was intended to shelter 3,000 people and was then used as a prison during WWII before it became a nightclub in the 1990s. In 2003, German art collector Christian Boros bought the building to house his modern art collection, which is now open to the public. With 120 rooms on five floors, it includes artworks by Icelandic-Danish artist Olafur Eliasson, British artist Sarah Lucas, and Chinese artist Ai Weiwei.
Insider tip: The collection is open by appointment only and reservations must be made through the website.
PLAN YOUR TRIP: Fodor's Berlin Guide
Shutterstock
Initially commissioned by Sophie Charlotte, the first queen of Prussia, this sprawling Baroque palace was built in 1699. The largest palace in Berlin, it has hundreds of individually-designed rooms filled with decorative details, from 18th-century French paintings by Antoine Watteau to gilded ceilings and velvet furniture. This palace was the summer residence of the Hohenzollern family, as well as Frederick William III. The collection of glassware and porcelain artifacts is on permanent display, as is their stunning collection of Neoclassical and Romantic sculpture.
Insider Tip: The palace's backyard garden is free to visit.
Braghetta | Dreamstime.com
Set in the city's Moabit district, this contemporary art museum brings back a sense of adventure to museum-going. Everything from lasers to inflatable playgrounds have been used in previous exhibitions, so expect to explore art in unexpected ways. Set in a former 19th-century train station, the museum is home to 1,500 modern artworks, most of which were donated by Berlin collector Erich Marx. A few highlights on permanent view include paintings by Cy Twombly and silkscreens by Andy Warhol. Out front, there is a blue and white wooden sculpture by George Baselitz, which looks a bit like a Smurf.
Insider Tip: Check out the onsite restaurant, which serves great schnitzel.
PLAN YOUR TRIP: Fodor's Berlin Guide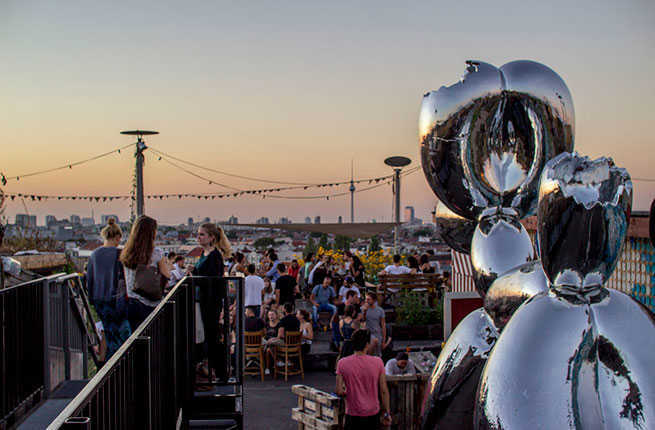 Julian Nelken
Set in the southern district of Neukölln, this rooftop bar offers a stunning view of the city skyline. While this bar and music venue is at the top of an unlikely building—a shopping center—its peculiar entrance adds intrigue. Take the mall's elevator to the fifth floor, walk through a parking lot, and climb up a ramp to this secluded bar, which is home to everything from independent film screenings to experimental rock concerts. Built entirely of wood, it has a treehouse vibe and the communal tables are fit for groups. It's the ideal hotspot to watch a sunset while drinking a pint of German craft beer.
Insider Tip: The photo booth at the entrance prints out strips of black-and-white photos, which is a fun souvenir.
PLAN YOUR TRIP: Fodor's Berlin Guide
Yuto Yamada
Known as the city's the ultimate hub for urban art, this warehouse-style building in the east end of Friedrichshain is hard to miss—its walls are brightly painted with murals by local artists. Inside, there's an art gallery, two concert venues, a bookstore, and artist studios. They host festivals year-round, including a Nordic-themed music festival (Midsommer Festival) and a graphic design festival (Berlin Graphic Days). It's worth stopping by just to check out the wooden Biergarten, which is open year-round, with outdoor bonfires in winter.
PLAN YOUR TRIP: Fodor's Berlin Guide
Courtesy of The Kennedys
This privately run museum offers a glimpse into the life of John F. Kennedy. The museum has Kennedy's belongings on view, like his briefcase, a shirt, and his reading glasses. There are hundreds of black-and-white photos that trace Kennedy's rise from Massachusetts senator to the 35th president of the United States, as well as promotional placards from his campaign trail and handwritten notes. One long wall is devoted to photos that graced the cover of LIFE magazine. There is also a film loop of his famed 1963 speech in Berlin, "Ich bin ein Berliner."
PLAN YOUR TRIP: Fodor's Berlin Guide