Crazy80frog | Dreamstime.com
Georgia is so far off the tourist track that if you mention you're headed there, you'll probably get an earful on peaches and Savannah—not the tiny country sandwiched between Europe and Asia that shares the same name. But now more than ever, in-the-know travelers are buzzing about the Republic of Georgia and its many unsung attractions. It boasts glaciated peaks that dwarf the Alps, mysterious cave cities hewn into mountainsides, and amber wines that the world's top sommeliers can't stop talking about. To seal the deal, Georgia is affordable these days—half-the-price-of-Europe affordable—which means there's no better time to catch a flight to the Caucasus. Here are the top reasons to keep Georgia on your mind when planning your next vacation. —Benjamin Kemper
Primephoto | Dreamstime.com
Although Georgia is smaller than South Carolina, four of Europe's ten tallest mountains can be found there, and on a clear day, you can see snowy peaks from almost anywhere in the country. Well-marked trails and affordable mountaineering packages draw alpinists, both amateur and expert, from around the world. But you don't need to lace up your hiking boots to make the most of the Caucasus. Consider galloping on horseback through mountain passes at Zeta Camp, hiking to Chaladi Glacier in Mestia, whitewater rafting in Borjomi, or off-road driving in Tusheti with Inter Georgia Travel (ideal for adrenaline junkies).
PLAN YOUR TRIP: Visit Fodor's Georgia Guide
Radist | Dreamstime.com
For centuries, Georgia occupied a strategic location along the Silk Road that linked China to the Mediterranean, and as merchants passed through the Caucasus, Georgia's culinary repertoire broadened to adopt new ingredients and techniques from both continents. Most meals start with a Mediterranean-style cucumber and tomato salad drizzled with oil. But then the pendulum might swing east with a dish like khinkali, soup dumplings that could pass as Chinese xiao long bao, except for the fenugreek-spiced filling. Then India might spring to mind as you tear off a piece of shotis puri, a naan-like bread baked to chewy perfection on the walls of a tandoor. But certain flavors are unmistakably Georgian, like walnut-thickened stews; grassy sulguni cheese; or puckering tkemali, an addictive plum compote that's an ideal counterpoint to grilled meats.
PLAN YOUR TRIP: Visit Fodor's Georgia Guide
Dimaberkut | Dreamstime.com
Complex harmonies are not reserved for concert halls in Georgia; you're just as likely to hear a spellbinding performance around a dinner table. These polyphonic folk songs can be lively or somber, depending on the mood, but the stories they tell chronicle the nation's precious oral history from pre-Christian times to the present. There's a terrific little ensemble called Zedashe that's worth seeking out; if their tour dates don't align with your schedule, they sometimes have impromptu jam sessions at Pheasant's Tears winery in Sighnaghi.
PLAN YOUR TRIP: Visit Fodor's Georgia Guide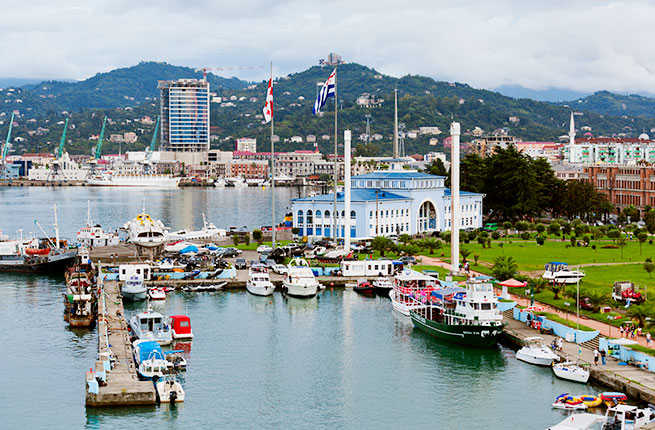 Ig0rzh | Dreamstime.com
Georgia may be known for its soaring peaks, but the oft-overlooked Black Sea coast is worth adding to the itinerary, particularly when it's warm outside and the bars along the rocky beaches come to life. Batumi, the country's most popular resort, is the Las Vegas of Georgia—all neon lights, casinos, and nightclubs. Tranquility is easier to find farther north in villages like Grigoleti, whose beaches of fine magnetic sand are said to be therapeutic for the bones and joints.
PLAN YOUR TRIP: Visit Fodor's Georgia Guide
Ekalinina | Dreamstime.com
Georgia is home to three major cave complexes: Uplistsikhe, Davit Gareja, and Vardzia. The oldest, and closest to Tbilisi, is Uplistsikhe, dating back to the early Iron Age. Its twisty, irregular rock formations call to mind Gaudí's Naturalist works. Farther east, the still-active Davit Gareja monastery complex, with its colorful frescoes and desert views into neighboring Azerbaijan, is a more enriching experience, provided you have the better part of a day to spare (the Gareji Line is the most comfortable way to travel there). Vardzia lies even farther afield, but its labyrinthine network of 235 chambers—which inspired the Georgian literary masterpiece The Knight in the Panther's Skin—are awe-inspiring.
PLAN YOUR TRIP: Visit Fodor's Georgia Guide
Georgian National Tourism Administration
Focus on a Georgian dancer's legs as he's performing, and you may notice an unexpected adornment: kneepads. They come in handy in the Mtiuluri mountain dances that require the men to jump into the air, twirl around, and land squarely on their knees. Equally spectacular are the ethereal Kartuli numbers, in which a female dancer glides across the stage in a large, billowy dress, creating the illusion of hovering. Sukhishvili National Ballet is the country's premier dance company, but if they're out of town (they usually are), don't fret: the choreography on display at Tsiskvili, a fine-dining restaurant on the outskirts of the capital, will keep you transfixed for an entire evening.
PLAN YOUR TRIP: Visit Fodor's Georgia Guide
Joyfull | Dreamstime.com
In 1991, a group of archaeologists excavating Dmanisi, in southern Georgia, uncovered the oldest human remains found in Eurasia to date. You can see the "1.8-million-year-old girl" at the Georgian National Museum in Tbilisi as part of the permanent collection, which also includes a treasure trove of prehistoric jewelry and a thought-provoking exhibition on the Soviet occupation. For those who are especially curious about the latter, the Stalin Museum in Gori—his birthplace—offers excellent guided tours through immense collections of Communist-era paraphernalia, including Stalin's armored railway carriage.
PLAN YOUR TRIP: Visit Fodor's Georgia Guide
Kapu | Dreamstime.com
Georgia is one of the world's best bargains when it comes to skiing and snowboarding. Altitudes here surpass those of the Alps, but at about $12 per day, lift tickets are a fraction of what you might pay Stateside or in Europe. There are six ski resorts in Georgia, but Gudauri, located 2 hours north of Tbilisi, eclipses the competition with 35 miles of slopes to traverse. Their heli-ski tours, suitable for only the most intrepid athletes, give skiers the rare opportunity to barrel down a virgin mountainside from 13,000 feet.
PLAN YOUR TRIP: Visit Fodor's Georgia Guide
Crazy80frog | Dreamstime.com
The village of Ushguli is just 30 miles from Mestia, the closest town, but it takes 3 hours to get to because of the death-defying roads. If you brave the bumpy ride, though, you'll have reached the highest continually inhabited community in Europe. Up here, livestock roams freely, horses are the preferred mode of transportation, and locals converse in an endangered language that's been spoken for four millennia. Peculiar thousand-year-old towers, once used to defend against invading tribes, dot the skyline, and on a clear day, you can see past them to Mt. Shkhara, the highest peak in Georgia, which looms 17,000 feet above the landscape.
PLAN YOUR TRIP: Visit Fodor's Georgia Guide
Radiokafka | Dreamstime.com
In most airports, passport control is a joyless affair, but in Tbilisi, border agents send you off with a bottle of saperavi. This may seem odd to first-time visitors, but wine is the country's pride and lifeblood; archaeological evidence suggests that wine was invented in Georgia some 8,000 years ago (five millennia before the first grape was stomped in Ancient Greece). But as fascinating as Georgia's winemaking history may be, it's today's wines that are generating the most enthusiasm among curious drinkers. That's because traditional Georgian wines are unlike anything else out there: They age in qvevri ("kweh-vree"), propolis-lined clay vessels that impart an orange hue and an earthy funk to the final product. See Georgian winemaking in action at Iago's Wine Cellar in the wine-making region of Kakheti, where Iago Bitarishvili and his wife, Marina, make wonderfully elegant wines from the little-known chinuri grape (book ahead: +995 593 35 24 26).
PLAN YOUR TRIP: Visit Fodor's Georgia Guide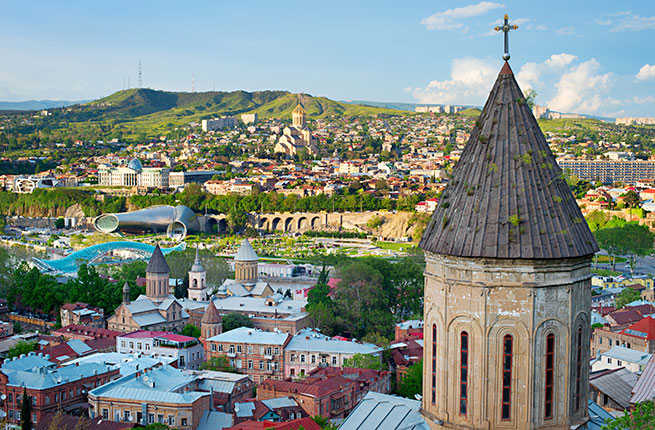 Joyfull | Dreamstime.com
A welcoming melting pot that appeals to all the senses, the Georgian capital is home to enticing restaurants, gorgeous terraced houses, and a 13th-century fortress accessible on foot or by cable car. You'll want to spend a couple of hours exploring the winding streets of the Old Town, particularly the area around Abanotubani—the bath district—where you may opt for a traditional Georgian sulfur bath or massage (be warned: masseurs spare no mercy). Come nightfall, seek out a modern Georgian restaurant—like Azarphesha, Black Lion, or Barbarestan—to see what some of the city's most creative chefs are plating up, and then saunter over to Vino Underground, a wine bar opened by eight revolutionary vignerons, for a nightcap.
PLAN YOUR TRIP: Visit Fodor's Georgia Guide
Tbilisi may not be the first city that comes to mind when you think of cutting-edge design, but the Georgian capital's fashion week, held each spring and fall, has earned critical acclaim year after year for its fresh aesthetics that aren't inhibited by American and European tastes. To take a piece of contemporary Georgian haute couture home with you, drop by Pierrot Le Fou or Chardin One, two tasteful boutiques that feature clothing, art, and other creations by talented local designers.
PLAN YOUR TRIP: Visit Fodor's Georgia Guide
Kadmy | Dreamstime.com
Georgia has been a Christian nation since the fourth century, and that longstanding devotion is apparent in the breathtaking churches and monasteries throughout the country. One of the most postcard-perfect sites on the planet is Gergeti Church in remote northern Georgia, whose mossy cupolas sit above the cloud line at 2,200 feet. But if time is at a premium, Mtskheta, a medieval city 20 minutes outside Tbilisi, is a more manageable excursion. There you'll want to spend some quiet time at the candlelit Svetitskhoveli Cathedral, a triumph in Early Medieval architecture (and UNESCO World Heritage Site) where Christ's robe is said to be buried. On the way back to the capital, take a short detour to the mountaintop Jvari Monastery, built in the sixth century, and snap a few photos at the viewpoint overlooking the Mtkvari and Aragvi rivers.
PLAN YOUR TRIP: Visit Fodor's Georgia Guide
Georgian National Tourism Administration
Georgian cuisine isn't just about food; it's also about ceremony and age-old traditions. Supra is the Georgian word for an hours-long feast that often includes heartfelt toasts, abundant food, raucous singing, and wine passed around in rams' horns. Most supras take place in the home to celebrate a particular event, so experiencing one as a visitor can be tricky—unless you know Simon Ruadze. A retired folk singer and legendary tamada (toastmaster), Simon will prepare a rustic supra for any number of guests in his farmhouse and teach you how to orchestrate one for friends back home (book ahead: +995 599 23 53 55).
PLAN YOUR TRIP: Visit Fodor's Georgia Guide
Benjamin Kemper
According to Georgian folklore, every guest is a "gift from God," and that philosophy shines through in everyday interactions. Ask for directions, and you might be escorted to your final destination. If you find yourself perusing the stalls at Dry Bridge Flea Market in Tbilisi, don't be surprised if you're lassoed into taking shots of chacha (120-proof brandy) with the vendors before noon. This open-door policy is epitomized in Sopo Gorgadze, a chef and cheesemaker with an earth-goddess-like demeanor, who hosts exquisite luncheons and cheese tastings at her farmhouse (book ahead: +995 577 72 27 71).
PLAN YOUR TRIP: Visit Fodor's Georgia Guide