Toulouse Office de Tourisme
If Paris is for lovers, Toulouse is for explorers. There's something unusual to discover at every turn in this southern French capital, whether you've come for the food, the art, or simply a dose of the region's hallmark convivialité. Situated midway between the Mediterranean and Atlantic on the banks of the Garonne River, Toulouse has been a vibrant trade hub since pre-Roman times. But the clanging belfries, serpentine backstreets, and timber-framed houses belie a city far more modern than meets the eye. Zen gardens, trendsetting wine bars, killer vintage shopping—you name it: The Toulouse of today goes far beyond cathedrals and cassoulet.—Benjamin Kemper
No 5 Wine Bar
Shipwrecked Wine
At N°5 Wine Bar, every waiter is a certified sommelier—and by the fifteenth wine you taste, you might start feeling like one, too. The 3,200-bottle wine list would turn any oenophile into a deer in the headlights, were it not for the sleek and user-friendly Enomatic dispensers that spurt wine into your glass with the press of a button. There are countless rare cuvées to sample, such as a slaty white carignan (only 500 bottles produced) or an unctuous 1986 gewürztraminer, but the jewel in N°5's crown is a gnarly-looking jug enshrined in a vitrine above the bar. Pulled from the depths of a 1675 shipwreck in the North Atlantic, it's said to be one of the oldest intact wine bottles in the world. Curious about how it tastes? For 7,000 euros a glass, you can find out.
PLAN YOUR TRIP: Fodor's Toulouse Guide
Toulouse Office de Tourisme
On the Woad
Toulouse earned its endearing sobriquet La Ville Rose ("The Pink City") for its rosy-red brick, but the city's past reveals another noteworthy color: pastel blue. In the 16th and 17th centuries, before Europe began importing mass quantities of indigo from Asia, southwest France was ground zero for blue dye production. Local artisans would coax the noble pigment from dried and fermented woad, a flowering plant endemic to the region. Thanks to the booming demand from aristocrats in Spain, Britain, and beyond, these "blue gold" merchants swiftly became the fattest cats in town, building more than 50 stately mansions across the city that still stand today. Peek into the courtyard of Hôtel d'Assézat, the Renaissance palace of a wealthy pastel trader, to catch a glimpse of the era's opulence.
Insider Tip: In recent years, a handful of dedicated Toulousains have revived the ancient craft of woad extraction, and their wares are on display at La Fleurée de Pastel, a boutique that sells hand-dyed clothing, linens, and cosmetics—all in varying hues of grayish blue.
PLAN YOUR TRIP: Fodor's Toulouse Guide
Toulouse Office de Tourisme
A Zen Moment
In a busy metropolis like Toulouse, with its honking cars and ebullient buskers, finding a secluded place for quiet reflection can be a challenge—until you step into the Japanese garden in the northwest corner of Jardin Compans Caparelli. An enchanting paradise of bonsai trees, rock gardens, bamboo groves, and koi ponds teeming with colorful fish, the Jardin Japonais is a vacation within a vacation. The project was the brainchild of French diplomat and Japanophile Pierre Baudis, who modeled the Jardin after 15th-century gardens in Kyoto like Ginkaku-ji and Ryōan-ji. Admission is free.
PLAN YOUR TRIP: Fodor's Toulouse Guide
(c) Musat | Dreamstime.com
Great Grapes
These days, it would behoove Bordeaux drinkers to pay attention to what's happening downriver. The regions of Gaillac and Fronton, located 30 miles north of Toulouse, are producing some of France's most promising regional wines—at a fraction of Bordeaux prices. In Gaillac (guy-YAK), arguably the oldest wine-producing region in France, there are plenty of serious wines to be found (try an appley mauzac or the sherry-like vin de voile). But those with a predilection for juicy, easygoing reds should seek out its "Primeur" wines, which, like Beaujolais Nouveau, are made from the gamay grape and arrive each November with great fanfare. A smidge west of Gaillac in Fronton, négrette is the grape to remember. Bold, age-worthy reds of this oddball variety have been bottled here since the Middle Ages.
Insider Tip: If vineyard-hopping isn't in the cards, the next-best thing is the "vins locaux" wall of Le Monde du Vin wine shop in downtown Toulouse.
PLAN YOUR TRIP: Fodor's Toulouse Guide
In With the Old
While you could spend an afternoon browsing the big-brand clothing stores on Rue d'Alsace, rarer treasures can be found in the second-hand boutiques along Rue Peyroilières. Start at Groucho, a retro boutique that specializes in truly old apparel with some garments dating back to the early 19th century. This is the place to find flapper dresses, sequined blouses, and duffle coats. Their vintage keychains—bearing logos of of long-defunct hotels and local establishments—make lovely, affordable mementos. For a more modern palette, head across the street to Vintage Paradise or Jet Rag, where oversize sweatshirts, neon track jackets, and quirky knitted sweaters reign supreme.
PLAN YOUR TRIP: Fodor's Toulouse Guide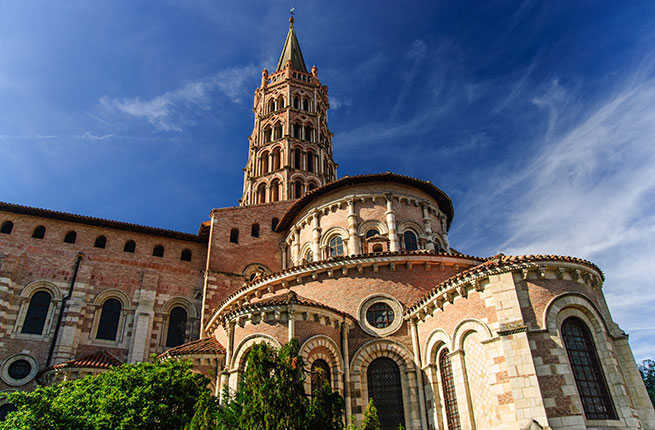 (c) Musat | Dreamstime.com
Open Since 1180
There's no shortage of breathtaking medieval architecture in the south of France, but the Basilica of Saint-Sernin is in a category of its own. Built in the 11th and 12th centuries, the imposing red-brick church, with its signature octagonal spire, is said to be Europe's largest surviving example of Romanesque (pre-Gothic) construction. As you enter the basilica through the Porte Miègeville, take a moment to admire the dynamic Resurrection scene engraved on the tympanum overhead; it's been welcoming visitors and pilgrims for nearly a millennium. Once inside the barrel-vaulted nave, make your way toward the altar, a relic consecrated by Pope Urban II whose chamfered edges portray biblical parables in exquisite detail. Then step into the ambulatory, where evocative reliefs seem to leap out from the marble.
PLAN YOUR TRIP: Fodor's Toulouse Guide
Pistolero via Wikimedia Commons, [CC BY 3.0]
Art in an Abattoir
In recent years, cities across Europe have been turning their decrepit old slaughterhouses into vibrant art centers (e.g., El Matadero in Madrid and Mattatoio di Testaccio in Rome), but Les Abattoirs, on the distinctly non-touristy Left Bank of the Garonne, may be the best of the bunch. Its contemporary art collection, spanning from 1950 to the present, features over 4,000 works by such icons as Marcel Duchamp, Robert Mapplethorp, and Jean Dubuffet. If your French is serviceable, pop into one of the talks or screenings; if it isn't, pas de problème: catch one of the Thursday-night concerts instead.
PLAN YOUR TRIP: Fodor's Toulouse Guide