Benoît Touche
Coffee lovers take note: Paris has finally escaped its slump and joined the 21st century. An ambitious group of native and expat roasters and baristas are more than making up for lost time, serving up meticulously sourced, roasted, and crafted coffees of a quality to rival any in the world. New cafés are opening all the time, but the ones listed here represent Paris's best, covering a wide swath of neighborhoods and featuring a variety on sensibilities, from intimate and homey to streamlined and designed. All offer top-quality, often inspired, gourmet menus along with world-class brews.
Courtesy of Café Lomi
WHERE: 3 rue Marcadet, 18th arrondissement
The first microroaster on the scene, Café Lomi supplied the first coffee-centric cafés and restaurants with carefully roasted single-origin beans, along with expert training. Now the industrial-chic loft in an out-of-the-way spot near the Gare du Nord train tracks is part roaster, café, workshop, and pilgrimage point for those who care deeply about what's in their cup. Lomi offers a range of sweet and savory snacks, wifi, a stylish, friendly atmosphere, coffee classes, and some of the city's very best brews.
When You Go: Café Lomi is just a few metro stops—or a half-hour walk—from the Puces de St-Ouen (Clignancourt) flea market. Head over on a Saturday for a grand tour of the world's biggest indoor-outdoor antiques market.
PLAN YOUR TRIP: Visit Fodor's Paris Travel Guide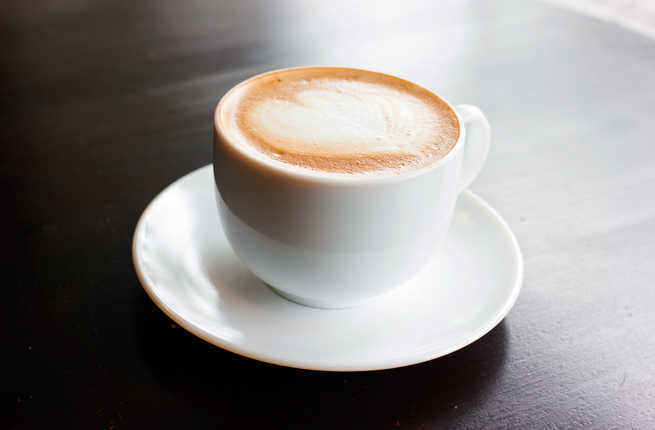 Galichstudio | Dreamstime.com
WHERE: 10 rue de la Grange aux Belles, 10th arrondissement
Thomas Lehoux, a long-time veteran of the Parisian coffee scene and the friendly owner of this cool, easygoing café two steps from the Canal St-Martin, is also one of Paris's eminent baristas. The beans at Ten Belles are carefully sourced (from the Belleville Brûlerie, of which Lehoux is a founder) and expertly prepared, and the food—made by the chefs at Le Bal—is good, healthy, and plentiful, featuring gourmet sandwiches, a famous sausage roll that satisfies for breakfast or lunch, deluxe cookies, and pastries. Take it all in from the cozy balcony.
When You Go: The café is close to the Hôpital Saint-Louis, Paris's oldest hospital founded by Henry IV in 1607, with a newly renovated chapel at the rue Juliette-Dodu entrance.
PLAN YOUR TRIP: Visit Fodor's Paris Travel Guide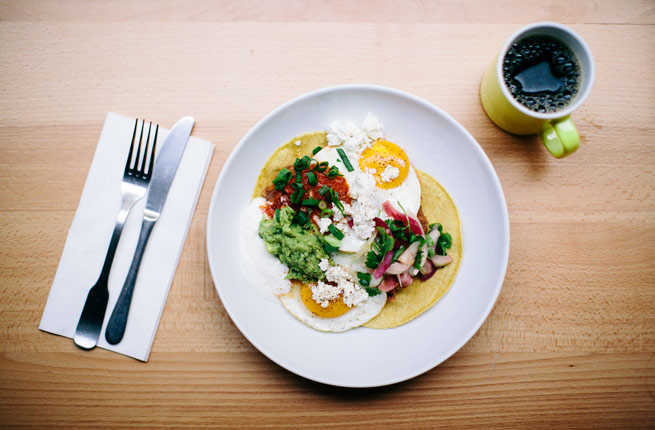 Nico Alary / Holybelly
WHERE: 19 rue Lucien Sampaix, 10th arrondissement
Wait, are we in Paris, the U.S., Australia? The eclectic clientele, welcoming atmosphere, and down-home menu—think pancakes and sausage, poached eggs, homemade granola, and hot, market-fresh dishes—may speak to yearnings beyond the continent, but the excellent coffee at Holybelly is sourced right here from Paris's own Belleville Brûlerie and prepared by an expert barista. A plenitude of coffee drinks, hot chocolate, and gourmet teas complement comfort foods from home, wherever that might be.
When You Go: Leave time to explore the area. Canal St-Martin is jammed with great sights, shopping, restaurants, wine bars, and nightlife.
PLAN YOUR TRIP: Visit Fodor's Paris Travel Guide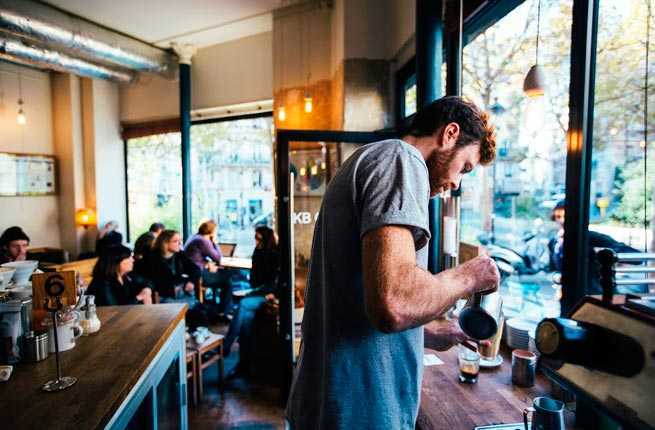 Puxan BC
WHERE: 53 avenue Trudaine, 9th arrondissement
KB Caféshop is the perfect place to while away an hour or two among students, hipsters, neighborhood regulars, and hardcore coffee lovers in an upbeat, down-to-earth, and fully wired setting. KB offers an impressive chalkboard list of coffee drinks, creamy mochas, and decadent chocolat chaud, plus plenty of warm and cold, sweet and savory snacks and fresh juice smoothies to get you through any part of the day.
When You Go: KB borders on the rue des Martyrs, one of the city's oldest market streets and a gourmet destination par excellence. Everything from chocolate and pastry, to confiture and caviar, is all here alongside neighborhood cafés, antiques shops, and chic boutiques.
PLAN YOUR TRIP: Visit Fodor's Paris Travel Guide
Bertrand Servais Photography
WHERE: 52 rue de l'Hôtel-de-Ville, 4th arrondissement
This is where it all began. As former Guatemalan Ambassador to France, Gloria Montenegro realized early on that if she wanted the kind of coffee she grew up with, she'd have to go it alone. Montenegro opened La Caféothèque on an ancient street near the Paris City Hall in 2005 and trained many of the baristas behind Paris's first-wave coffee revolution—it took the rest of the city years to catch up. The cozy four-room café is part roaster, training center, meeting place, and coffee café par excellence.
When You Go: On a beautiful cobbled lane behind the Caféothèque, the medieval St-Gervais-et-St-Protais church is worth a peek. Just across the Seine lies the elegant Ile St-Louis, and the legendary Berthillon tea salon, makers of some of Paris's best ice cream.
PLAN YOUR TRIP: Visit Fodor's Paris Travel Guide
Robin De Lestrade
WHERE: 47 rue du Babylone, 7th arrondissement
Paris coffee pioneer Antoine Netien traveled all the way to Sydney to study his craft. After earning the title of Master Coffee Roaster, Netien returned to Paris to open Coutume in 2011, well before most everyone on the scene. Always at coffee's cutting edge, Netien travels far and wide (lately to Burundi), stalking the world's best growers. Stock up on freshly roasted specialty beans or the latest coffee gizmo (they're all available here), or just enjoy one of the many coffee drinks along with a menu of healthy eats.
When You Go: Located between the Musée Rodin and the Bon Marché on the rue de Babylone, you can get your culture, coffee fix, and an elegant Paris shopping spree all before noon.
PLAN YOUR TRIP: Visit Fodor's Paris Travel Guide
Manuela Caltabiano
WHERE: 73 rue d'Aboukir, 2nd arrondissement
Coffee break runs into cocktail hour at Lockwood, a super-stylish coffee-and-cocktail bar that pours continuously from 8 am to 2 am. Fun bar snacks and a menu of Anglo-inspired dishes keep you from spinning off your stool, and a quintessentially Parisian interior—bare limestone, leather, and mood lighting—set the tone. As for the coffee, rock star barista Thomas Lehoux, of Ten Belles, Belleville Brûlerie, et al., and his two brothers, veteran cocktail bar owners, are behind this venture—great coffee and drinks are assured.
When You Go: The rue d'Aboukir crosses rue Montmartre, an old Paris market street with plenty of chic boutiques. Paris's legendary kitchenwares shop, Dehillerin (cheered by the ghost of Julia Child) is close by.
PLAN YOUR TRIP: Visit Fodor's Paris Travel Guide
Courtesy of Telescope
WHERE: 5 rue Villedo, 1st arrondissement
The serene Telescope café is just the place to while away a morning over an ambrosial coffee and a good book. The warm, spare, and proudly unwired space is a coffee-lover's sanctuary, with a choice menu of gourmet treats and stylish music offered as an enhancement to what matters most, an illustrious cup. Owner Nicolas Clerc, a photographer, takes obvious pleasure in the aesthetics of coffee and holds tastings and classes in the café's 17th-century vaulted cellar below.
When You Go: Explore the rue St-Anne, Paris's little Japan, or stroll the elegant gardens and arcades of the Palais Royal, a stone's throw from the café.
PLAN YOUR TRIP: Visit Fodor's Paris Travel Guide
Sutichak | Dreamstime.com
WHERE: 16 rue Dupetit-Thouars, 3rd arrondissement
The svelte espresso machine, a Kees van der Westen Spirit, takes pride of place (and a quarter of the space) in this petit café at the edge of the haut Marais. Part of a third wave of coffee Meccas brought to you by longtime veterans on the local barista scene, Fondation Café has a tidy range of coffees served in stylish green-glass cups accompanied by a choice menu of yummy treats. Coffee lovers spill out onto the sidewalk terrace in all seasons, a sure sign that something here is very right.
When You Go: Venture into the thick of the haut Marais, around the corner from the scenic Marché des Enfants Rouge, Paris's oldest market—there's plenty there to explore.
PLAN YOUR TRIP: Visit Fodor's Paris Travel Guide
Jesse Morgan
WHERE: 40 rue Chapon, 3rd arrondissement
Loustic, a retro-chic Marais café, hovers somewhere between a neighborhood hangout and a trendy destination for a hip, young, coffee-loving crowd. Colorful 60's accents, exposed stone, and comfy chairs and sofas add up to a cozy place for lunch with friends or solo sipping on some of the area's best brews (from Antwerp-based Caffènation). The Anglo-inspired all-organic menu features vegetarian tarts, bagel sandwiches, granola, cheesecake, carrot cake, and, yes, kale chips. There's also a wicked chai latte and plenty of quaffable non-coffee drinks.
When You Go: The café is a short walk from the Centre Pompidou, so forego the expensive tourist trap cafés and head here before or after an exhibition.
PLAN YOUR TRIP: Visit Fodor's Paris Travel Guide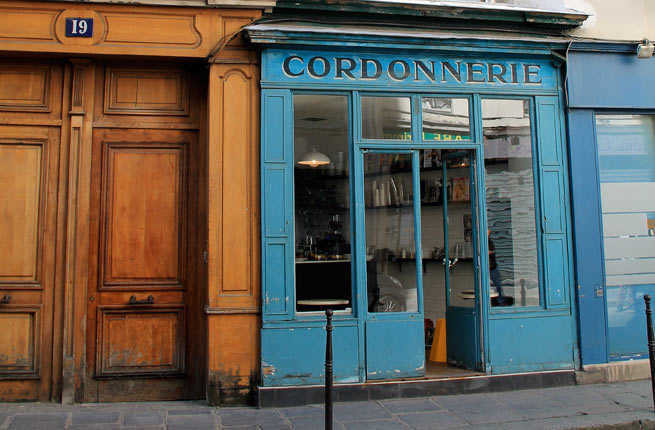 Courtesy of Boot Café
WHERE: 19 rue Pont aux Choux, 3rd arrondissement
Its motto, "This coffee's made for walking" says it all: with two tiny tables and a couple of stools, the petite Boot Café is perfect for a quick, creamy coffee (Belleville Brûlerie) and a tempting array of pastries. Tucked away in a former shoe repair on a chic street in the upper Marais, the café is far enough from the tourist crowd but still close to super shopping, dining, and sightseeing, making it an excellent spot for refueling.
When You Go: Located just around the corner at 111 Blvd Beaumarchais, the wondrous Merci concept store is not to be missed.
PLAN YOUR TRIP: Visit Fodor's Paris Travel Guide
Franklin Belingard
WHERE: 52 rue du Faubourg Saint-Martin, 10th arrondissement
Opened last February in the scruffy Chateau d'Eau neighborhood (an easy walk from Canal St. Martin), the sleek, black-fronted Blackburn is at once incongruous and perfectly at home. Sit at the bar or a table, or hunker down on the comfy sofa for an afternoon of reading, writing, or web surfing. The blackboard menu sports plenty of gourmet bites: savory tarts, salads, sandwiches, and desserts served up with elegant coffee beverages made specifically to your desire.
When You Go: The recently spiffed up Passage Brady is one of 36 historic passages couverts left in Paris. The spice-scented passage is jammed with Indian shops, restaurants, and specialty food stores for all things Indian.
PLAN YOUR TRIP: Visit Fodor's Paris Travel Guide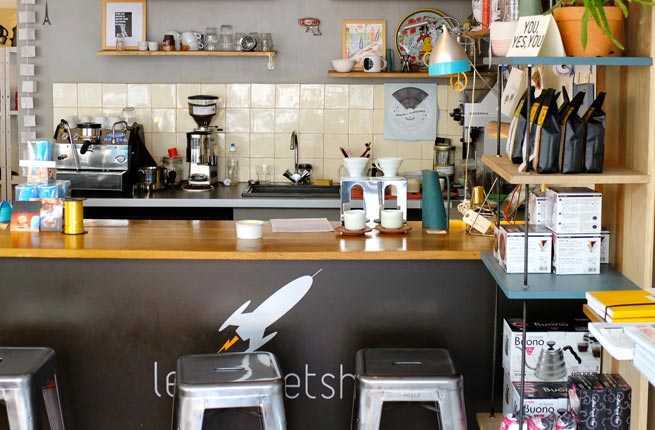 Benoît Touche
WHERE: 13 rue Henry Monnier, 9th arrondissement
Over-caffeinated binge shopping alert! Browsing a great selection of handpicked items for the home intoxicated by the aroma of expertly prepared coffee drinks is a risk we urge you to take. Le Rocketship specializes in chic objects for the home—tableware, lighting, small artwork, stationary, pillows, and toys that make great mementoes and gifts—and a seriously good brew.
When You Go: This café is a block from the rue des Martyrs and a short walk to the Musée de la Vie Romantique, one of Paris's most picturesque small museums and gardens.
PLAN YOUR TRIP: Visit Fodor's Paris Travel Guide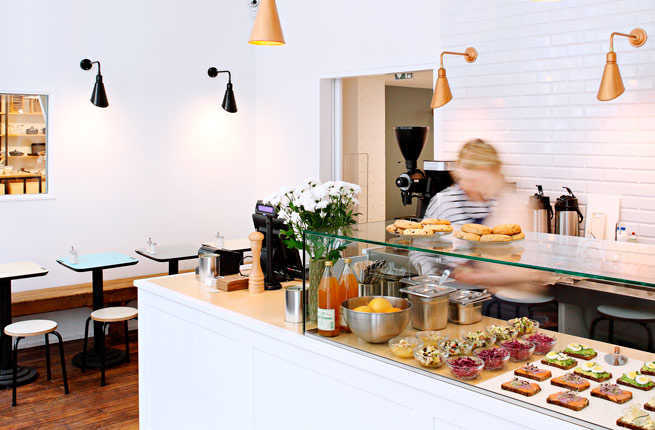 La Trésorerie
Café Smörgås in La Trésorerie
WHERE: 11 rue du Château d'Eau, 10th arrondissement
A soaring, light-filled space, ultra-fresh tartines, (sweet or savory open-faced sandwiches on pumpernickel), and superb coffee sourced from Belleville Brûlerie all add up to a stylish slice of Scandinavia in Paris. Part of the scintillating new lifestyle store La Trésorérie, the amiable Café Smörgås opens early and serves throughout the day, making this a great spot for breakfast, lunch, snacks, or teatime—before or after a shopping spree.
When You Go: A few minutes from République and the Canal St-Martin, this is a great spot for refueling after exploring the Marais or the Canal's chic boutiques.
PLAN YOUR TRIP: Visit Fodor's Paris Travel Guide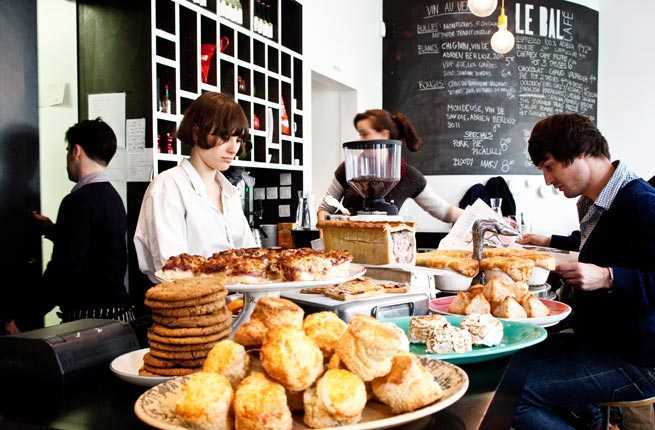 Courtesy of Le Bal Café
WHERE: 6 impasse de la Défense, 18th arrondissement
The newly chic Clichy neighborhood was pioneered early on by two Anglo chefs whose knack for combining British-French gastronomy, art, and seriously good coffee culminated in one of the best brunch spots in Paris. Tucked away in a quiet cul-de-sac across from a kid's park, the Le Bal Café features streamlined design, an outdoor terrace, and an acclaimed roster of photography-centered exhibitions drawing an eclectic mix of artists, young families, expats, tourists, and locals looking for top-notch food, coffee, and a lively vibe.
When You Go: The Bal is great for brunch, lunch, or an afternoon pick-me-up on your way to or from nearby Sacré-Coeur, the excellent Musée de la Vie Romantique, or the Musée Moreau.
PLAN YOUR TRIP: Visit Fodor's Paris Travel Guide
Courtesy of Café at The Broken Arm
WHERE: 12 rue Perrée, 3rd arrondissement
The Café at The Broken Arm is a pocket-sized café loaded with style and some seriously good food, including hot dishes, sandwiches, fresh juices, yummy cookies, and a great house blend (compliments of Café Lomi). Attached to a minimalist concept store, the place is brimming with hipsters, so it's best to go at off hours when the popular café empties out. Just across the street from a large park and gardens, the wide sidewalk terrace is a pretty spot in warm weather.
When You Go: If you can't get a table, grab a coffee to go and head to the park, where a ducks glide in the pond and Parisians relax among the flower gardens.
PLAN YOUR TRIP: Visit Fodor's Paris Travel Guide
George Dolgikh / Shutterstock
WHERE: 76 rue des Tournelles, 3rd arrondissement
Set on a quiet street away from the hustle and bustle of nearby Bastille and Place des Vosges, Fragments Café has a cool black façade that hides a welcome island of calm. Minimally designed with exposed brick walls, hand-hewn beams, and a sleek black coffee bar, the café is brimming with good taste—especially in coffee (from Copenhagen's famous Coffee Collective and other Scandinavian roasters). An in-house chef crafts gourmet snacks from organic, farm-fresh produce.
When You Go: Visit the superb Musée Picasso, a few blocks away, just reopened after a five-year renovation, or stop by the Musée Carnavalet (Museum of the City of Paris), both housed in two of the city's oldest and most beautiful mansions.
PLAN YOUR TRIP: Visit Fodor's Paris Travel Guide
Robin De Lestrade
WHERE: 4 rue du Bouloi, 1st arrondissement
Coutume Lab indulges its inner mad scientist in conjunction with experimental concept boutique The Lab Store. It's all about exploration and edification here: a selection of Coutume's own roasts and some truly weird and wonderful coffee-themed gadgets take the sensory experience to new heights. Free Saturday tastings feature WikiPearls, gelatinous ice cream balls in flavors like Roquefort or pumpkin, paired with espresso. There's also inhalable coffee-flavored mist and other techie toys. And, of course, stellar coffee.
When You Go: There's no better way to calm those hyper nerves than at the serenely beautiful Jardin du Palais Royal nearby—it's also one of the city's top shopping destinations.
PLAN YOUR TRIP: Visit Fodor's Paris Travel Guide
Courtesy of Soul Kitchen
WHERE: 33 rue Lamarck, 18th arrondissement
Soul Kitchen checks all the boxes and then some: homey decor, friendly vibe, beautifully prepared organic comfort food, overflowing pastry counter, well-priced wines, and excellent coffee. This cozy neighborhood café-restaurant is on a picturesque corner near the Montmartre steps just behind Sacré Coeur. In short, it's everything your soul desires.
When You Go: Leave plenty of time to explore this oh-so-Parisian hood, just steps from Montmartre's last remaining vineyard (18 rue des Saule), the Musée de Montmartre and Jardins Renoir, and Saint-Pierre de Montmartre, the oldest church in Paris.
PLAN YOUR TRIP: Visit Fodor's Paris Travel Guide
Sébastien Sindeu
WHERE: 10 rue du Nil, 2nd arrondissement
Like the Frenchie empire (restaurant, wine bar, and Frenchie to Go) and other gourmet shops lining the miniscule rue de Nil, L'Arbre à Café takes its métier seriously. Coffee roasters and suppliers to top Paris restaurants, this café makes its full range of single-origin coffee beans available for purchase, but you'll want to sample the goods first. Velvety espresso, creamy cappuccino, and a rich, dark hot chocolate top the list. This is not a place to linger, but rather a great stop in a neighborhood full of trendy bars, pilgrimage-worthy restaurants, and a hip Paris vibe.
When You Go: Check out rue Montorgeuil, an authentic Paris market street where pastry, cheese, and fruit-and-veggie stalls rub elbows with chic boutiques. Or discover the picturesque Passage Panoramas, Paris's oldest covered shopping arcade (1799), full of old restaurants, cafés, and shops galore.
PLAN YOUR TRIP: Visit Fodor's Paris Travel Guide