Courtesy of Pierre Marcolini
In the last five years, Paris has witnessed an explosion on the chocolate scene to rival any city on the planet. While boutiques are proliferating all over the city, Paris's chocolate epicenter, Saint-Germain-des Prés, is now home to no fewer than a dozen world-class chocolatiers—from small artisan producers to international boutiques that produce chocolate on a grand scale, yet still adhere to a standard that assures a product no less than magnificent. The following 15 chocolatiers stand out for their excellence, originality, and a particular refinement that Parisians, as in all things gastronomic, take pretty seriously.
By Jennifer Ladonne
Often cited among Paris's top five chocolatiers, Jean-Paul Hévin's hot chocolate bar, upstairs in the rue Saint-Honoré boutique, sets a new benchmark for the velvety elixir, made only from pure grand cru chocolate, cocoa powder, and cream and offered in a range of surprising gourmet pairings, like banana or carrot. Hevin's individual chocolates and single-origin bars are legendary, but what really sets him apart from other great chocolatiers are the pastries. Inventive, skillfully executed, and sinfully delicious, the 20 or so on offer are hard to choose among, with picks like the Longchamp, an airy praline mousse encased in delicate meringue with almond-flecked milk or dark chocolate. With three boutiques in Paris and a new Marais outpost, you won't have to go far for a treat that's out of this world.
PLAN YOUR TRIP: Visit Fodor's Paris Travel Guide
Sergio Coimbra
As close to a rock star as pastry makers get—judging by the crowds who flock to Pierre Hermé's four Paris outposts for a taste of the ethereal macarons, among other riches—the famously inventive pâtissier needs no introduction. But it is useful to remind an adoring audience that the meticulously sourced chocolates are right up there with Hermé's outstanding pastries. The individual bonbons, have lusciously flavored ganaches in signature flavors like Ispahan, a mix of litchi, rose and raspberry, and Mogador, milk or dark chocolate and passion fruit. There are also feather-light chocolate wafers, chocolate-covered caramels, orange rind batons, single-origin chocolate bars, and an outstanding range of truffles—caramel, intense bourbon vanilla, hazelnut, and rich dark chocolate—as well as some fabulous chocolate masks.
PLAN YOUR TRIP: Visit Fodor's Paris Travel Guide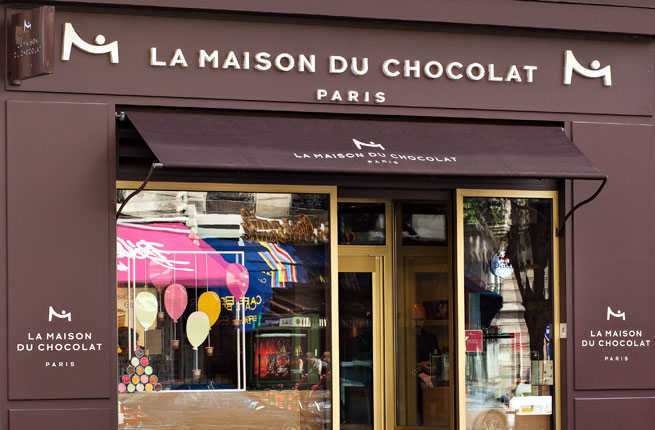 Laurent Rouvrais
Robert Linx, founder of the hallowed Maison du Chocolat, singlehandedly redefined the gold standard for chocolate in Paris and the world. With the kind of connoisseurship usually reserved for wine, Linx revolutionized the way chocolate was conceptualized, made, and presented, enumerating the essential qualities of cocoa beans from the world's great producers. His 30 years of experience shows: the chocolates are both subtle and intense, with rich, creamy ganaches in vibrant flavors that range from the commonplace (raspberry) to the unexpected (fennel), but mostly the focus is on rich, sublime chocolate. The Maison's five Paris boutiques also offer a decadent range of choco-centric pastries, ice cream, and hot chocolate in season.
PLAN YOUR TRIP: Visit Fodor's Paris Travel Guide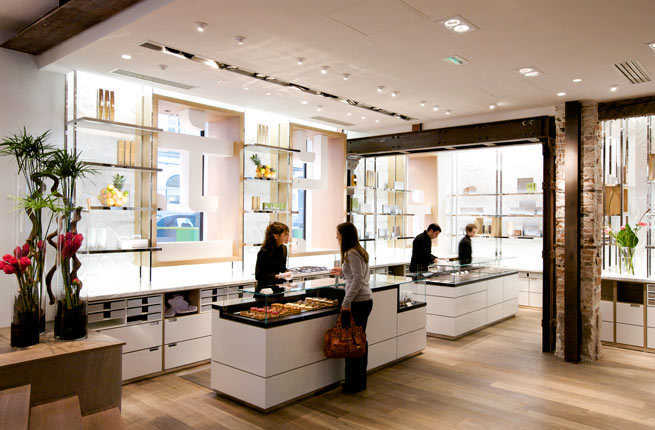 Francis Amiand
Paris's alchemist of gourmet chocolate, Jacques Genin once concocted his recipes in semi-obscurity behind unmarked doors at an address known only to top restaurateurs and aficionados. Since the opening his gorgeous boutique, laboratoire, and tea salon in the fashionable haut Marais, Genin's masterful chocolates, caramels, fruit patés, and pastries draw chocolate lovers from near and far. Genin scours the world for the best raw materials for his individual dark and milk chocolates, and his famously silky ganaches are made only with fresh, seasonal ingredients, exotic spices, and delicate florals—mint, jasmine, verbena, cinnamon, smoked tea—all designated with a signature fleck of color. Genin's take on the French pastry classics (available only by special order at the tea salon) make a great accompaniment to a pot of sublime hot chocolate. A second Left Bank outpost opened this month on the rue de Varenne in Saint-Germain-des-Près.
PLAN YOUR TRIP: Visit Fodor's Paris Travel Guide
Courtesy of Franck Kestener
By the tender age of 16, this fourth-generation pâtissier, a native of Lorraine, knew chocolate was his life's work. By 28, he'd earned the title of Master Craftsman, the highest in France, and two years later won the prestigious World Champion Pastry Maker. Accolades aside, step into Franck Kestener's fifth-arrondissement boutique at the edge of the Luxembourg gardens; you'll find a wonderland of decadent pastries, macarons, individual chocolates and chocolate bars, and a hugely popular range of chocolate-dipped cookies, nuts, and fruit that make repeated visits an absolute must. Parisians flock here for the Atlantique: buttery shortbread dipped in caramel and enrobed in dark chocolate.
PLAN YOUR TRIP: Visit Fodor's Paris Travel Guide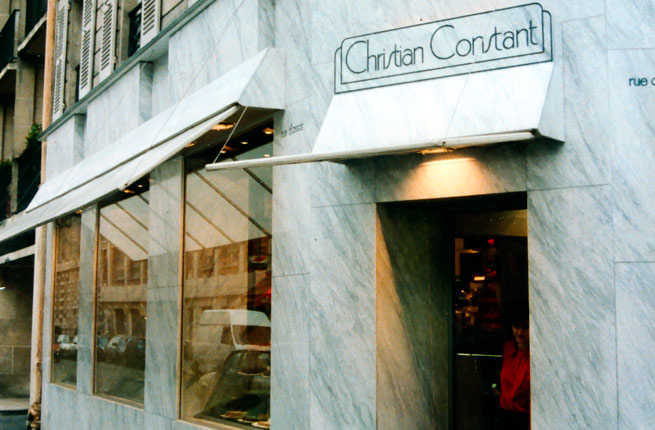 Courtesy of Christian Constant
This longtime veteran of the Paris chocolate scene is sometimes overshadowed by the razzle-dazzle of more flamboyant stars. But Paris chocolate lovers know that this quiet corner boutique and épicerie just off the Luxembourg gardens harbors some of the city's most lovingly crafted and delicious chocolates. Christian Constant, the author of two books on chocolate, displays his devotion everywhere, from his luscious flower, spice, or herb-scented bonbons to his chocolate bars. And it doesn't stop there. Superb pâtes de fruit, caramels, homemade marshmallows, ice creams, and a range of gourmet foods make this delightful boutique the perfect provision point for a picnic in the gardens.
PLAN YOUR TRIP: Visit Fodor's Paris Travel Guide
Courtesy of Jean-Charles Rochoux
After learning his craft through training with some of Paris's master chocolatiers, Jean-Charles Rouchoux opened his own jewel box of a boutique on the rue d'Assas, northwest of the Luxumbourg gardens. Similar to Jacques Genin, Rouchoux's workshop is on the premises and the heady perfume of molten chocolate permeates the air. Along with his single chocolates, including a version with an award-winning basil ganache, Rouchoux has mastered the marriage of chocolate and liquor—his dark-chocolate ganache infused with Maker's Mark bourbon is one of the chocolatier's signature bonbons. Rouchoux's seasonal collections use whatever fresh delicacies are on hand, like succulent strawberries or fresh autumn hazelnuts for an unctuous chocolate-hazelnut spread (an excellent gift). Kids love the boutique windows, decorated for each season with Rouchoux's whimsical chocolate figures.
PLAN YOUR TRIP: Visit Fodor's Paris Travel Guide
Courtesy of Henri Le Roux
The Brittany-based chocolatier staked his claim to fame as the originator of the now-legendary flavor caramel au beurre salé or salty caramel. But it's not only the salt beds of his native land that inspire the master chocolate maker—Henri Leroux's delicate Soizig blends chocolate, cocoa butter, nuts and buckwheat, the basis for Brittany's famous savory crêpes, for another divine pairing. Leroux's famous Ch'tou, marries caramel and lambig, an apple brandy made in Brittany, with dark chocolate. While the individual chocolates and chocolate tablettes are worth the trip alone, it's the caramels that are truly inspiring. Flavors like tatin (caramelized apple), black sesame, morello cherry and cardamom, or pineapple pink-peppercorn are delicacies you'll find nowhere else.
PLAN YOUR TRIP: Visit Fodor's Paris Travel Guide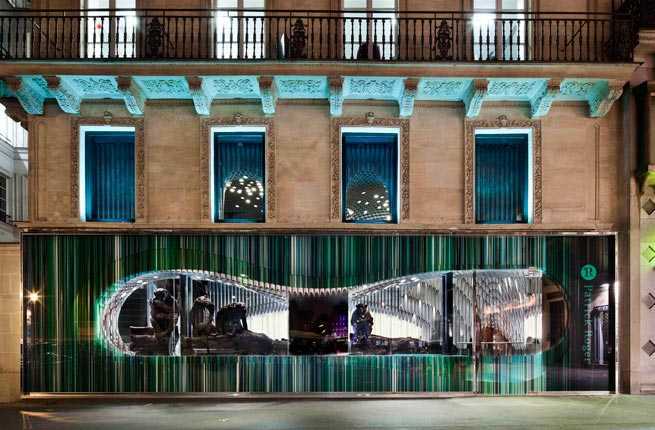 Luc Boegly
Despite a devastating fire in the workshops in September, Patrick Roger continues to provide his six Paris boutiques with some of the city's most prized chocolates, esteemed as much for their humor and whimsy—his chocolate nipples made a stir at one memorable Salon de Chocolat—as their artistry. Voted Meilleur Ouvrier de France (Master Craftsman) in 2000, Roger is also an accomplished sculptor, and his superbly rendered animals (think hippo, lifelike orangutan or crouching leopard) would be at home on a pedestal. Beautiful as they are, these sculptures are made for eating and use only the best ingredients found around the world for their subtly complex pairings. Try the signature demi-spheres—tinted chocolate filled with rhubarb and shiso or honey or lime ganache, or a verbena and yuzu-infused caramel.
PLAN YOUR TRIP: Visit Fodor's Paris Travel Guide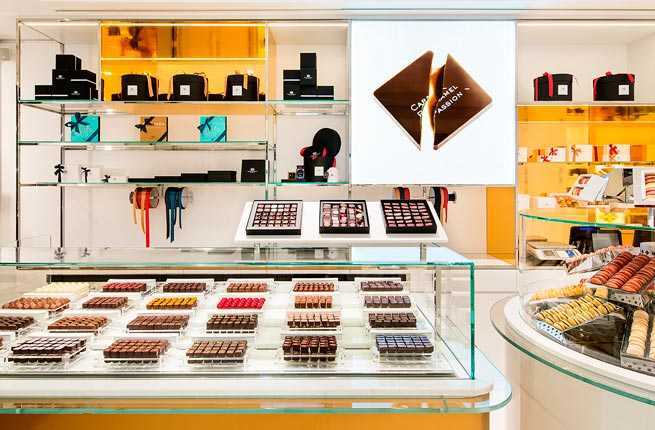 Courtesy of Pierre Marcolini
Pierre Marcolini, an interloper on the Paris scene, has elegance and originality that have immediately singled him out from the crowd; now the Belgian chocolatier is embraced as one of the top five makers in Paris. All three of his sleek, modern boutiques make the perfect backdrop for a large menu of individual chocolates in flavors like rose peppercorn, milk chocolate violet, bergamot and fresh lemon, and Earl Grey tea. Marcolini's collection of individual, single-origin chocolates make tasting the grand crus of the world, from Ghana to Trinidad, a cinch. Along with pralines, truffles, bars, caramels, spreads, and even fruit jams, highlights include the macaron of the month (Clementine for November) and a champagne truffle of remarkable finesse.
PLAN YOUR TRIP: Visit Fodor's Paris Travel Guide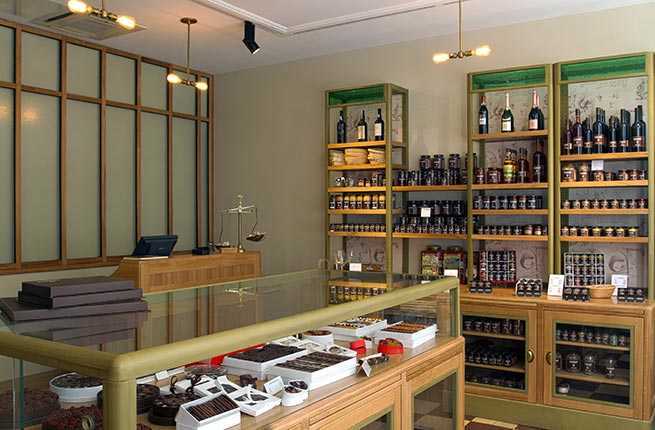 Courtesy of Fouquet
A Paris institution since 1852, Fouquet, with its candy-crowded windows along the historic rue François 1er, has enchanted Parisians since 1928. Nowadays, you'll still find a huge range of handmade French bonbons enticingly displayed in glass jars: chocolate-covered nuts and fruits, cookies and wafers, dragées, caramels, pastilles, pâte de fruit, you name it. Individual chocolate bonbons carry the elegant Fouquet logo and can be purchased individually or in handsome gift boxes. A range of gourmet treats—mustards, spices, homemade jams, honey, and tea—make this a great one-stop stop for the kind of tantalizing gifts that could only come from Paris.
PLAN YOUR TRIP: Visit Fodor's Paris Travel Guide
Courtesy of Foucher
Another Parisian institution, family-owned Foucher has been operating from the same premises for two centuries; the shop's Art Deco motifs and welcoming tea salon still have a pleasantly laid back atmosphere where you won't feel disconcerted if you're not fully chocolate literate but just want something solidly yummy. Foucher's assortments come in charming Art Nouveau-era boxes specifically designed for the shop by well-known artists and illustrators of the day. After an afternoon shopping along the boutique-encumbered rue de Bac or nearby Bon Marché, this is just the spot to take a pastry and rich chocolat chaud and feel tout Parisian.
PLAN YOUR TRIP: Visit Fodor's Paris Travel Guide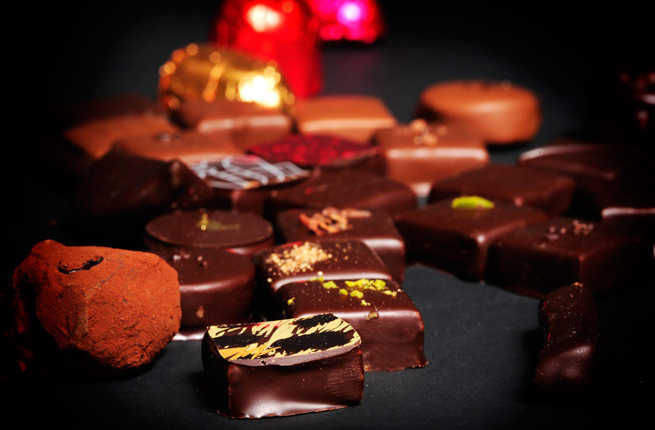 Courtesy of François Pralus
Based in Lyon, master chocolatier François Pralus perfected his craft under the legendary Bernachon, who singlehandedly put Lyon on the chocolate map. Now Pralus shares the distinction, which is only fair, since his passion for chocolate inspired him to purchase 40 acres of prime cocoa plantations in Madagascar in order to perfect the product from start to finish. Confident of his own stellar status, the chocolate maker is happy to share the wealth with some of the top chocolate makers and restaurateurs in Paris, furnishing the raw materials to the likes of Pierre Hermé, Jean-Paul Hévin, and Henri Leroux for their own chocolates and pastries. You'll find Pralus's brightly packaged bonbons and signature Praluline—a light, chocolate-flecked brioche—in his two popular Paris boutiques.
PLAN YOUR TRIP: Visit Fodor's Paris Travel Guide
In his role as pharmacist to Louis XVI, Sulpice Debauve concocted a mixture of cocoa and sugar to mask the bitter taste of the queen's medicine. Marie Antoinette was so pleased with the chocolate disks—which she dubbed pistoles for their coin shape—that she asked Debauve to formulate other flavors. So began the career of France's oldest chocolatiers, who became Debauve & Gallais in 1800 and counted both Balzac and Proust among their fans. Still housed in the same historic rue des Saints-Peres premises where they first opened in 1800, the elegant marble-and-wood interior carries the full range of the chocolate maker's top-notch truffles, ganache-filled chocolates, pralines, and, bien sur, the pistoles de Marie-Antoinette, all in gold-stamped boxes fit for royalty.
PLAN YOUR TRIP: Visit Fodor's Paris Travel Guide
Pierre Monetta
Critics scoffed and chocolatiers sniffed when superstar chef Alain Ducasse announced he would try his hand at fine chocolate. Within no time at all, a gleaming state-of-the-art chocolate factory in a funky-chic neighborhood was churning out stylishly packaged gourmet chocolates Willy Wonka-style. The beans are fully processed on the premises, from roasting to molding, all watchable from behind the stylish courtyard-boutique's glass walls, where cascades of molten chocolate whet the appetite. A central case highlights individual chocolates, while single-origin bars, spreads, fruit-and-nut blends, and other delicacies beckon from the wall. The goods have met with acclaim from all corners, and a new comptoir has just opened on rue Saint-Benoît in Saint-Germain.
PLAN YOUR TRIP: Visit Fodor's Paris Travel Guide