Adrien Le Falher [Creative Commons Attribution-Share Alike 3.0 Unported license], via Wikimedia Commons
No need to head to the Loire Valley to see magnificent homes: There are plenty of historic châteaux within an hour of Paris, by car, train, or metro that can be easily explored in a single, history-filled day. Many of these properties are little-known gems, while others contain world-class museums or are located in the midst of gorgeous gardens and untamed forests. Whatever your interests, you'll find a world of majesty, history, and serenity just a short day trip away from Paris.
by Jennifer Ladonne
Kiev.Victor / Shutterstock
King Francois I hired the best French and Italian artists to embellish every inch of these sumptuous interiors with gilded woodwork, virtuosic frescoes, and paintings (the royal collection once included the Mona Lisa). Catherine de Medici, Louis XIV, and Napoleon Bonaparte all left their mark on the château, and you'll notice different styles reflecting the many royals who lived here over a period of 300 years. The château itself is easily seen in a day, but the gardens—by royal landscape designer André Le Nôtre—and surrounding forest, as well as the charming town of Fontainebleau, make for an excellent weekend trip.
If You Go: A short walk from the château, Michelin-starred L'Axel Restaurant draws foodies from near and far for its excellent and reasonably-priced gastronomic cuisine. (reservations necessary, €33 prix-fixe menu).
St. Nick / Shutterstock
France's largest and best-preserved medieval château, the recently restored Château de Vincennes also has the distinction of being a 10-minute metro ride from central Paris. The fortified castle, large enough to protect a 14th-century city within its walls, houses France's tallest medieval donjon, which is as famous for the royals who lived there as for its prisoners, which included the Marquis de Sade and philosopher Denis Diderot. The exquisite Sainte-Chapelle de Vincennes, sister to Sainte-Chapelle in Paris, was built to house a true relic of the crown of thorns.
If You Go: Just behind the castle is the Parc Floral, Paris's most beautiful public garden. Take in an outdoor concert, grab a bite at one of the park's two cafés, let the kids run around in the huge play area, or just stroll the acres of lush gardens and greenhouses.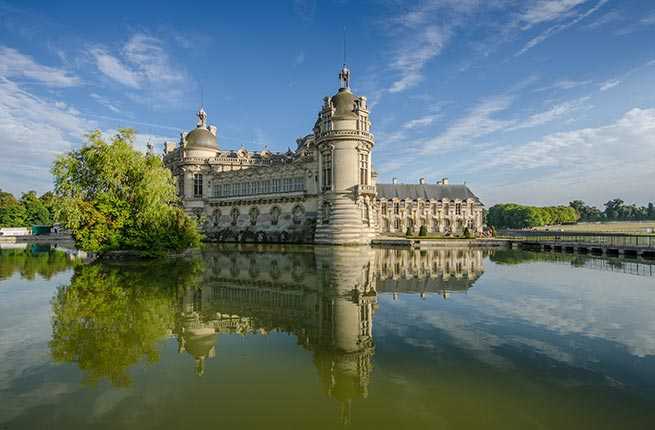 Evgeny Shmulev / Shutterstock
Château de Chantilly (Musée Condé)
Dramatically set between water and elegant André le Nôtre–designed gardens, the Château de Chantilly houses France's finest collection of paintings outside the Louvre in the attached Musée Condé. Built around 1560 by Anne de Montmorency, the Petit Château was the ancient home of the Connétables de France (constables), a high position close to the king, and contains the beautiful Apartements des Princes and a superb library with hundreds of priceless volumes, including a Gutenberg bible. Housed in the 19th-century wing, the superb Musée Condé is not to be missed. The château's extensive grounds contain the charming Hameau, a "village" built in 1774 that was the inspiration for Marie Antoinette's village at Versailles.
If You Go: Horse-centric Chantilly also boasts the newly restored Grandes Écuries (stables), built between 1719–1740 featuring a schedule of equestrian shows that delight young and old alike, and the wonderful Musée Vivant Cheval (Museum of the Living Horse). Just down the road, the hippodrome is one of France's most famous racecourses.
Gfmorin [Public Domain CC0], via Wikimedia Commons
Napoleon I's wife, Joséphine, saw the potential in this charming spot located seven miles from Paris; she took advantage of her husband's Egyptian campaign to buy the ramshackle house in his absence. He was furious at her extravagance, but slowly came around and eventually threw himself into creating a dwelling of unusual refinement, where the couple spent the happiest of their 13 years together. After the divorce, Joséphine lived here until her death in 1814, tending her famous rose garden and expanding her collection of exotic plants and animals. Restored during the reign of Napoleon III, the house features a rich collection of artwork and furniture, and the beautiful gardens remain a testament to a woman of taste and the Empire style.
If You Go: This peaceful little château is reached by car or by a quick RER train ride to La Défense (just outside Paris), then via bus 258, which drops you off at the property. There is no café on the premises, but you'll find restaurants within easy walking distance.
Adrien Le Falher [Creative Commons Attribution-Share Alike 3.0 Unported license], via Wikimedia Commons
The magnificent, privately owned Château de Breteuil has been home to the Marquises of Breteuil since the early 17th century, all of whom played an important role in the French history. Some of this stories, along with seven fairy tales by the famous French author Charles Perrault—including Puss n' Boots, Little Red Riding Hood, and Bluebeard—are charmingly recreated in the house and around the grounds via 50 lifelike wax figures from Paris's Musée Grevin. Extensive gardens, a kids' park, and a topiary maze also add to the family fun, and a café on the grounds makes it an easy place to spend the day (picnics are also permitted). And that elegant gentleman showing you around just may be the 12th Marquis of Breteuil, who lives here and conducts tours. The château is about an hour from Paris via the RER.
If You Go: Here, kids are royalty. To get as much as possible out of your trip, check online before you go; the schedule of events often includes special concerts and events for children.
Eric Pouhier [CC BY-SA 3.0], via Wikimedia Commons
Madame Maintenon, the second wife of Louis XIV, bought this already ancient château in 1675 with money given to her by the king. Louis oversaw its improvements, employing his staff from Versailles, including landscape architect André le Nôtre. Although Madame Maintenon loved the castle's singular beauty and solitude, she was rarely able to visit her property, since Louis, whom she'd married in a secret ceremony sometime around 1686, was ever more reliant on her company at Versailles. The property's picturesque aqueduct was built in 1685 to divert water from the Eure River to feed the fountains at Versailles.
If You Go: This lovely, little-known château is a 50-minute trip from Gare Montparnasse, and a pleasant 15-minute walk from the station. Maintenon is on the same route as Chartres Cathedral and both can easily be seen in a day.
(c) Lokono | Dreamstime.com
This handsome 18th-century château was built around a 14th-century fortified castle whose remaining central tower was named for François I, who died there in 1547. The castle's elegant interiors date to the Renaissance, although Napoleon carried out important updates (he stayed here on his way to exile) for his second wife, Marie-Louise. On the château grounds, you'll find the charming Laiterie de la Reine (Queen's Dairy), Louis XVI's surprise gift to Marie Antoinette, who hated the château, and the Chaumière des Coquillages, a classic folie whose interior was fashioned entirely of seashells. The château functioned as the summer home for the presidents of France, and the 36,000-acre forest, flower-bedecked façade, and lakeside setting all contribute to its unusual serenity.
If You Go: The château is located about an hour from the center of Paris—easily reached by train from Gare Montparnasse—where there are plenty of shops and cafés for a convenient lunch or snack. Or, grab a baguette and some cheese for a picnic on the grounds.
Château d'Ecouen (Musée National de la Renaissance)
This little-known gem was built in 1538–1551 by the powerful Anne de Montmorency, Constable of France and a famous aesthete who used his vast wealth to build this masterpiece of Renaissance architecture. Since 1977, the château has been home to the Musée National de la Renaissance, the only museum in France dedicated to this period, with an outstanding collection of Renaissance paintings, furniture, glassware, enamels, silverware, weaponry, and stained glass, as well as its famous ten-panel tapestry, "The Story of David and Bathsheba." The château also houses one of the most comprehensive collections of lace in the country. Close to the quiet town of Écouen, about 19 miles from Paris, the château is surrounded by the lush Écouen forest, perfect for a stroll or hike.
If You Go: The train to Écouen-Ezanville from Paris Gare du Nord takes about 20 minutes. You can hop on a bus directly to the château, but the lovely 15-minute walk on forest paths is worth the slight detour. The château's charming Deylan restaurant and tea salon is a good place for lunch or a snack throughout the day on its outdoor terrace.
Be Good / Shutterstock
An island of calm, this stately Neoclassical château sits at the edge of the enormous Compiègne forest, a favorite royal hunting ground since the Middle Ages. Built for Louis XV, the château was extensively redesigned in the early 1800s by Napoleon Bonaparte, and again by Napoleon III and the Empress Eugénie, who made it their autumn residence. A spectacular example of Second Empire style, the gorgeous apartments are a delight to behold, as are the exhibits of costumes and portraiture of the day, part of the Musées de Second Empire. The château also houses the wonderful transport museum, with examples of horse-drawn vehicles and hippomobiles (the first motored vehicles) from the 17th to the early 20th centuries.
If You Go: Between the forest, gardens, château, and three museums housed inside, there's plenty to keep you busy for a day, but the château's excellent special exhibitions are also worth a look. Additionally, there's a lovely café-restaurant on the premises.
Dan Breckwoldt / Shutterstock
From the château gates to the imposing statue of Hercules at the edge of Vaux-le-Vicomte's classic French gardens, the impression is one of pure harmony and elegance. Louix XIV thought so, too, since he arrested the owner, Nicholas Fouquet, on trumped-up charges and hauled him off to prison before taking everything in the palace for himself and appropriating Fouquet's architect, interior designer, and landscape gardener to build Versailles. The privately owned, beautifully restored château and gardens still stand as a testament to the unfortunate Fouquet's exquisite taste and refinement. On candlelit evenings (Saturdays from May–October), the château glitters inside and out with 2,000 candles and a special dinner is served on the terrace followed by a spectacular fireworks display.
If You Go: The château can be reached from Paris's Gare de Lyon via train (30 minutes), where a taxi or the Châteaubus shuttle (weekends only) can take you directly there from the Melun station. ParisCityVision also offers a package ticket with a direct shuttle from Paris to the château.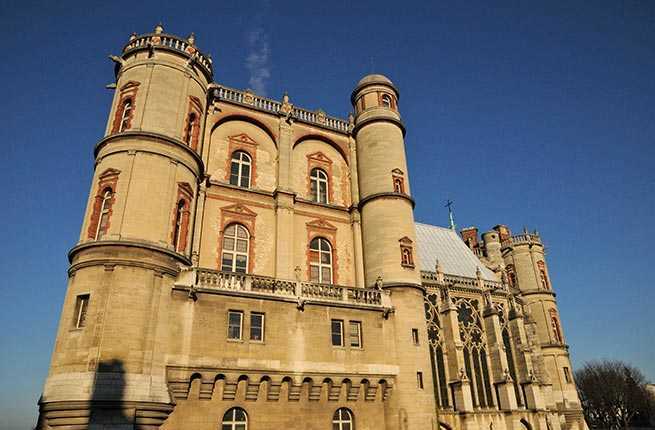 Pack-Shot / Shutterstock
Château de Saint-Germain-en-Laye (Musée d'Archéologie National)
Like Fontainebleau, this château also dates back to the reign of François I, but the similarities end there. As austere as the other is flamboyant, Saint-Germain-en-Laye was in a state of disrepair when Louis XIV (who was born there) gave it a facelift using his star team taken from Vaux-le-Vicomte. Louis continued to shuttle between here and the Louvre while Versailles was under construction. The stunning 12th-cenutry Sainte-Chapelle, precursor to its famous Parisian counterpart, is worth the trip alone. But the château also houses the wonderful National Museum of Archeology, chronicling the history of France from prehistory to the Middle Ages. This elegant château's museum and gardens, plus its views of Paris, make for a wonderful day trip, just 20 minutes from the city via the RER (the station is just across the street from the château).
If You Go: The affluent town of Saint-Germain-en-Laye is chock full of history, and its wide, tree-lined streets are a great place to stroll, window shop, or relax at an old-style café. Chez Alice is the perfect place for a gourmet lunch or a nice cup of afternoon tea and dessert.