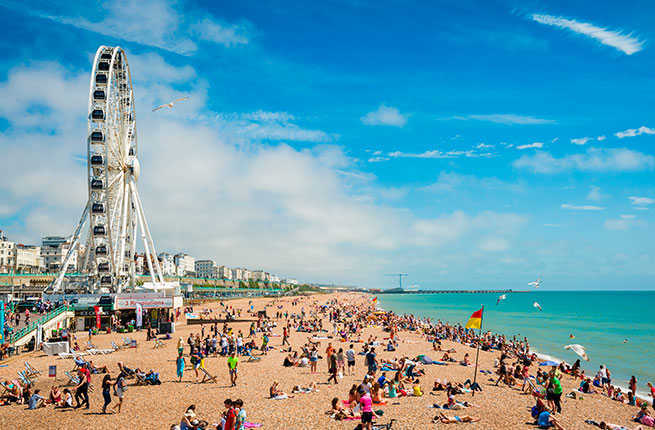 Stanko07 | Dreamstime.com
For a small city, Brighton packs a big personality. Londoners and other English travelers love escaping here for its pretty pebble beach; pier and seaside recreation; and special cultural and culinary appeal. But the rest of the world is slowly discovering that Brighton, and its adjacent city of Hove, make for an easygoing, easy-to-love waterfront hub that's worth making time to visit. Plus, Brighton is a mere 50 minutes south by rail from London's Victoria Station. —Kelsy Chauvin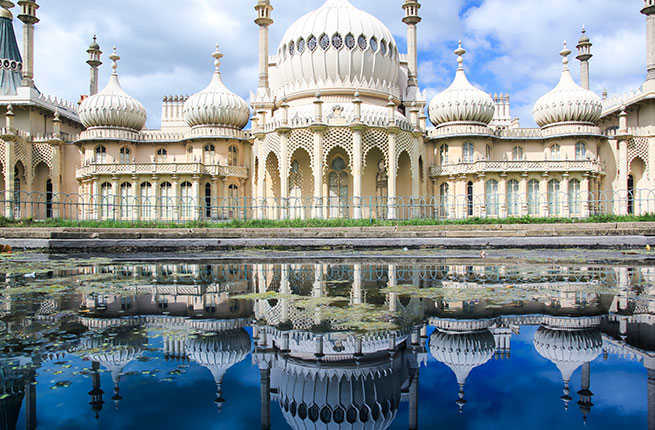 Donsimon | Dreamstime.com
The ornate onion domes and decorative minarets are eyecatching enough today, so it's hard to imagine just how wondrous they must have seemed when it first opened nearly two centuries ago. But that was indeed the desired effect for the Prince Regent (crowned King George IV in 1820), who had the Royal Pavilion erected with the help of famed architect John Nash. Today, the Oriental and Indo-Saracenic architecture both inside and outside are some of Brighton's most mesmerizing—if bewildering—sights.
PLAN YOUR TRIP: Visit Fodor's Brighton Guide
Stanko07 | Dreamstime.com
The scenic waterfront stretch of Brighton and Hove hug the coast of the English Channel. But beyond long walks and pretty bike rides, beachy attractions like the Sea Life Centre and 150-foot-tall Brighton Wheel are great additions for family fun. Don't miss a ride on Volk's Electric Railway—the oldest operating electric railway in the world, taking tourists one mile up and down the beach since 1883.
Insider tip: Family ticket packages are available for the Brighton Wheel, as are wine and champagne deals for adults.
PLAN YOUR TRIP: Visit Fodor's Brighton Guide
Gvision | Dreamstime.com
From its prime location on the banks of the English Channel, day trips to other parts of lush Sussex County are a pleasant diversion from Brighton's bustle. To the east, Beachy Head's dramatic chalk cliffs are the tallest in England, and the nearby town of Eastbourne is a lovely area for lunch. Venture west to explore the ancient Roman ruins of Fishbourne in Chichester, or just rent a car and enjoy the drive through the rolling green English countryside.
PLAN YOUR TRIP: Visit Fodor's Southeast England Guide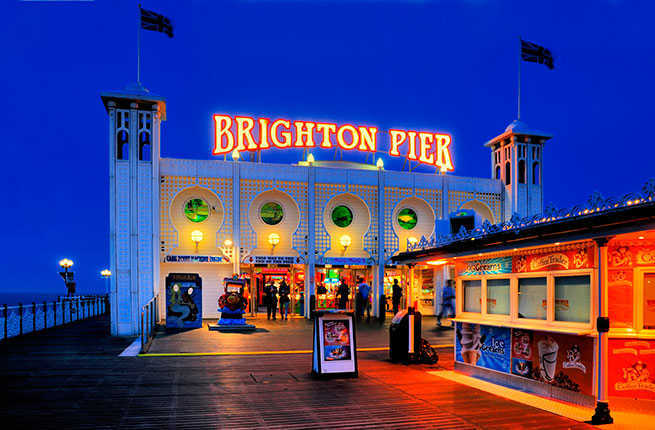 Dennis_dolkens | Dreamstime.com
Since 1899, the 2.5-acre Brighton Pier has been a starring attraction for those heading to Brighton for fun and relaxation. While it's evolved through the decades, the historic pier still retains much of its vintage character and wrought-iron details, as well as its now-modern rides and games. Head here for a whirl on the eye-popping rainbow carousel, to sip a drink at the Victorian beer hall, or just to pause over the English Channel and catch the sunset.
Insider tip: Buy a wristband for a better deal on unlimited rides all-day long on the Brighton Pier.
PLAN YOUR TRIP: Visit Fodor's Brighton Guide
Acmanley | Dreamstime.com
The town of Hove is nearly indistinguishable from Brighton, except perhaps for the wider, more grid-like streets. In fact, the two cities finally merged into the unified Borough of Brighton and Hove in 1997. A visit to either is easy from the rail terminal. Compared to Brighton's heavier tourist traffic, Hove has a slightly quieter residential atmosphere. A stroll along the beach, however, is marked by Hove's colorful beach huts—a sort of rainbow bookend for the east side of town.
PLAN YOUR TRIP: Visit Fodor's Brighton Guide
Local legend has it that there are at least 365 pubs in Brighton and Hove—enough to drink at a different one every day of the year. That may be true, but finding the perfect place to sip an ale or local cider, perhaps with a side of shepherd's pie, is the real challenge. Head to the classic Camelford Arms or more nouveau-style The Better Half for quality pub time. And with a huge LGBT population, the Marlborough Pub & Theatre is Brighton's go-to gay spot, though many others are easily found around town—especially along St. James's Street and the waterfront in the Kemptown neighborhood.
PLAN YOUR TRIP: Visit Fodor's Brighton Guide
Kelsey Chauvin
You could spend an entire visit here focused on fish and chips, Sunday roast, and other hearty British fare. But Brighton wants to tempt you with some new ideas. Stop into Silo to try fresh and delicious dishes and baked goods made from a kitchen that promises "zero waste"—except for compost. Brighton is big on vegetarian eateries too, and Terre à Terre has won awards for its innovative menus. Indian food at its best awaits at Hove's Azaro Restaurant. To eat among locals, duck into Hove's Crafty Chooks for delicious basics made with local, organic ingredients, served with an array of sauces—best eaten in summer on the patio, naturally.
PLAN YOUR TRIP: Visit Fodor's Brighton Guide
Brighton has been on the world arts and theater map since the late 1960s, when the Brighton Festival debuted its daring program. The festival has only grown stronger through the years, inspiring other arts showcases like the Brighton Fringe and Pink Fringe, the latter focused on LGBT performing arts. While spring rings in several festivals like the Great Escape Festival, theater is a year-round attraction. Don't miss big shows at the majestic Brighton Dome, live comedy at Komedia, or just check out WeLoveBrighton.com to see what's on during your visit.
PLAN YOUR TRIP: Visit Fodor's Brighton Guide
Benas324 | Dreamstime.com
Between Brighton's lively nightlife, dynamic waterfront, and year-round community events, this town is just plain fun. People seem especially friendly and happy to chat, and are adept at rapid-fire, sophisticated British humor. With a distinct vacation-all-year vibe, some might call this city quirky—and not just because of huge events like August's rainbow-bright LGBT Pride parade and festival (the biggest gay pride in the U.K.). Regardless, you're sure to find fun.
PLAN YOUR TRIP: Visit Fodor's Brighton Guide
Nigelspiers | Dreamstime.com
Browsing in Brighton is its own pastime. The Laines, with its curving hodgepodge of streets and alleys, is a great spot to wander and window shop its many antique shops and other stores. A bit farther up from the waterfront are the North Lanes, home to vintage stores galore along pedestrian-heavy strips like Kensington Gardens and Sydney Street.
PLAN YOUR TRIP: Visit Fodor's Brighton Guide