The Hoxton, Holborn
199-206 High Holborn, London, WC1V 7BD, England
Why We Like It
Sharp and stylish, hip and creative, the Hoxton Hotel's cool credentials are enough of a drawer, before even taking into account its superlative location in the heart of central London. Importantly, the rooms are also a bargain given the quality of the décor and the glamorous bathrooms–even if some are on the small side. Close to some of the best landmarks and attractions in town, the Hoxton Hotel is perfectly located for tourists and digital nomads who want the convenience of the West End with the style of the hotel's Hoxton origins.
Bringing the creative cool of East London to an amazing location in the West End, the success of the Hoxton Hotel Holborn is the result of its bold signature interior style that keeps things trendy while appealing to the masses. Taking a sprinkle of original artwork here, adding some vintage treasures there and mixing it up with plenty of Mid-century charm, the look is all smart lines, luxurious wallpapers and hip bar and restaurant spaces. Best of all, this outpost sticks to the original Hoxton Hotel's appealing prices, meaning cool central London boutique hotels just got a lot more affordable.
While there's not a gym or fitness facilities at the hotel, the nearby Oasis Sports Centre has a beautiful outdoor heated pool, which is open to the public.
room
Custom London themed wallpaper, original artworks, handsome wooden floorboards and Danish furniture flourishes combine to create rooms that feel more luxuriously boutique than the prices would suggest. Four sizes are available in the Hoxton's signature sliding scale from Roomy (the largest) down to Shoebox (the smallest).
YOU SHOULD KNOW Shoebox means shoebox, which means a tiny room just large enough for you and your luggage. Still, the competitive prices make the smallest rooms an option if you're on a budget and you don't plan to spend much time inside.
bathroom
The sixties vibe monochrome wet rooms feature walk-in showers and Pen & Ink bath products.
lobby
Designed to be an entity that appeal to guests and non-guests alike, the lobby is a hybrid live-work-leisure space where you're likely to find groups of hot-desking digital nomads next to parties sipping cocktails in the cozy recliners. Creative vibes flow here like the craft beers on tap.
spa
Forget long, sensual massages and new-fangled treatments, Cheeky Parlour keep it fun and simple with hair, makeup and nail treatments, which make it the place to drop in for a pre-theater spruce up.
dining
There's chicken and then there's chicken and at the Hoxton Hotel's Chicken Shop restaurant, the finger lickin' good rotisserie chicken is definitely the latter—if that makes a whole lot of sense. Gourmet style slow cooked pieces put KFC to shame and come with a great selection of sides. The more refined main restaurant on site is Hubbard & Bell, an all-day place that attracts guests and non-guests alike for its brunch classics and grill meats.
drinking
Take a drink in the large lobby bar or drink craft beers and cocktails at Hubbard & Bell, the multifaceted dining and drinking spot at the Hoxton Hotel. Not quite as trendy as its Hoxton sister hotel, the drinking and dining options here attract a broader clientele which lends the hotel a more inviting atmosphere.
People also liked
$$ | 14 Leicester Place
Opened in 2017, this boutique property is bang on trend with its timel... Read More
$$ | 25 London St
Like stepping into the pages of a magazine, the Pilgrm is a design hot... Read More
$$ | 24 Egerton Gardens
The Franklin is like a life-size luxurious dolls house under the direc... Read More
$$ | 14-15 Henrietta St
Style mavens and hip flaneurs will fit right in at the beautifully ref... Read More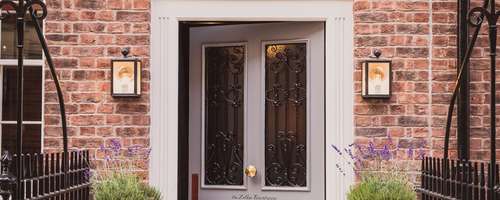 $$ | 28-30 Seymour Street
A gloriously warped version of a contemporary National Trust house in... Read More
LOCATION
Getting Around
A three-minute walk to Holborn Tube and the Central Line provides a convenient way to find the best links across the London Underground. However, you can't get a lot more central than Holborn and with the hotel's location less than ten-minutes' walk from Bloomsbury, Covent Garden and Soho, most excursions can be undertaken on foot.
Restaurants
If you're tired of the contemporary style cuisine at the Hoxton, then head to Rules (13-minute walk), one of London's oldest restaurants. Red velvet booths, framed pictures everywhere and a Charles Dickens dining room—nothing says Britain like Rules. If you want to stick with contemporary cuisine, how about the excellent Sri Lankan curry dishes, flatbreads and cocktails at Hoppers (12-minute walk)?
Bars
Nowhere says cool like a members' bar and there's no better members' bar—when you're not a member—than one you can get into. Head to the Phoenix Artists Club (9-minute walk) below the Phoenix Theatre before 7 p.m. and you're in for the night. Go after and you might have to charm the door staff. For the most delightful range of negronis in the city, pop to the tiny Bar Termini (10-minute walk) and drink in the Campari goodness in a space that could exist down a dimly lit alleyway in Rome.
QUICK FACTS
HOTEL INFO
Phones: 020-7661-3000