Stylotel
160–162 Sussex Gardens Sq., London, W2 1UD, England, London, England
http://www.stylotel.com/gallery/
Why We Like It
The bathrooms may be tiny and the décor is likely to reinstate your faith in chintz and florals, but we can't fail Stylotel on its ability to deliver a comfortable budget stay close to the West End with a friendly, warm welcome. Some people might prefer plain, no-nonsense box rooms of some budget equivalents, but there's no denying Stylotel has personality.
A quirky, if slightly in-your-face, budget hotel a few minutes from Paddington Station, Stylotel is a good option for travellers looking to spend less on their hotel and more on the action that keeps them away from it. Just verging on the right side of naff, the sci-fi overtones of the décor nevertheless fail to detract from what is a pleasant, budget boutique hotel at its core.
Family suites with cooking facilities are a great budget choice.
room
Like something out of Blade Runner or the inside of a bank vault, rooms here feature a collection of dark panel walls, shiny stainless-steel dividers and sleek opaque glass surfaces to create a futuristic picture of modern living. While you might not choose the blue curtains or the slightly trippy artwork for your own home, the rooms are comfortable, clean and on budget.
YOU SHOULD KNOW Some rooms accommodate up to four people, which makes it a good option for large groups on a budget. Those seeking an intimate hotel experience should look elsewhere.
bathroom
While the built-in bathrooms make the most of all available space, they make for a tight, cramped space in which to spruce up.
lobby
The small lobby with check-in desk and concierge is a fairly nondescript base to carry out the necessary admin but a lounge space provides a more comfortable place to relax.
dining
A hot buffet breakfast is served in a communal dining room and comes included in the price of the room — the perfect budget bonus for those planning to load up on breakfast and skip lunch.
drinking
If you're feeling fond of the vibe at Stylotel and want to keep it in the family, the company's sister pub, The Sussex Arms, is a short walk around the corner. A classic pub complete with a contemporary and colorful décor, it's a good place to make plans for further excursions away from Paddington.
People also liked
$$ | 14 Leicester Place
Opened in 2017, this boutique property is bang on trend with its timel... Read More
$$ | 25 London St
Like stepping into the pages of a magazine, the Pilgrm is a design hot... Read More
$$ | 24 Egerton Gardens
The Franklin is like a life-size luxurious dolls house under the direc... Read More
$$ | 14-15 Henrietta St
Style mavens and hip flaneurs will fit right in at the beautifully ref... Read More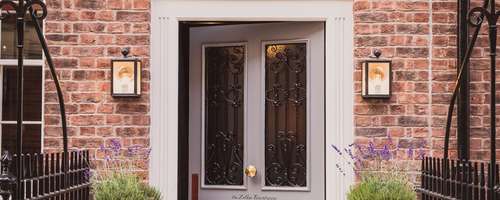 $$ | 28-30 Seymour Street
A gloriously warped version of a contemporary National Trust house in... Read More
LOCATION
Getting Around
What Paddington lacks for in looks, it can make up for with its ability to speedily whisk visitors away to other areas of London and the UK. The mainline Paddington Station has great connections to England and Scotland and its Underground station offers a ten-minute ride into central London. Located in a busy, built-up neighborhood, it is still only a five-minute walk south to Hyde Park. While Paddington isn't the most desirable neighborhood for culture, West London and central neighborhoods aren't far.
Restaurants
Eat burgers and drink craft beer while looking out over the former industrial hub of the Paddington Basin at Lockhouse (9-minute walk). The cavernous space is great for big groups. If in search of something a little more classic and a tone down on those Blade Runner interiors at the hotel, head to Angelus (4-minute walk), a traditional French brasserie with an excellent wine list.
Bars
Filled with pubs showing sports and home to a strong crowd of after work drinkers, Paddington isn't known for its refined bars but that's not to say the good ones don't exist. Drink cocktails at Old Mary's (9-minute walk) speakeasy, quaff fine wine at Cork & Bottle (3-minute walk) or relax for an afternoon in the beautiful Edwardian pub, The Bridge House (14-minute walk).
QUICK FACTS
HOTEL INFO
Phones: 0207-223–1026