Once a favorite of Bond writer Ian Fleming, this exclusive, luxury hotel in the heart of St James' is the most fitting place in the city to drink a martini—shaken, not stirred, naturally. Tucked into its own quiet cul-de-sac, the hotel defies its position a short walk from bustling Piccadilly and Mayfair, offering a blanket of serenity that seems a world away from the center of London. Famous for its bar and those Vespa Martinis, Dukes Hotel is something of a fantasy, allowing guests to masquerade as those in the upper classes might have done when it opened in 1906.
YOU SHOULD KNOW While prices are high, the consistency of service, quality of beds and sheer aristocratic grandeur of enjoying martinis in the Dukes Bar are worth the money.
room
Rooms are spacious with sleek armchairs, writing desks, and king size beds with bright, airy color schemes complementing a classically elegant style. Being the elegant hotel that it is, rooms come with cozy robes and slippers for that 'home away from home' feeling.
Rooms with picturesque views of Green Park are worth paying extra for.
bathroom
Large bathrooms are decked in obsidian marble and white paneling with bathtubs and rainforest showers.
lobby
Like walking into a stately city mansion house, the entrance to Dukes Hotel is one of the London hotel scene's more iconic, with cascading flowers covering the façade before it welcomes guests into a hallway adorned with grand old paintings. In the lobby, the service is swift and faultless, as it is everywhere else.
gym
A steam room and gym offer space to work out and unwind, and the Duke's Health Club provides treatments and massage, which can be booked with the concierge.
dining
The GBR restaurant—standing for Great British Restaurant, ahem, FYI—is a love letter to British dishes, flavors and produce, located in a smart, informal space complete with gilt mirrors and an impressive parquet floor. All-day dining is available in the restaurant, while the Duke's afternoon tea offers a dainty snack of cakes, crust-less sandwiches, and a selection of artisan teas in the Drawing Room.
Picnics can be arranged to be delivered to you in next door Green Park, after which leftovers will be packed up and taken away without you having to lift a finger.
drinking
Forget table service, at the Dukes Bar the martini trolley is wheeled to your table where your drink is mixed in front of you. Cocktails are expensive but worth every penny, as the free-pouring skill of the gregarious head bartender Alessandro Palazzi is as generous as he is with his anecdotes. This was the place where Fleming is said to have devised his most famous creation's favorite drink, so drink up that history.
LOCATION
Getting Around
Tucked into its own mysteriously quiet mews, Dukes Hotel may not seem like it's right in the midst of the action, but it is. Central attractions like Westminster and Buckingham Palace are within easy walking distance, as are plenty of galleries, restaurants, museums, and shops. Tube connections from Green Park and Piccadilly Circus will take you wherever you want to go and black cabs are always just a quick wave of the hand away.
Restaurants
If GBR isn't great or British enough for you then head to Ormer Mayfair (8-minute walk) where the British-influenced fine dining is exceptional. For something a little less ostentatious, try a trip to the Wolseley (5-minute walk), a charming, classic European brasserie on Piccadilly.
Bars
If you're getting bogged down in elegance and history, book in for cocktails in the parlor at Sketch (12-minute walk), an amazingly bonkers, art-filled townhouse in which you'll spend most of your time either taking photos, or fighting the urge to. Another extravagant bar, Mr. Fogg's Residence (10-minute walk) will transport you back to the golden age of travel and exploration, and serve you well-mixed cocktails while it does it.
WHY WE LIKE IT
Few Londoners get to live in a neighborhood as central, as dashing or as exclusive as St. James', which is what makes Dukes Hotel so special. The rooms are sophisticated, the service is excellent, efficient and most of all, friendly, and the nostalgia of old London that fills every space is enough to make the high room rates worth shelling out on.
QUICK FACTS
HOTEL INFO
Phones: 020 7491 4840
People also liked
$$ | 14 Leicester Place
Opened in 2017, this boutique property is bang on trend with its timel... Read More
$$ | 25 London St
Like stepping into the pages of a magazine, the Pilgrm is a design hot... Read More
$$ | 24 Egerton Gardens
The Franklin is like a life-size luxurious dolls house under the direc... Read More
$$ | 14-15 Henrietta St
Style mavens and hip flaneurs will fit right in at the beautifully ref... Read More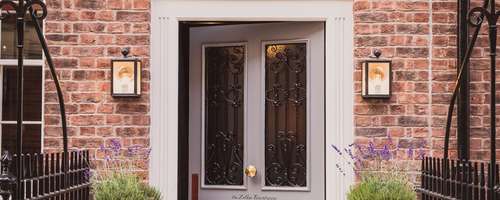 $$ | 28-30 Seymour Street
A gloriously warped version of a contemporary National Trust house in... Read More