A properly cool boutique hotel in Copenhagen's pleasant Latin Quarter, SP34 has all the hipster trappings, from an in-house cinema with vintage theater seats to its Instagram-friendly main restaurant, Vækst, full of hanging plants. But it's not style over substance: the service is great, the food is delicious across the hotel's three restaurants, and the natural light-filled rooms and public spaces are welcoming and cozy.
YOU SHOULD KNOW The hotel is pretty central and on a junction - while it feels like a bit of a retreat, there can be some street noise. Some rooms overlook the central courtyard, so if noise is an issue for you, choose these.
Photo: #hotelroomgoals ????#sp34hotel ???????? @rudyaoun waiting for @tinakritzinger @johnnykrit /
@adretaute
room
Rooms are light, bright and modern, if a little plain, but with a decidedly Danish design vibe. Singles are available. The decor outside the rooms is probably a bit more 'out there' - the bright pink lift that pays you a compliment as you travel up in it, the street light room numbers - rooms are a bit more laidback.
Room 428 in the gables of the building is very cute if you're a fan of slanted ceilings and feeling like you're staying in your cool pal's Copenhagen attic.
Photo: #hotelroomgoals ????#sp34hotel ???????? @rudyaoun waiting for @tinakritzinger @johnnykrit /
@adretaute
bathroom
Some are 'wet rooms' and others have bathtubs, but all have lovely Ren toiletries and soft towels.
lobby
The reception desk is also the bar, which can cause some delays if checking in towards the evening, but also means that the whole area - a light, laidback space featuring rotating displays of the work of local artists (currently featuring Mick Jagger), plus a proudly-displayed bike - feels not at all hotel-ish and is a great place to hang out any time of day.
Photo: #cph #sp34copenhagen #kopenhagen #dänemark #denmark #Urlaub #scandinavia #sp34 /
@oli_kei
Photo: C o f f e e / break • • • #sp34hotel #sp34copenhagen #copenhagen #cph #københavn #denmark #nordic #danishdesign #interiordesign #interiorstyle #interior #design #hotel /
@manis_ss
gym
There's a small fitness room with weights.
dining
Comprehensive and cool dining options are availabl at SP34: there's Vaekst, in a gorgeous conservatory, dishing up modern Nordic food and the hotel's organic breakfast; Cocks & Cows, a great burger joint; and then the relaxed cafe/bar, Din Nye Ven, which also hosts music nights and serves traditional open sandwiches.
Photo: #sp34hotel #beautiful #hellonewweek #shortweek #easteriscoming #secondfavouritecity What a good start into the new week... Still thinking about beautiful Copenhagen ???????? /
@stephie_spoerri
Photo: Missing Copenhagen... #sp34hotel #travel #hotelsp34 #copenhagen #takemeback /
@gpwagstaff
Photo: From Copenhague w/ ?? #copenhagen #danemark???????? #parterre #port #christiania #carlesberg #ipa #wine #one #tivoli #sp34hotel #happy #bonheurabsolu /
@insta_elsacoco
drinking
The bar space is cool, there's a daily complimentary wine hour at 5 (and the wine's not bad, either), and the hotel serves Denmark's largest selection of port, including some port cocktails. Plus Brøchner Hotels (a mini-chain running three other trendy properties in Copenhagen as well as SP34) brews its own beer, and the hotel's roof terrace is lush in summer.
Guests can enjoy wine hour at their own hotel but they can also go to any of Brøchner Hotel's other properties in town, too, which is a nice added extra.
LOCATION
Getting Around
In the attractive Latin Quarter, most of the city's sights are a short walk (or bike ride - you can rent them at reception) away.
Restaurants
The Olive Kitchen and Bar (6-minute walk) is a deservedly popular family-run spot, serving delicious food. Or go full Danish with schnapps, beer and open sandwiches at Restaurant Schønnemann (10-minute walk).
Bars
Bar 7 (3-minute walk) is a trendy New York-style cocktail bar. Or Brewpub (4-minute walk) is a microbrewery in a 17th century building, with tours and tastings available.
WHY WE LIKE IT
One of Copenhagen's coolest hotels (and that's saying something), SP34 is welcoming, comfortable, and funky. We like wine hour, the vintage cinema, and the great on-site restaurants, bar and chill-out spaces - although it's not cheap.
People also liked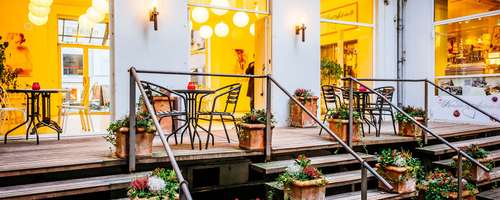 $$ | Ellehammersvej 20, 2770 Kastrup, Denmark
While Copenhagen Airport is a pretty easy trip from the center of town... Read More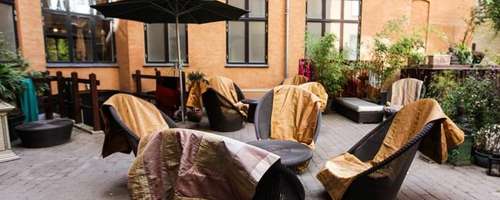 $$ | Nørre Søgade 11, 1370 København K, Copenhagen, Denmark
A leafy and comfy hotel with a gorgeous central courtyard, Kong Arthur... Read More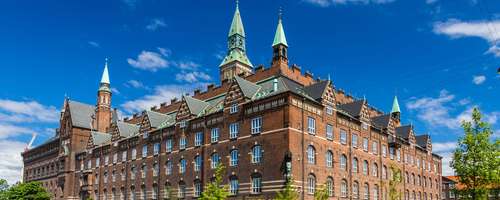 $$ | Gyldenløvesgade 19, 1600 København V, Copenhagen, Denmark
It's not just always summer, but always summer in the tropics, in Mano... Read More
$$ | H. C. Andersens Blvd. 8, 1553 Copenhagen, Denmark
If you love Danish design, you'll love Hotel Alexandra; it's as simple... Read More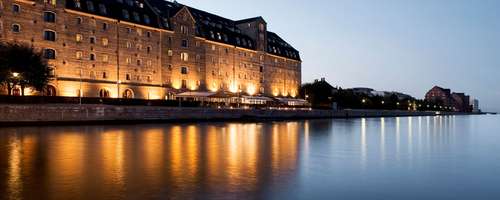 $$ | Frederiksstaden | Toldbodgade 24–28, Frederiksstaden, Copenhagen, Capital Region, 1253, Denmark
A five-minute stroll from Nyhavn, overlooking old Copenhagen and Amali... Read More
$ | Frederiksberg | Vodroffsvej 55, Frederiksberg, Copenhagen, Capital Region, 1900, Denmark
This impeccably maintained, bright budget hotel is just west of the la... Read More