Skt. Petri
Krystalgade 22, Centrum, Copenhagen, Capital Region, 1172, Denmark, Copenhagen, Denmark
SKT. PETRI
Why We Like It
Cool but not too cool-for-school, with a striking lobby and sleek rooms, the Skt.Petri is an unusual, modern, luxury hotel in a market sometimes dominated by stately old dames or shrines to minimalism. The huge lamp, with its palm-fringed prehistoric feel, is almost worth the trip alone.
This department store-turned-luxury hotel in Copenhagen's peaceful Latin Quarter manages to walk the sometimes tricky line between funky and inviting. Renovated in 2017, it caters for a well-heeled international crowd with style. A good bar, great breakfast and pleasant outdoor courtyard, complete with a sourdough pizza oven in the summer, add to the mix. Staff are friendly, and often beautiful and hip as well, and the main lobby - all geometric flooring, glass cube shelves/walls and striking lighting - has a good dose of modern wow factor.
The building is widely considered to be Denmark's first Modernist structure. It was designed by architect Vilhelm Lauritzen.
room
The hotel's 288 rooms - 20 of which are totally new - were all glammed up in the recent refurb, and it shows. Rich, grown-up tones abound, with deep jewelled blues and greens, and dark wood. Check out the star in the brickwork on the university building opposite - in a lovely design touch, it's echoed throughout the hotel, including on a textured white wall in every room.
YOU SHOULD KNOW Not all rooms have tea and coffee making facilities as standard. Check when you book, as standard rooms can charge 65 DK extra for this fairly basic offer. Some guests have complained about noise from the bar - ask for a room on a higher floor if you think this will bother you.
Photo: Cant wait to sleeeeep! Etter et langt bad og en good dessert på patepate! #sktpetrihotell @sktpetri @bloggturkøbenhavn /
@linnseljeset
bathroom
Thought has gone into the bathrooms too, some of which have black showers, grey walls and cosy lighting, and separate toilet compartments. Others are white with a black tiled strip.
lobby
The impressive hangar-like central lobby, bar and dining area is compartmentalised with plants, jazzy lights and a particularly striking foliage-covered dangling central lamp.
gym
There's a fitness studio in the basement.
dining
The hotel's breakfast offer, complete with an omelette station, is top quality. Its attractive lobby restaurant also delivers some tasty small bites in a far more characterful setting than most hotel lobbies, and the externally-run P Eatery adjacent to the hotel dishes up decent food too, riffing on the local, seasonal theme that has become so linked with Copenhagen. It also offers 100 wines by the glass.
drinking
The bar in the lobby has a good atmosphere regardless of the hour, offering fairly standard but well-made cocktails and other drinks.
People also liked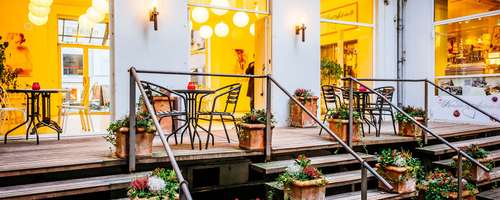 $$ | Ellehammersvej 20, 2770 Kastrup, Denmark
While Copenhagen Airport is a pretty easy trip from the center of town... Read More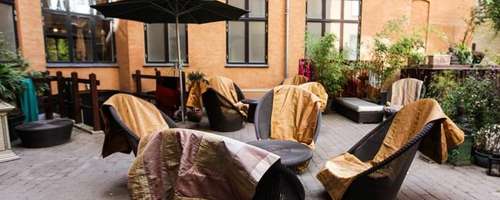 $$ | Nørre Søgade 11, 1370 København K, Copenhagen, Denmark
A leafy and comfy hotel with a gorgeous central courtyard, Kong Arthur... Read More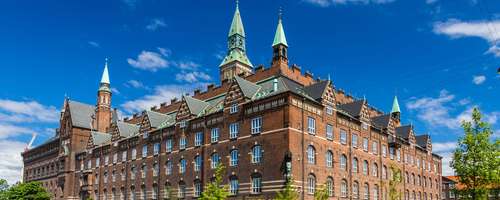 $$ | Gyldenløvesgade 19, 1600 København V, Copenhagen, Denmark
It's not just always summer, but always summer in the tropics, in Mano... Read More
$$ | H. C. Andersens Blvd. 8, 1553 Copenhagen, Denmark
If you love Danish design, you'll love Hotel Alexandra; it's as simple... Read More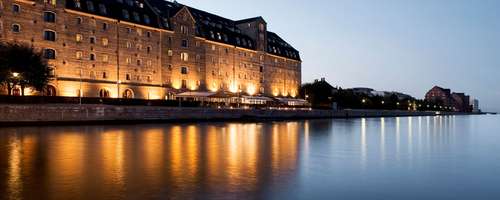 $$ | Frederiksstaden | Toldbodgade 24–28, Frederiksstaden, Copenhagen, Capital Region, 1253, Denmark
A five-minute stroll from Nyhavn, overlooking old Copenhagen and Amali... Read More
LOCATION
Getting Around
A 6-minute walk from the Nørreport metro station, Skt. Petri is in a pleasant location in its own right but is also a pretty speedy walk (within 20 minutes) to most of Copenhagen's main central attractions.
Restaurants
The Olive Kitchen and Bar (2-minute walk), a family-owned joint, has a great reputation locally for good food and friendly vibes. Or for a more unusual offer, Krebsegaarden (6-minute walk) themes its food around the exhibitions at the art gallery in its backyard.
Bars
Lots of sleek cocktail bars hark back to Mad Men, but perhaps none as successfully as The Jane (6-minute walk). Or the cosy basement bar of the restaurant with the same name, Peder Oxes Basement (5-minute walk), is a casual, popular option - beware though, at weekends it can be almost impossible to squeeze in.