Haštal Hotel Prague Old Town
Haštalská 16, Prague, Praha 110 00, Czech Republic
Shutterstock
Why We Like It
Friendly, historic, well-located and comfortable, at really great prices in often-overpriced Old Town, Haštal is a treasure. Throw in the never-ending tea, coffee and wine, plus a great breakfast spread, and we're hooked. Plus, the hotel owners use some of their takings to support the children's charity Unicef, and there's a collection box in reception should guests choose to do the same.
A brilliantly priced, family-run hotel located in a quiet spot just a few minutes from Old Town Square. There's complimentary all-day coffee and wine in the lobby or courtyard, rooms are large and pleasant, and include air-conditioning and free Wi-Fi, but the welcome you'll receive from the owner and staff are worth more than any amount of amenities. This wonderfully homey hotel has been in the same family for six generations, and there's a clutch of good restaurants nearby.
"Like" the hotel on Facebook for a 5% discount.
room
Rooms at the front offer views of beautiful Haštalské náměstí and its adorable church. Rooms at the back are quiet. All were renovated in 2016 but have retained their old-fashioned charm, with art-nouveau prints and large, springy beds.
If it's a special occasion, request the "honeymoon" room in advance. It has a cute balcony that's just big enough to peep out onto the square while you sip complimentary Bohemia Sekt--a gorgeous start to your evening.
bathroom
Bathrooms, too, were spruced up recently, and it shows: gleaming white appliances, gilt-edged mirrors, and cream tiles.
lobby
The lobby has a charming 1920s vibe, with leather couches, old newspaper prints and a wooden enclosed reception desk. You'll probably meet one of the family, who may well explain to you the hotel's six-generation history while also suggesting good nearby bars and restaurants.
YOU SHOULD KNOW Some of the rooms are on the 6th floor, with small roof windows, and the hotel elevator only reaches the 5th floor. Speak to staff if you have mobility issues or prefer a room with larger windows, and they will try to accommodate you.
spa
Guests can book into the Zen Asian Wellness Center, next door to the hotel, for massages.
dining
Slightly weirdly, the hotel now boasts a modern Asian fusion restaurant called Hazen. It can sometimes be a bit quiet, but the sushi is good. Otherwise, the hotel's typical European breakfast spread--running the gamut from meats to cakes, and including sparkling wine, is as reliable as ever.
drinking
A relaxed spot for a glass of the hotel's complimentary wine is its Golem garden, which is really just a few chairs and umbrellas in the courtyard with a statue of the Golem, an interesting folkloric figure with a particular tie to Prague. In one of the most famous Golem stories, the being was conjured up from the Vltava mud by Rabbi Loew in the 16th century to protect the nearby Jewish ghetto from antisemitic attacks.
People also liked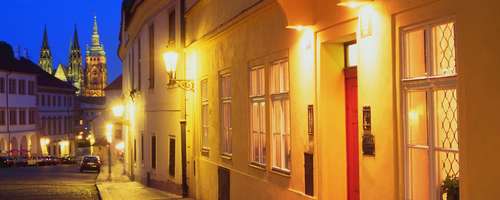 $ | Loretánská 11
Close to the castle but somehow by a forest, the Domus Henrici (sister... Read More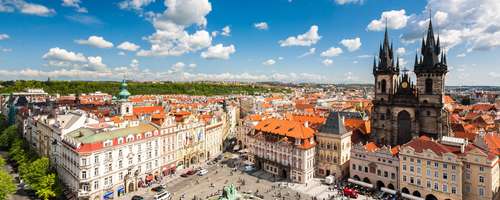 $ | Panská 1308/9
Excellently located on the edge of both Old and New Town, NYX Hotel Pr... Read More
$ | Dražického náměstí 62/6
A sweet little hotel very close to the Charles Bridge, Hotel Bishops H... Read More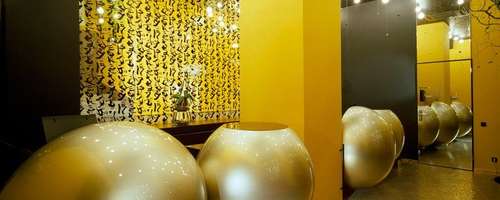 $$ | Perlová 412/1
Right at the heart of the action in Old Town, this can mean that thing... Read More
$$ | Úvoz 155/15
For castle junkies, Questenberk is actually in Prague's Unesco World H... Read More
$$ | Stare Mesto (Old Town) | Haštalská 14
A beautifully designed hotel in the heart of Old Town is tasteful fusi... Read More
LOCATION
Getting Around
A lovely location in a quiet corner of the Old Town, most of the sights are within walking distance. Otherwise, there's a tram stop within a few minutes' walk (Dlouhá třída), and a Metro stop (Náměstí Republiky) a 6-minute walk away. Taxis and Ubers can reach the hotel's doorstep, too.
Restaurants
Just across the street is one of the best modern takes on a Czech pub you'll find, Lokal (1-minute walk). Reservations are recommended. Or for a taste of a different tradition, pick up some sausage (klobasa) at the lunch counter of butcher shop Nase Maso (2-minute walk).
Bars
Party hard at underground bar Harley's (2-minute walk), or try Tretter's (4-minute walk) for a more refined tipple.
QUICK FACTS
HOTEL INFO
Phones: -222–314–335