BoHo Hotel Prague
Senovázná 1254/4, Prague, Praha 120 00, Czech Republic
https://www.facebook.com/BohoHotelPrague/
Why We Like It
See and be seen at one of Prague's trendier hotel offerings. Sure, it can feel a bit too-cool-for-school at first, but you are there to pose and soak up the gilded spa atmosphere, not to find somewhere homely and humble - and the little touches from the staff ensure that the vibe is still welcoming. The location is a little uninspiring (just out of the beauty of Old Town) but it is still close to many sights, and to the cooler end of Old Town, around Dlouhá street.
This isn't the flowing hippie boho vibe that the name implies: BoHo Hotel is chic, sleek, cool, and located on a fairly uninspiring street. It's quiet though, and not far from bustling Náměstí Republiky. Catering to a funky international clientele, staff are unruffled but friendly. The gold-tiled spa and softly lit small pool are gorgeous, and the mid-20th-century-style bar, with its vertical lighting over a marble-topped bar, is self-consciously swanky.
The hotel is full of thoughtful little touches for the trendies who stay here, and who still want pampering. We won't spoil them, but think along the lines of welcome chocolate brownies and a drink, fresh-smelling bath salts, and a very late check-out.
room
Rooms are modern, in grays and beiges, with '50s-style retro chairs and firm beds. Many have large windows and good natural light, which is not always the case in some of Prague's older buildings. Suites have day-beds to collapse onto after a hectic day of sightseeing.
Each room has a unique photographic print of Prague, shot by photographer Jordi Llorella with a pinhole camera.
bathroom
Standard rooms have a bath or shower, and superior rooms have both. The suites have double sinks and other eye-catching features, including gilded panels.
lobby
The reception area, all glass, marble desk and wood floors, is elegant, with modern black lighting rods upping the cool factor. The bar and restaurant are just to the right.
YOU SHOULD KNOW The Wi-Fi in the hotel rooms can be patchy--the fastest access is in the hotel library.
pool
The pool is small and enclosed, but relaxing, with a small waterfall element and gold mosaic tiles.
spa
A small sauna plus indulgent spa and beauty treatments, including Swedish massages, are available at the hotel's spa. It's gorgeously, gently lit, and includes a jacuzzi.
gym
There's a modern and well-stocked gym as part of the hotel's wellness offer.
dining
The restaurant has a mid-20th century feel, with blocky shapes for the decoration, and unusual chairs. The food is solid international fare.
drinking
The lobby bar looks out onto the street, and follows down the rest of the hotel's trendy path with geometrically patterned black and white sofas and grey tub chairs. It's a stylish spot for an aperitif, although the long, thin space can lack atmosphere when empty. The hotel's library, with its purple and green theme and books dotted around, is also a chilled spot.
People also liked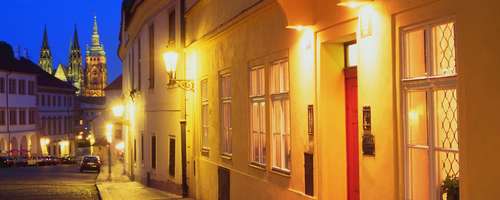 $ | Loretánská 11
Close to the castle but somehow by a forest, the Domus Henrici (sister... Read More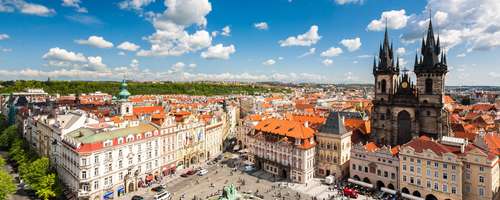 $ | Panská 1308/9
Excellently located on the edge of both Old and New Town, NYX Hotel Pr... Read More
$ | Dražického náměstí 62/6
A sweet little hotel very close to the Charles Bridge, Hotel Bishops H... Read More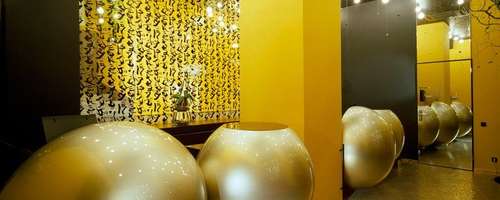 $$ | Perlová 412/1
Right at the heart of the action in Old Town, this can mean that thing... Read More
$$ | Úvoz 155/15
For castle junkies, Questenberk is actually in Prague's Unesco World H... Read More
$$ | Stare Mesto (Old Town) | Haštalská 14
A beautifully designed hotel in the heart of Old Town is tasteful fusi... Read More
LOCATION
Getting Around
The hotel is close to the Jindřišská tram stop and Náměstí Republiky Metro stop, but many attractions in both Old and New Town, and the Jewish Quarter, are within easy walking distance. The main railway station is also nearby.
Restaurants
For something seriously swanky, check out the palatial Le Grill (4-minute walk) restaurant at The Grand Mark hotel, where the food matches the surroundings. Or Maso a Kobliha (12-minute walk) cafe is in keeping with the cool vibe of the BoHo. Its name means literally "meat and donuts," but there's also good coffee, beer, and light meals, in a stripped-back, modern space.
Bars
Lokal (8-minute walk) is a chic update on a traditional Czech brewpub, with fresh beer and modern versions of traditional meals. Vzorkovna (15-minute walk) has the pop-up warehouse feel of bars in London or New York, plus Prague eccentricity, including a giant in-house pet dog.
QUICK FACTS
HOTEL INFO
Phones: -234–622–600