Courtesy of Istria Tourist Board; Photo by Igor Zirojevic
Stunning coastlines, charming medieval towns and villages, ancient Roman architecture, rolling vineyards, and delicious cuisine are just a few reasons why Istria should be at the top of your travel list. Sometimes referred to as "The Little Tuscany," the Istrian Peninsula is home to diverse topography, rich culture, and an ever-expanding tourism industry that aims to set this still relatively unknown region of Croatia on the map.
By Perrie Hartz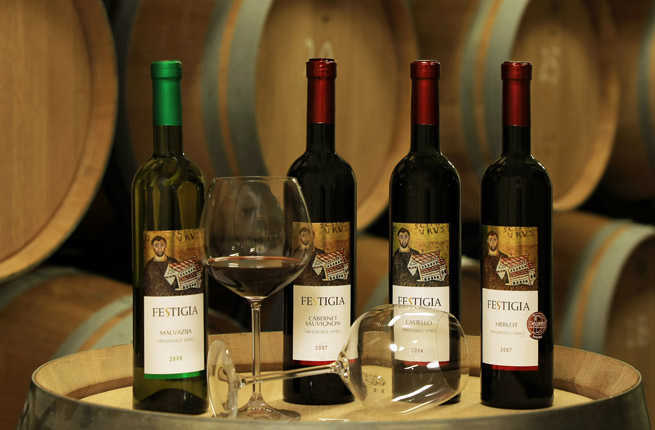 Courtesy of Istria Gourmet
Istria, especially the fertile inland valley region, produces some of the country's most famous varieties, like the Istrian Malvasia made from Mediterranean grapes. Taking a vineyard or winery tour is a perfect way to see the country. While winding through picturesque villages and vast, rolling vineyards, you'll learn about the history and culture deeply woven into the Croatian wine industry. Wineries range from glass-walled villas to old family-run estates. Trapan Wine Station in Šišan is a great modern winery offering tastings and cellar tours, and its wines are bold and unique—just like its interior.
Istria is also well known for producing brandy. Called rakija or trapa, this Balkan brandy is most commonly made from grapes, plums, and apricots in Istria. Similar to Italian "grappa," it is widely known as the national drink of Croatia. Take a cellar tour and taste some delicious homemade rakija at Aura Distillery (II. Istarske brigade 2; 385 91 269 4250), which is beautifully decorated in a rustic, yet elegant style and has a great selection of homemade products for purchase. Cheers! Or as they say in Istria…Živjeli!
PLAN YOUR TRIP: Visit Fodor's Istria Travel Guide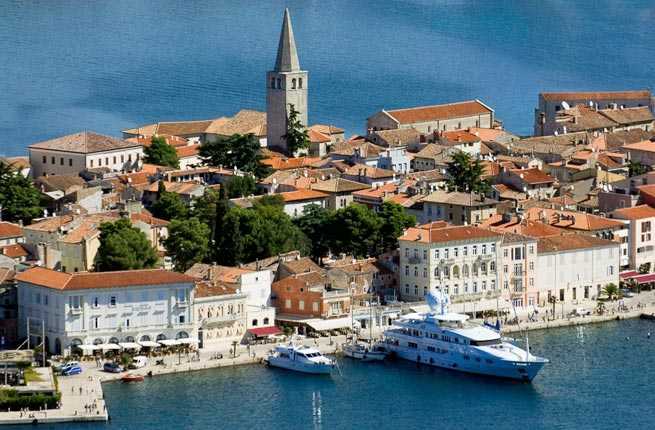 Courtesy of Istria Tourist Board; Photo by Igor Zirojevic
The Istrian Peninsula is dotted with quaint towns and villages inland and on the coast. If you rent a car, it's easy enough to hop from place to place, and you'll get to see a more off-the-beaten-path part of Croatia rather than the tourist hubs of Rovinj and Pula.
Porec, a small medieval town on the western coast, is home to impressive ancient Roman ruins, charming cafes and restaurants, and a sixth-century Euphrasian basilica, which is a UNESCO World Heritage Site. The center of the old city boasts an amazing array of architectural styles ranging from Gothic to Baroque to even Art Deco.
Buzet sits atop a hill on the northern-most point of Istria near the border of Slovenia. This town that dates back to the Middle Ages is a great stop for lunch and a quick afternoon tour, as it's small enough to wander in an hour. There are great photo ops, from the edges of the town walls overlooking the Mirna river valley to the rows of brightly colored buildings lining the narrow cobblestone streets. Buzet also hosts the September festival Subotina, which celebrates local Istrian culture and food and marks the official opening of truffle season by making a giant truffle omelet—using more than 2,000 eggs!
PLAN YOUR TRIP: Visit Fodor's Istria Travel Guide
Courtesy of Istria Tourist Board; Photo by Igor Zirojevic
Everywhere you go in Istria, particularly the central region and surrounding forests, the rich scent of truffle seems to follow. The most expensive type is the Tuber Magnatum Pico, a fine white truffle that you can enjoy shaved over fresh pasta, meat, fish, and even scrambled eggs.
Book a hunt through Natura Tartufi, a farm in Buzet, where you can watch specially trained dogs dig up and gather these prized mushrooms in the damp soil near the river (and then enjoy a tasting of truffle-infused brandy and culinary dishes).
PLAN YOUR TRIP: Visit Fodor's Istria Travel Guide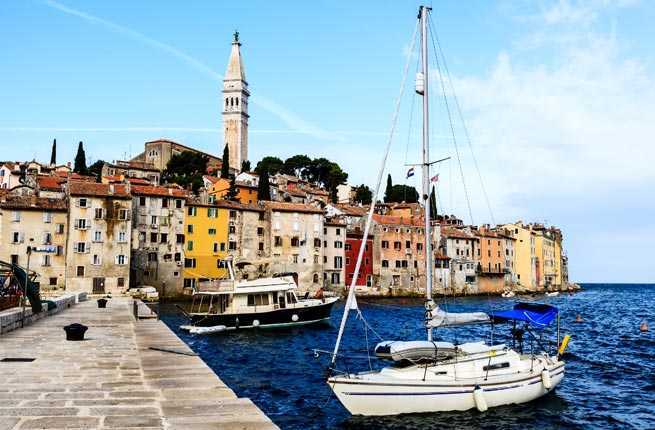 Anshar | Dreamstime.com
While yacht culture might not be as popular in Istria as it is in Dalmatia and the Southern islands, the peninsula's coastline is still a beautiful sight to take in from offshore. Booking a daylong sail on a yacht or catamaran is a great way to experience the picturesque topography and rich blue waters of the Adriatic coast. Boats can take you to some famed bathing spots like Cape Kamenjak and isolated coves perfect for diving and off-the-beaten-path exploring.
PLAN YOUR TRIP: Visit Fodor's Istria Travel Guide
Veratomankova | Dreamstime.com
Premantura and Cape Kamenjak
While Southern Croatia is most known for its crystal-clear water and amazing beaches, parts of the Istrian coast, like Cape Kamenjak in Premantura, have gorgeous emerald-green and turquoise water and cliffs that—if you have the guts—you can jump off of right into the Adriatic. The cape is popular with sun-worshipers because of its gorgeous clear waters and lovely beaches. Grab breakfast, lunch, dinner, or drinks at the fun Safari Bar, an African safari-themed restaurant sitting on the cliffs overlooking Kamenjak.
Where to Stay: Adventurous travelers will jump at the chance to stay in an old Croatian lighthouse on a secluded island in the Adriatic. Transit to the three-room Porer is tricky because it is reachable only by boats leaving the rough waters of the cape. Though the island is tiny (it takes less than a minute to walk around it), it is exceptionally memorable to wake up to the sound of waves crashing against the rocks, a view of the deep blue ocean, and the invigorating smell of saltwater. Plus, the sunsets are known for being some of the most beautiful in all of Croatia.
PLAN YOUR TRIP: Visit Fodor's Istria Travel Guide
Courtesy of Istria Tourist Board; Photo by Igor Zirojevic
Reminiscent of Venice and known to many as the gem of Istria, Rovinj is one of the most picturesque towns in the Mediterranean and a very popular tourist spot, with little wonder why. The winding, narrow cobblestone streets of this city on Istria's western Adriatic coast are lined with quaint shops and restaurants. From climbing the tower of the Church of St. Euphemia to scuba diving off the coast, there is no shortage of attractions.
With perhaps one of the liveliest nightlife and restaurant scenes in Istria, Rovinj is the perfect place to stay a few nights and experience wonderful cuisine and local culture in a truly spectacular setting. Watch the sun set with a drink in hand on the cliffs overlooking the Adriatic at Valentino Cocktail and Champagne Bar, which is carved into the rocks jutting out into the harbor. Grab a cushion and a glass of champagne, take a seat, and enjoy the view.
PLAN YOUR TRIP: Visit Fodor's Istria Travel Guide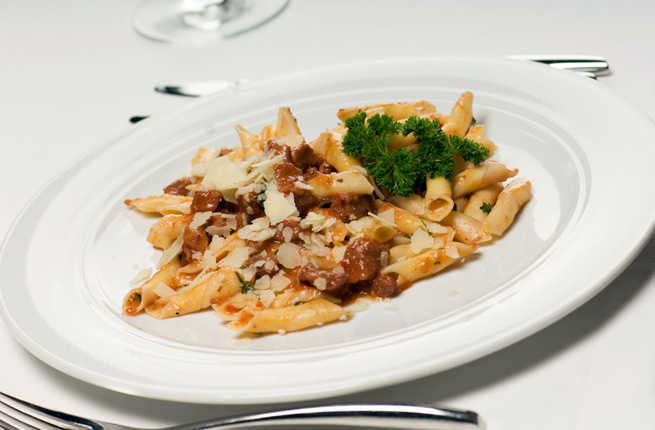 Courtesy of Istria Tourist Board; Photo by Igor Zirojevic
Many people travel to Istria for the gastronomy alone, which is rustic and simple, yet high quality and fresh. The food culture in Istria centers around the ostarija, or tavern. Wander into any local bar and you'll see a few dishes repeated on every menu: Pork or veal with fresh vegetables; traditional pastas like fuži and pljukanci served with thick, creamy sauces made with wild game, chicken, or other meat; and olive oil served on platters of cured ham, cheese, and bread.
In central Istria, black and white truffles are either infused into the sauces or shaved on top of each dish. In the coastal towns, seafood stews and the classic "grilled white fish" are prominent in most restaurants. Truffle connoisseurs should opt for Restaurant Zigante, while seafood lovers should stop by Restaurant Feral (‪Iviva Batistic Fidulic, Lumbarda, Korcula Island; 385 0 712 090). For dining with amazing views, try Konoba Mondo (Barbacan 1; 385 52 681 791).
PLAN YOUR TRIP: Visit Fodor's Istria Travel Guide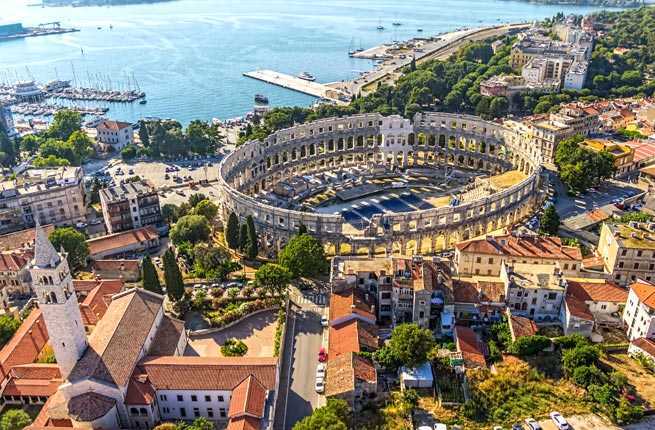 Jasmina | Dreamstime.com
Istria's largest city, Pula, lies in a protected harbor on the tip of the peninsula. The city's Old Town (Stari Grad) retains hints of its impressive ancient Greek and Roman past: Parts of the original fortified walls and a few of the Roman gates still stand.
The most well-known ancient ruin is the Pula Arena, an amphitheater built between 27 BC and 68 AD. This imposing yet stunning structure is considered one of the best-preserved examples of Roman architecture in the world. Take a guided tour of the coliseum and its dark caverns to learn about the interesting—sometimes bloody—history of one of Croatia's most famous architectural symbols. If you're lucky, you could catch a concert during the summer when tourism booms.
Because of the city's seafront location, Pula is mostly known for its shipbuilding and fishing. The harbor is lined with large dockyards and a busy marina, which is perfect to catch a boat to other parts of Istria or charter a yacht along the Adriatic coast for the day.
PLAN YOUR TRIP: Visit Fodor's Istria Travel Guide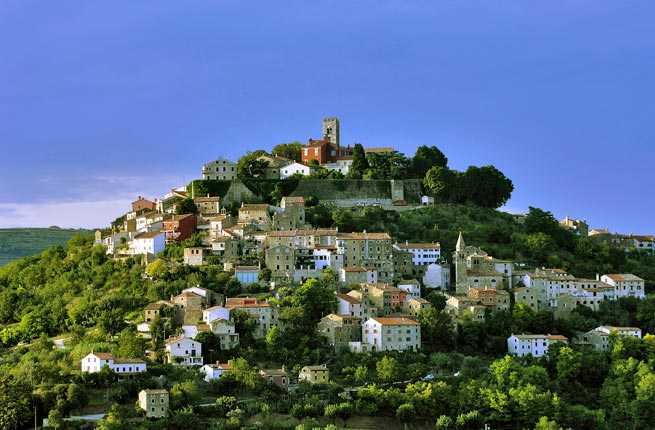 Courtesy of Istria Tourist Board; Photo by Igor Zirojevic
A tiny inland Medieval town that lines the sides of what used to be a Roman city, the absurdly picturesque village of Motovun sits high on a hilltop almost 900 feet above sea level overlooking all of central Istria and the valley below. The original fortifications of the ancient city are still intact, and the large gate is now used for a walkway to the very top, where you can look out at a truly magical view of all four corners of Istria.
Where to Stay: The quaint yet elegant, family-run Hotel Kaštel sits at the highest point in the entire town. The rooms come with unbelievable views looking down onto the Mirna river valley, vineyards, and the "Motovun Forest," which produces one of Istria's most famous exports besides olive oil and wine—truffles.
PLAN YOUR TRIP: Visit Fodor's Istria Travel Guide
Courtesy of Istria Gourmet
The accommodations here range everywhere from backpacker's hostels to tiny bed and breakfasts to expansive tourism complexes to lavish, high-end villas. If you're making your way around the peninsula, stop for a night—or even just an afternoon—at one of Istria's luxury hotels for some relaxation and pampering.
A sprawling, lush vineyard sets the scene for Villa Meneghetti, a peaceful, elegant wine hotel with well-kept grounds, an outstanding restaurant, four distinctly designed guest rooms, and a pool overlooking the rows of grape vines. The surrounding area is perfect for exploring on bike or foot. Stop here for lunch or even just a glass of wine in the beautiful outdoor courtyard, tour the vineyards, take a dip in the pool, or enjoy a cappuccino against the backdrop of the rolling Istrian hills of Wine Country.
History and elegance combine at Istria's famed Hotel San Rocco, a gorgeous, old villa complex, which has long enjoyed the reputation of one of Istria's most luxurious hotels, set on a hill in the charming rural town of Brtonigla. Each room at San Rocco has a unique design and view; some look out over the sprawling vineyards, while others have a tranquil view of the sea. This quiet sanctuary is popular with guests for its outstanding service, amenities including an indoor and outdoor pool and spa/wellness center, and one of the best award-winning gourmet restaurants in Istria.
PLAN YOUR TRIP: Visit Fodor's Istria Travel Guide