Courtesy of Sandals
Over the water villas without the 13 hour flight to Bora Bora? Yes, please. Sandals Royal Caribbean Resort & Private Island in Montego Bay, Jamaica began welcoming guests to its five luxury all-inclusive over-the-water villas in December 2016 and is set to open 12 smaller overwater bungalows in February 2017. Built to withstand hurricane-force winds using metal and concrete pilings instead of wood, and located in a calm bay with a natural breakwater, they are the first of their kind in the Caribbean. Honeymooners take note: this adults-only property offers all the romance of traditional overwater rooms without the jet-lag.—Salwa Jabado
Courtesy of Sandals
Looking straight out to sea from the deck of the over-the-water villa, you can image you are the only two people in the world. There are no distractions, just a deep sense of peace allowing for romance and reconnecting. A pink sunrise and orange flame sunset bookend the days spent gazing at the sea and sky. You are quite literally an island of two, connected only by a walkway to the neighboring villas.
PLAN YOUR TRIP: Fodor's Jamaica Guide
Salwa Jabado
Multiple lounge areas—a swinging bed, an over-the-water hammock, outdoor couches, and two loungers on the staircase—allow for varied spots to sunbathe and relax in the shade. Stairs, which lack a railing leaving the view unobstructed (but are a little scary at first), lead down to the warm Caribbean Sea. The calm, shallow water allows for swimming right off the villas, and snorkel masks and life vests are provided.
PLAN YOUR TRIP: Fodor's Jamaica Guide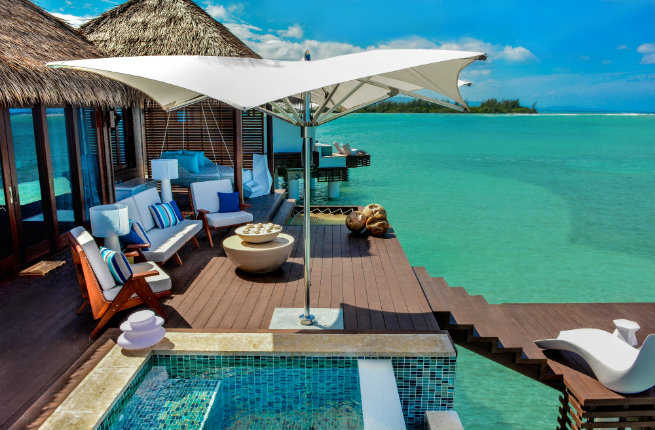 Courtesy of Sandals
Water is literally everywhere, from the sea to the infinity plunge pool, to the outdoor showers and the indoor soaking tub, and even inside the lounge chairs (to keep them cool). A day at the villa is spent in and out of the water, the sun, and the cool interior. The wooden deck, which covers almost as much square footage as the interior, and the sweeping vistas are the deserved focus of the villas, offering spectacular views.
PLAN YOUR TRIP: Fodor's Jamaica Guide
Courtesy of Sandals
It feels a shame to come inside when the deck is so inviting, but the cool interior offers respite from the Caribbean sun. Throw open the curtains in front of the king-sized bed and you don't have to miss out on the view. The pleasing modern decor is understated, done in wood and stone, with a calming blue and white palette. A window on the floor brings the sea inside much like a glass bottom boat (we saw snapper, a small nurse shark, and an octopus from inside the villa). Best of all, you can turn on lights in the water at night to peak at the fish and provide mood lighting. There is a soaking tub with water views, a large bathroom with his-and-hers vanities and Molton Brown toiletries, and multiple showerheads in the stone and tile shower. There's also a kitchenette with bar, mini fridge, and cafe seating.
PLAN YOUR TRIP: Fodor's Jamaica Guide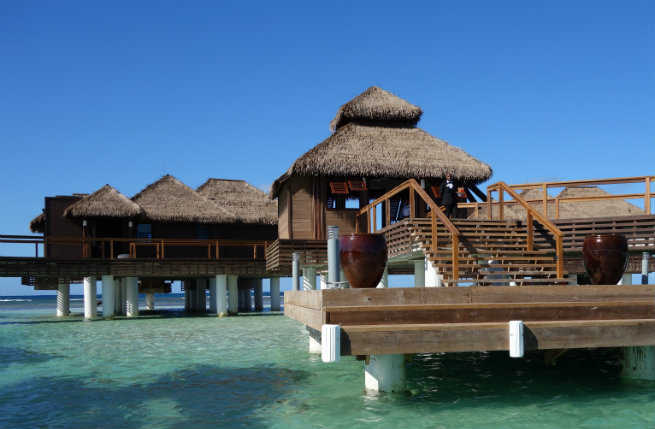 Salwa Jabado
Upon landing at Sangster International Airport (MBJ), you are personally escorted through customs, baggage claim, and taken to your private car transport like a boss. You won't have time to finish your welcome drink because Sandals Royal Caribbean is literally 10 minutes from the airport. Another few minutes in an only-for-villa guests boat and you're at your destination. The villas and bungalows are under 24 hour security on land and water (via jet ski) in case you're worried about the paparazzi.
Before your trip you'll fill out a form so your personal butlers know your dietary requirements, allergies, activity preferences, and which top-shelf liquors to stock in your in-room bar. Guests have twenty-four hour access to two butlers and are given a cell phone to contact them. The butler can unpack your clothes in the walk-in closet and, perhaps even more helpfully, pack your bags before departure. They arrange reservations, perform concierge services, bring you drinks and meals, escort you around the property—in short they are your personal guides and genies that can make most anything happen. They may wear white gloves, but we found them to be genuinely friendly and keen to get to know us.
PLAN YOUR TRIP: Fodor's Jamaica Guide
Salwa Jabado
All guests, not just those staying at the villas, can boat over for a beach, a pool with a swim-up bar, and two dining options on Sandals' private island, Sandals Cay, but only those staying at the over-the-water villas and their guests are allowed on the walkway out to the villas. There are also snorkeling trips, scuba diving, kayaks, paddleboards, and sailboats included. The Red Lane Spa is worth a trip to the main resort, with its excellent massage treatments—or have a masseuse come to you and never leave the villa.
PLAN YOUR TRIP: Fodor's Jamaica Guide
Courtesy of Sandals
Many airlines including jetBlue have nonstop 4 hour flights from New York City (JFK) to Montego Bay Sangster International Airport (MBJ); and it's just 2 hours from Miami International (MIA). From there, it's a 10 minute private transport to the resort and another 5 minute boat ride ride to the villas.
The over-the-water villas are largely booked through 2017; the per person/per night rates start at $1,435. While it's certainly a splurge, staying at a villa is an exceptional experience, even if you were to tack on a single night to a longer stay (make it your last night or you'll be wishing you were there the whole rest of your stay). The bungalows, which offer less square footage and have an outdoor soaking tub rather than a plunge pool, start at $1,100 per person per night and are available as of February 1, 2017.
Insider Tip: Sandals has plans to open more over-the-water villas in their other Jamaican locations: Sandals South Coast, Montego Bay, Royal Plantation, and Ocho Rios, so stay tuned for more overwater options in the Caribbean.
PLAN YOUR TRIP: Fodor's Jamaica Guide