All Inclusive Collection
Ever since Club Med promised the "antidote to civilization," all-inclusive resorts have increasingly blanketed the Caribbean island-scapes. Once cookie-cutter, they've increasingly diversified in a battle for tourist dollars. Today's they come in every conceivable style and price range, as wonderfully varied as the Caribbean itself. Some cater to family fun, while others put the sin in scintillating for couples. One thing hasn't changed: no hassles. Pay one fixed price for all you can eat, drink, and do…then leave your wallet—and worries—at home. Small wonder so many travelers swear by them.
By Jordan Simon
Courtesy of Tamarijn Aruba
Druif/Manchebo Beach, Aruba
Aruba is famed for its champagne-hued beaches, rock formations, sizzling nightlife, and whipping winds that bend the divi divi trees at a 90-degree angle. All rooms at the Tamarijn Aruba look out on Druif Beach, which opens into the wide grin of Manchebo Beach fronting sister resort Divi Aruba. Guests at the quieter Tamarijn enjoy all the Divi's facilities: two resorts for the price of one, including nine restaurants, seven bars, three pools, a 9-hole golf course, and the nearby Alhambra Casino. The resorts take advantage of that long stretch of beach, with aquatic activities aplenty, including snorkeling and windsurfing. Everyone gets their rocks off getting a grip on the 30-foot oceanfront rock-climbing wall.
Insider Tip: Savor tuna carpaccio with avocado-mango relish while admiring the Murano art glass on display at signature restaurant, Paparazzi.
PLAN YOUR TRIP: Visit Fodor's Aruba Guide
The Leading Hotels of the World
La Romana, Dominican Republic
Casa de Campo means "house in the country"—as in a Kennedy-esque compound designed by Oscar de la Renta. Worried you'll weigh too heavily in the lap of luxury after indulging in the sybaritic spa and fine dining? Casa offers tennis (13 courts), horseback riding, Sporting Clays Shooting Center replete with safari-themed clubhouse, and sailing or fishing (deep sea and freshwater) from the Portofino-inspired marina. Golfers snarl at "Teeth of the Dog," a Peter Dye-abolical design featuring seven water holes, trademark railroad tyes, wicked bunkers, sharp drops in elevation, and unfair fairways.
Insider Tip: Shop and dine at Altos de Chavon, a not-cheesy replica of a 16th century Mediterranean village replete with narrow cobblestone streets and crenellated stone castles.
PLAN YOUR TRIP: Visit Fodor's Dominican Republic Guide
Steve Sanacore
Providençiales, Turks & Caicos
Beaches Turks & Caicos is that rare family place that respects both children and parents. The resort sits on Provo's showcase strand, Grace Bay. It has 19 restaurants and bars, a 45,000-square-foot water park (with surf simulator, lazy river, and tweens-only section spouting water cannons and spray guns), six pools, Xbox 360® Game Garage, and bountiful beach activities. Kids interact with Sesame Street characters at breakfasts and piratical parades. Edutainment opportunities abound. The self-contained French Village section almost out-Disneys Disney World. Suites in the newer, plusher Italian Village feature a sliding door that seals off the brood's bunk-bed room for greater privacy. All rooms now feature a personal Xbox® 360 game console, so parents can sneak off guilt-free for Blue Mountain coffee bean scrubs or romantic dinners.
Insider Tip: Spend the sunrise on the dock outside Schooners seafood restaurant (owner Butch Stewart's favorite location on property), and the sunset drinks at the Italian Village pool tower.
PLAN YOUR TRIP: Visit Fodor's Turks & Caicos Guide
Courtesy of Jumby Bay, A Rosewood Resort
Jumby Bay, A Rosewood Resort
Jumby Bay (Long) Island, Antigua
This swank resort presides over a 300-acre private island two miles off the Antiguan coast, accessible only by boat. After stopping at Jumby Bay Beach or at the SENSE® spa, nourish your body and soul at the exemplary restaurants. The Pool Grille and Verandah marries the flavors of the Mediterranean to lighter, market-fresh ingredients. The men's-clubby, stone-and-mahogany Estate House, built circa-1830, channels bygone British colonial glamour. Executive Chef, Sardinian-born Claudio Melis, who has manned kitchens in six Michelin-honored restaurants, has taken its kitchen to a rarified level. His food is distinguished by gorgeous tastes and textures—subtle to lusty, crispy to creamy. Sly touches include parmesan popcorn with the otherwise classic beef carpaccio. Don't miss stunners like polipo e fagioli (tender octopus and beans); roasted butternut ravioli with truffle butter, parmesan and amaretto cookies; and, especially, the maiale – local famer's pork, Savoy cabbage, prunes, and dried mushroom.
Insider Tip: Pack white for the resort's White Night Sunday barbecue and dance party: It is Gatsby-meets-Caribbean.
PLAN YOUR TRIP: Visit Fodor's Antigua Guide
Courtesy of IBEROSTAR Hotels & Resorts
Playa Dorada, Dominican Republic
For value, you can't improve upon the Dominican Republic, where cookie-cutter compounds have spread in wildly popular Punta Cana and Puerto Plata. Fountains gushing throughout, a sensuous lagoon pool, and the elegant if odd architectural hodgepodge (Spanish Colonial-meets-South Pacific) belie IBEROSTAR's low prices. Both the billeting (516 rooms in nine cheerfully colored thatch-roof buildings, each boasting its own concierge) and bill of fare, like a Brazilian rodizio (grill), exceed the DR's budget billing; top-shelf liquors are even included. The Star Friends "ambassador" team helps guests stay entertained (on- and off-property) with activities like water polo, basketball, shooting, tennis, soccer, billiards, merengue classes, Spanish lessons, and more. All for roughly $200/couple in high season.
Insider Tip: Take an excursion to nearby Sosúa (a Latin Riviera with sidewalk cafes and twin sandy crescents) and Caberete (the Caribbean windsurfing capital).
PLAN YOUR TRIP: Visit Fodor's Dominican Republic Guide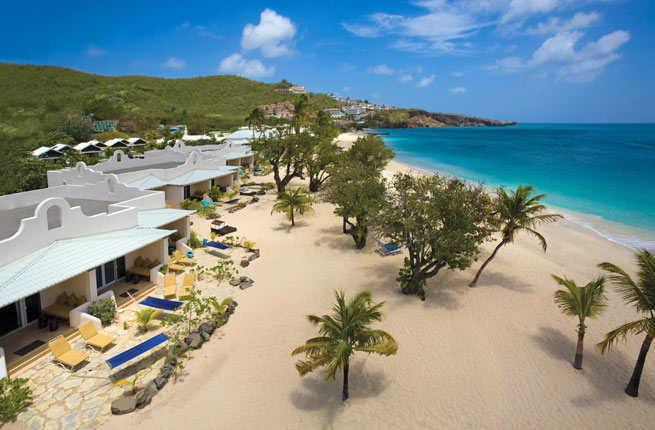 ©dehoog
Spice Island Beach Resort
Grand Anse, Grenada
Spice Island Beach Resort is a hedonistic hideaway run by one of Grenada's titans of tourism, Sir Royston Hopkin. The contemporary-colonial design is incomparable: arches, Palladian-style windows, pickled-wood beams, paddle fans, billowing white curtains—all harmonizing with Grande Anse beach. Surveying the serene scene (spiced with celebs), it's hard to believe that the resort lay in ruins after Ivan devastated Grenada in 2004. But Sir Royston was able to improve on perfection. Guest rooms feature the latest decadences from flat-screen TVs to marble bathrooms with whirlpool tubs. Service is warm yet professional and discreet. Spice is also one of the Caribbean's most environmentally conscious properties. Both Janissa's Spa and Oliver's Restaurant utilize local ingredients that give the resort its name, and Grenada its nickname. Spice Island delivers the ultimate in barefoot chic.
Insider Tip: Though Grenada is best known for nutmeg, mace, and cinnamon production, ask the chefs about the Grenada Chocolate Factory, whose organic products have won major international awards.
PLAN YOUR TRIP: Visit Fodor's Grenada Guide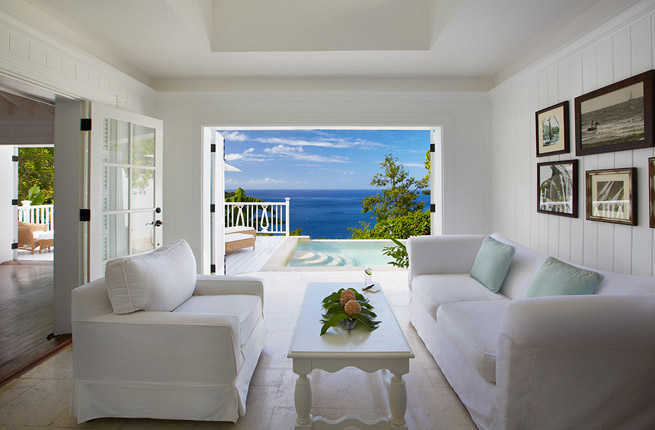 Courtesy of Sugar Beach, A Viceroy Resort, St Lucia
Sugar Beach, a Viceroy Resort
Soufrière, Anse des Pitons, St. Lucia
Just outside of Soufriere on St. Lucia's less trammeled southwest coast, Sugar Beach unfurls across more than 100 acres of tropical forest, staring at the glorious UNESCO World Heritage Pitons. Everything here screams (er, whispers) relaxation. Restaurants feature smashing views, utilizing fresh local ingredients, while the Cane Bar presents a wide rum selection with "rummelier" to help guide guests. All accommodations offer butler service and contemporary colonial decor with four-poster beds, WiFi, claw-foot tub, plunge pool, and private patio. Zen and zone out at the aptly named Rainforest Spa, which features seven tree-house treatment cabanas tucked amid the dense foliage. There's also a wet treatment room with a salon and relaxation gazebo. An earthen Temascal is warmed by volcanic spring water; medicinal herbs are poured over red-hot rocks produce a curative steam.
Insider Tip: In the resort's signature Sulphur Seduction, you visit nearby thermal hot springs to bathe in the mineral-rich waters warmed by the Soufrière volcano. Your therapist slathers you in creamy black mud boosting metabolism and circulation.
PLAN YOUR TRIP: Visit Fodor's St. Lucia Guide
Courtesy of Harlequin Hotels & Resorts
Buccament Bay, St. Vincent
This relatively new luxury resort, whose stunning stretch of coastline provided shooting locations for Pirates of the Caribbean, offers abundant activity onsite, with excursions to the Grenadines, climbing the La Soufrière volcano, and hiking rainforest trails to waterfalls. Handsomely appointed accommodations are in villas, each with its own plunge pool. The fine fare ranges from Italian to Indian, subtly spiced with local ingredients. St. Vincent remains one of the Caribbean's least-explored islands, a haven of hidden coves, high mountain peaks, and valleys draped in lush tropical forest with cascading waterfalls. The capital, Kingstown, features ruined forts, colonial churches, and colorful markets. The Botanic Gardens, founded in 1765, are the oldest in the Western Hemisphere and contain one of the original breadfruit trees brought from Tahiti in 1793.
Insider Tip: Snorkel in the turquoise waters of the deserted Tobago Cays, just a short boat ride away, renowned for their pyrotechnic reefs and kaleidoscopic marine life.
PLAN YOUR TRIP: Visit Fodor's St. Vincent Guide
Courtesy of Island Outpost
Negril, Jamaica
Everything about The Caves, a serene adult-only sanctuary, is conducive to R&R à deux: 12 stone-and-wood cottages clinging to the cliff above the West End's iridescent waters, hidden arbors, and tiered terraces, treatments at the seaview Aveda Amenity Mini-Spa, and candlelit dinners in a cave. Though it's near the West End's bustling attractions, abundant landscaping on the ten-acre property make it feel like a hideaway. The name refers to the caves pocking the limestone cliff, many filled with fossilized marine life; a certified lifeguard leads snorkeling tours through the grottoes. One even holds a bar where you can watch boats putter in directly under the resort. Though there's no real beach, Negril's gorgeous strand is a quick stroll, and you can literally dive into the water from the cliff.
Insider Tip: A must-do for romantics is the private cave dining, which requires 24-hour notice. You can also organize a couples' massage in a natural alcove.
PLAN YOUR TRIP: Visit Fodor's Jamaica Guide
All Inclusive Collection
Hard Rock Hotel & Casino Punta Cana
Punta Cana, Dominican Republic
The Hard Rock Hotel & Casino rocks for travelers who like a bit of bling and unapologetic decadence. Play at 15 pools, seven bars, and nine restaurants, including an eatery from top toque Kerry Simon. All 1,787 rooms feature oversize tubs, private balconies, liquor dispensers, and "Rock Star" level accommodations include butler service. There's a spa, Xtreme Sports Center, mini-golf, lively casino (the D.R.'s largest), glitzy Oro nightclub, and of course, signature musical paraphernalia from gold records to gold-sequined costumes. The bars serve top-shelf liquors like Skyy vodka and Crown Royal whisky. Favorites include the Sun Bar (karaoke nightly), Zen Lounge (sake cocktails), and Drum Pool swim-up bar.
Insider Tip: Guests receive a certain amount of resort credit (for spa treatments, tours, private dining experiences, etc.), depending on length of stay. Go to the Palace Vacation Planners as soon as you're settled in to avoid long lines.
PLAN YOUR TRIP: Visit Fodor's Dominican Republic Guide