Ocean Two
Dover Rd., St. Lawrence Gap, Dover, Christ Church, Barbados
Why We Like It
Ocean Two has style for one thing; big, modern accommodations, for another; and a beautiful beach setting for yet another.
Relaxed and luxurious are two atmospherics that blend well at Ocean Two, a high-rise, residential-style resort on a secluded part of Dover Beach at the east end of lively St. Lawrence Gap. The resort has eight floors, including the ground floor, with elevator access, of course. The chic lobby, spacious accommodations (mostly with full kitchens), and convenient location make this a winner for couples, families, or groups traveling together.
room
Most of the resort's large, luxurious accommodations are one- or two-bedroom suites, with an open-plan sitting room (with a sofa bed), kitchen, and dining area—and a balcony with a full ocean view. A few are standard hotel rooms; a handful are "bay view" suites. Décor throughout is contemporary—neutral colors for the walls and furniture, with colorful floor-to-ceiling draperies.
One- and two-bedroom suites are furnished with a washer/dryer, aka self-serve laundry!
bathroom
Each en suite bathroom has a large Jacuzzi tub and a huge, glass-enclosed, rainfall shower; vanities have granite countertops and double sinks, with two large mirrors just above, and Gilbert & Soames toiletries. Robes are provided.
lobby
The lobby, with a reception area at one end and comfortable seating at the other, opens to a full view of the pool and ocean beyond. Oasis Bar & Lounge is at the pool end of the lobby.
pool
A 150-foot-long, winding, lagoon pool, bordered by a similarly wavy patio with comfortable sun loungers and umbrella tables, stretches between the hotel building and the reef-protected beach. The pool has numerous walk-in entry points along its length. There's also an adults-only plunge pool on the Panorama Roofdeck, where a view of much of the south coast is laid before your eyes.
A life-size checkerboard on the pool patio is a hit with both kids and adults.
spa
There is no spa, but the resort offers in-room spa services—massages, facials, manicures, pedicures, hair styling, and special bridal makeup.
gym
The resort's modern fitness center has state-of-the-art cardio equipment: treadmills, elliptical trainers, stationary bike, weight machine and free weights. It's open 24 hours a day, and personal training sessions can be arranged.
Yoga classes—group or private—are held on the Panorama Roofdeck.
dining
Taste, the resort's only restaurant, is open air with both pool and ocean views. It serves salads, wraps, sandwiches (Bajan cutters), burgers, pizza, pasta, and more at lunch; creative Caribbean cuisine, fresh seafood, and small plates at dinner; and tapas all afternoon and evening. Room service is available from 7 a.m. to 10 p.m.
Plan on breakfast in your suite—either room service or prepared yourself. (Pre-arrival grocery delivery is available.) The kitchens are fully equipped with all appliances, including a full-size fridge, stove top (no oven), microwave, blender, toaster, microwave, coffeemaker, tea kettle…even a dishwasher! You can also arrange a private chef for in-room dining or a private dinner on the beach.
YOU SHOULD KNOW Since all meals (and drinks) are billed a la carte, the tab can get expensive for two, three, four or more people for even a short stay. Eating several meals in-suite is a good plan.
drinking
At Oasis Bar & Lounge, in the lobby, you can have a seat and a cool drink while enjoying the view, waiting for someone or something, having a nightcap…or just because. Quench Bar is a poolside bar where you can sit down or swim up for some liquid refreshment. Quench Bar also delivers drinks to guests lounging at the beach or pool. Two or three evenings a week, there's a pop-up bar on the adults-only Panorama Roofdeck and a seating area to watch the sunset.
beach
The rather secluded part of Dover Beach in front of the resort has a calm area for swimming in front of a rock jetty and good snorkeling just beyond. Comfortably cushioned beach chaises and umbrellas await, and there's cocktail service if you don't feel like moving. The resort provides complimentary snorkels, goggles, boogie boards, kayaks, pool floats, and noodles.
People also liked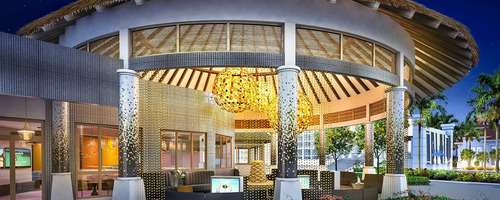 $$$ | Maxwell Coast Rd.
This second Sandals resort on the island is truly lovely. Read More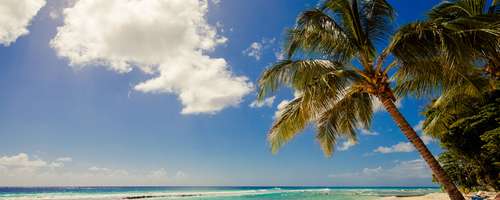 $$ | Hwy. 7, Hastings Main Rd.
It's an all-inclusive resort for couples, friends traveling together,... Read More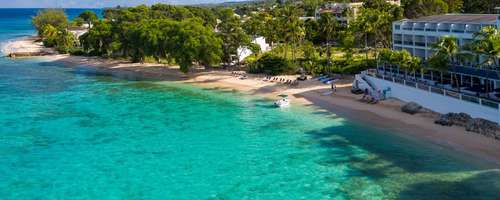 $$ | Hwy. 1
A small, casual, all-inclusive hotel on the beach with easy access to... Read More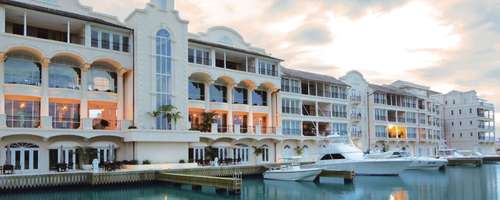 $$$$ | West Coast | Hwy. 1B
Call this "home away from home"—if you live in a luxury apartment with... Read More
$ | South Coast | Hwy. 7, Hastings Main Rd.
Convenience, comfort, and value…sometimes that's exactly what you want... Read More
$$ | South Coast | Enterprise Beach Rd.
The Algarve? Tuscany? Nope, this Mediterranean-style villa is on the s... Read More
LOCATION
Getting Around
You can easily walk to shops, restaurants, and nightspots in St. Lawrence Gap. Buses travel frequently along Hwy. 7—the main south coast road, about a five-minute walk from the hotel—where you can catch a bus west to Bridgetown or east to Oistins. Taxis are on call 24 hours a day. Tours can be arranged if you want to explore the island; if you prefer to get around on your own, several car rental agencies are located on the south coast at or near St. Lawrence Gap.
Restaurants
The Oistins Fish Fry (5-minute drive) is a must-do event on Friday evenings. All along the waterfront in this south coast fishing village, local folks grill fresh fish (and chicken for landlubbers), served with traditional Bajan sides. Seating is at communal picnic tables, servings are huge, prices are low, and music adds to the fun.
At St. Lawrence Gap, try Primo Bar & Bistro (10-minute walk) for delicious seafood and an excellent view. A little farther west, Champers (10-minute drive), just off the main road in Rockley, is a snazzy seaside restaurant in an old Bajan home—great ocean view at lunchtime, classy atmosphere in the evening.
Bars
St. Lawrence Gap has a lot of nighttime activity. Try The Old Jamm Inn or Scoopie's Jazz (5-minute walk) for drinks, music, dancing, and a convivial crowd.
QUICK FACTS
HOTEL INFO
Phones: 246-418–1800