MeeRok / Shutterstock
Few cities match Tokyo when it comes to size: Japan's enormous capital is home to 38 million people (in the Greater Tokyo area) and the urban sprawl is seemingly endless, covering nearly 5,500 square miles. In this amazing metropolis, you'll find traditional Japanese culture alongside cutting-edge gadgetry, with great food, enthralling cultural diversions, and excellent shopping, but Tokyo can be nothing short of overwhelming for the first-time visitor—or second- or third-time visitor. To help you make the most of your visit, we've come up with 10 mini itineraries to make your next trip to Tokyo seamless, whether you're looking to dive into the world of anime or take a peaceful walk through the Imperial Palace grounds. —Abbey Chase
Abbey Chase
Afternoon Shopping and Tea in Omotesando
Located near the famously chaotic Shibuya Crossing, Omotesando is about as central as you can get in Tokyo. Combined with adjacent neighborhoods in Aoyama and Harajuku, Omotesando is one of Tokyo's shopping hubs, with Western and Japanese designers lining both sides of the tree-covered boulevard that cuts through the area. For something more laidback, turn off the main drag in either direction to explore the tiny alleyways, countless boutiques, and myriad cafes tucked away in Aoyama and Omotesando's side streets (unfortunately, the now-famous Harajuku has largely turned into a tourist trap). There are plenty of places to partake and learn about the art of the traditional Japanese tea ceremony in Tokyo, but while in Omotesando, opt for a more funky, modern experience and grab a table at the impossibly quaint Aoyama Flower Market Tea House (5-1-2 Minami-Aoyama, Minato-ku) for a respite from the busy streets.
PLAN YOUR TRIP: Visit Fodor's Tokyo Travel Guide
A Night of Kabuki Theater
There's nothing quite like a Japanese kabuki performance, thanks to its highly stylized nature and elaborate costuming and makeup. This style of dramatic production dates back to the 17th century and flourished for centuries until it fell out of favor during World War II. Now in its renaissance, kabuki can be found in cities all over Japan, though Tokyo's Kabuki-za theater is particularly good for tourists. As kabuki performances can last for several hours, the Kabuki-za sells single act tickets (each act ranges roughly 30-70 minutes) at reduced prices, perfect for kabuki first-timers. Kabuki plays range from historical dramas to farces and though productions are entirely Japanese, the performances are still highly engaging.
PLAN YOUR TRIP: Visit Fodor's Tokyo Travel Guide
Sushi Breakfast and Morning Tour of Tsukiji FIsh Market
Housed in enormous, rickety warehouses along the Sumida River, the Tsukiji Fish Market is the largest seafood market in the world and is famous for its early morning tuna auction, where wholesalers come to bid on the day's best catch (if you want to be one of the lucky 70 people to watch the auction, you'll have to arrive around 3 a.m. to queue). Whether you make it to the auction or not, the market is well worth a visit once it fully opens to the public later in the morning and you'll see fishermen sawing enormous tuna with buzz saws and filleting gigantic fish. After you've walked around, head to the outer market, where you'll find retail stores selling the freshest sushi and hot bowls of ramen. Don't wear your favorite shoes, as they're bound to get dirty walking around the appropriately named wet market, and keep an eye out for the forklifts zooming past and the hundreds of fishermen dashing through the narrow aisles. You'll also want to visit Tsukiji soon; the market is set to be relocated to a new, modern building in November 2016.
PLAN YOUR TRIP: Visit Fodor's Tokyo Travel Guide
Tinamou | Dreamstime.com
Learn about Japanese Manga and Anime
Whether you're a long-time fan or totally new to Japanese comics, Tokyo is the perfect place to steep yourself in the medium. The Ghibli Museum, though a bit far from the center of town, provides an overview of the history and production of Japanese animation and showcases the work of Studio Ghibli (reservations required). Next, head to the Tokyo Anime Center, where you can try your hand at voice acting and peruse the impressive gift shop. The animation center is conveniently located in Akihabara, the headquarters for all things manga and anime. The countless electronics stores, cosplay cafes, and anime shops will entertain even the most casual fan with their surrealist ambiance.
PLAN YOUR TRIP: Visit Fodor's Tokyo Travel Guide
MeeRok / Shutterstock
Tour Historical Tokyo
Your tour starts at Senso-ji, a Buddhist temple complex in the historic Asakusa neighborhood that dates back to the seventh century (try to get to Senso-ji early to beat the crowds). Next, jump forward several hundred years in history. The Edo Period, during which the Tokugawa Shoguns controlled Japan, ran from 1603–1868 and is considered to be the high point of Japanese history in many ways—it's roughly equivalent to the Renaissance in Italy. Tokyo (known as Edo until 1868) served as the seat of government during this period and many important sites from that time remain. Start at the Edo-Tokyo Museum for an overview of the history and then head to the Imperial Palace and accompanying gardens, the current residence of the Emperor and the site of the former Edo Castle. End your day at the thickly wooded Yoyogi Park with a visit to the Meiji Shrine, built in 1920 to honor Emperor Meiji for his role in the Meiji Restoration.
PLAN YOUR TRIP: Visit Fodor's Tokyo Travel Guide
SeanPavonePhoto / Shutterstock
Indulge Your Inner Techie
No place is better for tech fans and gadgetry aficionados than Tokyo. Begin your day by making the trip out to Odaiba, a manmade island in Tokyo Bay originally built as a defense mechanism for the city that today acts as an unofficial window into the future. Visit the National Museum of Emerging Science and Innovation for exhibits on sustainable technology, the science of video games, and the history of the ninja before talking the 15-minute walk over to the futuristic Fuji TV Building for a look into the production of one of Japan's private television networks. Also on Odaiba is the Sony ExploraScience museum and the Panasonic Center Tokyo, two more places to learn about the science behind modern gadgetry. Ready to purchase some gadgets of your own? Head to the colossal, nine-story Yodobashi Akiba (1-1 Kanda Hanaoka-Cho, Chiyoda-ku) in Akihabara or check out the Sony showroom in Ginza.
PLAN YOUR TRIP: Visit Fodor's Tokyo Travel Guide
Javarman | Dreamstime.com
Lazy Afternoon in Shinjuku Gyoen National Garden
Among Tokyo's best features are its park spaces, so when you're ready for a break from the high-octane environment, you'll have plenty of options to while away a relaxing afternoon. Shinjuku Gyoen National Garden, which is one of the best spots in the city to see cherry blossoms in the spring and the changing leaves in the fall, covers 150 acres and dates back to the 18th century. Featuring French, English, and traditional Japanese gardens, with teahouses and cafes spread around the grounds, the garden is an utterly peaceful spot in the middle of an otherwise bustling neighborhood. For amazing people-watching and a more lively atmosphere, try the one of the sprawling fields favored by picnickers, jugglers, martial artists, tai chi masters, dancers, comedians, and other hobbyists at Yoyogi Park.
PLAN YOUR TRIP: Visit Fodor's Tokyo Travel Guide
A Night out in Ebisu
Roppongi is Tokyo's most notorious nightlife spot, but in a city this big, there's plenty to do after dark that won't take you to the raucous nightclub haven that's become more infamous than enjoyable. Instead, take the train to Ebisu for a more subdued night out. You'll find numerous dining options here along the lively side streets, from traditional Japanese izakayas (look for Momotaro, 1-8-8 Ebisu-nishi), to bare-bones ramen joints (try AFURI), to Western fare. This neighborhood is a particularly good place to sample local Japanese beers and you'll have plenty of opportunities in Ebisu to try your hand at karaoke. For a quiet drink, seek out Bar Trench down one of Ebisu's quiet alleys. The old-school bar specializing in absinthe and handcrafted cocktails is as atmospheric as it gets.
PLAN YOUR TRIP: Visit Fodor's Tokyo Travel Guide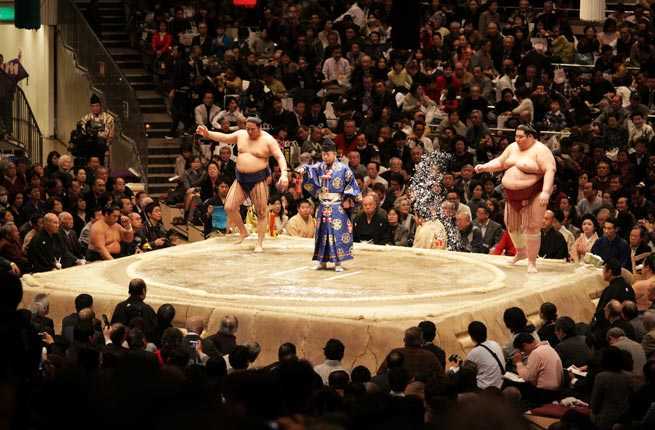 Hbuchholz | Dreamstime.com
Sidle Up to the Sumo Ring
Sumo is practically as old as Japan itself and was originally meant as entertainment for Shinto gods. Over the centuries, sumo has waxed and waned in popularity, recently experiencing a surge in attendance despite a number of recent scandals that have plagued the sport. Many aspects of a sumo match are still tied to Shinto religious rituals and the basic rules are simple; the first wrestler to force his opponent out of the ring or to touch the ground with anything other than the bottom of his feet wins. If you happen to be in Tokyo during one of the three tournaments throughout the year (held over 15 days in January, May, and September), a highly coveted ticket will be well worth it, though expect rowdy crowds. Otherwise, head to Ryogoku to see the sumo stables, where wrestlers live and work. You'll need to have a hotel concierge or Japanese speaker call a day head to make sure you'll be able to watch a practice. Also check out the Sumo Museum in the same neighborhood.
PLAN YOUR TRIP: Visit Fodor's Tokyo Travel Guide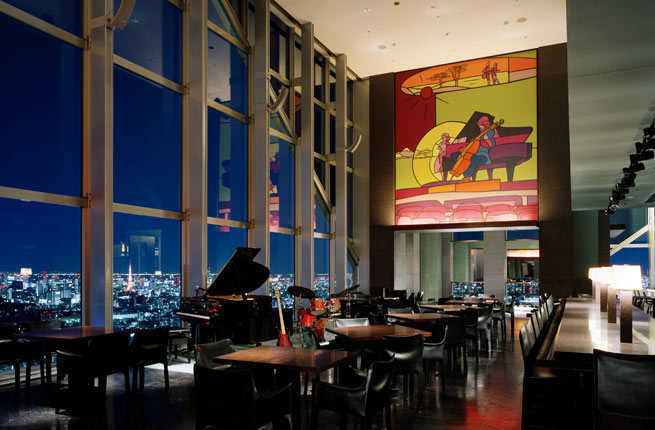 Courtesy of Park Hyatt Tokyo
Splurge Day
If you have deep enough pockets, there's no better place to treat yourself than Tokyo. Begin the day with a decadent brunch, either at the rooftop terrace at Two Rooms in Omotesando or at Lauderdale, featuring breakfast soufflés, in Roppongi. For the best shopping, look no further than the Roppongi neighborhood or head to Ginza and the adjacent Marunouchi area to peruse European and Japanese designers and to check out the gigantic luxury department stores. Enjoy a mix-and-match lunch at one of the sprawling, luxe basement food halls at any of Tokyo's high-end department stores before enjoying an afternoon at the spa at any of Tokyo's top hotels. Take a sunset helicopter tour of the city with EXCEL Helicopter Cruising before dinner at one of Tokyo's nine three-Michelin-star restaurants, eight of which serve Japanese cuisine. End the evening with drinks at the New York Bar, made famous in Lost in Translation, located on the 52nd floor of the Park Hyatt with incredible views of the city. As for the best lodging in Tokyo, the possibilities are almost endless. The Mandarin Oriental, the Peninsula, the Ritz-Carlton, the Park Hyatt, and Aman Tokyo all offer world-class accommodations and service.
PLAN YOUR TRIP: Visit Fodor's Tokyo Travel Guide