Glacier National Park
by Christopher Michel
[CC BY 2.0]
Once spring has sprung, it's time to get out and enjoy the great outdoors. And what better way to experience nature than in some of our magnificent national parks? We've handpicked the 15 best national parks for springtime revelry, from Tennessee to Alaska to California. Now it's your turn to start planning a trip.
holbox / Shutterstock
Grand Canyon National Park
WHERE: Arizona
Seeing the canyon for the first time is an astounding experience, one that's hard to wrap your head around. Roughly 5 million visitors come to the park each year. You can access the canyon via two main points—the South Rim and the North Rim—but the South Rim is much easier to get to and therefore much more visited. The North Rim is closed from November through mid-May due to heavy snow, but the South Rim is open year round. There will be fewer crowds in the early spring (though not during spring break) than in the summer.
PLAN YOUR TRIP: Visit Fodor's Grand Canyon National Park Guide
Pilens | Dreamstime.com
Saguaro National Park
WHERE: Arizona
Standing sentinel in the desert, the towering saguaro is perhaps the most familiar emblem of the Southwest. Known for their height (often 50 feet) and arms reaching out in weird configurations, these slow-growing giants can take 15 years to grow a foot high and up to 75 years to grow their first arm. A typical saguaro lives 150 years, but many survive more than 200 years. They are found only in the Sonoran Desert, and the largest concentration is in Saguaro National Park. In late spring (usually May), the succulent's top is covered with tiny white blooms—the Arizona state flower. The spring days from March through May are bright and sunny with wildflowers in bloom.
PLAN YOUR TRIP: Visit Fodor's Saguaro National Park Guide
Biolifepics | Dreamstime.com
Death Valley National Park
WHERE: California
During the spring, this desert landscape is ablaze with greenery and colorful flowers, especially between Badwater and Ashford Mill. (Keep tabs on how the wildflowers are coming along on the park's website. Peak season usually lasts about two weeks, typically in late March and early April.) Most of the park's 1 million annual visitors still come between late fall and early spring, taking advantage of moderate temperatures and the lack of rainfall. During these cooler months you will need to book a room in advance, but don't worry: the park never feels crowded.
PLAN YOUR TRIP: Visit Fodor's Death Valley National Park Guide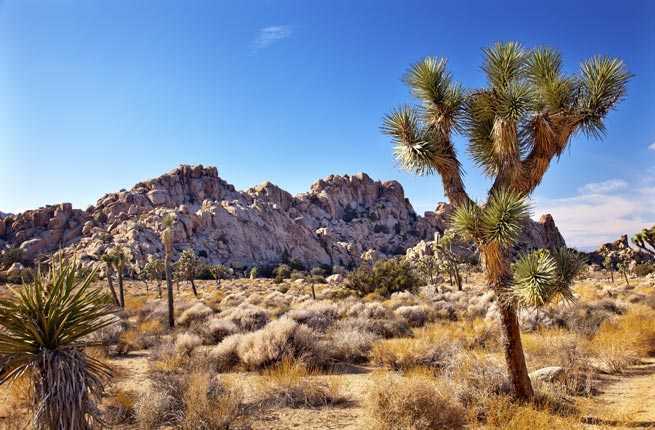 Bpperry | Dreamstime.com
Joshua Tree National Park
WHERE: California
There's nothing quite like desert flowers in the spring. While Joshua Tree National Park's namesake are mesmerizing in their own right, the ocotillo, or vine cactus, steals the show. With enough spring rain, the tall, spindly plant busts into unexpected crimson flowers. And throughout the park, the hillsides explode in a patchwork of yellow, blue, pink, and white. Springtime visitors also appreciate the more humane temperatures than in the summer, ideal for rock climbing and bouldering, along with crisp, campfire-worthy evenings.
Insider Tip: The 18 species of lizards residing in Joshua Tree National Park are most abundant in spring. Look for them basking atop boulders or other elevated sites.
PLAN YOUR TRIP: Visit Fodor's Joshua Tree National Park Guide
dcwcreations / Shutterstock
Yosemite National Park
WHERE: California
The spring thaw rapidly melts the snow, fueling Yosemite National Park's peak waterfall season. By April, even the smallest creeks gush with water, and the park's iconic waterfalls flow at full throttle. Mirror Lake fills to the brim, offering a stunning reflection of Half Dome that can't be seen during drier times of the year. Visit in late April or early May to catch the eruption of dogwood blossoms, which some would argue rival even the waterfalls. This is a time to avoid the crowds: Come mid-April through Memorial Day, when the park is a bit less busy and the days usually are sunny and clear.
Insider Tip: Tioga Pass and Glacier Point Roads typically remain closed until late May, but there's still plenty to see in Yosemite Valley and Wawona.
PLAN YOUR TRIP: Visit Fodor's Yosemite National Park Guide
Anthonyheflin | Dreamstime.com
Great Smoky Mountains National Park
WHERE: Tennessee
With 1,500 types of flowering plants, more than any other North American park, Great Smoky Mountains National Park is often referred to as "Wildflower National Park." The milder temperatures and reduced haze in spring make for ideal visiting conditions, but don't expect fewer people. As the most-visited national park in the US, Great Smoky is popular year-round. You can see wildflowers in bloom virtually year-round: ephemerals such as trillium and columbine in late winter and early spring. However, the best time to see wildflowers in the park is the spring, especially April and early May.
PLAN YOUR TRIP: Visit Fodor's Great Smoky Mountains National Park Guide
Swtrekker | Dreamstime.com
Big Bend National Park
WHERE: Texas
Spring is the busiest season when wildflowers are in bloom. Ever since men first explored the prairies of Texas, the bluebonnet has been revered. Nearly half a dozen varieties of the bluebonnet, distinctive for flowers resembling pioneers' sunbonnets, exist throughout the state. From mid-January until late March, at least one of the famous flowers carpets the park: the Big Bend (also called Chisos) bluebonnet has been described as the most majestic species, as its deep-blue flower spikes can shoot up to three feet in height. The Big Bend bluebonnets can be found beginning in late winter on the flats of the park as well as along the El Camino del Rio (Route 170), which follows the legendary Rio Grande between Lajitas and Presidio, Texas.
PLAN YOUR TRIP: Visit Fodor's Big Bend National Park Guide
Allison14 | Dreamstime.com
Arches National Park
WHERE: Utah
With the highest density of natural stone arches in the world (more than 2,000 of them), driving through Arches National Park is a surreal experience. In March, and even early April, you're likely to have it to yourself. Temperatures are a mild 60 degrees, and the La Sal Mountains are still snow-capped, which makes for startling photos of the orange sandstone arches and clear blue sky. Stargazing in and around Arches is world-class thanks to minimal light pollution. In spring, the sky is particularly clear.
PLAN YOUR TRIP: Visit Fodor's Arches National Park Guide
Nickolay Stanev / Shutterstock
Zion National Park
WHERE: Utah
Easily one of the most dramatically beautiful landscapes on the planet, Zion National Park's cooler spring temperatures make for more pleasurable hiking along its many exposed (read: scorching hot) trails. Spring visitors to Zion enjoy fewer crowds, spectacular high-volume waterfalls courtesy of the snow melt, and rare glimpses of green contrasting against the sun-drenched orange rock. And the canyoneering is just as good, if not better, as in the summer and fall.
PLAN YOUR TRIP: Visit Fodor's Zion National Park Guide
Glacier National Park
by Christopher Michel
[CC BY 2.0]
Glacier National Park
WHERE: Montana
Northern Montana can be chilly in the spring, with temperatures in the 30s and 40s, but that just means fewer visitors at Glacier National Park, making for an unforgettable wildlife experience. In the spring, you'll see more critters than people at Glacier, including bears, moose, elk, and sheep. Most of the park's 1 million acres are accessible in the spring, with only a portion closed on the Going-to-the-Sun Road. In late May, after the Going-to-the-Sun Road is plowed, and before it's opened to cars, Glacier encourages cyclists to bike the engineering masterpiece that weaves 50 miles though the park's wild interior.
PLAN YOUR TRIP: Visit Fodor's Glacier National Park Guide
Benkrut | Dreamstime.com
Great Sand Dunes National Park
WHERE: Colorado
It's no secret that spring is the best time of the year to ski in Colorado, but the mountains aren't the only slopes of note. Great Sand Dunes National Park serves up 30 square miles of enormous sand dunes—the biggest in North America. Visitors can hike them (some peak as high as 750 feet), sled, and even snowboard down them. The best time for sand dune down-hilling is in the spring, before the sand gets too hot to touch, and preferably right after a rainstorm, which gives the sand the most stability. The San Luis Valley can get windy in spring, so plan for morning outings before the wind kicks up.
PLAN YOUR TRIP: Visit Fodor's Great Sand Dunes National Park Guide
Appalachianviews | Dreamstime.com
Shenandoah National Park
WHERE: Virginia
With nearly 200,000 forested acres (almost all of which are open to backcountry camping), Shenandoah National Park is most popular during the fall foliage. Spring sees some of the fewest visitors, but perhaps the most unique beauty thanks to park's 850 species of flowering plants. Visitor facilities and services re-open for the year in March, and the wildflower display begins in late March, continuing to summer. Take a ride on Skyline Drive, the 105-mile road that winds through the park, in May, when the pink azaleas bloom in the forest alongside the road.
PLAN YOUR TRIP: Visit Fodor's Shenandoah National Park Guide
Chiyacat | Dreamstime.com
Glacier Bay National Park and Preserve
WHERE: Alaska
The best times to go to Glacier Bay are May and June, the driest months of the year, when spectacular glacier views and migrating humpback whales are just some of the highlights. Gustavus, the gateway to the park, is a 30-minute scenic bush flight from Juneau. It's also accessible by cruise ship, both small and large, and the Alaska Marine Highway ferry, the least expensive option.
If you're not already arriving on a cruise, a day boat leaves from Glacier Bay Lodge every day and takes guests out on an eight-hour glacier and whale-watching trip. Smaller cruise ships, like Un-Cruise Adventures, come all the way into Bartlett Cove, but larger ships welcome aboard a park ranger for interpretive programs—all see stunning views of tidewater glaciers, icebergs, and whales.
PLAN YOUR TRIP: Visit Fodor's Glacier Bay National Park and Preserve Travel Guide
Doug Meek / Shutterstock
Carlsbad Caverns National Park
WHERE: New Mexico
On the surface, Carlsbad Caverns National Park is deceptively normal—but all bets are off once visitors set foot in the elevator, which plunges 75 stories underground. The country beneath the surface is part silky darkness, part subterranean hallucination. The snaky, illuminated walkway seems less like a trail and more like a foray across the River Styx and into the underworld. While the desert above may alternately bake or freeze, the caverns remain in the mid-50s. If you're coming to see the Brazilian free-tailed bat—a big draw here—come between spring and mid-fall. From mid-May to late October, bats wing to and from the caverns in a swirling, visible tornado.
PLAN YOUR TRIP: Visit Fodor's Carlsbad Caverns National Park Guide
Albertoloyo | Dreamstime.com
Haleakala National Park
WHERE: Maui, Hawaii
Long days of sunshine and fairly mild year-round temperatures make Hawaii, including Maui, an all-season destination. However, the humpback whales start arriving in November, are in full force by February, and are gone by early May, so spring is your last chance to catch them. You'll find the best bargains for hotel rooms in May.
PLAN YOUR TRIP: Visit Fodor's Haleakala National Park Guide