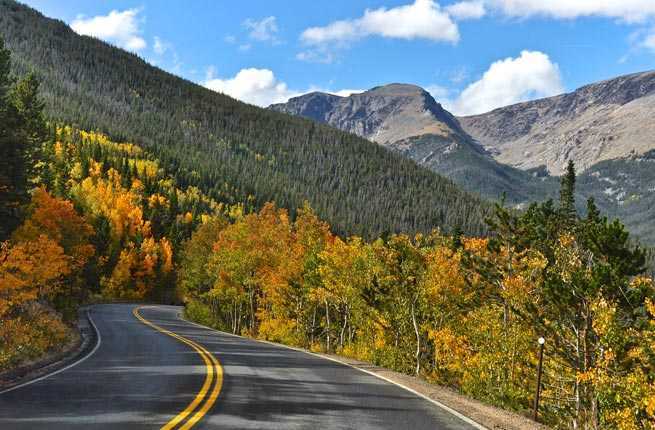 Phenguin | Dreamstime.com
When the weather turns warm and the days grow longer, it's time to start planning your next road trip, some of the best of which can be found in the country's national parks. We've searched from coast to coast (and in Alaska and Hawaii) to find the very best scenic drives, the ones that are guaranteed to take your breath away.
Lowthian | Dreamstime.com
Denali National Park and Preserve
WHERE: Alaska
Denali is all about the Park Road ride through the park. There are different bus/shuttle options depending on your time, budget, and narration desires. From the shuttle you can see the big 5 Alaskan animals: grizzly bears, wolves, caribou, moose, and Dall sheep, and views of Denali itself.
PLAN YOUR TRIP: Visit Fodor's Denali National Park Guide
Grand Canyon National Park
WHERE: Arizona
Although the North Rim is just 10 miles across from the South Rim, the trip to get there by car is a five-hour drive of 215 miles. At first it might not sound like the trip would be worth it, but the payoff is huge. Along the way, you'll travel through some of the prettiest parts of the state and be granted even more stunning views than those on the more easily accessible South Rim. Those who make the North Rim trip often insist it has the canyon's most beautiful views and best hiking. Highway 67 climbs 1,400 feet in elevation as it passes through the Kaibab National Forest. Also called the "North Rim Parkway," this scenic route crosses the limestone-capped Kaibab Plateau—passing broad meadows, sun-dappled forests, and small lakes and springs—before abruptly falling away at the abyss of the Grand Canyon.
PLAN YOUR TRIP: Visit Fodor's Grand Canyon National Park Guide
Bryan Busovicki / Shutterstock
Hawaii Volcanoes National Park
WHERE: Hawaii
The best way to explore the summit of Kilauea is to cruise along Crater Rim Drive to Kilauea Overlook. From Kilauea Overlook you can see all of Kilauea Caldera and Halemaumau Crater, an awesome depression in Kilauea Caldera measuring 3,000 feet across and nearly 300 feet deep. It's a huge and breathtaking view with pluming steam vents. Other highlights along Crater Rim Drive include sulfur and steam vents, a walk-through lava tube, and deep fissures, fractures, and gullies along Kilauea's flanks. Kilauea Iki Crater, on the way down to Chain of Crater's Road, is smaller, but just as fascinating when seen from Puu Pai Overlook. Before you head out to find flowing lava, pinpoint the safe viewing spots at the Visitor Center. One of the best places usually is at the end of 18-mile Chain of Craters Road. Magnificent plumes of steam rise where the rivers of liquid fire meet the sea.
PLAN YOUR TRIP: Visit Fodor's Hawaii Volcanoes National Park Guide
Courtesy of NPS; Photo by Brad Sutton
Joshua Tree National Park
WHERE: California
If you have time only for a short visit, driving Park Boulevard is your best choice. Traversing the most scenic portions of Joshua Tree, this well-paved road connects the north and west entrances in the park's high desert section. Along with some sweeping desert views, you'll see jumbles of splendid boulder formations, stands of Joshua trees, and Hidden Valley and Barker Dam, remnants of the area's wild and woolly past. From the Oasis Visitor Center, drive south. After about 5 miles, the road forks; turn right and head west toward Jumbo Rocks (clearly marked with a road sign).
Some of the park's most fascinating landscapes can be observed from this 18-mile dirt road that comprises the Geology Motor Tour. Parts of the journey are rough, so make sure you have a 4X4. Sights to see include a 100-year-old stone dam called Squaw Tank, defunct mines, and a large plain with an abundance of Joshua trees. There are 16 stops along the way, so give yourself about two hours to make the round-trip.
PLAN YOUR TRIP: Visit Fodor's Joshua Tree National Park Guide
Courtesy of NPS
Lassen Volcanic National Park
WHERE: California
This 185-mile Volcanic Legacy Scenic Byway begins in Chester and loops through the forests, volcanic peaks, hydrothermal springs, and lava fields of Lassen National Forest and Lassen Volcanic National Park, providing an all-day excursion into dramatic wilderness. From Chester, take Highway 36 west to Highway 89 north, which within the park is called Lassen Volcanic National Park Highway, or Lassen Park Highway. The 30-mile Lassen Volcanic National Park Highway weaves through the park and passes by such important sites as Lassen Peak, Bumpass Hell, Sulphur Works, Kings Creek, Devastated Area, and Chaos Crags before ending at Loomis Museum and Manzanita Lake.
PLAN YOUR TRIP: Visit Fodor's Lassen Volcanic National Park Guide
WHERE: California
The Newton B. Drury Scenic Parkway/Big Tree Wayside, a paved 10-mile route, is accessed a little south of Klamath or a bit north of Orick threads through Prairie Creek Redwoods State Park and old-growth redwoods. It's open to all noncommercial vehicles. North of the Prairie Creek Visitor Center you can make the 0.8-mile walk to Big Tree Wayside and observe Roosevelt elk in the prairie.
If you have 4×4, opt for Howland Hill Road: Take your time as you drive this 10-mile route along Mill Creek, which winds through old-growth redwoods and past the Smith River. Trailers and RVs are prohibited on this route.
PLAN YOUR TRIP: Visit Fodor's Redwood National Park Guide
Bjoernalberts | Dreamstime.com
Sequoia and Kings Canyon National Parks
WHERE: California
While the Generals Highway is a must for the Grand and Sherman trees, the Kings Canyon Scenic Byway takes you into a canyon grander than the Grand Canyon. The 30-mile stretch of Route 180 between Grant Grove Village and Zumwalt Meadow delivers eye-popping scenery—granite cliffs, a roaring river, waterfalls, and Kings River Canyon itself—much of which you can experience at vista points or on easy walks. The canyon comes into view about 10 miles east of the village at Junction View. Five miles beyond, at Yucca Point, the canyon is thousands of feet deeper than the more famous Grand Canyon. Canyon View, a special spot 1 mile east of the Cedar Grove Village turnoff, showcases evidence of the area's glacial history. Here, perhaps more than anywhere else, you'll understand why John Muir compared Kings Canyon vistas with those in Yosemite. Driving the byway takes about an hour each way without stops.
PLAN YOUR TRIP: Visit Fodor's Sequoia and Kings Canyon National Parks Guide
Sborisov | Dreamstime.com
WHERE: Virginia
Alternating between open vistas and forest-hemmed stretches, Skyline Drive offers 105 miles of easily accessible wilderness. Designated as a National Historic Landmark, the two-lane highway runs from Rockfish Gap at Afton, Virginia, to Front Royal and traverses Shenandoah National Park end to end, from Waynesboro to Front Royal. Hikers can find beautiful terrain just yards from the drive on some of the park's 500 mi of trails, trout fishers may wade into more than 25 streams, and riders can rent horses for wilderness trail rides. During weekends and holidays it can seem a little too much like city driving—a 35-mph speed limit, rubber-necking leaf-lookers, narrow overlook turnouts, and the occasional black bear sighting can back traffic up uncomfortably. It's best to choose a weekday and allow the entire day; you may want to spend an hour or two resting on one roadside boulder.
PLAN YOUR TRIP: Visit Fodor's Shenandoah National Park Guide
Phenguin | Dreamstime.com
Rocky Mountain National Park
WHERE: Colorado
The Peak-to-Peak Scenic and Historic Byway (routes 119, 72, and 7), a 55-mile stretch that winds from Central City through Nederland to Estes Park, is not the quickest route to the eastern gateway to Rocky Mountain National Park, but it's certainly the most scenic. You'll pass through the old mining towns of Ward and Allenspark and enjoy spectacular mountain vistas. Mount Meeker and Longs Peak rise magnificently behind every bend in the road. The descent into Estes Park provides grand vistas of snow-covered mountains and green valleys. An afternoon drive along this route is especially memorable in fall, when the sky is deeper blue and stands of aspens contrast with evergreen pine forests.
Once in Rocky Mountain NP, Trail Ridge Road is the park's star attraction and the world's highest continuous paved highway, topping out at 12,183 feet. The 48-mile road connects the park's gateways of Estes Park and Grand Lake. The views around each bend—of moraines and glaciers, and craggy hills framing emerald meadows carpeted with columbine and Indian paintbrush—are truly awesome.
PLAN YOUR TRIP: Visit Fodor's Rocky Mountain National Park Guide
Appalachianviews | Dreamstime.com
Acadia National Park and Mount Desert Island
WHERE: Maine
The 27-mile Park Loop Road is Acadia's biggest attraction, and it provides a perfect introduction to the park. You can drive it in an hour, but allow at least half a day so that you can explore the many sites along the way. The route is also served by the free Island Explorer buses, which will also pick and drop off anywhere along the route. Along the way you'll see spruce and fir trees contrasting with dark granite ledges and the white and blue of the ocean. The route traces the coastline but then turns inward, where youi can detour to Cadillac Mountain if you wish.
PLAN YOUR TRIP: Visit Fodor's Acadia National Park Guide
Courtesy of NPS; Photo by Tim Rains
WHERE: Montana
Arguably the most beautiful drive in the country, Sun Road connects Lake McDonald on the west side of Galcier with St. Mary Lake on the east. This magnificent, 50-mile highway—the only American roadway designated both a National Historic Landmark and a National Civil Engineering Landmark—crosses the crest of the Continental Divide at Logan Pass and traverses the towering Garden Wall. Turnoffs provide views of the high country and glacier-carved valleys. The sights include: The Garden Wall, Hidden Lake Overlook, Jackson Glacier Overlook, Logan Pass, St. Mary Lake and more. Open from mid-June to mid-September only (due to heavy snowfalls), this is one of the most stunning drives in Glacier National Park. The drive is susceptible to frequent delays in summer. To avoid traffic jams and parking problems, take the road early in the morning or late in the evening (when the lighting is ideal for photography and wildlife is most likely to appear).
PLAN YOUR TRIP: Visit Fodor's Rocky Mountain National Park Guide
Hotshotsworldwide | Dreamstime.com
Crater Lake National Park
WHERE: Orgeon
Take the 33-mile scenic loop called Rim Drive for views of the lake and its cliffs from every conceivable angle. The drive takes two hours not counting frequent stops at overlooks and short hikes that can easily stretch this to a half day. Rim Drive is typically closed due to heavy snowfall from mid-October to mid-June, and icy conditions can be encountered any month of the year, particularly in early morning.
PLAN YOUR TRIP: Visit Fodor's Crater Lake National Park Guide
Great Smoky Mountains National Park
WHERE: Tennessee/North Carolina
On the Tennessee side of the park, the 11-mile loop through Cades Cove is the most popular route in the park and arguably the most scenic part of the entire Smokies. The one-way, one-lane paved road starts 7.3 miles from the Townsend entrance. The drive begins with views over wide pastures to the mountains at the crest of the Smokies. Few other places in the Appalachians offer such views across wide valley bottoms with hayfields and wildflower meadows, framed by split-rail fences and surrounded by tall mountains. Along the way, you'll pass three 19th-century churches and many restored houses, log cabins, and barns. All are open for exploration. A highlight of the loop road, about midway, is the Cable Mill area, with a visitor center, working water-powered gristmill, and a restored farmstead.
To get to the other side of the park, you might consider taking the Blue Ridge Parkway, whose 252 miles within North Carolina wind down the High Country through Asheville, ending near the entrance of Great Smoky Mountains National Park. Highlights on and near the parkway include Mt. Mitchell, the highest mountain peak east of the Rockies, Grandfather Mountain, and Mt. Pisgah. Nearly all the towns and cities along the parkway route offer accommodations, dining, and sightseeing. In particular, Boone, Blowing Rock, Burnsville, Asheville, Waynesville, Brevard, and Cherokee are all near popular entrances to the parkway.
PLAN YOUR TRIP: Visit Fodor's Great Smoky Mountains National Park Guide
Maciejbledowski | Dreamstime.com
WHERE: Utah
Although they are not formally designated as such, the main park road and its two short spurs are scenic and allow you to enjoy many park sights from your car. The main road leads through Courthouse Towers, where you can see Sheep Rock and the Three Gossips, then alongside the Great Wall, the Petrified Dunes, and Balanced Rock. A drive to the Windows section takes you to attractions like Double Arch, and you can see Skyline Arch along the roadside as you approach the Devils Garden campground. The road to Delicate Arch is not particularly scenic, but it allows hiking access to one of the park's main features. Allow about two hours to drive the 45-mile round-trip, more if you explore the spurs and their features and stop at viewpoints along the way.
PLAN YOUR TRIP: Visit Fodor's Arches National Park Guide
Tricia Daniel / Shutterstock
Capitol Reef National Park
WHERE: Utah
Keep your camera handy and steering wheel steady along Utah Scenic Byway 12 between Escalante and Loa, near Capitol Reef National Park. Though the highway starts at the intersection of U.S. 89, west of Bryce Canyon National Park, the stretch that begins in Escalante is one of the most spectacular. The road passes through Grand Staircase–Escalante National Monument and on to Capitol Reef along one of the most scenic stretches of highway in the United States. Be sure to stop at the scenic overlooks; almost every one will give you an eye-popping view, and information panels let you know what you're looking at. Don't get distracted while driving, though; the paved road is twisting and steep, and at times climbs over a hogback with sheer drop-offs on both sides. Near Torrey it intersects with Utah Scenic Byway 24 and cuts right through Capitol Reef National Park west to east.
PLAN YOUR TRIP: Visit Fodor's Capitol Reef National Park Guide
Courtesy of NPS; Photo by Neal Herbert
Yellowstone National Park
WHERE: Wyoming
The 29-mile Northeast Entrance Road has the richest landscape diversity of the five entrance roads. Just after you enter the park, you cut between 10,928-foot Abiathar Peak and the 10,404-foot Barronette Peak. Lamar Valley is home to hundreds of bison, and the rugged peaks and ridges adjacent to it shelter some of Yellowstone's most famous wolf packs. (Wolves were reintroduced to the park in the mid-1990s.) This is the park's best place for wolf-watching, especially in the early morning and late evening. As you exit Lamar Valley, the road crosses the Yellowstone River before leading you to the rustic Roosevelt Lodge.
PLAN YOUR TRIP: Visit Fodor's Yellowstone National Park Guide