The Loft
You don't have to head to the Highlands to savor a delicious dram. From basement establishments to Prohibition-era speakeasies, a handful of Asia's best bars have set out to impress with malty menus that will make a whiskey geek weak in the knees.—Kate Springer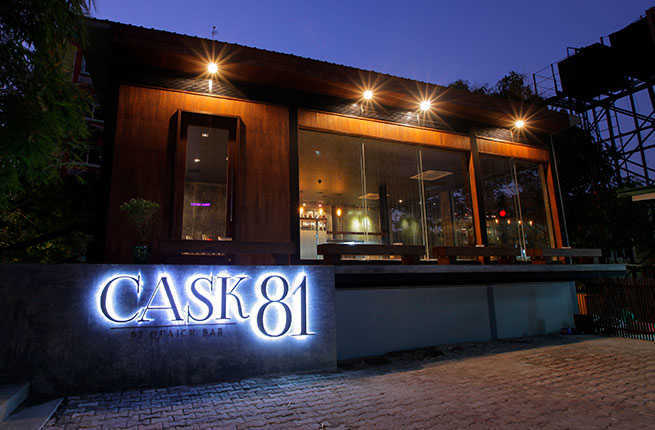 Cask 81
WHERE: Yangon, Myanmar
Yangon might not be the first place that comes to mind when considering killer cocktail bars, but it should be on every whiskey lover's map. Opened in 2013 by a group of enthusiasts who were frustrated by a dearth of drams, Cask 81 is a coffee shop by day and the city's first dedicated whiskey bar by night. The multi-dimensional space covers two floors decked out with urban-chic interiors, soft leather couches, and several intimate nooks—there's even a cigar lounge and live piano performances on weekends. Revolving around all things whiskey, Cask 81 boasts a vast and varied list of more than 100 single malts. The menu covers most of Scotland's most prestigious regions and much of Asia, including Yamazaki from Japan.
Insider Tip: Try the signature Cask 81 cocktail, made with Deanston virgin oak single malt, orange and lime juices, Campari, and Grand Marnier.
PLAN YOUR TRIP: Visit Fodor's Yangon Guide
D. Bespoke
WHERE: Singapore
Singapore attracts talented mixologists from around the world, and D.Bespoke is a perfect example. Partner and head bartender Daiki Kanetaka established himself in Ginza and Beijing before opening another hotspot in Singapore. This time, the certified venenciador has created a handsome oasis in the middle of Chinatown behind the facade of a Japanese ceramics shop. A heavy door leads you into this Ginza-style cocktail bar, where you'll find a long 15-meter-long teak bar, handsome leather sofas, and a wall full of incredible Japanese whiskey, French Calvados, rare vintage rums, Armagnacs, and sherry. Let Daiki-san make you a cocktail customized to your taste, or keep it simple with a neat nip.
Insider Tip: Be sure to make a reservation, as there are only 28 seats at this cozy cocktail bar.
PLAN YOUR TRIP: Visit Fodor's Singapore Guide
The Speakeasy
WHERE: Bangkok, Thailand
A rooftop bar boasting stunning views of Bangkok, The Speakeasy is a favorite watering hole among locals and travelers alike. Located inside Hotel Muse Bangkok, The Speakeasy is spacious, stretching across the hotel's 24th and 25th floors. No matter where you sit, a quality malt is close at hand—the gentlemen's club–inspired bar is known for its 1920s Prohibition-era drinks and comprehensive whiskey list. Inside, there's another surprise: the Blind Pig lounge, another bar within The Speakeasy that specializes in the world's most distinguished and rarefied browns, such as 10- to 25-year-old Macallan, Glenlivet, Ardberg, and Singleton.
PLAN YOUR TRIP: Visit Fodor's Bangkok Guide
Auld Alliance
WHERE: Singapore
We can't talk about whisky bars in Asia without starting with Auld Alliance. Located in the Rendezvous Hotel Singapore, the stalwart watering hole draws a following for its heritage surrounds, dark timber bar, leather armchairs, and the world's largest whisky collection. It can take hours to page through the tome of a menu, which features all the big names and several esoteric bottles—some of which date back to 1863. Ready yourself for more than 1,500 types of whisky, cognac and Armagnac, as well as 30 tasting flights to choose from.
Insider Tip: Don't care for whisky? Not to worry—Auld Alliance offers more than 40 types of Champagne and 50 types of wine.
PLAN YOUR TRIP: Visit Fodor's Singapore Guide
The Loft
WHERE: Guangzhou, China
Tucked away in the gorgeous Mandarin Oriental, Guangzhou, The Loft is the definition of a hidden gem. The chic whiskey and cigar bar exudes sophistication with its intimate setting, decked out in dark wood and divided into six discreet nooks. The whiskey list is as impressive as the design, boasting 97 bottles from far-flung locales with an emphasis on rare finds, such as Strathisla 1963, Gordon and MacPhail 'Glen Grant' 1965, and Bruichladdich 25-year-old DNA 1985. In addition to the premium labels, there's also a delicious spread of small bites, such as Wagyu beef tataki and salmon crudo.
Insider Tip: Negronis are one of bartender Ison Wang's favorite drinks, so it's worth trying his signature Vintage Negroni made with Sipsmith gin and Mancino vermouth.
PLAN YOUR TRIP: Visit Fodor's Guangzhou Guide
Shot Bar Zoetrope
WHERE: Tokyo, Japan
It's not a trip to Tokyo without stumbling upon a hole-in-the-wall bar inside an unassuming commercial building. Enter Shot Bar Zoetrope: the tiny outpost in Nishi-Shinjuku is a haven for whiskey geeks, thanks to an inspiring collection of more than 300 Japanese whiskies, many of which are rare or sourced from up-and-coming distilleries. Owner Atsushi Horigami's second passion? Classic movies, as evidenced by the walls covered with old-school movie memorabilia, black-and-white silent films playing on a projector screen at the back of the bar, and of course, the bar's name. In case you're scratching your head, a zoetrope is a cylindrical 19th-century device used to create the illusion of motion in the days before film and computers.
Insider Tip: While you're there, ask about the stouts and seasonal beers from Japan's Minoh Brewery for a change of pace.
PLAN YOUR TRIP: Visit Fodor's Tokyo Guide
Executive Bar
WHERE: Hong Kong
Perched on the 27th floor of an unassuming skyscraper in Causeway Bay, Executive Bar is one of the early cocktail pioneers in Hong Kong. When the bar opened a decade ago, there were very few upscale bars in town outside of hotels, so it didn't take long for word to spread about its hand-chipped ice spheres, harbor views, and serious whiskey collection. Aficionados across the city frequent this low-lit, Tokyo-style retreat for its extensive collection, featuring rare bottles of Scotch as well as whiskies from Ireland, America, and of course, Japan. The bartenders attend to every detail with passion and enthusiasm, pointing tipplers toward less-known labels and bespoke cocktails. If you're drinking something more complicated than a nip, it's worth pulling up a seat at the bar to watch the masters at work as they concoct the perfect cocktail to fit your personality and preference.
Insider Tip: It's reservations-only at this exclusive cocktail bar, so call ahead or risk getting turned away at the door.
PLAN YOUR TRIP: Visit Fodor's Hong Kong Guide
Baxter Inn
WHERE: Sydney, Australia
It takes a little hunting to findThe Baxter Inn—the basement bar is hidden down a nondescript stairwell in an open-air courtyard off Clarence Street—but once you push through the heavy wooden door, an incredible drinking den awaits. Encyclopedic bartenders know the 800-plus whiskey list backward and forward, pointing tipplers toward new finds and old favorites while gliding around on old-school library ladders. As you'd imagine, The Baxter Inn has no shortage of drool-worthy drams, and the menu features a mix of big and boutique distilleries representing far-flung locales, including Speyside, Islay, Japan, Tasmania, and many more. Look for some rare nips to boot—including Macallan 30-year old Sherry Blue Label, Dalmore Constellation 1991 and Glenfiddich 40-year—or opt for the ultra-convenient Old Fashioned on tap.
Insider Tip: Head there early in the evening before it gets packed with an after-work crowd and a queue around the corner.
PLAN YOUR TRIP: Visit Fodor's Sydney Guide