Kent Phillips/Disney
Confetti, champagne, and countdowns are all standard New Year's fare. But some cities take the celebration a step further, offering epic parties, impressive fireworks displays, and stunning lightshows that continue well into the early morning. Whether you'd prefer to dance samba on Rio's Copacabana beach or watch the fireworks over Hong Kong's Victoria Harbour, these are the 16 most brilliant New Year's Eve celebrations around the world—and fodder for any traveler's bucket list.
By Emily Wasserman
Leanne Vorrias/Shutterstock
WHERE: Rio de Janeiro, Brazil
Stop by Rio's Copacabana beach for Reveillon, one of the world's liveliest New Year's celebrations. Giant stages are set up along the oceanfront, and visitors can enjoy traditional dance and music performances. More than two million people dressed in white (a color said to bring good luck) gather together, drink Champagne, and dance samba while the clock strikes midnight. When the clock strikes 12, the new year begins with a colorful fireworks display over the ocean.
PLAN YOUR TRIP: Visit Fodor's Rio de Janeiro Guide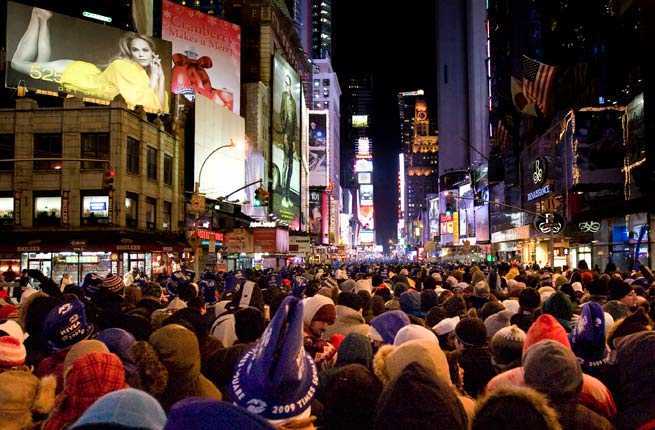 DanielW/Shutterstock
WHERE: New York City
This iconic city is synonymous with New Year's Eve, as millions of people from around the world gather to watch the ball drop. Visitors are treated to a spectacular pyrotechnic light shows and celebrity music acts while awaiting the final countdown. Shimmering confetti is released at midnight, and fireworks sparkle in the night sky.
PLAN YOUR TRIP: Visit Fodor's New York City Guide
Steve Kingsman/Dreamstime.com
WHERE: Edinburgh, Scotland
For one of the biggest New Year's street parties in the world, look no further than Edinburgh's Hogmanay. The four-day celebration culminates in a street party with a fireworks display over Edinburgh Castle. Torchlight processions, candlelit concerts, and Scottish folk dancing are just a few of the main attractions.
PLAN YOUR TRIP: Visit Fodor's Edinburgh Guide
auseng/Shutterstock
Visitors can take in the world's biggest fireworks display at Sydney's New Year's Eve celebration. Also known as the "New Year's Eve Capital of the World," the city offers traditional ceremonies, aerial acrobatics, and a stunning light parade. Once the clock strikes midnight, seven tons of fireworks are released, lighting up Sydney Harbour Bridge and the surrounding buildings.
PLAN YOUR TRIP: Visit Fodor's Sydney Guide
Radu Razvan/Shutterstock
WHERE: Paris, France
Parisians celebrate the Nouvelle Année in style. The City of Light features a dazzling lightshow and fireworks display and has a giant street party around the Champs-Elysees. Visitors pop bottles of Champagne and exchange papillotes (chocolates encased in sparkly paper that crackle when you open them). Midnight brings a spectacular lights display from the Eiffel Tower, plenty of cheek-to-cheek kissing, and well-wishes for the New Year.
PLAN YOUR TRIP: Visit Fodor's Paris Guide
Samot/Shutterstock
WHERE: London, England
Every year at New Year's, visitors gather around the Thames for the city's fireworks display. Fireworks are launched from the London Eye, a giant, Ferris Wheel-like attraction with enclosed, bubble-shaped cars. Guests can take in the bright lights near the water, or watch the event from screens in Trafalgar and Parliament squares.
PLAN YOUR TRIP: Visit Fodor's London Guide
Nadezhda V. Kulagina/Shutterstock
WHERE: Vienna, Austria
Some cities take to the streets to celebrate New Year's—Vienna takes to the ballroom. The city's "Grand Ball" is hosted at Hofburg Palace, and features classical music, ballet performances, and a four-course gala dinner. Midnight festivities include a fireworks display and a traditional Blue Danube Waltz.
PLAN YOUR TRIP: Visit Fodor's Vienna Guide
James Thewlis/Dreamstime.com
WHERE: Melbourne, Australia
Families will enjoy ringing in the New Year at Melbourne's Yarra Park. The Park hosts an array of free activities, including a New Year gift exchange, dress-up station, face-painting, and a community art installation. Children and their parents can also take in a colorful midnight fireworks display from central Melbourne and the Victoria Harbour.
PLAN YOUR TRIP: Visit Fodor's Melbourne Guide
Derrick Neill/Dreamstime.com
WHERE: Las Vegas
What happens in Vegas usually stays there—especially on New Year's Eve. The party capital of the world lives up to its reputation when the Strip becomes one giant street party. Festivities include fireworks, live bands, pyrotechnic displays, and laser shows. Sharing a midnight kiss (or two) beneath the Bellagio fountains has become tradition. Champagne cocktails and gambling complete New Year's in the Sin City.
PLAN YOUR TRIP: Visit Fodor's Las Vegas Guide
Vivid Times/Flickr
WHERE: Key West, Florida
While the ball drops in Times Square, the red shoe drops in Key West. This unconventional city does New Year's its own way, and celebrates with a drag queen show. When the clock strikes midnight, Sushi, a female impersonator, is lowered from the second story of the Bourbon Street Pub in an eight-foot red shoe. Partygoers watch from the streets and continue the celebration at surrounding bars and pubs.
PLAN YOUR TRIP: Visit Fodor's Key West Guide
Crackerclips/Dreamstime.com
Fleur de Lis Drop and French Quarter
WHERE: New Orleans, Louisiana
The city may be best known for its Mardi Gras festivities, but is also home to a lively New Year's Eve celebration. The party starts in the city's French Quarter, as partygoers gather to count down to the New Year. At the stroke of midnight, "Baby New Year" drops from the top of Jax Brewery, and fireworks explode over the Mississippi. The party continues till the wee hours of the night, as visitors flock to Bourbon Street bars and clubs.
PLAN YOUR TRIP: Visit Fodor's New Orleans Guide
katatonia82/Shutterstock
WHERE: Berlin, Germany
Visit Berlin's "Party Mile" for one of the world's biggest open-air New Year's Eve parties. The 2 kilometer-long street features bars, international food stalls, and laser shows, as well as a main stage with live music and DJs. The night ends with a huge firework display. Visitors can party until dawn on the street's never-ending dance floors.
PLAN YOUR TRIP: Visit Fodor's Berlin Guide
leungchopan/Shutterstock
WHERE: Hong Kong
Hong Kong's waterfront promenade, Tsim Sha Tsui, is one of the best places to ring in the New Year. Every year at 11 pm, fireworks are set off over Victoria Harbour. The lights display culminates in an eight-minute pyrotechnic display that starts on the water and moves inward, illuminating Hong Kong's skyscrapers and convention center.
PLAN YOUR TRIP: Visit Fodor's Hong Kong Guide
Nieuwmarkt, Leidseplein, and Dam Square
WHERE: Amsterdam
New Year's Eve in Amsterdam means impromptu street parties. Practically every public square is filled with visitors from around the world, eager to partake in the festivities. Nieuwmarkt (Chinatown), Leidseplein, and Dam Square are popular hotspots near the city center, but partygoers can also head to clubs for drinks, live music, and dancing.
PLAN YOUR TRIP: Visit Fodor's Amsterdam Guide
Luciano Mortula/Dreamstime.com
Street Parties, Barcelona
WHERE: Barcelona, Spain
In Barcelona, New Year's Eve festivities begin in restaurants, bars, and nightclubs, as many venues hold special, celebratory events. But in the hours that lead up to midnight, revelers flood the streets for singing, champagne, and a New Year's countdown. According to tradition, visitors should wear red underwear for good luck in the coming year and eat 12 grapes: one for each chime of the clock at midnight.
PLAN YOUR TRIP: Visit Fodor's Barcelona Guide
Kent Phillips/Disney
Disney World, Universal Studios, SeaWorld
WHERE: Orlando, Florida
New Year's Eve in Orlando is a dream come true for families. The city's world-famous theme parks—Walt Disney World, Universal Studios, and SeaWorld—stay open until 1 am, and host a variety of events for kids and parents. Dance parties, confetti, and live entertainers make "the happiest place on earth" one of the best to ring in the New Year.
PLAN YOUR TRIP: Visit Fodor's Orlando Guide