Bonita R. Cheshier / Shutterstock
The best river towns in the U.S. have a natural exuberance, a playful energy not unlike the bubbling water that flows through them. Maybe it's the towns' proximity to the mountains, like beacons beckoning adventure, or the fact that river town residents live there by choice, not chance, having made quality of life, scenic beauty, and active outdoor pursuits like kayaking and whitewater rafting a priority. Then again, it could be the beer—microbreweries tend to open up near rivers, which provide a plentiful source of pristine water for making handcrafted brews.
By Jayme Moye
Tim Roberts Photography / Shutterstock
The mighty Arkansas River churns through Salida, a former mining town inhabited by equal parts artists and athletes. DVK Expeditions, Colorado's oldest and arguably best whitewater-rafting company, is based here, as is FIBArk, the nation's oldest whitewater festival 67 years and counting. Kayakers, kids on boogie boards, and even stand-up paddleboarders take on the surf waves in Salida's rowdy whitewater play park, located in the historic downtown. Standout restaurants like Laughing Ladies (owned by two former Napa Valley chefs) and craft cocktail bars like Shallots and Wood's Mountain Distillery, round out a quintessential river town experience.
Insider Tip: Come winter, Salida turns into a ski town courtesy of nearby Monarch Mountain. Locals would prefer that you didn't know about this ski area, as it's off the tourist radar (read: un-crowded and affordable) and absolutely rakes in the snow—a whopping 350 inches per season.
From the rugged edge of western Montana, at the place where five mountain ranges converge, Missoula presides over the scenic Clark Fork River near its confluence with the Bitterroot. Originally a trading post, the mid-sized town has evolved into an outdoor sports mecca, thanks, in part, to the novel and film A River Runs Through It by Missoula native Norman Maclean. Besides the world-class fly-fishing and ample whitewater rafting, residents also enjoy hiking and biking, not to mention the progressive college-town mentality complete with a farmers market, a thriving arts and culture scene, a fierce sense of environmental stewardship and a half-dozen local craft breweries.
Insider Tip: Now in its 9th year, the River City Roots Festival (August 23-24, 2014) celebrates all things Missoula, from visual arts to live music to a stand-up paddleboard race.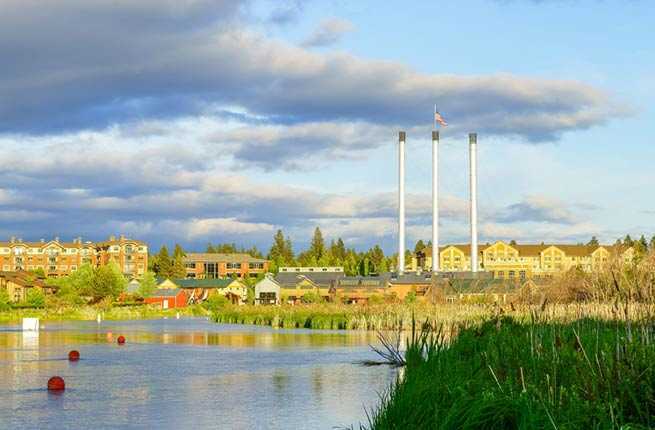 © Aaron Hernandez | Dreamstime.com
The wild and scenic Deschutes River flows from deep inside the pine forests of the Cascade Mountains to the sunny, high desert haven of Bend, a destination that's become synonymous with adventure. Rock climbing, mountain biking, camping, hiking, and even skiing at nearby Mount Bachelor are all in play in Bend, but it's still a river town at heart. World-renowned fly-fishing and easy access to notable rapids like "First Street" originally put Bend on the map, and the river remains its biggest attraction.
Insider Tip: Deschutes Brewery, one of the largest craft breweries in the U.S., is based in Bend, offering free tours daily from 1-4. And the original brewpub from 1988 is still going strong on NW Bond Street, with 19 beers on tap and a beer-centric menu.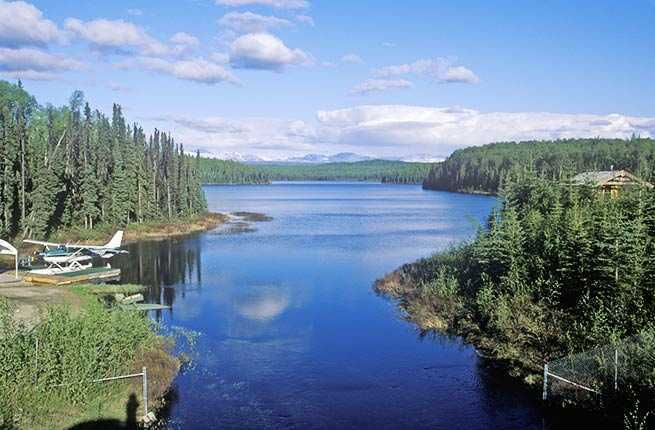 spirit of america / Shutterstock
A 2.5-hour drive from Anchorage, Talkeetna is located in the shadow of 20,237-foot Denali, at the confluence of three rivers: Talkeetna, Chulitna, and Susitna. The small town is used as a basecamp for climbers attempting the highest peak in North America, and as a tourist destination for salmon fishing and rafting. But what really makes Talkeetna special is its authentic frontier vibe—a National Historic Site with iconic landmarks like the Talkeetna Roadhouse and Nagley's General Store that really haven't changed much at all since the early 1900s.
Insider Tip: Flightseeing is the best way to see the most of vast Alaska in the shortest amount of time. Local outfitters like Nova offer rafting trips with a "fly-out, float-back" model that combines flightseeing and whitewater rafting on the Talkeetna River.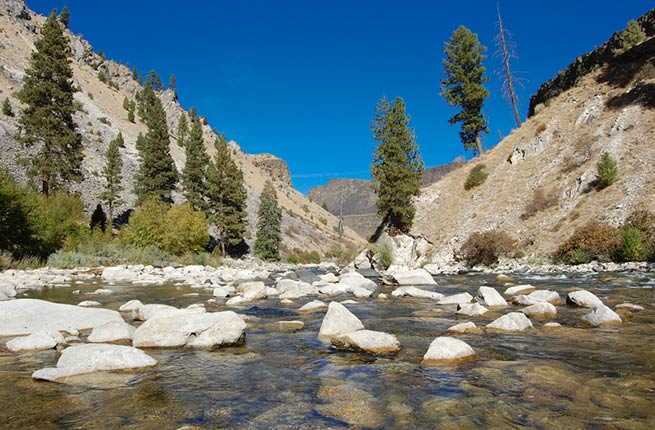 (c) Amandamhanna | Dreamstime.com
Located in the foothills of the Rocky Mountains, Boise (pop. 214,237) is more a city than a town, but its progressive use of its meandering namesake river earned it a spot in this list. The Boise Parks & Recreation Department maintains a 25-mile biking and walking path along the river that links 850 acres of parks and natural areas in the heart of the city. Locals enjoy rafting, kayaking, tubing, fishing, and stand-up paddleboarding on the river, as well as using the path for alternative transportation (to, say, brewpubs like TableRock and Highlands Hollow).
Insider Tip: The Boise River Park opened in 2012, a $3.6-million paddling playground with state-of-the-art wave shapers that allow kayakers and stand-up paddleboarders to test their mettle on 25-foot long river "waves." Cost is free, for surfers and spectators.
(c) Landraupx | Dreamstime.com
On the southern tip of the scenic Blue Ridge Mountains in Northeast Georgia sits tiny Tallulah Falls, a lesser-known river destination with a big water scene. The town takes its name from a series of six waterfalls that drop the Tallulah River 500 feet in one mile—a natural phenomenon made possible by the rocky chasm known as the Tallulah Gorge that the river runs through. Come spring and fall, scheduled "whitewater" releases send the water from a dammed section of the river, aptly named Lake Tallulah Falls, into the gorge, creating Class V+ rapids that draw the region's best kayakers and whitewater rafters.
Insider Tip: Tallulah Falls may be too small to support the microbrewery culture found in most of America's best river towns, but makes up for it with its idyllic location in wine country.
Bonita R. Cheshier / Shutterstock
Asheville, North Carolina
The hipster of America's best river towns, Asheville pulses with an active, outdoorsy vibe that permeates everything from its farm-to-table restaurants to its work-hard, play-harder tech firms. Located in the Blue Ridge Mountains, at the confluence of the Swannanoa and the French Broad rivers, Asheville boasts 18 craft breweries—the highest number per capita in the nation. Rafters and paddlers get to choose from three acclaimed rivers (French Broad River, Nantahala River, and Nolichucky River) serving up everything from family canoe outings to fast-moving whitewater.
Insider Tip: Asheville is also known for its waterfalls, including the highest waterfall east of the Rockies, which are easily accessed by driving along the beautiful Blue Ridge Parkway. The town's tourism board maintains a list of waterfalls with directions here.
Daniel Monterroso / Shutterstock
Fed by snowmelt from Mount Whitney, the highest mountain in the contiguous United States at 14,505 feet, the Kern River runs literally right through its namesake town of Kernville. A particularly scenic spot nestled in a valley of the Sierra Nevada Mountains, Kernville packs a fun Wild West flair and is legendary for its voluminous whitewater—a whopping 100 miles' worth. Rapids range from Class I to V, so there's something for everyone.
Insider Tip: Kern River Brewing Company is owned by a group of kayakers, including Rebecca Giddensand, the 2002 World Champion and the 2004 Olympic Silver Medalist. Happy Hour is from 4-6 on weekdays.
(c) Frankljunior | Dreamstime.com
Two hours east of Seattle, in the Central Cascade Range at the confluence of the Icicle and Wenatchee rivers, sits the most unique river town in America. Leavenworth was modeled after a Bavarian village—even McDonald's and Safeway sport the gingerbread-style architecture typically found in the mountain villages of the Alps. The Wenatchee serves up the best Class III whitewater rafting in the state, while the Icicle offers mellow floats, canoeing, and stand-up paddleboarding. After a day on the water, it's a tough choice between a local winery and the Icicle Brewing Company.
Insider Tip: Wenatchee is best for rapids from April to July. In August, the Upper Wenatchee (starting at Lake Wenatchee State Park) makes for an idyllic Class I float.
JaGa [CC BY-SA 3.0], via Wikimedia Commons
Fayetteville, West Virginia
An outdoor sports legend in its own time, with more than a hundred paddling, fishing, climbing, and cycling outfitters, Fayetteville serves as basecamp for both the Gauley River and the New River Gorge. Every September, the Army Corps of Engineers kicks off "Gauley Season" with a series of controlled dam releases from Summersville Lake, turning the Gauley into a world-class whitewater destination. At that point, the Gauley gushes about 100 rapids, more than half of which are Class III-V. The finale is Bridge Day, held in town the third Saturday of every October, a festival in which skydivers, BASE jumpers, and climbers on rappel fling themselves off the bridge 900 feet into the New River Gorge.
Insider Tip: The 2014 release dates are Sept. 5-8, 12-15, 19-22, 26-29 and Oct. 3-5, 11, 12, 18, and 19. Contact Adventures on the Gorge, one of the top outfitters in the area, for more information.