Courtesy of Historical Jonesboro/Clayton County Inc.
The mark of a good book is often the author's ability to transport readers into his or her world. Fiction and non-fiction alike can instantly take readers off of their couches and into uncharted territory and new worlds. Many classic and contemporary American works find their roots in the country's small towns. You can put yourself directly in the author or character's shoes by paying a visit to or reading up on these small town inspirations for some of America's most beloved reads.
By Annie Bruce
Canettistock | Dreamstime.com
From: Walden by Henry David Thoreau
"A field of water betrays the spirit that is in the air. It is continually receiving new life and motion from above. It is intermediate between land and sky." Henry David Thoreau famously details the world around him during his time living in a cabin near Massachusetts' Walden Pond. A must-see for any fan of Thoreau's work, visitors enjoy fishing, swimming, hiking, rowing, and taking in the scenery in and around the pond. A replica of Thoreau's cabin, which is located half a mile from the real site, also stands in his honor. Beyond the pond, the Concord Museum is home to the largest collection of items linked to Thoreau and the Wheeler-Minot Farmhouse/Henry David Thoreau Birth House (more commonly known as the "Thoreau Farm") is open during select months for guided tours.
PLAN YOUR TRIP: Visit Fodor's Side Trips from Boston Travel Guide
Courtesy of www.CoalwoodWV.com
From: Rocket Boys by Homer Hickam Jr.
Made even more famous by the 1999 film, October Sky, Homer Hickam Jr. penned Rocket Boys about his experience growing up and building rockets in the small West Virginia town of Coalwood. What started as a 2,000-word article for Smithsonian's Air & Space magazine, quickly became a bestselling book after its publication in 1998. An October Sky Festival takes place each year (it was previously held in Coalwood and now takes place in Beckley) and typically features visits by Hickam, as well as some of the other characters in the story.
PLAN YOUR TRIP: Visit Fodor's West Virginia Travel Guide
From: The Wonderful Wizard of Oz by L. Frank Baum
Although no one is quite sure where exactly L. Frank Baum's beloved tale is set in Kansas, the town of Liberal has taken it upon themselves to give Dorothy a home. The magic of the book and movie comes to life in Liberal, which has an imitation farmhouse, with a yellow-brick pathway, that was dubbed by then-governor John Carlin as Dorothy Gale's official house. Next door is a 5,000-square-foot Land of Oz exhibit featuring all of your favorite characters—visitors are led by Dorothy from her home in Kansas through the museum's Land of Oz. More than 20,000 people gather each year for the town's annual Oztoberfest. And, just a couple of hours away, Wamego, Kansas also plays up the state's Oz-roots. Wamego's Oz Museum holds more than 2,000 artifacts relating to L. Frank Baum, the book series, and the classic movie. Each year, the town also holds an OZtoberFest, featuring costume contests and entertainment on the Emerald City Stage.
PLAN YOUR TRIP: Visit Fodor's Kansas Travel Guide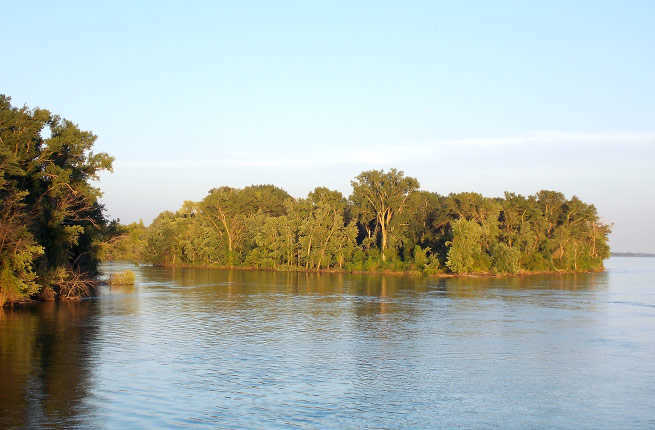 Courtesy of Mark Twain Boyhood Home & Museum
From: The Adventures of Huckleberry Finn by Mark Twain
Mark Twain's Adventures of Huckleberry Finn takes readers on a journey up and down the Mississippi River and through the heartland of America's Midwest. While the book features a mix of real and fictional locations, Twain drew inspiration from the town of Hannibal when creating the world of Tom Sawyer and Huck Finn in the fictional St. Petersburg, Missouri. One of the most important moments in Huckleberry Finn (when Huck exclaims, "They're after us!") is set on Jackson's Island, located near the town of Hannibal. While the island has been called a number of different names over the years, Jackson's Island stuck after the release of Twain's book. Visitors can hop on board a boat and explore the island for themselves, as well as Mark Twain (or Sam Clemens') boyhood home in Hannibal.
PLAN YOUR TRIP: Visit Fodor's Missouri Travel Guide
From: Gilead by Marilynne Robinson
This Pulitzer Prize-winning novel tells the story of Pastor John Ames, who is writing a letter to his seven-year-old son. Set in Gilead, Iowa circa 1956, author Marilynne Robinson was inspired by a number of different small towns in Iowa, including Tabor, when she was writing the book. Robinson has previously said that landscape plays an important role in her writing process, because she believes people are inevitably impacted by where they live and grow, making her decision to set the book in small-town Iowa even more significant.
PLAN YOUR TRIP: Visit Fodor's Iowa Travel Guide
Courtesy of Historical Jonesboro/Clayton County Inc.
From: Gone with the Wind by Margaret Mitchell
Visitors stopping by Jonesboro can easily immerse themselves in the world of Scarlett O'Hara. The classic novel, which starts off in Clayton County, Georgia (now dubbed the official home of Gone with the Wind) incorporates elements from Margaret Mitchell's childhood and time visiting her grandparents' plantation in Jonesboro. While the home no longer stands today (and Tara is purely fictional), visitors can stop by the Stately Oaks Plantation, which dates back to 1839. Fans can also travel the city with Gone with the Wind historic bus tours, which includes a visit to the Patrick R. Cleburne Memorial Confederate Cemetery, stories about the people who inspired Margaret Mitchell, and information about Jonesboro's history and its impact on the book. The town's Road to Tara Museum is home to items from the movie and book, as well as Civil War artifacts. While you're in the area, be sure to stop at the intersection of Rhett Butler and Scarlett Drives, as well as the seven-acre Margaret Mitchell Memorial Park.
PLAN YOUR TRIP: Visit Fodor's Georgia Travel Guide
Courtesy of South Dakota Tourism
From: Select books from the Little House on the Prairie series by Laura Ingalls Wilder
The classic autobiographical tale of Laura Ingalls Wilder and her family traveling across the Midwest has ties to a number of spots throughout the country. Fans can visit De Smet, South Dakota, which played one of the largest parts in the series, and experience it all for themselves. Enjoy a covered wagon ride throughout the prairie, climb to the top of Lookout Tower, and attempt different pioneering activities (including rope making, corn shelling, and wheat grinding) at the Ingalls Homestead. And take part in the Historic Homes Guided Tours, which take visitors from the Surveyors' House from By the Shores of Silver Lake to the First School of De Smet (where Laura and Carrie attended) to the Ingalls Home on Third Street—built by Pa in Charles Ingalls in 1887 and filled with original items from the family.
PLAN YOUR TRIP: Visit Fodor's South Dakota Travel Guide
From: The Notebook by Nicholas Sparks
Known for penning tragic love stories, Nicholas Sparks sets many of his best-selling books in North Carolina's small towns. Arguably his most well known piece, The Notebook, takes place in New Bern, where Sparks lived for many years. Visitors traveling to the town can spot several important locations from the book, including the Alfred Cunningham Bridge, Harvey Mansion, and the Centenary Methodist Church.
PLAN YOUR TRIP: Visit Fodor's North Carolina Travel Guide
Billy Hathorn, CC BY-SA 3.0 via Wikimedia Commons
From: I Know Why the Caged Bird Sings by Maya Angelou
Maya Angelou tells the story of her upbringing in the iconic autobiography, I Know Why the Caged Bird Sings. The book details Angelou's experiences growing up in St. Louis and Stamps, Arkansas, where she moved, at age three, to live with her grandmother. Many locations included in the book are gone today—an empty lot is all that remains of the Johnson Grocery and the church she attended has since been torn down and rebuilt. But Lake June, or "the pond," as Angelou called it in her book, is still there and was dedicated in her honor by Stamps after her death.
PLAN YOUR TRIP: Visit Fodor's Arkansas Travel Guide
Saucemaster, CC BY-SA 3.0 via Wikimedia
From: Silver Linings Playbook by Matthew Quick
Set in author Matthew Quick's hometown of Colllingswood, Silver Linings Playbook tells the story of Pat, who moves home after spending four years in a mental institution. Quick's own experiences living as a Philadelphia Eagles fan in Collingswood helped inspire certain parts of the book, which is now an Oscar-nominated movie. While the film is set just outside of Philadelphia, the book rings true to those living in the New Jersey suburbs.
PLAN YOUR TRIP: Visit Fodor's New Jersey Travel Guide