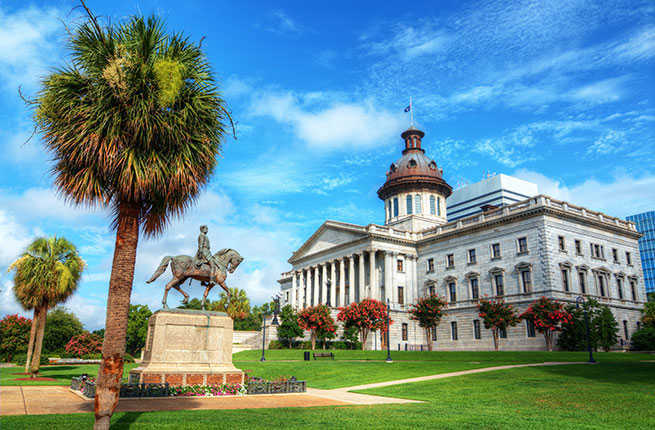 Sepavo | Dreamstime.com
How many U.S. state capitals have you visited? For most travelers, the answer is less than a handful. Can you name them all? Probably not. Do you have any ideas what these places look like? We're here to help. Though some of the country's state capitals are already popular tourist destinations, many are hidden gems that, despite their important governmental roles, don't often make it onto travelers' radar, let alone their bucket lists. Here are 50 reasons to hit every capital in the country, from history-rich Boston and Richmond, to artsy Santa Fe and Austin, to photogenic Montpelier and Juneau. —Abbey Chase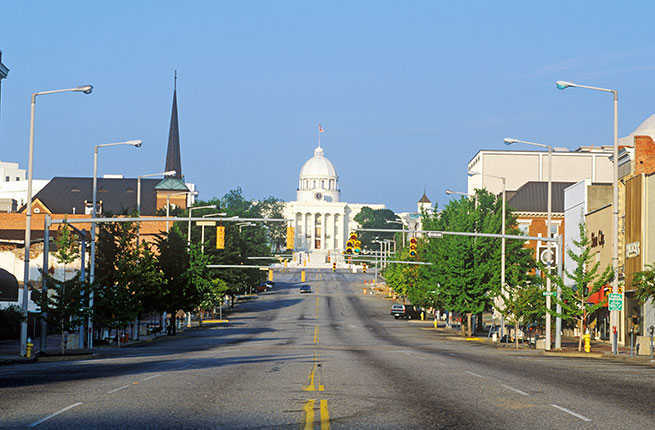 Americanspirit | Dreamstime.com
Montgomery, Alabama
As the first capital of the Confederacy and a key site in the Civil Rights Movement, Montgomery has witnessed some of the country's most significant historical moments first-hand. Rosa Parks was arrested here on the Cleveland Avenue bus and is now honored with her own library and museum, while the Civil Rights Memorial lists the names of those who died for the cause on its solemn black granite surface. Be sure to visit the Dexter Avenue King Memorial Baptist Church, where Dr. Martin Luther King Jr. preached for six years.
PLAN YOUR TRIP: Visit Fodor's Montgomery Travel Guide
Mrallen | Dreamstime.com
Juneau, Alaska
All roads may lead to Rome, but none lead to Juneau: The country's northernmost state capital can only be reached by plane or by boat. Its proximity to Mendenhall Glacier makes the capital a good place to stop on your journey north to the Mendenhall Valley. Be sure to head into town for a traditional Alaskan salmon bake. Skip the tourist-heavy cruise ship port and check out the Alaskan Brewing Company for a tour and free samples.
PLAN YOUR TRIP: Visit Fodor's Juneau Travel Guide
Bdingman | Dreamstime.com
Phoenix, Arizona
Perched on the edge of the Sonoran Desert, Phoenix offers all the amenities of a big city with easy access to spectacular scenery. In town, you can visit art museums, botanic gardens, and historic, Spanish Mission-style buildings, or get out of the city to see the eye-popping display of desert wildflowers and the famous red rock formations in nearby Sedona. Phoenix and nearby Scottsdale are also top destinations for golf and excellent spas.
PLAN YOUR TRIP: Visit Fodor's Phoenix Travel Guide
Benkrut | Dreamstime.com
LIttle Rock, Arkansas
History buffs will have plenty to sink their teeth into in the Arkansas capital, home to Central High School, where the Little Rock Nine enrolled in 1957, and the Daisy Bates House, the former residence of a prominent civil rights leader. The William J. Clinton Presidential Center is also located in Little Rock, along with several museums and the headquarters of the oldest newspaper west of the Mississippi. Be sure to book a tour at Central High ahead of time, as it is still a functioning school.
PLAN YOUR TRIP: Visit Fodor's Little Rock Travel Guide
Photoquest | Dreamstime.com
Sacramento, California
The Golden State earned its nickname due to the huge influx of miners who flocked to this area in the 19th century, and Sacramento still bears the marks of its important history. Sutter's Fort dates back to the 1840s, and Old Sacramento continues to be a lively district with horse-drawn stagecoaches and several old-timey museums and restaurants.
PLAN YOUR TRIP: Visit Fodor's Sacramento Travel Guide
Albert Pego / Shutterstock
Denver, Colorado
Thanks to its rapid growth in recent years, the Mile-High City is now one part cowboy town and one part important cultural hub. The exploding food and beer scene gives you plenty to tuck into after a day exploring Denver's main neighborhoods on foot, or after a day hiking or on the slopes of the Rocky Mountains to the west.
PLAN YOUR TRIP: Visit Fodor's Denver Travel Guide
Sean Pavone / Shutterstock
Hartford, Connecticut
The Wadsworth Atheneum Museum of Art, the country's oldest public art museum, can be found in Hartford with a collection that includes pieces from artists like Salvador Dalíand Caravaggio. The Old State House was designed by Charles Bulfinch, the architect of the U.S. Capitol, and from the Harriet Beecher Stowe Center to the Mark Twain House and Museum, there's plenty of history to dig into in the Connecticut capital. Large West Indian, Puerto Rican, and Italian communities ensure the Hartford food scene is deliciously diverse.
PLAN YOUR TRIP: Visit Fodor's Hartford Travel Guide
Sframe | Dreamstime.com
Dover, Delaware
Dover was founded in 1683, and fans of colonial history have a lot to look forward to in Delaware's capital. The Georgian-style Old State House dates back to the 1790s, and the John Dickinson Plantation and the Delaware Agricultural Museum and Village bring Dover's rich farming history to life.
PLAN YOUR TRIP: Visit Fodor's Dover Travel Guide
Sepavo | Dreamstime.com
Tallahassee, Florida
Unlike almost anywhere else in Florida, Tallahassee experiences four distinct seasons, making fall an especially pleasant time to visit the northern capital. Cascades Park, the city's unofficial gathering place since the 19th century, continues to be a popular spot for tourists and locals alike looking for a quiet respite. Fifteen miles south of the city, Edward Ball Wakulla Springs State Park retains the wild and exotic look it had in the 1930s, when the films Tarzan and Creature from the Black Lagoon were shot here.
PLAN YOUR TRIP: Visit Fodor's Tallahassee Travel Guide
F11photo | Dreamstime.com
Atlanta, Georgia
Combine Southern hospitality with all the trappings of a major metropolitan city and you have Atlanta. The sightseeing list in Atlanta is long: the Botanical Garden, the Atlanta History Center, Centennial Olympic Park, Ebenezer Baptist Church, Fox Theatre, the Georgia Aquarium, the Carter Presidential Library, Martin Luther King, Jr.'s childhood home, the National Center for Civil and Human Rights, and Piedmont Park are all worth a visit, to name just a few. Don't leave town without straying from the beaten path, however. The best of Atlanta is often found in its slow-paced, outlying neighborhoods.
PLAN YOUR TRIP: Visit Fodor's Atlanta Travel Guide
Mfron | Dreamstime.com
Honolulu, Hawaii
Honolulu may be Hawaii's biggest (and only) cosmopolitan city, but its charm still lies in the stunning Hawaiian scenery outside the urban area. Spectacular views of the city can be found on the Diamond Head loop trail above the city or atop a surfboard in the bay. There's plenty of fine dining in Honolulu, but don't leave without trying a signature Hawaiian shave ice.
PLAN YOUR TRIP: Visit Fodor's Honolulu Travel Guide
Charles Knowles/Shutterstock
Boise, Idaho
A prime location along the Oregon Trail made Fort Boise an important stop between major settlements in the West, and thus the Idaho capital was born. Julia Davis Park is the city's centerpiece, featuring several gardens and museums within its confines, and the Anne Frank Human Rights Memorial is a somber, beautiful monument at the city's center. Alternatively, grab your hiking shoes and head to Hulls Gulch, or spend the afternoon tubing down the Boise River.
PLAN YOUR TRIP: Visit Fodor's Boise Travel Guide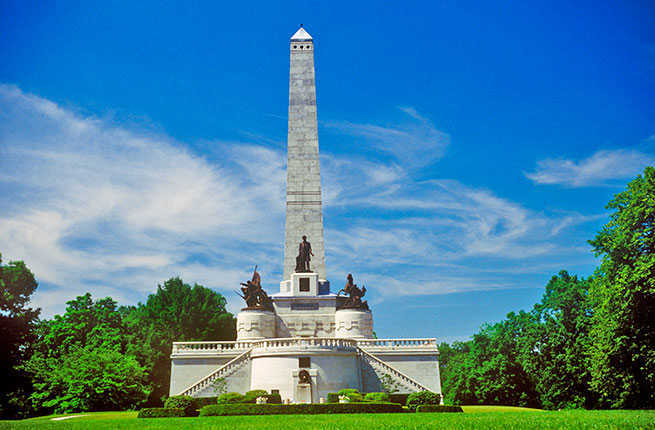 Americanspirit | Dreamstime.com
Springfield, Illinois
There is a Springfield in 35 states, but only the Illinois capital holds the title of Lincoln's birthplace. Visit the Abraham Lincoln Presidential Library and Museum before touring the home on Seventh Street where Lincoln lived for 17 years. The 16th President's law office is also preserved and conveniently located right next to the state capitol. You can pay your respects at Oak Ridge Cemetery, where Lincoln is buried.
PLAN YOUR TRIP: Visit the Springfield Tourism Guide
F11photo | Dreamstime.com
Indianapolis, Indiana
The founders of the city intended Indianapolis to be an important inland port city due to its proximity to the White River. Unfortunately, the river is very treacherous to navigate, but the city's now-nonfunctional canal district is a happy aesthetic by-product of the founders' miscalculation. From the Colts to the nearby Indianapolis Motor Speedway, the "Crossroads of America" is a city dominated by sports, but don't leave without a tour of the downtown area's monuments and historic buildings, or without sampling some of the local dairy products or the famous fried chicken at MCL Cafeteria.
PLAN YOUR TRIP: Visit Fodor's Indianapolis Travel Guide
Action Sports Photography/Shutterstock
Des Moines, Iowa
Des Moines' name comes from a group of French Trappist monks who named the city for its location at the confluence of two rivers. You come to Des Moines to avoid the hassle of a bigger city, but several museums and historic buildings, a botanic garden, and the nationally regarded Des Moines Arts Festival in June will give you plenty to stay busy.
PLAN YOUR TRIP: Visit Fodor's Des Moines Travel Guide
Wellesenterprises | Dreamstime.com
Topeka, Kansas
The unassuming Kansas capital is home to several surprising hidden gems. First Presbyterian Church, dating back more than a century, is bedecked with unique Tiffany stained-glass windows, and the Brown v. Board of Education National Historic Site offers a highly informative tour of the landmark case.
PLAN YOUR TRIP: Visit Fodor's Kansas Travel Guide
Alexeys | Dreamstime.com
Frankfort, Kentucky
Located in the heart of Kentucky's picture-perfect Bluegrass Country, Frankfort is an ideal base for exploring the region, but the capital has its own scenic appeal. The Kentucky River snakes through Frankfort, offering multiple vistas of the charming cityscape, dotted with Georgian Rival and Federalist mansions, two capitol buildings (one has been out of use since 1910), and the town's most recognizable structure, the Switzer Covered Bridge. Bourbon fans should be sure to check out the Buffalo Trace Distillery.
PLAN YOUR TRIP: Visit Fodor's Kentucky Bluegrass Country Travel Guide
Meinzahn | Dreamstime.com
Baton Rouge, Louisiana
When you arrive in Baton Rouge, it's impossible to miss the enormous State Capitol. The 450-foot Art Deco skyscraper is totally unique, and the Old State Capitol is just as interesting, modeled after a Gothic castle, with an enormous stained-glass window in the atrium. The Louisiana State University campus dominates the southwestern part of town, and Baton Rouge is the perfect place to sample traditional Creole and Cajun dishes.
PLAN YOUR TRIP: Visit Fodor's Baton Rouge Travel Guide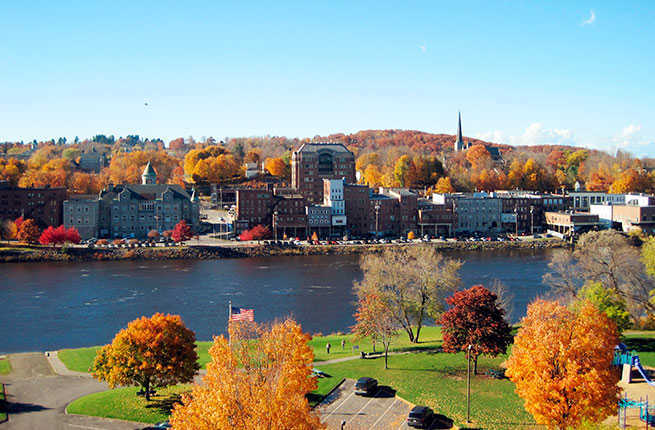 Lorienwinslow | Dreamstime.com
Augusta, Maine
Located in the heart of Maine's inland wilderness, Augusta offers spectacular displays of fall foliage, although its natural setting makes it a year-round destination. Old Fort Western is the oldest remaining wood fort in North America, situated along the banks of the Kennebec River and dating to 1754.
PLAN YOUR TRIP: Visit Fodor's Maine Travel Guide
Sepavo | Dreamstime.com
Annapolis, Maryland
Stepping into downtown Annapolis is like stepping back in time, thanks to its well-preserved colonial architecture that makes it a charming complement to nearby Washington, D.C., and Baltimore. The U.S. Naval Academy is worth a visit, but you can also partake in the Annapolis maritime tradition and head out for a cruise around Chesapeake Bay.
PLAN YOUR TRIP: Visit Fodor's Annapolis Travel Guide
SeanPavonePhoto / Shutterstock
Boston, Massachusetts
Massachusetts' first governor, John Winthrop, was referring to Boston when he talked about his "city on the hill," and Beantown has continued to be a cultural and historical hub since it was settled nearly 400 years ago. There's no shortage of things to do in Boston: visit of the city's many museums, follow the path of American history along the Freedom Trail, cheer for the Red Sox at Fenway Park, imbibe on a tour of the Sam Adams Brewery, or grab a seat and a bite at the historic Faneuil Hall.
PLAN YOUR TRIP: Visit Fodor's Boston Travel Guide
Adeliepenguin | Dreamstime.com
Lansing, Michigan
From a top-notch science museum, to the beautifully maintained Turner Dodge House, to several well-appointed parks and green spaces, Lansing is a city with something for everyone. Though technically in nearby East Lansing, Michigan State University is not to be missed when passing through the capital. Its beautiful, sprawling campus is one of the largest in the country.
PLAN YOUR TRIP: Visit Fodor's Michigan Travel Guide
Cupertino10 | Dreamstime.com
St. Paul, Minnesota
Forever the second half of the Twin Cities, St. Paul jams a huge range of attractions into a relatively small city, with a smattering of historic mansions (including F. Scott Fitzgerald's birthplace) alongside old railroad stations, hidden speakeasies, and its highly regarded Como Zoo. If you can brave Minnesota winters, don't miss the Saint Paul Winter Carnival, which began in 1886 and is known today for its enormous Ice Palace.
PLAN YOUR TRIP: Visit Fodor's Minneapolis-St. Paul Travel Guide
Americanspirit | Dreamstime.com
Jackson, Mississippi
With a metro-area population of more than half a million, Jackson is hardly a small town, but its residents' no-worries attitude makes the bustling city feel surprisingly intimate. If you like Delta blues, you've come to the right place. Live music is omnipresent in Jackson, and you'll find plenty of venues with all genres of music along State Street. The Medgar Evers House, the artsy boutiques in the Fondren neighborhood, and several museums will keep you occupied between sets.
PLAN YOUR TRIP: Visit Fodor's Jackson Travel Guide
Gnagel | Dreamstime.com
Jefferson City, Missouri
A quintessential small-town Main Street, diverse neighborhoods with personality to spare, and beautiful bluffs surrounding the capital all helped Jefferson City earn Rand McNally's "Most Beautiful Small Town in the United States" award in 2013. Scenic parks overlooking the city, friendly locals, a bevy of historical monuments and museums, and several events throughout the year all add to Jefferson City's appeal.
PLAN YOUR TRIP: Visit the Jefferson City Tourism Guide
Adnimh | Dreamstime.com
Helena, Montana
You come to Montana for the natural scenery and Helena does not disappoint, with verdant parks and still home to some historic architecture and mansions clustered near the capitol. For a look into Helena's mining past, hop on a Last Chance Tour and zip past the town's historic sites on a Segway.
PLAN YOUR TRIP: Visit Fodor's Helena Travel Guide
Benkrut | Dreamstime.com
Lincoln, Nebraska
The Art Deco State Capitol is a must-see on a tour through Lincoln, although the town's soul can be found in the Haymarket District. This historic section of Lincoln, once the industrial hub, is now the cultural and culinary center of the city, its run-down warehouses refurbished into a popular shopping and entertainment area.
PLAN YOUR TRIP: Visit the Lincoln Tourism Guide
Americanspirit | Dreamstime.com
Carson City, Nevada
A prime location in the Eagle Valley makes Carson City an outdoorsman's perfect destination. After a spin through downtown to visit the sights, head to nearby Lake Tahoe for a day on the water, or gear up for a day of hiking in the surrounding Sierra Nevada mountain range.
PLAN YOUR TRIP: Visit the Carson City Visitor's Bureau
Americanspirit | Dreamstime.com
Concord, New Hampshire
If you're looking for a sleepy New England town, you can't do much better than Concord. Aside from a visit to the gilt-domed State House and the New Hampshire Historical Society, Concord is a city best enjoyed by walking around and enjoying its idyllic charm on foot. Head over to the Beech Hill Farm Stand and Ice Cream Barn for a delicious homemade cone and meander around the still-functioning farm, now in its ninth generation of ownership in the Kimball family.
PLAN YOUR TRIP: Visit Fodor's New Hampshire Travel Guide
Kenk | Dreamstime.com
Trenton, New Jersey
When General George Washington famously crossed the Delaware River in the middle of the night on Christmas in 1776, he was headed for Trenton. Hessian troops no longer occupy the Old Barracks, but you can still visit the historic building to learn more about the Revolutionary War, or stop by the William Trent House for another glimpse into colonial life. Trenton also has an excellent planetarium and several small theaters.
PLAN YOUR TRIP: Visit the Trenton Tourism Guide
Americanspirit | Dreamstime.com
Santa Fe, New Mexico
The New Mexican capital, the oldest state capital in the country, is no longer a well-kept secret thanks to its now-famous art scene, but the town of 70,000 is as quaint as ever. Artists like Georgia O'Keeffe and Igor Stravinsky helped put Santa Fe on the map and make it consistently one of the country's most vibrant art markets. Once you've soaked up the local culture, be sure to get out of the city to see some of the starkly beautiful New Mexican landscape.
PLAN YOUR TRIP: Visit Fodor's Santa Fe Travel Guide
Sampete | Dreamstime.com
Albany, New York
Perennially overshadowed by the Big Apple, the New York capital is a charming city in its own right, thanks to its rich cityscape combining beautiful Romanesque buildings, Modernist design, Dutch colonial structures, and state-of-the-art skyscrapers. The imposing capitol building is more reminiscent of the Hotel de Ville than its domed counterparts in other states. Grab a bite at local-favorite Portelli's Joe N' Dough Cafe and pick up some souvenirs on Lark Street after a tour of the city's sights.
PLAN YOUR TRIP: Visit Fodor's Albany Travel Guide
Sepavo | Dreamstime.com
Raleigh, North Carolina
Raleigh has a long history stretching back to 1792 and was one of the first planned cities in America, making it perfect for sightseeing in downtown on foot. The city also hosts the North Carolina State Fair, one of the biggest in the country with attendance exceeding 1 million.
PLAN YOUR TRIP: Visit Fodor's Raleigh Travel Guide
Americanspirit | Dreamstime.com
Bismarck, North Dakota
George Custer made his last stand at the Battle of Little Bighorn in Montana, but Fort Abraham Lincoln, just outside Bismarck, served as his military base until his decisive defeat, and the structure has been partially rebuilt for the public to visit today. The recently renovated North Dakota Heritage Center Museum details the history of the 39th state, and 60 miles outside of town the Knife River Indian Villages provide an interesting look into Native American culture.
PLAN YOUR TRIP: Visit Fodor's Bismarck Travel Guide
Americanspirit | Dreamstime.com
Columbus, Ohio
A packed events schedule, including everything from the Jazz and Rib Fest to German Village Oktoberfest, makes Columbus a popular year-round destination. Catch a Buckeyes game at the 104,944-capacity Ohio Stadium before taking a stroll down Short North, a popular arts and shopping district.
PLAN YOUR TRIP: Visit Fodor's Columbus Travel Guide
Kennytong | Dreamstime.com
Oklahoma City, Oklahoma
From the sightseeing-packed Adventure District, to the burgeoning arts districts, to the recently revitalized Bricktown, Oklahoma City's collection of neighborhoods make it a surprisingly diverting place. Don't miss the National Cowboy & Western Heritage Museum and be sure to grab a bite at the 100-year-old Cattlemen's Steakhouse.
PLAN YOUR TRIP: Visit Fodor's Oklahoma City Travel Guide
Jpldesigns | Dreamstime.com
Salem, Oregon
Not to be confused with its Massachusetts namesake, Salem made a name for itself during the gold rush in the 19th century, remembered today by the golden pioneer statuette on top of the capitol building. Salem sits in the middle of the Willamette Valley, the world-famous wine production region, and the nearby Cascade Mountains and several parks and green spaces near the city make the capital a perfect base for exploring the area.
PLAN YOUR TRIP: Visit Fodor's Salem Travel Guide
Appalachianviews | Dreamstime.com
Harrisburg, Pennsylvania
With a dome inspired by St. Peter's Basilica and a staircase to rival the Paris Opera House, the Pennsylvania State Capitol is the perfect first stop on your tour of Harrisburg. A lively theater district and a collection of art galleries and museums offer cultural diversions, and be sure to check out the Pennsylvania National Fire Museum after a scenic walk along the riverfront, where you'll see the Pride of the Susquehanna, an authentic paddlewheel riverboat that hosts dinner cruises and day tours.
PLAN YOUR TRIP: Visit the Harrisburg Tourism Board
Sepavo | Dreamstime.com
Providence, Rhode Island
With big city amenities and a laid-back, small-town feel, Providence has the best of both worlds, with a restaurant scene to rival the best and a well-respected arts community, thanks in part to the prestigious Rhode Island School of Design. If you visit in the summer, be sure to catch the WaterFire show in Waterplace Park.
PLAN YOUR TRIP: Visit Fodor's Providence Travel Guide
Sepavo | Dreamstime.com
Columbia, South Carolina
Columbia is more than the quaint antebellum town that meets the eye. Cannonball pockmarks courtesy of General Sherman's assault in 1865 still mar the copper dome on the state capitol, but a high-quality art museum, industry and development from the University of South Carolina, and a vibrant theater scene have helped Columbia move forward. Though not located directly on the coast, Columbia is still a great place to dig into some fresh seafood.
PLAN YOUR TRIP: Visit Fodor's Columbia Travel Guide
Lvonbiela | Dreamstime.com
Pierre, South Dakota
Top to bottom, the South Dakota state capitol is an impressive structure, from its hand-laid floor mosaic—the work of 66 Italian artists, according to local legend—to the paintings of the Tree of Life that adorn the inside of the dome. For a better view of the 96-foot-tall dome and the whole city, head across the Missouri River to the neighboring town of Fort Pierre.
PLAN YOUR TRIP: Visit Fodor's South Dakota Travel Guide
Sepavo | Dreamstime.com
Nashville, Tennessee
It's best known for its country music industry, but there's a lot to love about Nashville beyond the Country Music Hall of Fame and the honky-tonk clubs on Broadway. Craft breweries and innovative restaurants make Nashville a food-lover's paradise, and you can catch plenty of live music of every genre in smaller, more laid-back venues all over the city.
PLAN YOUR TRIP: Visit Fodor's Nashville Travel Guide
Mark Chatham / Shutterstock
Austin, Texas
"Keep Austin Weird": the ubiquitous T-shirt slogan is the "I Heart NY" of Texas, and Austin heartily embraces its countercultural attitude. You'll never be short on things to do in Austin. From the campus at University of Texas, to the Lyndon B. Johnson Presidential Library, to world-famous film and music festivals, to an endless lineup of excellent, affordable eateries, the Texas capital is every bit a major metropolitan city, but with a quirky atmosphere and small-town approachability.
PLAN YOUR TRIP: Visit Fodor's Austin Travel Guide
Andrew Zarivny / Shutterstock
Salt Lake City, Utah
If you can tear yourself away from the slopes, there's a lot to see in Salt Lake City away from its famous ski resorts. The main library, Temple Square, the State Capitol, and the luxurious Grand America Hotel make the capital an architecturally rich city. Salt Lake City also makes an excellent base from which to visit Utah's five national parks.
PLAN YOUR TRIP: Visit Fodor's Salt Lake City Travel Guide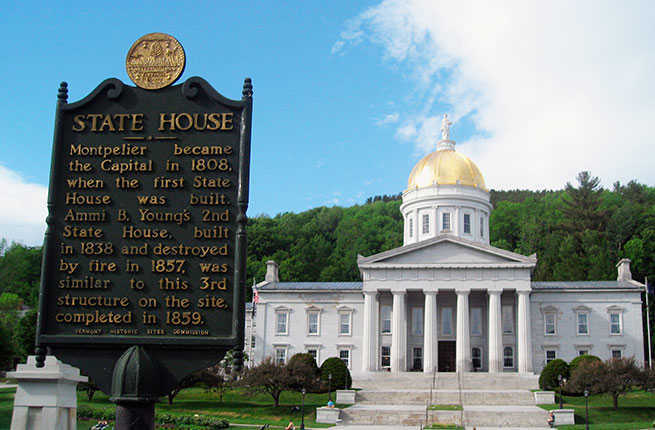 Stelya | Dreamstime.com
Montpelier, Vermont
Montpelier has the unique distinction of being the only U.S. state capital without a McDonald's, and its small-town charm is part of the appeal. Aside from the glittering, gold-topped State House, the nearby Morse Farm Maple Sugarworks is a must-see, where the Morse family has been producing maple syrup for eight generations.
PLAN YOUR TRIP: Visit Fodor's Northern Vermont Travel Guide
Sepavo | Dreamstime.com
Richmond, Virginia
Richmond and the surrounding area is one of the most historically rich regions in the country. George Washington, James Monroe, Robert E. Lee, Thomas Jefferson, Patrick Henry, and many other important historical figures were born, lived, or are now interred in this part of Virginia. Although much of its colonial history has been lost, Richmond is a must-see for Civil War historians. Visit the prison on Belle Isle, stroll through the historic downtown and past the capitol building (designed by Thomas Jefferson), and learn more about the conflict at the American Civil War Center and the Museum of the Confederacy. Literature fans should also make time for the Edgar Allan Poe Museum; the poet spent his early years in the Virginian capital.
PLAN YOUR TRIP: Visit Fodor's Richmond Travel Guide
Crackerclips | Dreamstime.com
Olympia, Washington
For a town of only 46,500, Olympia boasts a surprisingly imposing state capitol, with a masonry dome that is the fourth largest in the world. Still, nothing can top the area's astounding natural beauty, with Budd Inlet in the west and incredible views of the Olympic Mountains and Mount Rainier. Stroll through the preserved historic downtown area before curling up with a book at the zany Last Word Books on Cherry Street. Don't leave without grabbing a cup of coffee from the local roasters at Batdorf & Bronson Dancing Goats Coffee Bar.
PLAN YOUR TRIP: Visit Fodor's Olympia Travel Guide
Benkrut | Dreamstime.com
Charleston, West Virginia
Nestled in the Kanawha Valley, Charleston is a beautiful destination year-round, with blooming flowers in the spring and summer, radiant fall colors, and twinkling Christmas displays set amid its wintery landscape. If the weather permits, take a walk along the Carriage Trail in the South Hills, which leads you through the scenic forest and past the governor's mansion. During the colder months, head to the state capitol or visit the science museum.
PLAN YOUR TRIP: Visit the Charleston Tourism Board
Youngryand | Dreamstime.com
Madison, Wisconsin
For an overgrown college town, Madison has a lot to offer beyond the beautiful campus at the University of Wisconsin. Because Madison is so walkable, you can reach most of the city's sights on foot in the downtown area. Check out the lively theater district and the year-round, nationally famous Dane County Farmer's Market.
PLAN YOUR TRIP: Visit Fodor's Madison Travel Guide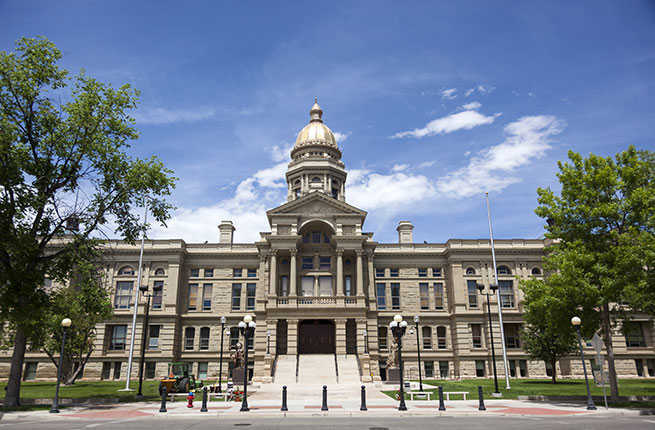 Dgilder | Dreamstime.com
Cheyenne, Wyoming
Few cities still embody the spirit of the Wild West as much as Cheyenne. The city hosts Cheyenne Frontier Days, the largest outdoor rodeo in the world, every July, a 10-day event that dates back to 1897. If you're not in town for the rodeo, you can still stop by the grounds and visit the Old West Museum & Store.
PLAN YOUR TRIP: Visit Fodor's Cheyenne Travel Guide