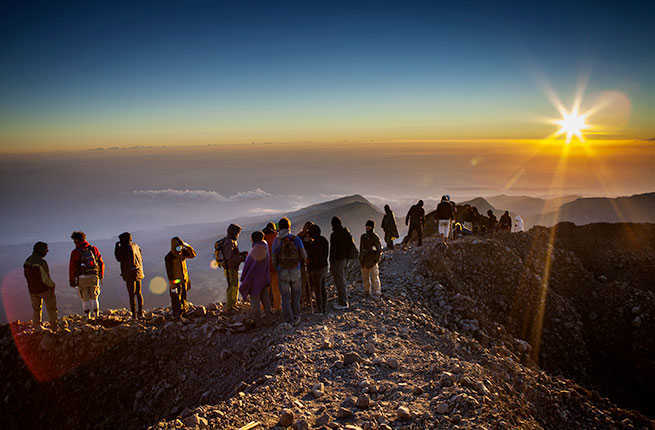 Tanhi84 | Dreamstime.com
While the challenges presented by behemoths like Everest and the Matterhorn make summiting an ordeal for anyone who's not an expert alpinist, other mountains prove remarkably less daunting. Volcanoes and their corresponding craters—some with lakes, some with smoky vents, and some with lava—have animated our collective imagination for millennia. That's why we've curated a list of incredible volcanic peaks that almost anyone in reasonable health can summit, while still happily clinging to their bragging rights.—Carl Pettit
Estivillml | Dreamstime.com
Where: Big Island, Hawaii
The Kīlauea Iki Trail is a classic among volcano hikes. This 4-mile trek, inside Hawaii Volcanoes National Park, descends through rainforest toward the firm (you can walk on it), steaming lava lake inside the Kīlauea Iki Crater. The Mauna Loa Observatory Trail is a great hiking option as well. It offers a fairly quick route to the summit of Mauna Loa, although you'll have to drive for a couple of hours to reach the trailhead. But the drive and trek pay off, as you'll be standing atop the largest mountain on the planet (as measured from the seafloor), with marvelous views across the island.
Insider Tip: If you tackle the Mauna Loa Observatory Trail, bring plenty of food and water (even if you're only planning on a day) and appropriate hiking gear, as you won't find any amenities along the path.
PLAN YOUR TRIP: Visit Fodor's Big Island Travel Guide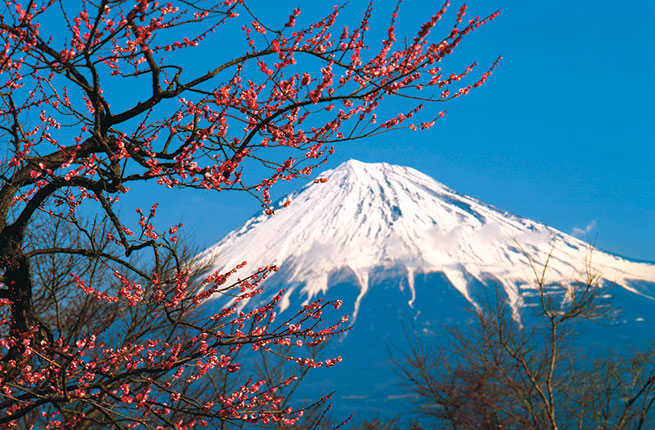 Yujiro | Dreamstime.com
Where: Japan
Mount Fuji invokes all of the romance and history Japan has to offer. And surprisingly enough, it's not too difficult to climb. If you want to head up the tallest mountain in Japan (3,776 meters), there are plenty of trails, like the Yoshida and Gotemba routes, to get you to the summit. Different stations and mountain huts (with overnight stay options) offer reprieves for hikers who need a bit of rest as they acclimatize to the altitude gains.
Insider Tip: If you want to dodge the sea of humanity that often clogs the trail, avoid the high season, which peaks in July and August.
PLAN YOUR TRIP: Visit Fodor's Side Trips From Tokyo Travel Guide
Tanhi84 | Dreamstime.com
Where: Lombok Island, Indonesia
One of the largest and most sublime volcanoes in Indonesia is Mount Rinjani and its corresponding lake-filled caldera, Segara Anak. The trek to Rinjani, which dominates the northern half of Lombok Island, can be accomplished in two or three days through lush forests, past streams, waterfalls and an array of gorgeous geography abound. Once you reach the summit, you'llbe able to set eyes upon the extremely active Gunung Barujari, also known as the "baby volcano," that has emerged from the crater lake.
Insider Tip: If you plan to hike to the summit, book your trip with a reputable tour operator or guide—or at least hire a few porters to help with your gear, as Mount Rinjani National Park covers a lot of terrain.
PLAN YOUR TRIP: Visit Fodor's Indonesia Travel Guide
Jimwaggy | Dreamstime.com
Where: Nicaragua
Even though Telica erupts often as Nicaragua's most vocal volcano, when conditions allow, intrepid hikers willing to take the risk can get up close and personal with its lava-filled craters. The mountain is only 1,061 meters high, making for a very reasonable day hike. But size shouldn't be a factor as you gaze into the awe-inspiring, 700 meter-wide double crater at the summit.
Insider Tip: You can hire a guide, but if you prefer a DIY approach to the volcano, take plenty of provisions.
Noppakun | Dreamstime.com
Where: Indonesia
Mount Bromo is a popular mountain where local Hindus throw food, money, and the occasional farm animal into the caldera as sacrifices to the volcano gods during festivals. Bromo is surrounded by the Tengger Sand Sea, inside the massive Tengger caldera, which is inside the Bromo Tengger Semeru National Park, making it a volcano within a volcano of sorts. At 2,329 meters, Mount Bromo offers an easy hike—hence its popularity—affording spectacular views across a stark landscape dotted with volcanic cones, as well as other mountains to climb (Mount Penanjakan, for example) if Bromo doesn't offer enough of a hiking challenge.
Insider Tip: Jeep tours up nearby Mount Penanjakan offer amazing sunrise vistas over Mount Bromo, although you should be prepared to deal with a significant amount of bipedal and motorized congestion on the way up the mountainside.
PLAN YOUR TRIP: Visit Fodor's Indonesia Travel Guide
Semejaka | Dreamstime.com
Where: Jeju Island, Korea
Halla Mountain, or Hallasan (san means mountain in Korean) is a verdant volcano, with a mythical standing among the Korean people. It's a peak that almost anyone—from children to pensioners—can climb, depending on the route selected. Located in Hallasan National Park, a UNESCO World Heritage Site, trails to the summit and small caldera lake differ in length and difficultly, although wooden walkways and staircases help guide the way for parts of the journey.
Insider Tip: Make an early start, as the park doesn't allow overnight visits. You won't be allowed to climb if there isn't enough time for you to get back down before sunset.
PLAN YOUR TRIP: Visit Fodor's Jeju Island Travel Guide
Bpperry | Dreamstime.com
Where: Oregon
The Pacific Northwest's Crater Lake is a tremendously soothing sight to behold, considering the violent geological events that went into its creation. This extraordinarily deep rain- and snowfall-fed body of water came into being close to 8,000 years ago, when Mount Mazama erupted and created the massive caldera that is the lake today. Since the summit can be reached by car, biking and trail hiking—including Cleetwood Cove Trail down to the shore—are perfect modes of transportation for taking in the crater's deep blue waters from different vantage points. Impressive lake views can be caught at Rim Village, and along Rim Drive for those who prefer to enjoy the vistas from their car.
Insider Tip: Summer and early autumn are the best times to visit, as accessibility (and visibility) to the rim is limited during the winter months.
PLAN YOUR TRIP: Visit Fodor's Crater Lake National Park Travel Guide
Byrdyak | Dreamstime.com
Where: Tanzania
The zenith of Kilimanjaro (5,895 meters), the tallest mountain in Africa, rewards climbers with astonishing vistas, and the right to boast that you've conquered the continent's highest peak. And while you don't need any specialized climbing gear to summit the well-defined walking trails, you'll need to be in pretty decent shape to handle the altitude when hiking up to and over 19,000 feet during a multiday trek.
Insider Tip: Climbing Kilimanjaro isn't cheap, with Kilimanjaro Park fees (mandatory), and guiding costs adding up. Research and book your trek well in advance, ensuring everything will be ready by the time you arrive.
PLAN YOUR TRIP: Visit Fodor's Tanzania Travel Guide
Levandefoto | Dreamstime.com
Where: Sicily, Italy
Mount Etna is a monster of a mountain. And even though this imposing beast (the biggest volcano in Europe) takes up a good hunk of Sicily's northeastern coastline, hiking to the crater isn't too strenuous (depending on the route chosen), although it isn't a leisurely walk in the park either. If a long day on the trail seems intimidating, you can opt for the cable car departing from the Rifugio (refuge) Sapienza, and then either walk or take a minibus the rest of the way to the crater. Lovely strolls at lower elevations afford wonderful views of the volcano and surrounding countryside as well, without having to tackle the mountain itself.
Insider Tip: Etna is an active volcano, which means it's best to check on recent eruption activity before you arrive, and make sure access to the crater is still open.
PLAN YOUR TRIP: Visit Fodor's Sicily Travel Guide
Neelsky | Dreamstime.com
Where: Washington State
When Mount St. Helens exploded in 1980, it triggered the largest known landslide in human history, released 24 megatons of thermal energy, and lay waste to an area well over 200 square miles in diameter. Yet today, the flora and fauna of the region have recovered remarkably well. Hikers can now tool along Loowit Trail through the blast zone, up to Monitor Ridge, and then tackle a rigorous ascent through ash, rocks and boulder fields to the rim of the crater. Spectacular views of the surrounding mountains and volcanoes, and of course the colossal crater below, await anyone who makes it to the top of Mount St. Helens.
Insider Tip: A climbing permit is required for hikes above 4,800 feet. Since the number of people allowed on the volcano is limited on any given day, you should purchase your permit several months ahead of a planned visit.
PLAN YOUR TRIP: Visit Fodor's Washington Cascade Mountains and Valleys Travel Guide
Wimtavernier | Dreamstime.com
Where: Bolivia
Bolivia's Tunupa is a dormant volcano adjacent to the Salar de Uyuni, an enormous salt flat resting at about 3,700 meters (almost 12,000 feet) above sea level. While you'll need to book a 4×4 tour to explore the Salar de Uyuni and reach Tunupa, you can hike up a good portion of the volcano in a few hours for mind-blowing views over the hauntingly beautiful salt flat. If you want to head to the top of the volcano, you can do so, but you'll need to be in pretty good physical shape.
Insider Tip: Altitude sickness can be a real problem even before starting the climb.
PLAN YOUR TRIP: Visit Fodor's Bolivia Travel Guide
Rvdschoot | Dreamstime.com
Where: Azores Islands, Portugal
Way out in the Atlantic Ocean, you'll come across Portugal's Azores Islands, and Pico Island, home to Mount Pico (Montanha do Pico), which dominates this tiny Mid-Atlantic patch of land. The climb, starting from the staging area of Cabeço das Cabras, can be accomplished in a day, with satisfying views (if the weather cooperates) over the blue Atlantic from the summit. Take note of the stark contrasts between the ocean, the island, and the precipitous volcano.
Insider Tip: Although you don't have to be a professional climber to attempt Pico, it's a rigorous, steep climb. You'll need some real stamina to successfully reach the peak.
PLAN YOUR TRIP: Visit Fodor's Portugal Travel Guide
Doityourself13 | Dreamstime.com
Where: Luzon Island, the Philippines
Mighty Pinatubo put forth the second largest volcanic eruption of the 20th century. The 1991 blast claimed hundreds of lives and decimated the top of the volcano, knocking 260 meters of height off the summit. Despite such a violent recent history, curious souls who'd like to gaze into the calming waters that now fill the enormous Lake Pinatubo caldera can do so through a combination of bus rides, 4×4 transportation, and manageable hikes to the shores of this tropical crater.
Insider Tip: Regardless if you're going on an official tour or not, bring plenty of water and snacks, swim gear, and waterproof footwear.
PLAN YOUR TRIP: Visit Fodor's Philippines Travel Guide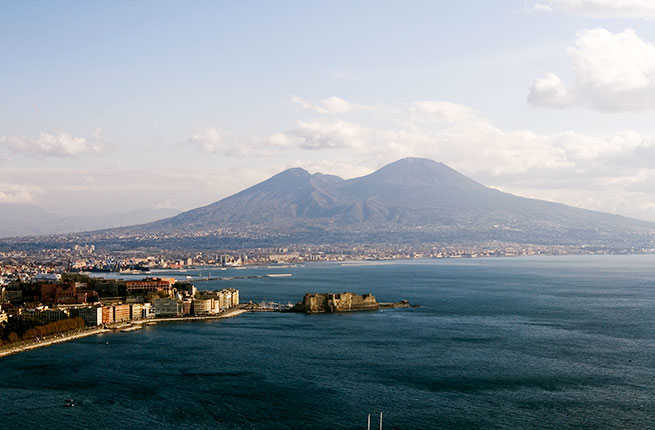 Morgancapasso | Dreamstime.com
Where: Naples, Italy
From the destruction of Pompeii to serving as sanctuary for the gladiator Spartacus and his fellow escaped Roman slaves, Mount Vesuvius has loomed large over humans for thousands of years. The good news is that you can now hike to the summit of this volcano along a steep but well-built trail in less than an hour. The bad news is that fog can often obstruct the view of the Bay of Naples, which means if you arrive on the wrong day, you'll get to see the mountain and crater, but not much else.
Insider Tip: Bus tours out of Rome offer Vesuvius day trips.
PLAN YOUR TRIP: Visit Fodor's Bay of Naples Travel Guide
Nantela | Dreamstime.com
Where: Big Island, Hawaii
If your only images of Hawaii are those of a tropical paradise, Mauna Kea, at a whopping 13,796 feet above sea level, will change your mind, as snow can fall here any month of the year. This cinder cone summit is peppered with 13 international astronomical observatories peering skyward, making it arguably the best location on the planet to stargaze. While driving to the top is possible, a long hike to the summit offers spectacular views across the Big Island. Thanks to the high elevation, there are gorgeous sunsets and starry night views above the clouds.
Insider Tip: Proper hiking boots, cold weather gear, and a reasonable level of fitness (to deal with the thinning oxygen levels) are strongly recommended before setting out along the Mauna Kea (Humuula) Trail.
PLAN YOUR TRIP: Visit Fodor's Big Island Travel Guide