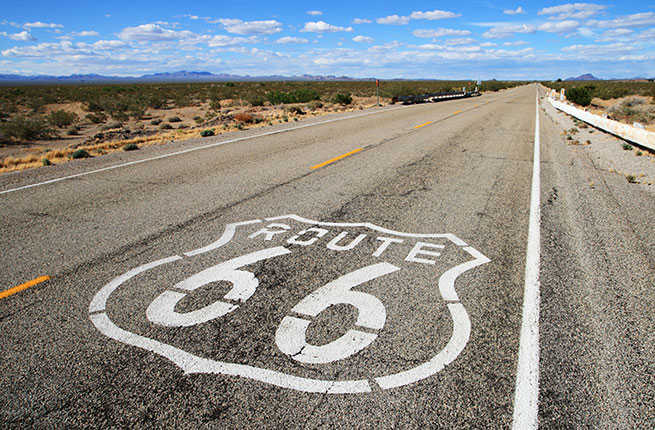 Pancaketom | Dreamstime.com
Route 66 is turning 90 this year, and though it's not a widely used road anymore, plenty of weird attractions can be found. If you're planning to make this memorable trip, don't even consider skipping any states—each has an attraction you shouldn't miss. Heavy on nostalgia, Route 66 has something wacky for all.—Elizabeth Xu
Achimhb | Dreamstime.com
WHERE: Chicago, Illinois
This iconic road starts with little fanfare in downtown Chicago. Whether this is where your trip starts or ends, it's worth getting a look at the sign—and snapping a photo, of course. You'll find the unassuming brown sign placed high on a pole on Adams Street. From here you'll only have about 2,450 miles to go until you reach Santa Monica!
PLAN YOUR TRIP: Visit Fodor's Chicago Guide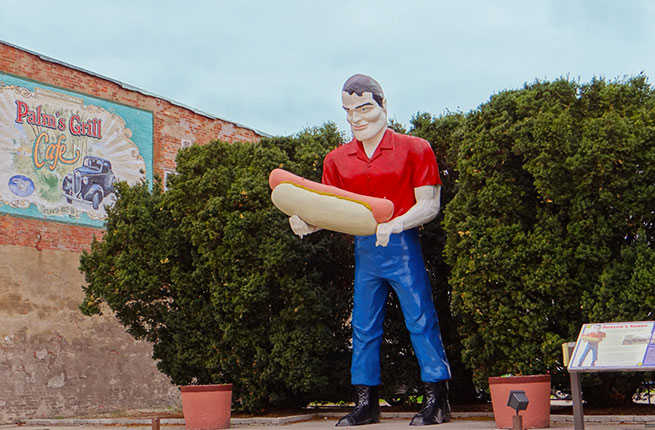 Illinois Office of Tourism
WHERE: Atlanta, Illinois
This statue is Route 66 kitsch at its finest. Though it's hard to believe, this giant man used to be located about 150 miles away in Cicero. For years it served as a can't-miss advertisement for a hot dog restaurant. The restaurant closed but the statue was (very carefully) moved to its present location.
PLAN YOUR TRIP: Visit Fodor's Illinois Guide
Giuseppemasci | Dreamstime.com
World's second-largest rocking chair
WHERE: Fanning, Missouri
Although Fanning used to be home to the world's largest rocking chair, now it can only claim to have the second largest. No, they didn't downsize the giant rocker—a bigger one was built in Casey, Illinois, in 2015. Even though it's now only the second largest, it's worth a look—all 42 feet of it. Don't expect this rocking chair to actually move. It originally rocked back and forth, but that was deemed too dangerous, so now it stays in place.
PLAN YOUR TRIP: Visit Fodor's Missouri Guide
Anderm | Dreamstime.com
WHERE: Galena, Kansas
Route 66 takes drivers through Kansas, but not for long. Just over 11 miles, in fact. Luckily, that's plenty of time for you to get your Kansas kicks in Galena, specifically at this Cars-inspired attraction. It's a bit of an outlier on Route 66. Along the route you'll find many old gas stations, most neglected and abandoned. Not here. In addition to a diner and gift shop, friendly Cars characters are ready to greet you.
PLAN YOUR TRIP: Visit Fodor's Kansas Guide
Swtrekker | Dreamstime.com
WHERE: Catoosa, Oklahoma
As far as roadside attractions go, this one's difficult to miss. For 16 years this giant whale and its adjacent pond were a gathering place for local adults and kids on hot days. Originally built as an anniversary gift, it's still standing tall (though swimming is no longer allowed). Like many Route 66 attractions it fell into disrepair after the original owners died, but Catoosa locals rallied to restore it in all its glory. These days, you can take a stroll through the whale's mouth and climb a ladder on the tail for a better vantage point.
PLAN YOUR TRIP: Visit Fodor's Oklahoma Guide
Andie2010 | Dreamstime.com
WHERE: Amarillo, Texas
This world-famous attraction is admittedly a little off the official Route 66 path, but it's not one you should pass up. Depending on the day of your visit, the smell of paint can weigh heavily in the air—those Cadillacs don't paint themselves, after all. Started in the 1970s as an art installation, the Cadillac Ranch now sees a steady stream of visitors daily. Bring your own spray paint if you're feeling artistic.
PLAN YOUR TRIP: Visit Fodor's Amarillo Guide
Giuseppemasci | Dreamstime.com
WHERE: Adrian, Texas
Once you make it to Adrian, congratulations! You've traveled half of Route 66. From here you only have 1,139 miles until you hit Santa Monica or Chicago. Stop at the Midpoint Café to celebrate with some homemade pie and pick up some trinkets in the gift shop. If you get there after business hours you can still snap a photo with the midpoint sign or the Route 66 signs painted on the pavement.
PLAN YOUR TRIP: Visit Fodor's Texas Guide
Swtrekker | Dreamstime.com
WHERE: Tucumcari , New Mexico
During Route 66's heyday there were plenty of hotels to take in weary travelers, but now many of them are gone. The Blue Swallow Motel stands as a reminder of the path's history and, even better, it's a working hotel so you can check in to a room if you need a place to rest your head. If you're lucky, you might even see the motel's glowing neon sign alight as you come down the road.
PLAN YOUR TRIP: Visit Fodor's New Mexico Guide
WHERE: Winslow, Arizona
The town of Winslow, Arizona, fully embraces their shout out from The Eagles in the 1972 song "Take It Easy." Much like the man in the song, you too can stand on a corner there, see a flatbed Ford, and take it easy. The park was built in 1999, and as attractions go, it is just a corner, so it's fairly small. A mural depicts multiple windows, with the reflection of a truck in one and two people embracing in another.
PLAN YOUR TRIP: Visit Fodor's Arizona Travel Guide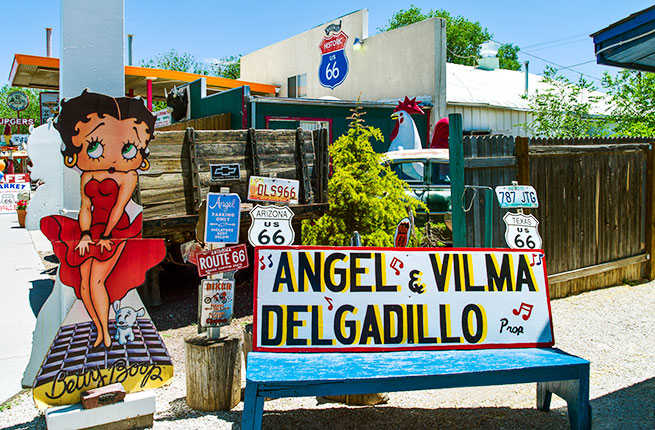 Giuseppemasci | Dreamstime.com
Angel & Vilma's Route 66 Gift Shop
WHERE: Seligman, Arizona
Much of Route 66 is rumored to be the inspiration for Cars, but perhaps none more than Angel & Vilma's Route 66 Gift Shop and the town of Seligman itself. Serving scores of tourists who arrive by car and tour bus every day, this gift shop is arguably one of the best on the road. Proprietor Angel Delgadillo was born in a house located on Route 66 and fought to have the road granted "historic" status in the 1980s. Inside the shop you'll find any type of souvenir you might want, from decorative license plates and belt buckles to coffee mugs and mousepads.
PLAN YOUR TRIP: Visit Fodor's Northwest Arizona Guide
WHERE: Oatman, Arizona
Once you've traversed the small, winding roads to get here, seeing Oatman come into view will be a welcome relief. It doesn't take long to realize this is no ordinary town, however, thanks to the wild burros. They're in abundance, roaming free and used to people. Tourists are asked not to feed them, though, and if you have a pet along you'll want to be extra careful because they are still wild animals.
PLAN YOUR TRIP: Visit Fodor's Northwest Arizona Guide
Reinhardt | Dreamstime.com
WHERE: San Bernardino, California
It might be hard to believe, but Wigwam Villages used to dot the country. They were everywhere from Kentucky to Louisiana to Florida in the 1930s and 1940s. Today, only a few remain. The Wigwam Motel in San Bernardino offers guests a chance to sleep in their very own standalone wigwam-like structure that stands 30 feet tall. While not large inside, they include a bathroom. This particular motel, originally known as Wigwam No. 7, was built in 1949 and has 19 rooms. Due to its history, this property is listed on the National Register of Historic Places.
PLAN YOUR TRIP: Visit Fodor's California Guide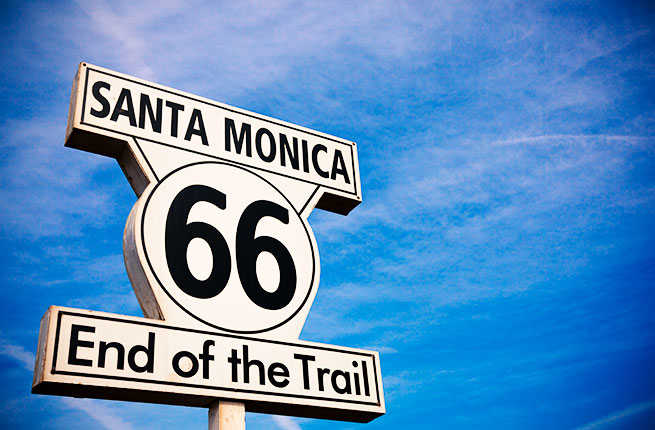 Miflippo | Dreamstime.com
WHERE: Santa Monica, California
In what might be an anticlimactic end, you can't actually drive to the end of the road. That's due to its positioning on the Santa Monica Pier, which only allows pedestrians. After you snap a photo of the sign you can check out the nearby Route 66 merchandise (if you haven't had your fill already), take a ride on the Ferris wheel, grab a bite to eat, or just gaze at the Pacific Ocean. This replica sign was placed in 1999, when the Pier was officially designated as the end of Route 66.
PLAN YOUR TRIP: Visit Fodor's Santa Monica Guide