saiko3p / Shutterstock
If you were looking for an extra excuse to plan that coveted island getaway, 2015 delivers many motivations to fly off somewhere remote, exotic, and wondrous. Whether you want to be amongst the first to experience newly minted resorts, are in search of a good fun-in the-sun party, or are eager to grab the best vantage point for an upcoming solar eclipse, here are the 10 hot islands to hit this year.
A serial traveler who often lets a country's cuisine dictate her itineraries, New York City-based writer Kathleen Squires has visited all seven continents and over 60 countries, with stints living in London, Tokyo, and Buenos Aires. Her work also appears in The Wall Street Journal, Details, Saveur, Cooking Light, and National Geographic Traveler.
Heracles Kritikos / Shutterstock
Where have LeBron James, Cristiano Ronaldo, Jennifer Lopez, and Lindsay Lohan all recently vacationed? No, not St. Bart's. Nor Ibiza. They've all headed to the Greek island of Mykonos. And everyone knows, where the celebs go, the DJs follow, making the popular isle celebrity party central. With the Euro down and a strengthening dollar, Mykonos has become affordable enough for the rest of us, too.
Where to Stay: The all-suite luxury boutique hotels Bill and Coo and Bohème offer stunning sunset views.
PLAN YOUR TRIP: Visit Fodor's Mykonos Travel Guide
Edwin Verin / Shutterstock
The Bahamas are undergoing an unprecedented expansion along the "Bahamian Riviera," as Nassau's Cable Beach will be known when it officially debuts its $3.5 billion Baha Mar development. Opening in spring 2015 along 3,000 feet of beachfront, the massive property will include the largest casino in the Caribbean, a Jack Nicklaus signature golf course, 14 pools, 30 restaurants and bars, a luxury retail village; a high-end spa, and a 2,000-seat performing arts center.
Where to Stay: Baha Mar hotels swinging their doors open in 2015 include the Grand Hyatt, SLS Lux, Rosewood, and the Baha Mar Casino and Hotel.
PLAN YOUR TRIP: Visit Fodor's Nassau Travel Guide
Jaromir Chalabala / Shutterstock
When its civil war ended in 2009, Sri Lanka refocused its energy into becoming a modern island nation, with millions pouring into developments, including new casinos, an overhaul of the waterfront, a Formula One racetrack, and five-star hotels, including a Sheraton poised to open in the capital in March.
Where to Stay: The soon-to-launch Sheraton debuts on March 1, 2015. In the interim, the well-appointed Tintagel is comprised of 10 modern suites.
PLAN YOUR TRIP: Visit Fodor's Colombo Travel Guide
This BVI retreat made headlines when Kate Winslet was reported to have saved Richard Branson's mother from a fire on the property in 2011. But you don't have to be a celebrity/hero to stay at Branson's hideaway hotel, which is newly rebuilt after the devastating fire. Guests can book the property and, in effect, the entire island, with a party of up to 30 adults. If not, keep an eye out for "Celebration Weeks" from August through October, when Branson welcomes individual or smaller group stays.
Where to Stay: There's no alternative; Branson's hotel is the sole option on the isle.
PLAN YOUR TRIP: Visit Fodor's Necker Island Travel Guide
Haider Y. Abdulla / Shutterstock
Palm Jumeirah Island, Dubai
Having won the bid to host the World Expo 2020, Dubai has declared its goal to become the world's most-visited city by that time. In preparation, the popular man-made, palm tree-shaped island of Palm Jumeirah is welcoming a slew of new lodging options in 2015 and 2016. The Four Seasons Jumeirah Beach recently opened its doors; next up is the Langham, right on the waterfront, with all rooms equipped with outdoor terraces; then the $100 million Niki Beach debuts in the fall. A W follows suit in 2016, as will the Paramount.
Where to Stay: The Four Seasons is taking bookings, and offering special introductory rates.
PLAN YOUR TRIP: Visit Fodor's Dubai Travel Guide
Sean Pavone / Shutterstock
To usher in 2015, the buzz is that Taipei will host the most extravagant fireworks display in the world at Taipei 101, its landmark skyscraper (formerly known as the Taipei World Financial Center), along with a giant public concert. Also dressing up the skyline in 2015: the Rem Koolhaas-designed TPAC, a performing arts center set next to the Shilin Night Market.
Where to Stay: The Grand Hyatt Taipei sits right in the city's financial center; the Mandarin Oriental debuted in 2014.
PLAN YOUR TRIP: Visit Fodor's Taipei Travel Guide
Irishka777 | Dreamstime.com
Grand Terre, New Caledonia
A 2.5-hour flight from Auckland, New Caledonia is becoming the new eco-destination of the South Pacific. The island of Grande Terre boasts the world's second-longest reef, and was just named a UNESCO World Heritage Site. Rare dugong turtles are among the 15,000 marine species that make the reef home. Soon, the island will mark the site of the world's first heart-shaped solar field: The panels will generate enough energy for 750 homes, reducing two million tons of carbon dioxide emissions over 25 years.
Where to Stay: Le Meridien and the Ramada Plaza are conveniently located in the capital of Nouméa.
PLAN YOUR TRIP: Visit Fodor's New Caledonia Travel Guide
saiko3p / Shutterstock
The Ritz-Carlton is opening its next ultra-exclusive reserve, Mandapa, in Ubud; and with Starwood planning three properties, and a newly opened cooking academy at the Four Seasons Jimbaran Bay, the hotel chains are betting big on Bali. There are also high-profile "boutique" brands moving in, from the 12 villas of The Stairs Bali to the Chedi Club Jimbaran. Plus, the island has a brand-new dance festival in 2015—Forgotten Island Bali, from April 6–9, with a lineup of all-star DJs.
Where to Stay: Mandapa, the Ritz-Carlton Reserve, is slated for a summer debut; the Four Seasons Jimbaran Bay is a popular celebrity getaway.
PLAN YOUR TRIP: Visit Fodor's Bali Travel Guide
Steve Photography / Shutterstock
Aruba is part of the Kingdom of the Netherlands, which celebrates its 200th birthday in 2015, so commemorative events will be taking place on the island all year long, including Sail Aruba 2015 (May 1–3). During Sail Aruba, the public can tour visiting tall ships; savor a celebration of seafood; hear international music; and sail in (or simply cheer on) their favorite vessels during the races. At the end of May, the 15 year-old Aruba Soul Beach Music Festival hits the island. Though the 2015 lineup is still being determined, past guests have included Robin Thicke, Babyface, and Ashanti.
Where to Stay: Ritz-Carlton Aruba is one of the island's newest openings, while the Aruba Marriott Resort and Stellaris Casino is a highly regarded veteran.
PLAN YOUR TRIP: Visit Fodor's Aruba Travel Guide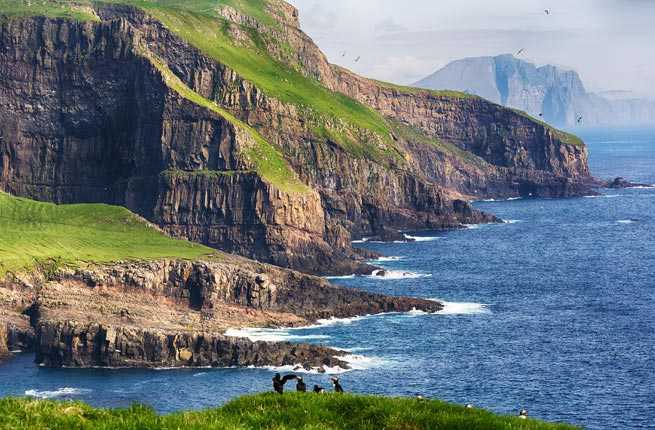 Anette Andersen / Shutterstock
On March 20, 2015, Denmark's Faroe Islands will experience a complete solar eclipse—one of only two places in the world where it will be visible from land. The islands, which lie off the coast of Northern Europe between Norway and Iceland, will come alive with celebrations surrounding the event. You can count on music being involved, as the islands are known for their vibrant music scene. The annual G! Music Festival in July and the new Hoyma Festival in November are two great reasons to visit at other times of the year.
Where to Stay: Gjáargarður Guesthouse features a roof lined with turf, mimicking the surrounding mountain landscapes.
PLAN YOUR TRIP: Visit Fodor's Denmark Travel Guide