Suburbia26 | Dreamstime.com
"Honeymoons last not nowadays above a fortnight," Samuel Richardson observed in his 18th-century novel, Clarissa. He had a point: while love certainly may last beyond two weeks, precious vacation time may not, which makes choosing the right honeymoon destination even more crucial. Start a marriage off on the right foot by first figuring out what type of travel fits your newlywed fantasy. Whether you crave the beach, some outdoor adventure, a little culture, or an extended party, there's somewhere in the world for both of you to make your first memories together. Here are our top picks for 2016, each complete with timely appeal. —Kathleen Squires
Sepavo | Dreamstime.com
You may not have heard of this Caribbean island, but you most certainly have heard of its most famous native, Alexander Hamilton (yes, he of the Founding Fathers, and Broadway's current smash musical). This year, the island even became more accessible, with new direct flights from United Airlines via Newark. Its beaches have a reputation for being among the Caribbean's most secluded and unspoiled, while its interior boasts verdant rainforests and volcanoes. Ample marine life encourages snorkeling between suntanning sessions.
Where to Stay: Newly opened Paradise Beach is the island's only beachfront villa resort, with seven thatch-roof villas, each with their own lap and plunge pool. Here, couples can canoodle over a private dinner on the beach, enjoy guided waterfall hikes, and sip Champagne aboard a catamaran during a moonlight sail.
PLAN YOUR TRIP: Visit Fodor's St. Kitts and Nevis Travel Guide
Lorcel / Shutterstock
For Nature Lovers: Yellowstone
This summer, the National Park Service commemorates its centennial, which means parks across America will be celebrating with special events. Mark the occasion by visiting Yellowstone, America's first park and the home of Old Faithful, hundreds of grizzlies, and the country's most spectacular wilderness. Visitors can get close with nature in every way imaginable, via cycling, river rafting, hiking, wildlife safaris, fishing, boating, bird watching, horseback riding and swimming.
Where to Stay: Spring Creek Ranch in Jackson Hole, WY, is celebrating the occasion with multi-day wolf and bear safaris through Yellowstone and Grand Teton National Parks. The ranch also includes rooms with sweeping mountain views and fireplaces, plus an award-winning restaurant and spa.
PLAN YOUR TRIP: Visit Fodor's Yellowstone National Park Travel Guide
Surangaw | Dreamstime.com
In 2016 Windstar Cruises, the world's smallest luxury cruise line, launches a brand-new itinerary: "Around Iceland" takes guests on a seven-day sail from Reykjavik, stopping at five of the country's outlying islands. Highlights include a soak in the famous Blue Lagoon; the renowned Hengifoss and Godafoss waterfalls; and Vigur Island, populated with puffins and black guillemots. The all-suite Star Legend yacht accommodates only 200 people, perfect for honeymooners who enjoy an intimate sail with personalized service.
Where to Stay: All suites have been recently refurbished; but it's your honeymoon, so why not spring for one of the four Classic Suites, with private verandas?
PLAN YOUR TRIP: Visit Fodor's Iceland Travel Guide
Marcio Jose Bastos Silva / Shutterstock
This is a boom year when it comes to city charms for Boston. A Picasso exhibition is currently visiting the Museum of Fine Arts Boston, and the museum started the year by acquiring Frida Kahlo's "Dos Mujeres." Beantown's first edition of the Public Art Walk has plans to expand, incorporating new neighborhoods into an itinerary that already includes Back Bay, Beacon Hill, the Financial District, and the North End; the Museum of Science just unveiled a 4-D theater and a new three-story gallery overlooking the Charles River; and gourmands will thrill to three new restaurant openings from award-winning local chef Ken Oringer, including UNI, which recently transformed from acclaimed sashimi bar to high-end Asian-inspired global restaurant, with one-of-a-kind dishes such as mozzarella en carozza with unagi, and Chiang Mai duck carnitas.
Where to Stay: Both The Eliot Hotel and The Colonnade are offering a Museum of Fine Arts Boston package, which includes accommodations, two passes to the museum—where you can catch those Picassos—and breakfast for two.
PLAN YOUR TRIP: Visit Fodor's Boston Travel Guide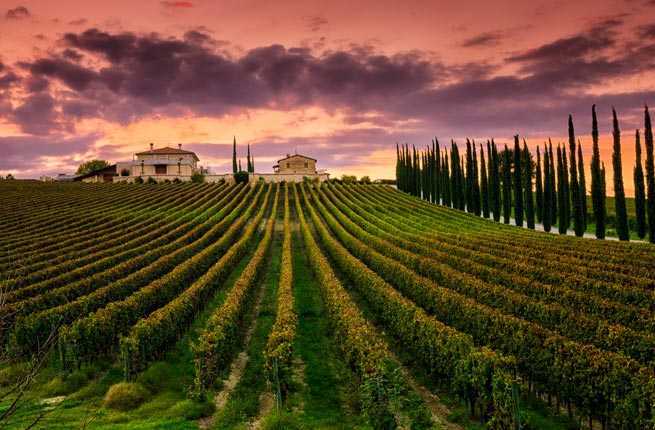 Suburbia26 | Dreamstime.com
The birthplace of St. Valentine provides couples with a host of reasons to bypass more touristy neighbors in favor of Italy's literal heart. Scenic vineyards producing terrific wines is reason number one. Known for the Sagrantino grape, the area around Montefalco had a particularly strong harvest in 2015. Wineries especially worth a visit include the historic Cantina Scacciadiavoli, the region's oldest, which was founded by a Roman prince; the sleek, modern Tenuta Castelbuono, designed by the sculptor Arnaldo Pomodoro, where the winery is a work of art in itself; the family-run, organic Antonelli, where couples can also enjoy cooking classes; the scenic Arnaldo Caprai, where visitors can take in breathtaking panoramas of the region; and Colpetrone, which connoisseurs may recognize because of its wide distribution in the United States. Dinner in a local restaurant, such as Alchimista, will include the wine in the dishes, such as Sagrantino-braised beef. Cap it all off at tiny, out-of-the way jazz and wine bar Microclima (Piazza San Domenico 27) in Foligno, which pours the best local labels, of course.
Where to Stay: The Palazzo Bontadosi in the old city of Montefalco was once home to a 15th-century cardinal. Today it houses a spa with Turkish bath, aqua treatments, and grapeseed facial; a terrific restaurant, Locanda del Teatro; and a dome-ceilinged room (# 1) bedecked in historic frescoes.
PLAN YOUR TRIP: Visit Fodor's Umbria and The Marches Travel Guide
Bargotiphotography | Dreamstime.com
The "lost" city of Petra is a true historical wonder, its rose-colored tombs and monuments carved into the mountains of southern Jordan. Spend several days exploring its ruins by foot—or camel—and be sure to return at night to see the magical site by candlelight. Other historic highlights in the country: the Dead Sea, a which has drawn visitors since Biblical times; and the awe-inspiring Wadi Rum desert, where Lawrence of Arabia made his home among the dunes.
Where to Stay: You can't beat the location of The Movenpick Resort Petra, which stands right at the gates of the ancient city. It is currently offering a Romantic Retreat package, which includes a room upgrade, flower arrangement, breakfast and late checkout. Its sister property, the Movenpick Resort & Spa Dead Sea, sits right on the shore of the lowest point on earth.
PLAN YOUR TRIP: Visit Fodor's Jordan Travel Guide
Svetlana Arapova / Shutterstock
For LBGT Couples: Mozambique
Traveling in some African countries can be a challenge for same-sex honeymooners. Not so anymore in Mozambique: the beautiful coastal country recently decriminalized homosexuality, so gay couples can enjoy the pristine beaches, outlaying island paradises, deep-sea fishing, and marine and land safaris. Its mild climate also makes Mozambique a great destination choice no matter what time of year you tie the knot.
Where to Stay: andbeyond recently reopened its luxury lodge in Benguerra Island, with 13 thatch-roof villas that include soaking tubs built for two, infinity pools, and spacious private sun decks, all overlooking the sea.
PLAN YOUR TRIP: Visit Fodor's Mozambique Travel Guide
Anandoart | Dreamstime.com
For Adventuresome Couples: Bhutan
Set in the Himalayas, Bhutan has long been a well-known destination for trekkers. But it is now quickly becoming a draw for many other outdoor activities, too, such as mountain biking, river rafting, rock climbing, and fishing. Extra special among them, for adventurous hearts: wild horse trekking tours through Bumthang, known as the "Switzerland of Bhutan," an opportunity to explore the country's most scenic valleys and the many temples and villages hidden within.
Where to Stay: This year, Six Senses is opening five lodges in Thimphu, Punakha, Gangtey, Bumthang, and Paro, perfectly situated for the ultimate luxury circuit, and a great way for couples to explore the country known for having the highest "Gross National Happiness" in the world.
PLAN YOUR TRIP: Visit Fodor's Bhutan Travel Guide
Ericsch | Dreamstime.com
For Hedonistic Couples: New Orleans
You're married, not dead. So a honeymoon filled with a little fun—OK, a lot of fun—shouldn't be out of the question. If you both tend to approach life with a bacchanalian zest, those pleasures come easy in the Big Easy. Let's start with the food: five NOLA chefs were semifinalists for the James Beard Awards' "Best Chef South" for 2016, while nearly a dozen other locals snagged nominations for other categories. Among the top spots: Donald Link's acclaimed Herbsaint; Shaya, a modern Israeli spot nominated for Best New Restaurant; Kenton's, which wowed Times Picayune critic Brett Anderson; and classics such as the recently restored Brennan's, whose chef, Slade Rushing, is breathing new life into the 70 year-old restaurant. The booze scene also still thrives, with craft cocktail bars such as Cane & Table and Cure on the edge of the spirits revolution. Between bites and sips, take a carriage ride through the French Quarter, cruise the Mississippi on the Natchez steamboat, snuggle on a streetcar, and fall in love all over again to a live jazz soundtrack.
Where to Stay: Book the Loft Studio Suite at the brand-new Old No. 77 to sleep off those active days and nights. It also happens to house one of the city's hottest new restaurants, chef Nina Compton's Compère Lapin.
PLAN YOUR TRIP: Visit Fodor's New Orleans Travel Guide
Reinhard Tiburzy / Shutterstock
For Luxury Lovers: Luxembourg
It's a principality full of riches, and honeymooners can rule them all. Luxembourg is the only remaining Grand Duchy in the world, with the world's highest GDP (there are an awful lot of bankers in residence) and more than 100 castles spread throughout the tiny country to explore. Breathtaking Vianden Castle, which dates to the 11th century, must be graced with your presence, as it is the jewel in the country's architectural crown. And the Grand-Ducal Palace will be honored to receive you in the summer, when it opens to the public for tours. A great way to survey it all? Take a romantic bike tour, with a package recently introduced by Visit Luxembourg.
Where to Stay: Look no further than the chandelier-decked Cristal Suite at the palatial Le Place D'Armes hotel, decorated in the regal style of the 17th century. Conveniently located in the city center, and steps away from the Grand-Ducal Palace, this five-star, Relais & Chateaux property features a Michelin-starred restaurant.
PLAN YOUR TRIP: Visit Fodor's Luxembourg Guide