Rosewood Hotels & Resorts
The holiday madness is over and it's time to recharge. We recommend seeking out a tranquil massage, rejuvenating body wrap, or glowing facial at one of our favorite new and revamped spas around North America, which have opened or undergone stunning renovations during the past 18 months. From city retreats in New York and San Francisco to country getaways in Virginia and Arizona, these 10 notable spas are sure to help you refresh for a happy and healthy new year.
By Kate Donnelly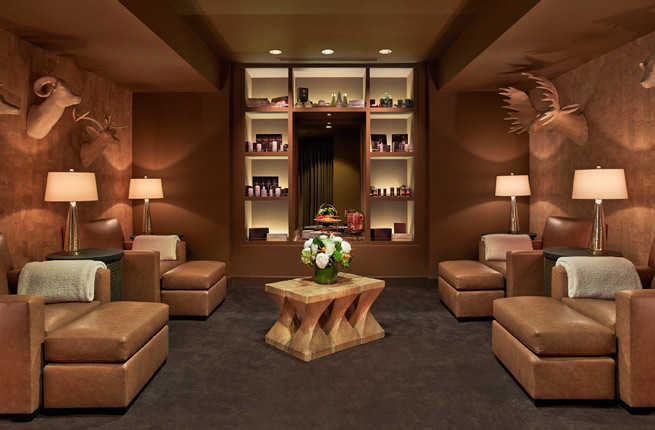 Courtesy of Hotel Jerome
Auberge Spa at Hotel Jerome
Where: Aspen, Colorado
Hidden inside Aspen's landmark Hotel Jerome is a spa celebration of Rocky Mountain spirit and culture. Traditional healing treatments used by the Ute Native Americans infuse medicinal plants, flowers, and botanicals (a la Arnica montana, chamomile, rosehips, sage, balsam fir, mint, corn, and clay). Aspen is situated in the "mineral belt," so expect local selections plucked from nearby mountain springs and riverbeds cradling you back to life.
Insider Tip: The outdoor adventurer should experience the Recovery Massage, a soothing treatment for sore muscles. High altitude sufferers sign on for the Oxygen Life facial that delivers renewing oxygen and dewy hydration.
PLAN YOUR TRIP: Visit Fodor's Aspen and the Roaring Fork Valley Guide.
George Apostolidis/Mandarin Oriental, San Francisco
The Spa at Mandarin Oriental
WHERE: San Francisco, California
Step away from the San Francisco hustle and bustle and into the luxurious Mandarin Oriental. This tranquil 8,000 square-foot Far-East-inspired retreat is welcoming with warm golds and browns and soft lighting. The Signature Oriental Harmony massage commences with a purifying foot soak. The Oriental Essence massage is designed for the jetlagged traveler, utilizing oils blended with ginger, frankincense, and of course, the uplifting mandarin.
Insider Tip: Sample the new Natura Bissé Diamond facial to even out skin tone or opt for the "Calm Mind", a tingling 45-minute head massage, perfect to unwind with at the end of a long workday.
PLAN YOUR TRIP: Visit Fodor's San Francisco Guide.
Courtesy of The Spa at The Omni Homestead
Canyon Ranch at the Omni Homestead
WHERE: Virginia
The historic Omni Homestead Hotel, built in 1891, rests at the foot of the Allegheny Mountains with natural hot springs. This newly-renovated 60,000 square-foot spa wows with an impressive 28 treatment rooms. Signature services include the 1766 Mineral Bath, a warm soak in 104-degrees and a Mineral Mud Wrap with a buttercup exfoliation and polish. Dip in the same healing natural springs Thomas Jefferson once visited.
Insider Tip: The Spa Garden, a serene outdoor sanctuary features historic hot springs, a naturally-pressurized deluge shower, spring-fed pool, and co-ed Finnish sauna (adult-only).
PLAN YOUR TRIP: Visit Fodor's Virginia Guide.
Courtesy of Aire Ancient Baths New York
WHERE: New York City, New York
Built in 1883 and housed in a former textile factory, Aire Ancient Baths is a moody subterranean space. Peacefully lit with soft candle glow and Moorish lanterns, the spa blends ancient bathing traditions from the Greek, Roman, and Ottoman empires. Alternate between four pools ranging from a toasty 102 degrees to a chilly 50 degrees. A welcoming eucalyptus-infused steam opens your pores in anticipation of the mineral-rich salt pool. Bring your swimsuit; obligatory sandals are provided.
Insider Tip: Consider splurging on the 210-minute ritual of a 4-handed massage (two therapists), and try the thermal bath infused with red wine, cava, citrus, or olive oil.
PLAN YOUR TRIP: Visit Fodor's New York Guide.
Courtesy of Rancho Valencia Spa
Where: San Diego, California
Southern California's only Relais & Châteaux property, 25 miles north of San Diego, overlooks the azure Pacific Ocean. The newly refurbished, Mediterranean-inspired Rancho Valencia Spa includes something for everyone (the mom-to-be, gents, couples). Sip freshly made organic juices and segue into the signature Six Sense massage, featuring a soothing bath soak and Harmonizing Scalp Massage with organic ingredients like myrtle, juniper, and olive oils for silky-soft skin.
Insider Tip: Don't miss the Balancing Blue Lotus facial from the organic, plant-based line, Amala. And, Yogis, check the class schedule at the stunning, new Serenity Yoga Pavilion.
PLAN YOUR TRIP: Visit Fodor's San Diego Guide.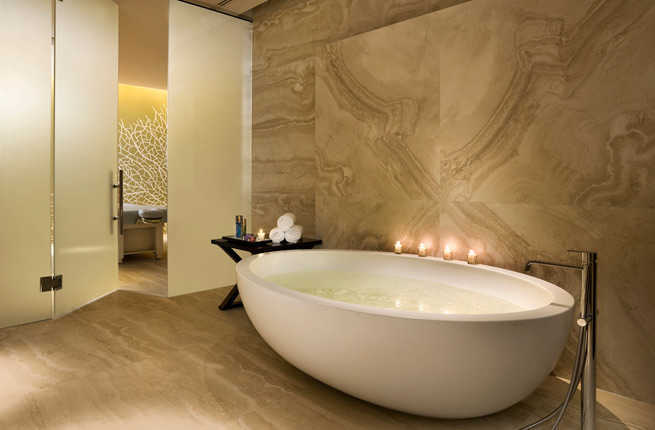 Courtesy of Regis Bal Harbour
WHERE: Miami, Florida
This 12,000 square-foot spa at the glam St. Regis, named after the scientific skin-care-focused line Remède, is best known for its customized facials. Perhaps it's best to indulge on the signature Jacques Torres artisan truffle before your Remède Customized Wrap designed to combat cellulite and enhance circulation. Overexerted? The 90-minute Royal Muscle Rejuvenation massage is a perfect way to reduce stress and joint pain.
Insider Tip: After your skin is pampered and glistening, the posh shops at Bal Harbour are just across the street and easily at your disposal.
PLAN YOUR TRIP: Visit Fodor's Miami Guide.
Four Seasons Hotels & Resorts
WHERE: Toronto, Ontario
Recently the Four Seasons rocked Toronto by opening a new hometown anchor and creating Toronto's largest hotel spa (30,000 square feet) with 17 lavish treatment rooms. Experience the energy-restoring Asian Fusion massage with Thai pressure points. The "Scrub Bar" incorporates an exfoliating Ruby Red Grapefruit Scrub while the hydrating Honey and Milk leaves you soothed and toned. A Tantalizing Scalp Massage with Moroccan oil is a perfect enhancement.
Insider Tip: All massages are identically priced for the same length of time. So, no need to worry about asking for additional pressure, by all means, go for it!
PLAN YOUR TRIP: Visit Fodor's Toronto Guide
Courtesy of Terranea Resort
The Bungalows at Terranea
Where: Rancho Palos Verdes, California
What's not to love at this spectacular Pacific oceanfront setting? The newly launched Bungalows at Terranea offer guests a range of personalized services—from a single evening to retreats of three, five, and seven nights. The spa menu is designed for what ails you and includes signature rituals from a morning Volcanic Clay Wrap to a twilight Flickering Embers massage. Other bonuses include meditation, fitness classes (TRX Core Circuit), awe-inducing coastal hikes, and relaxing sunset yoga.
Insider Tip: Explore the region and sign on for kayaking and paddle boarding along the hidden beach coves with vibrant ocean life. Evening stargazing is a perfect way to further unwind.
PLAN YOUR TRIP: Visit Fodor's California Guide.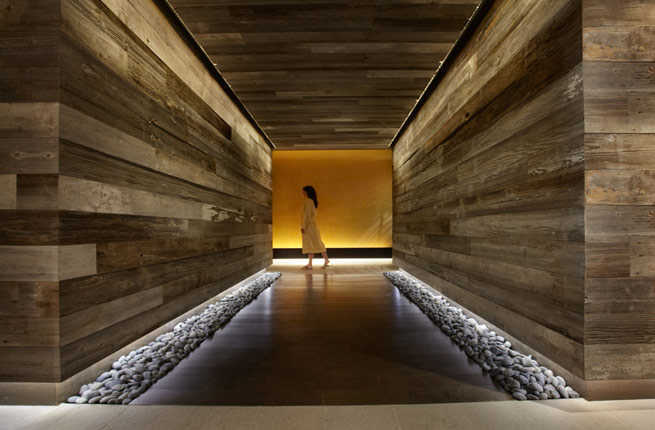 Rosewood Hotels & Resorts
Miraval Life in Balance Spa
Where: Tucson, Arizona
Set against the splendid Santa Catalina Mountains, the unfussy Miraval hosts the new Life in Balance spa. The facilities are a mix of warm, earthy tones and clean, minimalist lines a la slate floors and furnishings made from sustainable materials. Floor-to-ceiling windows reveal majestic views of the Santa Catalina Mountains. Guests can enjoy Shamana-Karm, inspired by Ayurdbedic healing rituals scented with lemongrass, mint, and clove while the Grounding Facial uses warmed stones to melt away tension.
Insider Tip: Not staying at the hotel? Locals can book a day pass, which includes a spa credit. Book the 100-minute Utopia treatment, a sensory journey of earthy fire-heated, whole-essence oils.
PLAN YOUR TRIP: Visit Fodor's Arizona Guide.
Courtesy of Shangri-La Hotel, Toronto
Miraj Hammam Spa by Caudalie Paris
Where: Toronto, Ontario
Inside Toronto's stunning Shangri-La Hotel, this exotic, intimate and dimly lit French-Moroccan spa offers a signature 15-minute Hammam & Gommage (exfoliating) treatment inside a private high-intensity steam chamber. Recline on Jerusalem Gold Marble while your therapist uses eucalyptus infused black Moroccan soap to detoxify your skin with an exfoliating glove, known as "Kessa", designed to unclog pores, toxins and impurities.
Insider Tip: French skincare fave Caudalie Paris handles the vinotherapie therapy. The signature Crushed Cabernet Scrub leaves your skin feeling lush and smooth. Expand your bliss by adding a hammam experience to any facial or massage.
PLAN YOUR TRIP: Visit Fodor's Toronto Guide