Courtesy of Bric's
As travel editors, we pride ourselves on being the lightest of packers. Whether we're jetting away for a three-day beach vacation or a three-week European tour, we strive to keep everything in one modest carry-on. But despite our best efforts, sometimes there's no avoiding a checked bag. With that in mind, we've rounded up and road-tested some of the best bags on the market today. The next time your travels take you to far-flung places for extended periods of time, or you just want to pack your entire wardrobe, here are 10 bags to consider.
Courtesy of Recreational Equipment, Inc.
REI Sport Beast Wheeled Luggage 31″
The Tester: Michael Alan Connelly, Editor, Fodors.com
The Destination: Seattle and San Francisco
The Review: This bag was perfect for my weeklong trip to the West Coast. Since skiing was on the itinerary, I had to pack a lot more than I normally would for a trip of this length. The bag was super durable and held a lot of clothing, but its best feature is that the interior is split between two separate zippered compartments; for my trip, that made it easy to separate ski gear from city wear.
The Catch: I wish the retractable handle had multiple length settings. Also, it only has two wheels, so it's not ideal for carting around public transportation or streets.
The Verdict: I would definitely recommend this bag to anyone who enjoys looking sporty and is looking for a large, soft-sided bag. It's ideal if you need to pack a lot and don't plan to pull it around by hand very much but still want the option to do so.
Courtesy of Briggs & Riley
Briggs & Riley Medium Upright Duffle
The Tester: Erica Duecy, Deputy Editor, Fodors.com
The Destination: Israel for a weeklong trip, checking in and out of several hotels along the way
The Review: I really liked this bag. It was the perfect size for my trip, where I was visiting several wine regions in the country. The suitcase is roomy, divided into two sections separated by a zippered divider. The flat packing section held three pairs of shoes and two wine bottles that I collected on winery visits. The duffel section stored all my clothes neatly (along with a couple more wine bottles and some souvenirs), and held everything securely with elasticized mesh panels—this feature seemed to help minimize wrinkling. There were also multiple smaller mesh zippered pockets for smaller items.
The Catch: At first I wasn't a huge fan of the color, but the grey-green grew on me. I like that it's a unisex bag, and that it was so easy to spot on the baggage carousel.
The Verdict: I would definitely recommend this bag to anyone going on a long trip who needs to check their luggage. None of my wine bottles broke—a huge plus!
Courtesy of RIMOWA
Rimowa Salsa Deluxe Multiwheel 98.0L
The Tester: Liz Furlow, Publishing Assistant
The Destination: Midtown Manhattan to Chelsea via the subway system and half a mile through the streets on foot.
The Review: The Rimowa was lightweight, even with its sturdy (polycarbonate) shell, which made it easy to lift up and down the subway staircases. When I was back on the street, I found that the suitcase rolled smoothly, and the four 360-degree rotating wheels were good for rounding street corners and doubling back whenever I lost my way. There's also a handy strap for attaching a purse or extra bag to the case, which made traveling on foot even easier.
The Catch: I was sitting on the downtown 1 train when the 360-degree "multi-wheels" backfired, and my suitcase began to roll away from me like a shopping cart down an incline. The rest of the ride I had to hold on to the case to prevent it from drifting.
The Verdict: Despite its wandering wheels, the Rimowa is a sleek, attractive, and useful bag. I definitely recommend it!
Courtesy of Tumi
Tumi Alpha 2 Short Trip Expandable 4 Wheeled Packing Case
The Tester: Linda Cabasin, Editorial Director
The Destination: Hudson Valley for a short break.
The Review: I give the Tumi Alpha 2 high marks for sturdiness and ease of packing, not to mention the tough, dirt-hiding gray nylon exterior and snappy orange (very Fodor's!) trim. Reinforced corners, heavy-duty wheels, and tough zippers made the case feel as if it would be invulnerable to any airport mishandling, though I took it only in my car and on subways and buses. The Alpha 2 also comes with a Tracer plate so you can register it, and it's large and well-designed enough for anyone packing for a week or longer. Abundant, good-size pockets encouraged me and my husband (we shared) to be tidy, thoughtful packers, and the excellent mechanism for expanding the case—so useful—worked more easily than others I've tried.
The Catch: The weight and the $845 price tag. Although the soft-touch handles are lovely, it felt heavy for me even when empty.
The Verdict: It's not for me due to the weight, but I'd recommend the Alpha 2 as an option for friends who take mid-length to longer business or leisure trips, but don't move the suitcase around a lot once they arrive. This is an investment that will look good and last a long time.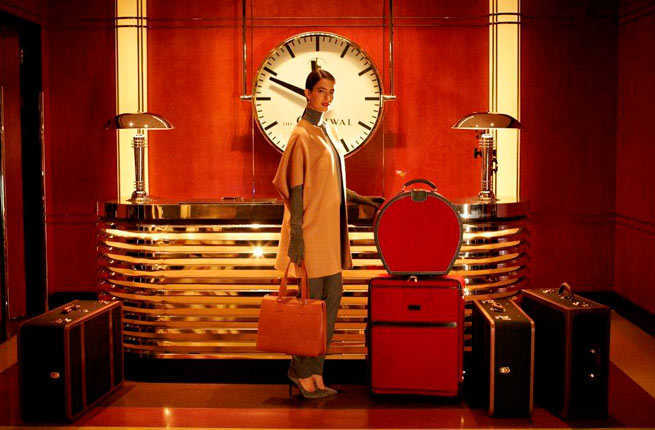 Courtesy of T. Anthony Ltd
T. Anthony 29″ Wheeled Packing Case
The Tester: Amanda Sadlowski, Assistant Editor
The Destination: Connecticut on a bus, and from Washington Heights to Brooklyn on the subway.
The Review: This is a huge bag (red bag pictured in lower center), and it's perfect for fitting in nearly every outfit or piece of clothing you own, which I did when I was packing for my move to Washington Heights. Even when it was packed to the brim, it still wasn't insanely heavy and I could move it without too much trouble. Traveling with it to my bus stop when I went to Connecticut was a breeze, although I could see it getting heavy on a longer trip.
The Catch: The wheels aren't spinners, so it's not the easiest to navigate if you have to move around a lot, especially if you've packed it on the heavier side.
The Verdict: If you're looking for a bag to take on a long trip where you'll be wearing several different outfits, this will definitely do the job. But if you're going to be moving from destination to destination a lot, it might be best to go with a suitcase that's easier to take along for the ride.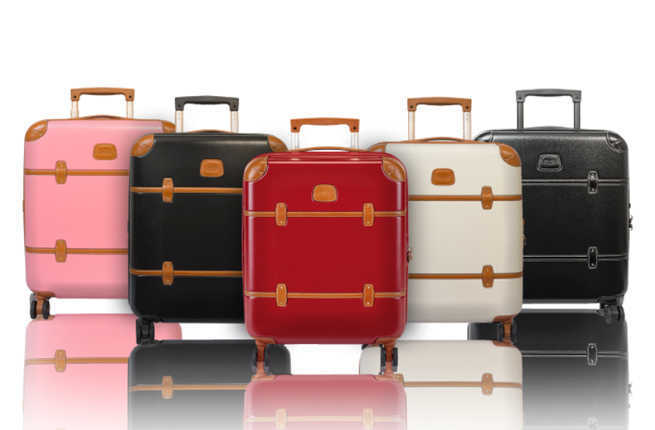 Courtesy of Bric's
Bric's Bellagio 32″ Spinner Trunk
The Tester: Abbey Chase, Digital Editorial Intern
The Destination: Midtown Manhattan and the Upper West Side, on foot and on the 1 train.
The Review: The Bric's Bellagio Spinner is huge, and a minimalist interior means you can use every inch of it. The exterior is a hard plastic and while the interior is lined, there is very little in the way of padding, leaving more space for your things. The Bric's is a clamshell suitcase, but only one side has a secure pocket; the other is covered with a zippered garment bag, but is not completely enclosed, which I thought was an odd design choice. The four 360-degree wheels made moving this behemoth much easier, and I liked the styling—black, but with brown leather straps that make it somewhat unique.
The Catch: The bag's lack of infrastructure is a double-edged sword; on the one hand, it's very light, but it doesn't feel particularly sturdy. As I didn't fly with it, I don't know how well it would stand up to a thorough beating in an airport's checked bags labyrinth, but it seems like it could get scratched/dented. I navigated the Bric's easily on sidewalks and through pothole-ridden streets in New York, but I question how easily it would roll if it were full.
The Verdict: I like having pockets, both internally and externally, but otherwise I would recommend this bag. I am, sadly, not a light packer, so I appreciated that this bag was big, light, and efficient with its space.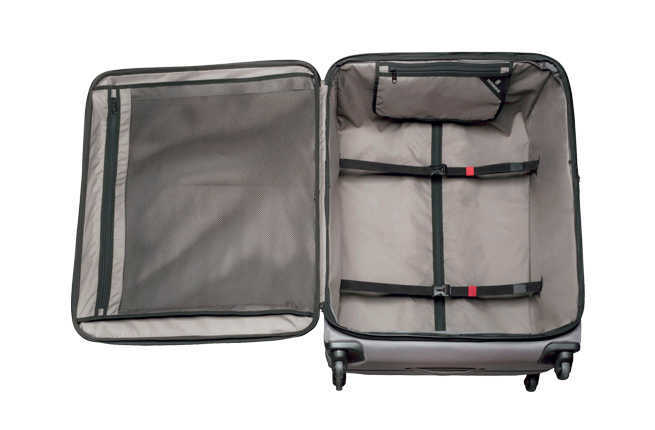 Courtesy of SwissArmy.com
Victorinox Swiss Army Avolve 2.0 30″
The Tester: Michael Alan Connelly, Editor, Fodors.com
The Destination: Manhattan and Brooklyn
The Review: This is probably the biggest suitcase I've ever seen, which is great because I used it to transport lots of clothing on the subway when I moved to a new apartment. Despite its size, I found it very light (12.1 lbs. when empty) and easy to maneuver thanks to its four 360-degree wheels and a retractable handle with three different length settings. It also expands to hold even more clothing, and it has some useful exterior pockets.
The Catch: The color (a silverish-gray) isn't the most exciting one out there, but it's certainly not unattractive.
The Verdict: I would buy this bag if I were spending a summer in Europe or a month in India. It's big enough to hold a person, so it would be ideal for packing everything I'd need for those long trips.
MCM Couture Line Hard Trolley Large
The Tester: Perrie Hartz, Associate Editor, Beaches and Resorts
The Destination: Dominican Republic
The Review: This bag (pictured far left) is very stylish and it stood out among other bags, so it was very easy to spot on the luggage carousel. It can fit a lot inside, so it's good for long vacations. I also liked that it was hard and I knew whatever was in it would be protected.
The Catch: The zipper gave me some trouble.
The Verdict: Yes, I would buy it and recommend it to a friend, but with the caveat that it's best used for long trips. And the more you stuff in it, the harder the zipper is to close.
Courtesy of London Fog
London Fog Chelsea Lites 29″ Upright Bag
The Tester: Róisín Cameron, Associate Editor, Countryside and Adventure
The Destination: Hangzhou and Shanghai, China
The Review: I took this bag on a 10-day trip to China. With such a long-haul flight, I didn't have to worry about weight restrictions, so I didn't pack as carefully as I do on shorter trips. I was pleasantly surprised at how much I could fit in it (there's 30% expansion), especially on the trip home, when my suitcase had mysteriously gotten a lot heavier (damn you, Shanghai, and your endless shopping opportunities!). I liked the front and rear exterior pockets, which were handy for documents, and the integrated shoe pockets were a nice touch.
The Catch: The handle is far too flimsy for a bag of this size, which meant a great deal of wrestling getting on and off the subway and AirTrain. When fully packed, it became wayward and rolled away every time I loosened my grip. Also, the material got wet easily, and even after one trip, looked surprisingly grubby.
The Verdict: I probably wouldn't buy this. Looks aren't that important to me as long as it does its job, but the olive houndstooth with the brown leather accents isn't really my style.
Courtesy of Calvin Klein
Calvin Klein Briarcliff Collection 28″ Spinner
The Tester: Salwa Jabado, Senior Editor, Countryside and Adventure
The Destination: Fort Lauderdale, FL
The Review: We were flying Spirit, so in order to pay the least amount in baggage fees (carry-ons are more expensive than checked bags on Spirit), I wanted a checked bag that would hold all three of our clothes for a week-long beach vacation. That meant my seven-month old daughter got one half of the clamshell luggage and my husband and I split the other half. The bag was big enough to meet the challenge, including a week's worth of diapers! Even though it is a hard shell suitcase, it has an expandable cloth section, which we didn't end up needing. I really liked the zippered mesh pockets which were in two different sizes and held all the clothes on each side of the clamshell in place.
The Catch: The bag weighs 11 lbs empty, so we were sweating bullets at check-in because Spirit charges a fee for bags over 40 lbs. We skated by at 42 lbs without penalty, but an even lighter bag would have been better. After the return flight, two of the feet on the side of the luggage had broken off, leaving exposed screws. The pretty silver finish was also scratched and the bag looked like it was well-traveled even though it was the first time we had used it. The eight, multi-directional swivel wheels also pulled to the right, causing some wrist strain.
The Verdict: I would hesitate to recommend this luggage. While the ample size fit my needs and it looked stylish, I don't think the construction will hold up over time.