Esme Tours
So, you're planning a trip to Europe. Eager to explore the local food scene, you've made reservations at the top-rated restaurants. You've booked a wine tasting, mapped out a bar crawl, maybe even signed up for a food tour. But what if you're hungry for a deeper cultural connection, something intangible to take home and cherish long after your vacation is over? Consider enrolling in a cooking class. Whether you end up stuffing grape leaves in Crete, perfecting French "mother sauces" in Paris, or plating sous-vide eggs in San Sebastian, the tips you'll glean from expert instructors— and the friendships you'll make with like-minded travelers along the way— are priceless souvenirs. Pack an apron: Here are our picks for the top cooking programs on the Continent.—Benjamin Kemper
Ballymaloe Cookery School
Foraging with Darina Allen, Ballymaloe Cookery School
WHERE: Cork, Ireland
You'd be hard-pressed to find a better-known culinary figure in Ireland than Darina Allen, the sunny TV host and best-selling author who founded Ballymaloe Cookery School more than three decades ago. While Ballymaloe may be better known for its rigorous professional training for up-and-coming chefs, the school also offers some of the most varied cooking classes in the country, from Sushi Made Simple to Afternoon Tea & Cakes. But perhaps the most exciting of the bunch are the foraging excursions, led by Chef Allen herself, which take place in the lush countryside surrounding the school. Depending on the season, you might harvest nettles, elderflower, samphire—even seaweed.
Price: €195
PLAN YOUR TRIP: Visit Fodor's Guide to Ireland
Yetunde Oshodi-Fraudeau
Mother of All Sauces, Cook 'n With
WHERE: Paris, France
Can't tell your Béarnaise from your Bordelaise? Don't fret: The "Mother of All Sauces" class offered by Cook 'n With Class in Paris takes an uncomplicated, bottom-up approach to the art of French sauce making. You'll begin with a lesson in stocks, the foundation of any great sauce, and in no time you'll be whisking up batches of Hollandaise like a pro.
Insider Tip: Note to parents traveling with children: Cook 'n With Class hosts a Cooking with Kids workshop that teaches kids how to make hands-on desserts like Eiffel Tower cookies.
Price: €150
PLAN YOUR TRIP: Visit Fodor's Guide to Paris
Yigal Schleifer
Shop, Cook, Feast, Culinary Backstreets
WHERE: Istanbul, Turkey
Get off the tourist track and discover a more intimate side of Istanbul on the Shop, Cook, Feast experience offered by Culinary Backstreets in the ethnically diverse Kurtuluş neighborhood. Unlike many cooking classes in the city, where popular (if predictable) Turkish dishes like kebabs and baklava appear on the recipe roster again and again, with Culinary Backstreets you'll take on recipes that are equally delectable but less familiar including Aegean-style mincemeat pastries, Circassian chicken, and Anatolian stuffed eggplant.
Price: $110 (USD)
PLAN YOUR TRIP: Visit Fodor's Guide to Istanbul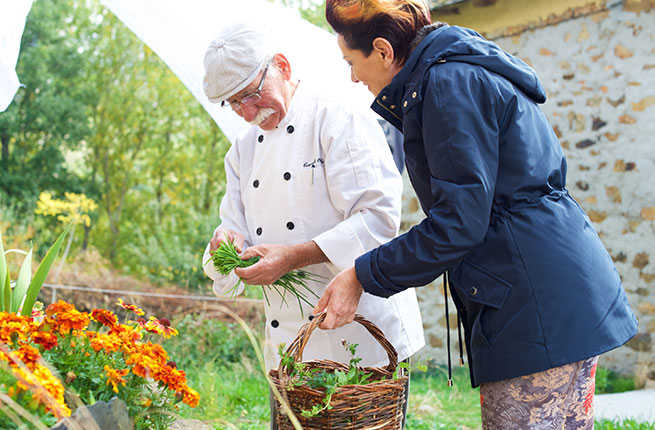 Esme Tours
One-Day Cooking Workshop, Esme Tours
WHERE: Pozos, Spain
Esme Tours hails from a remote village called Pozos in Galicia, Spain's green, hilly northwest corner. It's about the last place you'd expect to find an acclaimed chef like Esmeraldo Oteruelo, who traveled the world and worked in some of Spain's most prestigious kitchens before returning to his hometown. Chef Esmeraldo leads private, tailor-made culinary workshops that know no bounds, whether your goal is to learn a few new tapas recipes, become a master pulpeiro (Galician octopus chef), or spend a day in the mountains with cheesemakers and shepherds.
Price: €80 (self-drive); €130 (pick-up in León)
PLAN YOUR TRIP: Visit Fodor's Guide to Spain
Benjamin Kemper
Furnas Cozido Experience, Hotel Terra Nostra
WHERE: Furnas, Portugal
In Furnas, the hub of volcanic activity on the island of São Miguel in the Azores, locals bury enormous vats of cozido—a local stew made with chouriço, chicken, yams, and a bounty of other vegetables—in underground geothermal heat chambers. What emerges five hours later is a gurgling cauldron of ultra-tender stew, best enjoyed on picnic tables beside the caldera. It's a singularly Azorean tradition, and you can learn to make this peculiar dish in a cooking class organized by Hotel Terra Nostra that ends in their award-winning white-tablecloth restaurant overlooking the expansive botanical garden, a worthwhile destination in its own right.
Price: €59
PLAN YOUR TRIP: Visit Fodor's Guide to Portugal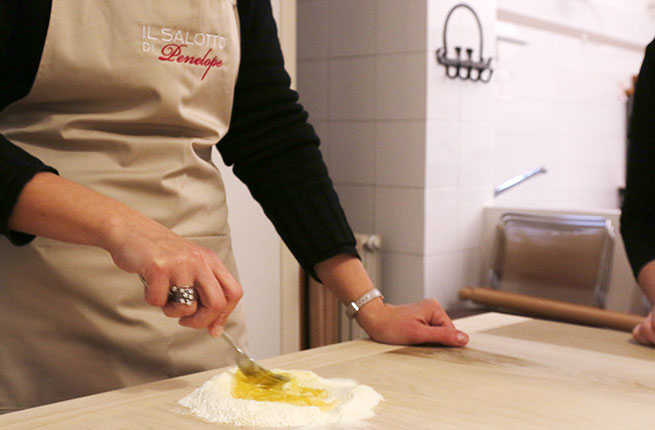 Il Salotto di Penelope
Pasta-Making Class, Il Salotto di Penelope
WHERE: Bologna, Italy
Parmigiano-Reggiano, tortellini, balsamic vinegar— the Italian dishes native to Bologna and its environs need no introduction. But now matter how many bowls of ragù alla Bolognese you may have eaten, making your own sfoglia (pasta dough) by hand can be daunting, especially without a Nonna peering over your shoulder. Enter Barbara Zaccagni and Valeria Hensemberger, the dynamic duo behind Il Salotto di Penelope, a spacious cooking school located five minutes from the Old Town, where you'll learn the secrets to an authentic Bolognese sauce (spoiler alert: use less tomato), the key to pillow-soft gnocchi (old potatoes), and the perfect proportions for pasta dough (a touch of semolina flour works wonders).
Price: €90–100
PLAN YOUR TRIP: Visit Fodor's Guide to Italy
Juan Minondo – Dookustudio
Innovation Workshop, Ni Neu
WHERE: San Sebastian, Spain
In a city that boasts the second-highest concentration of Michelin-starred restaurants in the world, it's no surprise that the most exciting cooking class in San Sebastian, Spain, takes participants on a sci-fi-esque journey through Basque vanguardist cuisine. At Ni Neu, chef Mikel Gallo, who cut his teeth at the acclaimed restaurant inside the Guggenheim Museum, Bilbao, demystifies the techniques we've come to associate with modern Spanish chefdom such as sous-vide cooking, radical flavor pairings, and trompe l'œil presentations. Ideal for those on a tight schedule, the class lasts two hours and ends in the dining room with a tasting menu that appeals to all the senses.
Price: €100
PLAN YOUR TRIP: Visit Fodor's Guide to San Sebastian
Sarah May Grunwald
Georgian Cooking Class, Taste Georgia
WHERE: Tbilisi, Georgia
Located on the eastern fringes of Europe between the Black and Caspian seas, the Republic of Georgia is a vibrant country teeming with culinary surprises: oversize soup-dumplings, walnut-thickened stews, and underground-fermented "amber" wines, to name a few. With Georgian being a notoriously impenetrable language, it pays to have an English-speaking guide on hand to teach you the ins and outs of this underappreciated cuisine. Look no further than Taste Georgia's cooking workshop in Tbilisi, a soup-to-nuts experience that starts in the frenzied food stalls of Dezerter Bazaar, unfolds in a pristine professional kitchen in the city center, and ends with a satisfying communal meal washed down with abundant local wine.
Price: $85 (USD)
PLAN YOUR TRIP: Visit Fodor's Guide to Georgia
Barbara Zsidek
Hungarian Baking Class, Taste Hungary
WHERE: Budapest, Hungary
You won't regret signing up for the baking class offered by Taste Hungary, especially after your first heavenly mouthful of Dobos torte, a sky-high sponge cake layered with chocolate buttercream and crowned with soft caramel. You'll learn to make this iconic dish as well as yeasted, bite-sized biscuits called pogácsa, in Budapest's oldest family-run bakery. A perfect afternoon activity, this four-hour course is as rich in butter and sugar as it is in Hungarian culinary history.
Price: $150 (USD)
PLAN YOUR TRIP: Visit Fodor's Guide to Budapest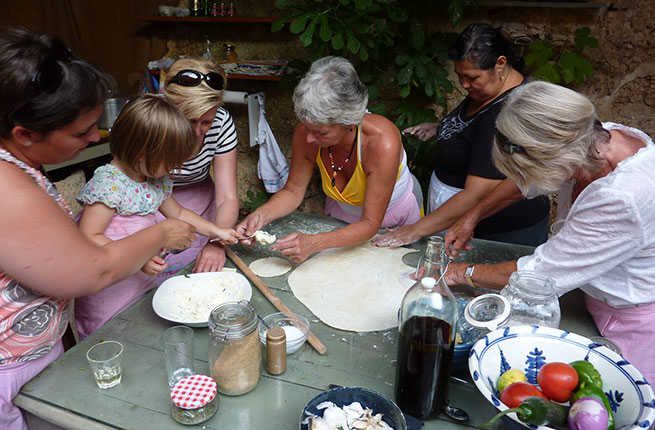 Vamos Traditional Village Dookustudio
Cretan Traditional Cooking, Vamos Traditional Village
WHERE: Vamos, Greece
Located in a 19th-century stone house in northwestern Crete, Vamos Traditional Village is a cooking school where time slows down and rustic Mediterranean cuisine takes center stage. At the helm is Koula Barydakis, a cheery local woman who treats visitors more like houseguests than students. Having authored a cookbook on Cretan cuisine, Barydakis is a proud authority on local recipes like dakos, nutty rusks topped with tomatoes, fresh herbs, and crumbled feta, and kalitsounia, sweet cheese turnovers drizzled with honey—both of which are on the menu in her Cretan Traditional Cooking class.
Price: €55
PLAN YOUR TRIP: Visit Fodor's Guide to Greece