(c) Littleny | Dreamstime.com
Farmers markets used to be frequented only by chefs stocking up on fresh ingredients, or locals looking for their weekly produce supply. All that has changed, however, because travelers now flock to these markets to sample the best a region has to offer, including fruits, vegetables, and herbs as well as locally made treats and pastries. From a Portland farmersmarket that features fresh cuts of free-range bison and yak, to a small New England market with samples of sweet Vermont maple syrup, travelers will delight in these markets' fresh, seasonal offerings.
by Emily Wasserman
Held every Saturday on Portland State University's campus, Portland Farmers' Market brings together more than 150 of the region's best farmers and producers to offer fresh, homemade wares. Visitors can find everything from French and Italian chestnuts, to cuts of free-range bison, yak, and boar. Show up early on Saturday for a taste of Enchanted Sun's New Mexico breakfast burritos, or grab an organic crepe as you browse the stands. In peak season, the market features produce like plump organic raspberries and crisp Asian greens, and local chefs stop by to stock up on colorful fruit and vegetables.
PLAN YOUR TRIP: Visit Fodor's Portland Guide
(c) Littleny | Dreamstime.com
In the midst of New York's hustle and bustle is Union Square Greenmarket, an outdoor oasis with a diverse selection of products. The market was founded in 1976, and boasts 140 regional farmers, fishermen, and bakers. Shoppers can purchase freshly picked fruits and vegetables, farmstead cheeses, and artisan breads, or choose from a selection of cut flowers, wine, and jam. Don't miss the market's live cooking demonstrations by popular local chefs.
PLAN YOUR TRIP: Visit Fodor's New York City Guide
(c) Asterixvs | Dreamstime.com
A giant red "Public Market Center" sign announces Pike Place Market, one of the nation's most popular produce venues. Located at the end of a cobblestone street, the market features fresh wares from more than 80 Washington farmers. Local Seattle chefs give cooking demonstrations, and visitors can chat with farmers about seasonal products. Vendors offer everything from foraged food like mushrooms and huckleberries, to farm crafts like beeswax candles and lavender body butter.
PLAN YOUR TRIP: Visit Fodor's Seattle Guide
As one of the country's largest farmers' markets, the Santa Fe Farmers' Market does not disappoint. The year-round market includes more than 150 active vendors, and features hundreds of locally grown products with a distinctly Southwestern flavor. Visitors can find everything from sweet corn and chile Amarillo, to buffalo sausages and mesquite cactus honey. During planting season, stop by the market's nursery to browse vibrant potted flowers and herbs.
PLAN YOUR TRIP: Visit Fodor's Santa Fe Guide
Charleston Farmers' Market
Located in the heart of downtown, the Charleston Farmers' Market attracts a continuous stream of locals and visitors. The market is open every Saturday from April to December, and offers shoppers a taste of fresh, Lowcountry food and produce. Juicy blueberries, grass-fed beef, and flavored local pecans are just a few of the wares you can find at the market, which offers a wide variety of fruits, vegetables, herbs, and cheese. Visitors can take home a bag of freshly caught shrimp, or choose colorful, cut flowers to adorn their table. Don't leave the market without sampling a dish from a local vendor. Cool off with artisan ice cream from Scoop Love Ice Cream, or try the shrimp and grits from Tasty Brunch.
PLAN YOUR TRIP: Visit Fodor's Charleston Guide
Among the wealth of California farmers' markets, the Davis Farmers' Market stands out as one of the state's gems. Sprawled across a third of a five-acre park, the market features a growing number of local vendors and a friendly, convivial atmosphere. Visitors can browse stands with certified organic produce and baked goods, or stop by Fat Face on Saturday mornings for breakfast sandwiches and popsicles. On Wednesday nights, the market hosts a Picnic in the Park event with music, farm-fresh food, and family-friendly activities.
PLAN YOUR TRIP: Visit Fodor's Davis Guide
Chicago is known as one of America's food Meccas, and Green City Market is where the foodies go to shop. Every year between May and October, the market's 55 stalls tempt visitors with sustainable produce and delicious, locally made food. Shoppers can take home fresh baguettes from a popular North Shore bakery, or stock up on vegetables and herbs from neighboring farms. The market also boasts unusual finds, like luxury organic whiskeys from a local distillery and elk meat from a family-owned Wisconsin ranch. During the winter months, the market moves inside to the nearby Peggy Notebaert Nature Museum's South Gallery.
PLAN YOUR TRIP: Visit Fodor's Chicago Guide
Ferry Plaza Farmers' Market
Spanning both indoor and outdoor venues, Ferry Plaza Farmers' Market is located on the San Francisco Bay and features a rotating list of vendors and specialties. The market is open three days a week, and each day offers its own theme; visitors can pick up organic produce on Tuesdays, or sample artisanal street fare on Thursdays. Celebrated local chefs and home cooks flock to Ferry Plaza to stock up on produce and specialty ingredients, such as Tahitian pomelos, locally foraged mushrooms, and cactus pears. Try to get there early; with 25,000 shoppers visiting each week, the market tends to get crowded.
PLAN YOUR TRIP: Visit Fodor's San Francisco Guide
Santa Monica Farmers' Market
Head to downtown Santa Monica on Wednesdays, Saturdays, and Sundays for the city's illustrious Farmers' Market. More than 75 farmers offer fresh, local produce, and each week a local restaurant features it wares at an outdoor stall. L.A. chefs have taken note, and come to the market to stock up on ingredients like Rainier cherries and snow peas. End your market-going experience with a glass of freshly squeezed juice; a popular favorite is the blood orange juice.
PLAN YOUR TRIP: Visit Fodor's Santa Monica Guide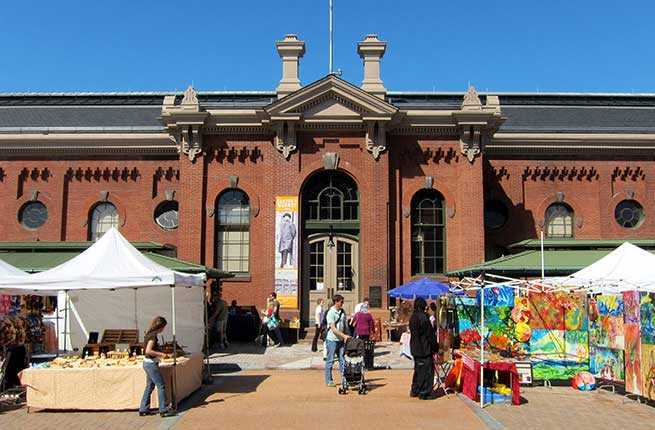 By AgnosticPreachersKid (Own work) [CC-BY-SA-3.0 (http://creativecommons.org/licenses/by-sa/3.0)], via Wikimedia Commons 11.) St. Paul Farmers' Market, St. Paul, Minnesota:
Honeycrisps
by
Attribution-NonCommercial License
Located in the heart of D.C.'s historic Capitol Hill neighborhood is the Eastern Market, a food and arts venue that attracts both locals and tourists. Visitors step inside South Hall Market to find fresh produce, flowers, and baked goods, or stop by on Saturday or Sunday for the Weekend Farmers' Line, an open-air venue with fruits and vegetables from local farmers. In addition to grass-fed meats, seafood, produce, and pasta, shoppers can also browse more than 100 stalls with handmade arts, crafts, and jewelry. Special items include African masks and giraffes made out of aluminum cans.
PLAN YOUR TRIP: Visit Fodor's Washington, D.C. Guide
Locavores will rejoice at St. Paul Farmers' Market, as all produce is required to be grown within a 50-mile radius of the market. Only the freshest seasonal fruits and vegetables are displayed, and visitors can talk with vendors to learn more about their produce's origins. Popular spring and summer wares include red rhubarb, green lettuce, fresh flowers, and vegetable seedlings to start your own garden. For those who want a quick snack, don't miss the fresh Vietnamese spring rolls, bagel sandwiches, and tuna empanadas.
PLAN YOUR TRIP: Visit Fodor's St. Paul Guide
Visitors can escape the Atlanta heat at Sweet Auburn Curb Market. Located on the eastern edge of the city's downtown area, the market features more than 20 vendors who offer everything from fresh produce, meat, and seafood, to baked goods, like sweet potato cheesecake. Stop by for lunch to sample food from the city's popular restaurants, including Bell Street Burritos, Sweet Auburn BBQ, and Arepa Mia's Colombian arepas.
PLAN YOUR TRIP: Visit Fodor's Atlanta Guide
Dane County Farmers' Market
Madison's Dane County Farmers' Market boasts the title of the largest producer-only farmers' market in the U.S., and the market lives up to its reputation. Held outside Wisconsin's State Capitol on Wednesdays and Saturdays from April to November (and indoors during the winter), the market brings together the best of state's urban and rural cultures. Visitors can sample the famous Wisconsin cheese curds, or pick up a bottle of red or white wine to pair with dinner. Show up early for a more leisurely shopping experience, as the market tends to get crowded as the day goes on. On your way out, try a slice of Stella's Hot and Spicy Cheese bread—a sinful blend of red pepper, chives, cheeses, and sweet dough.
PLAN YOUR TRIP: Visit Fodor's Madison Guide
Crescent City Farmers' Market
New Orleans' Crescent City Farmers' Market does not disappoint, as foodies and professional chefs head to the downtown market every Saturday morning to stock up on locally grown wares and freshly prepared foods. Products vary by season, with citrus fruits and rutabagas making an appearance in the winter, and seafood like blue crabs and catfish turning up during the summer months. But shoppers can find an impressive selection of local offerings year round, including alligator sausage, Creole cream cheese, Bloody Mary mix, and hand-made chocolates.
PLAN YOUR TRIP: Visit Fodor's New Orleans Guide
Burlington Farmers' Market
For an intimate shopping experience with fresh, local food, look no further than Burlington Farmers' Market. Held every Saturday from late spring through autumn in the city's historic downtown area, the small market gives off a quintessential New England vibe. Visitors can pick up samples of granola, bread, and Vermont maple syrup, or satisfy their appetite with samosas or fresh pastries. For those who want a change of pace, artisans and craft vendors offer flower arrangements, paintings, and handmade wares at affordable prices.
PLAN YOUR TRIP: Visit Fodor's Burlington Guide