Barbecue is thought to have originated in the Caribbean, where pirates and explorers (many of whom were from Spain where the jamon traditions ran deep) traveled around the islands, cooking their meals on wooden platforms resting over open fire pits. Pigs were often the meat du jour as the animals were more portable and adaptable to island life (as opposed to cattle). Barbecue eventually made its way north to America, and the 19th century saw the popularization of the practice, which by then had become commonplace in parts of the South.
Although the term "barbecue" is widely used to describe any occasion of backyard meat grilling, a more accurate description of the technique is any meat that has been cooked for a lengthy period of time (ranging between 4-18 hours) over low, indirect heat. The differences lie in the particular animal, the cut of meat, the type of wood (and therefore smoke) used to impart flavor, the cooking time and temperature, the preparation of the meat, and the accompanying spices, rubs, or sauces.
For as much as barbecue brings people together at picnic tables across the country, there are also some historical influences and regional distinctions that inspire a bit of friendly (and delicious) competition between the masters of 'cue, which for the rest of us, results in a tasty variety of flavors and styles to sink our teeth into. Here's a rundown of America's best BBQ and where to find it.—Sarah Siyufy
Erica Ellis/Franklin Barbecue
Everything really is bigger in Texas, especially the size of the state itself, which is why Texas contains four distinct variations of barbecue according to region. Central Texas is home to the style that is most commonly referenced when talking Texas 'cue, and for good reason. Slow and low brisket is the ticket, and despite the popularity of sauces, Texas brisket speaks for itself without a sauce in sight. Oak coals smoke their flavor right into the tender meat, which is seasoned very sparingly. Home of the world famous Texas steer, if there is ever a good cut of beef to be found in America, chances are good it's in Texas. In addition to brisket, homemade sausage and beef short ribs are often on the menu.
The other parts of Texas have a style all their own, influenced by their neighbors. In South Texas, Mexico lends a hand in the form of barbacoa. East Texas features chopped beef while in West Texas the style is more akin to traditional grilling, cooking meats over direct and high heat.
Side dishes also have their own regional flare, and in Texas one can expect potato salad with a hint of mustard, dill pickles, baked beans (sans sweetness), raw onion, white bread, and cabbage cole slaw.
Where to Get It: While the original Black's BBQ is located in Lockhart, about a 45-minute drive from Austin, there's also a spot in the city. A beef rib might clock in around 30 pounds, and the lunch buffet will leave little room for dinner. The line at Franklin BBQ in Austin forms four hours before the place even opens, and although that may be a deterrent for some, the brisket and banana cream pie are more than worth it.
PLAN YOUR TRIP: Fodor's Texas Guide
David Shaughnessy
Barbecue in Kansas City has been going strong since the early 1900's when a man named Henry Perry served his dry rub from the depths of his inner city pit. Regarded as the "world's barbecue capital" to those in Missouri, Kansas City is a meat lover's dream, where the local pit masters will dry rub everything in sight, including beef and pork ribs, grilled or smoked chicken, pulled pork, smoked sausage, brisket, and smoked turkey. Meats are cooked with a dry rub but sauces are served generously and offered in a range of varieties; most recipes include tomato and molasses for a tangy sweet flavor and thick texture.
A Kansas City specialty known as the "burnt ends" consists of the charred tips of smoked beef or pork brisket which prove to be a crispy and flavorful side dish or satisfying contents of a sandwich.
Where to Get It: Gates Bar-B-Q may have a long line but it moves fast, as everyone is eager for their signature sauce and the burnt ends from Gates' hickory wood fire. BB'S Lawnside Barbecue serves up the good stuff with a live blues band accompaniment and plenty of cold beer to wash down those saucy pork ribs.
PLAN YOUR TRIP: Fodor's Kansas City Guide
A Tennessee barbecue is essentially a pork party. Pork ribs, pulled pork, and pork butt are cooked very slowly over a low-temp hickory wood fire, resulting in a meat so tender it can't even manage to keep itself on the bone. It's seasoned with either a wet or dry paprika-based rub before the smoking begins. The sauce is vinegar- and tomato-based and tends to be on the thinner side, but for sauce lovers, it will do just fine.
Don't let the pork overshadow the side dishes, which range from local specialties like wood-grilled green beans and fried okra to old favorites like barbecue baked beans and mustard coleslaw.
Where to Get It:Not only loved by locals, Central BBQ slings their sauces and spices across state lines to satisfy their legion of hungry fans. Meats abound at this joint, so everyone can try their favorite meat Central BBQ-style.The dry rub ribs at Charlie Vergos Rendezvous are the stuff of legends, and the Vergos family has been luring hungry rib-lovers into their back alley basement eatery in downtown Memphis since 1948.
PLAN YOUR TRIP: Fodor's Memphis Guide
Greenville-Pitt County Convention & Visitors Bureau
Barbecue enthusiasts rejoice, for North Carolina claims to offer two distinct styles of 'cue from east to west. The Eastern style includes smoking the whole hog and then chopping it up into an unidentifiable mixture of light and dark meat served with a pepper and vinegar sauce. In the east, fried pork fat referred to ascracklin' is often served alongside a meal, adding a crispy texture and salty flavor to tender meats.
On the Western side of the state, more focus is given to the pork shoulder, and tomatoes and brown sugar are added to the vinegar sauce and served on the side as "dip" used for dunking. The specialty in the west is to caramelize the skin, creating a crispy layer that surrounds the juicy meat.
The sides vary as well, and in the east, the slaw is lightly dressed with mayo, vinegar, and pepper, while in the west, slaw is finely minced with no mayo in sight, dressed in vinegar with a bit of tomato ketchup for a tangy zip. This slaw can sometimes be found tucked within a pulled pork sandwich.
Where to Get It: Located 30 minutes south of Greenville in Ayden, North Carolina is Skylight Inn, one of the few remaining BBQ joints still using the old-fashioned method of slow smoking overnight using nothing but wood. Stick with the pork, cornbread, and vinegar slaw to get a taste of traditional Nor Car 'cue. Still the mood for seconds? Lexington BBQ or Wilber's will not disappoint.
PLAN YOUR TRIP: Fodor's North Carolina Guide
In South Carolina, whole hogs smoke for an entire day on very low heat, making pork the meat of choice.
South Carolina lies within the "mustard belt" (by far the most appealing of all belts) and the German immigrants who settled there made their contribution to 'cue in the form of a pungent mustard-based sauce that is sometimes referred to as "Carolina Gold." For those prefer to hold the mustard, additional sauces such as vinegar and pepper, light tomato, and heavy tomato are also in rotation.
South Carolina barbecue is often served at an All-You-Can-Eat buffet, eliminating the need for any difficult decisions. The buffets are also known for serving up some darn good fried chicken (technically not barbecue but who complains about fried chicken?)
Where to Get It:Pit masters at Sweatman's BBQ spend the entire week smoking hogs and making sides for a knock out weekend-only buffet where no item should be left untasted. Go hog wild on their selection of mustard sauces in varying shades of yellow.
PLAN YOUR TRIP: Fodor's South Carolina Guide
LP Creative Studio
St. Louis loves barbecue, and consumes more of it per capita than anywhere else in the nation. The style on this side of Missouri is to grill then sauce (as opposed to dry-rub then slow-smoke). The sauce is similar to Kansas City in that it is a sweeter tomato-based concoction that varies from thick to thin and tangy to spicy.
The St. Louis-style rib is the city's claim to fame, which is a rack of spare ribs that have been trimmed to form a rectangular slab of meat. These trimmings do not go to waste, however, and reemerge on the menu as rib tips. Don't miss the thin-cut pork shoulder steak that is prepared in one of two ways: seared and then smoked, or simmered with a flavorful sauce in a slow cooker. Another local delicacy is called snoots, which are bite-sized pieces of pig snouts and jowls that have been grilled or deep fried. Snoots are crispy on the outside but soft on the inside, and every order is made fresh and comes to the table piping hot, often served as a side to be dipped in hot sauce or on a sandwich.
Where to Get It: Although Pappy's Smokehouse is a Memphis-style joint, St. Louis locals more than approve of their cherry wood or sweet apple smoked 'cue.
PLAN YOUR TRIP: Fodor's St. Louis Guide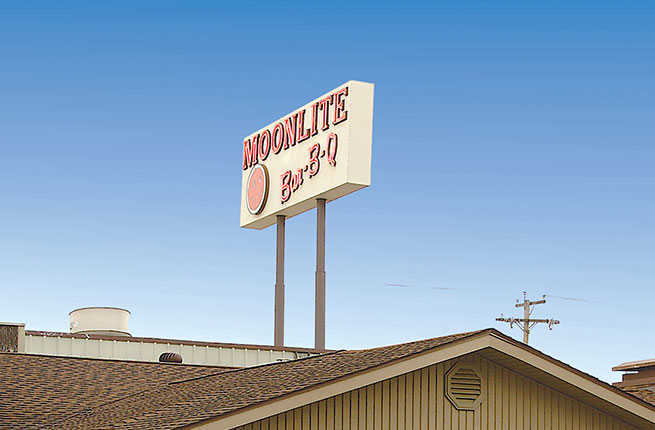 Moonlite BBQ
Kentucky-style is not as well-known as many others, but it is in a class all its own. While Eastern Kentucky is more pork-based and follows the lead of neighboring North Carolina, there is a pocket in the western region of the state where mutton is on the menu. Kentucky barbecue mutton (meat from a mature sheep) is served pulled or chopped on a sandwich made of toasted bread and topped with dill pickles, raw onions, and a tangy sauce. For an extra special Kentucky barbecue experience, look for burgoo, a mutton and vegetable stew that is only found in a handful of places.
Where to Get It: Head to Owensboro for a mouthful of Kentucky's finest mutton (and many other meats) slow cooked at Moonlite Bar-B-Q Inn's custom-built hickory fired pits.
PLAN YOUR TRIP: Fodor's Kentucky Guide
As Chicago in the mid-20thcentury experienced an influx of Mississippi Delta residents and an uptick in slaughterhouses, conditions were ripe for Chicago's own style of barbecue to emerge.
Ribs, hot links, and fried chicken are the staples of Chicago's own BBQ style. Ribs are smoked with wood coals or charcoal but for a shorter period of time, giving them a firmer texture that sticks to the bone. "Fall-off-the-bone" can be a point of contention for Chicago's BBQ enthusiasts, with some arguing that the soft textured meat is far too gelatinous for their taste.
Although Chicago takes a cue from their neighbors in St. Louis, Chicago-style barbecue has an identity all its own. In addition to ribs, the trimmings from St. Louis-style ribs have taken off in Chicago where the locals have grown especially fond of rib tips. Born out of the desire to not waste any precious pig, rib tips yield a delightfully flavorful meat.
One very distinct feature of Chicago barbecue is the cooking vessel: a large, rectangular smoker that is akin to an aquarium due to the plexiglass construction. This see-through smoker allows pit masters (and hungry carnivores) to closely monitor the smoking process. Meats are placed on metal racks within the smoker andheated by hickory logs resting at the bottom.
Where to Get It: Started by the Lemons brothers in 1954, Lem's Bar-B-Q's rib tips and hot links were born and bred in Chicago's South Side. Honey 1 BBQ is where Texas meets Chicago, and is the go-to spot for those who like their ribs to slide off the bone.
PLAN YOUR TRIP: Fodor's Chicago Guide
VisitStPeteClearwater.com
Florida's barbecue style is less defined, but that doesn't mean they aren't serving up some mouth-watering meats. Regions in Florida add their own spin, owing some of their inspiration to Cuban and Caribbean influences. Traditional southern style merges with the islands through the uses of citrus flavors such as orange and lemon to preserve and marinade the meat. The Cuban tradition of smoking an entire pig by cooking it for 12 hours in an underground oven yields tender pork with hints of citrus and garlic. Jamaican Jerk chicken finds its way into a Florida barbecue, due to the alluring spicy, smoky, and sweet flavors of this distinctive dry rub.
Smoked mullet, sometimes referred to as Southern Lox, has been a popular dish for generations in the northern Gulf Coast region. However, the unappealing name does little to whet appetites around the country. In coastal Florida communities, smoked mullet is often served in a dip with crackers, or fried with grits and hush puppies.
Where to Get It: Ted Peters Famous Smoked Fish in St. Petersburg has been smoking mullet for over 65 years for Florida natives and mullet-hungry tourists. To experience an authentic Cuban Pig Roast, well, you're going to need an invite.
PLAN YOUR TRIP: Fodor's Florida Guide
Visit Baltimore
Maryland is known for its pit beef, which is not technically barbecue, nor is it cooked in a pit. Pit beef is a regional specialty in which a lean top roast is seasoned, grilled over charcoal, and then sliced to create one darn good roast beef sandwich.
The method for making pit beef is what disqualifies this meat from barbecue status, since the meat is not smoked over indirect heat and instead cooked directly on a grill. Regardless, pit beef is particular to Maryland and Baltimore, and pit beef shacks can be found across the state for sandwich lovers to enjoy. Pit beef can be more of an acquired taste, as it is often served extremely rare. Sandwiches are usually dressed with mayo, horseradish, and raw onions.
Where to Get It: Juicy since 1987, the pit beef at Chaps Pit Beef is grilled with wood and topped with their signature sauce for a unique pit beef. For more traditional BBQ inspired by the Memphis style and smoked over hickory logs, try some of Baltimore's best pulled pork, brisket, chicken and ribs At Andy Nelson's.
PLAN YOUR TRIP: Fodor's Maryland Guide