Bet you thought we didn't have the guts to run this article. But this list is going tibia okay.
If you find the idea of buildings decorated with human bones to be rib-tickling fun, or at the very least humerus in nature, then we have an intriguing list of places for you. And while you might have a bone to pick with us about our excessive use of skeletal puns (trying to keep the creepy vibe to a minimum here), they do seem appropriate when speaking about catacombs, charnel houses, churches, ossuaries, and other global sites built out of, or at the very least filled to the brim with, human remains. This is the perfect opportunity for you to bone up on what you know about cadaver-based architecture. OK, we'll stop with the puns—for now.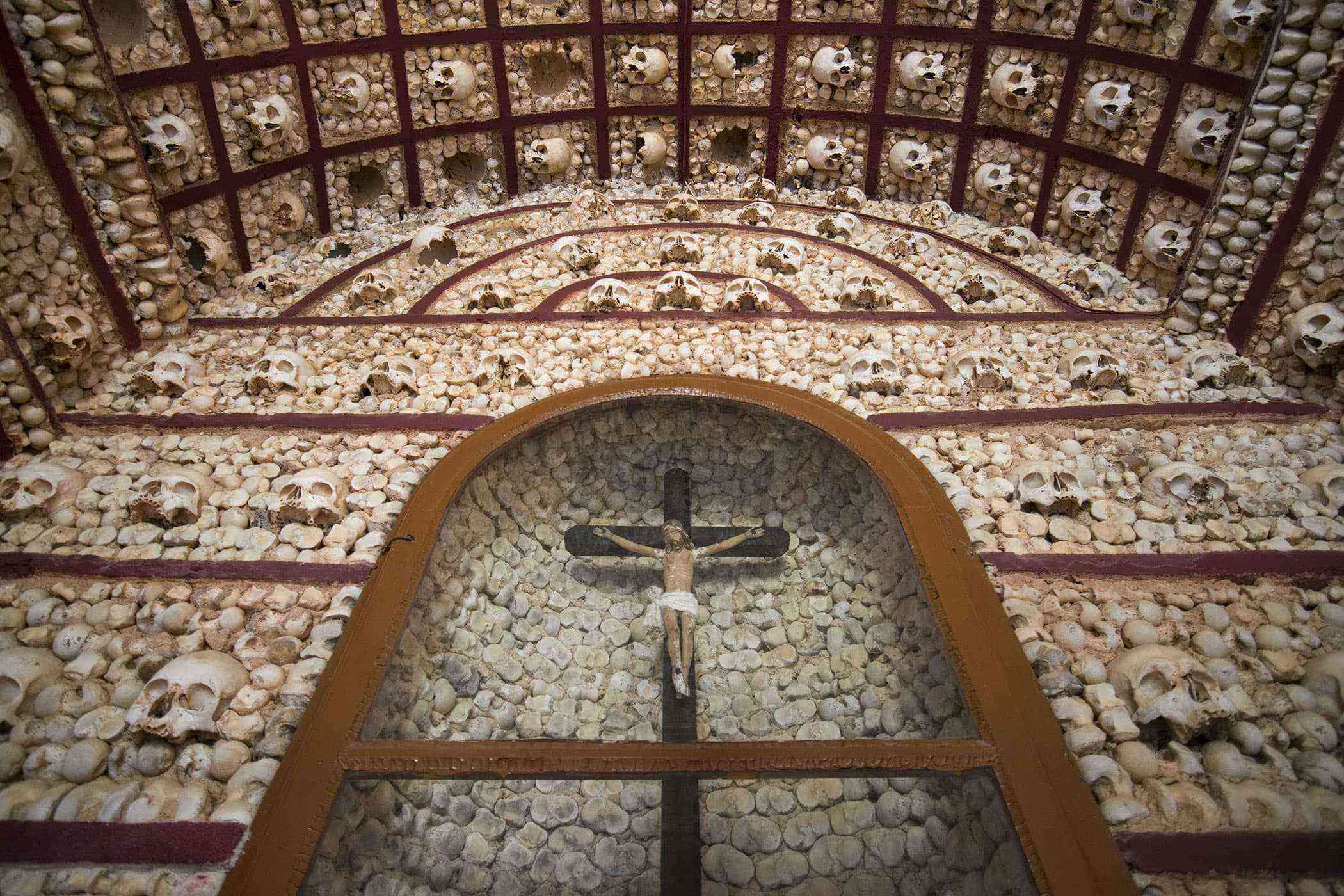 PHOTO:
Presse750 | Dreamstime.com
The Capela dos Ossos, or Chapel of Bones, in Évora, Portugal, is a great example of what builders can do when they have too many bones on their hands. In the 16th century, when space needed to be made in local cemeteries, skeletons were exhumed and then artfully incorporated into the very fabric of the chapel's walls and ceiling. It's a small space, but fans of skeletons won't be disappointed, as it's packed with the remains of the dead, numbering in the thousands.
INSIDER TIP
The Capela dos Ossos is located in the Igreja (church) de São Francisco, in Évora's UNESCO Historic Center, surrounded by other noteworthy historical sites, like the Igreja da Graça, worth visiting as well.
PHOTO:
Gandolfo Cannatella/Shutterstock
If you're after a bit of a thrill with a hefty dose of the macabre, the Capuchin Catacombs, situated in the Sicilian capital of Palermo, won't disappoint. Chock-full of thousands of desiccated, well-dressed corpses (appearances need to be kept up even in the afterlife, apparently), the catacombs got their start in the 1500s as a final resting place for monks who had passed. Later in the century, when the bodies were exhumed, the Sicilians discovered that the cadavers had been naturally mummified. And for centuries thereafter, a culture of mummification persisted. Those who could afford it, or were esteemed enough to be honored with the embalming process, were mummified—with an awful lot of them still hanging around today, more or less intact.
The Catacombs are open all year round, although are closed Sunday afternoons from "late October to late March."
PHOTO:
Fatima Flores via Wikimedia Commons, [CC BY-SA 4.0]
Convento de San Francisco
In Lima, the capital of Peru, in the lower levels of the Convento de San Francisco, tucked away inside the eerie ossuary, you'll stumble across an army of the dead. Tens of thousands of sets of human bones claim this dank abode as their deathly home. The catacombs below are stuffed with human skulls and bones, arranged in stacks and circular shapes throughout. The remains are visible in different rooms and in wells in the floor, which are covered by metal bars—presumably to keep you from falling in with the dead and adding to this Franciscan monastery's grim collection.
PHOTO:
Ross Brinkerhoff / Fodor's Travel
The dead live below the streets of Paris. Perhaps "live" is the wrong verb here, but if you sojourn down to the Catacombes de Paris, you'll have the opportunity to wander through old limestone quarry tunnels that now serve as catacombs for the City of Lights. The walls are stacked to the ceiling with skulls and bones, numbering around 6 million, which were placed there when the city decided to clean out its dangerous cemeteries (cave-ins and overcrowding) in the late 1700s.
The Catacombes, accessible from Place Denfert-Rochereau, are open from 10 am to 8 pm daily except on Mondays and on public holidays. It's a popular attraction, so budget some extra time to wait on line, especially on the weekend.
PHOTO:
Spectral-design | Dreamstime.com
WHERE:
The Czech Republic
The Sedlec Ossuary, nestled away in the Czech town of Kutna Hora, is another example of a religious monument cleverly adorned with human bones. The highlights inside this chapel include a massive bone chandelier, bone candelabras, bone chalices, a bone coat of arms (for the Schwarzenberg family), and bone monstrances. With more than 40,000 human skeletons on display, taken from a nearby cemetery (made sacred with dirt brought back from the Holy Land), the Sedlec Ossuary offers visitors an experience that is truly haunting, and beautiful.
INSIDER TIP
The ossuary, about an hour outside of Prague, is open every day of the year except December 24th.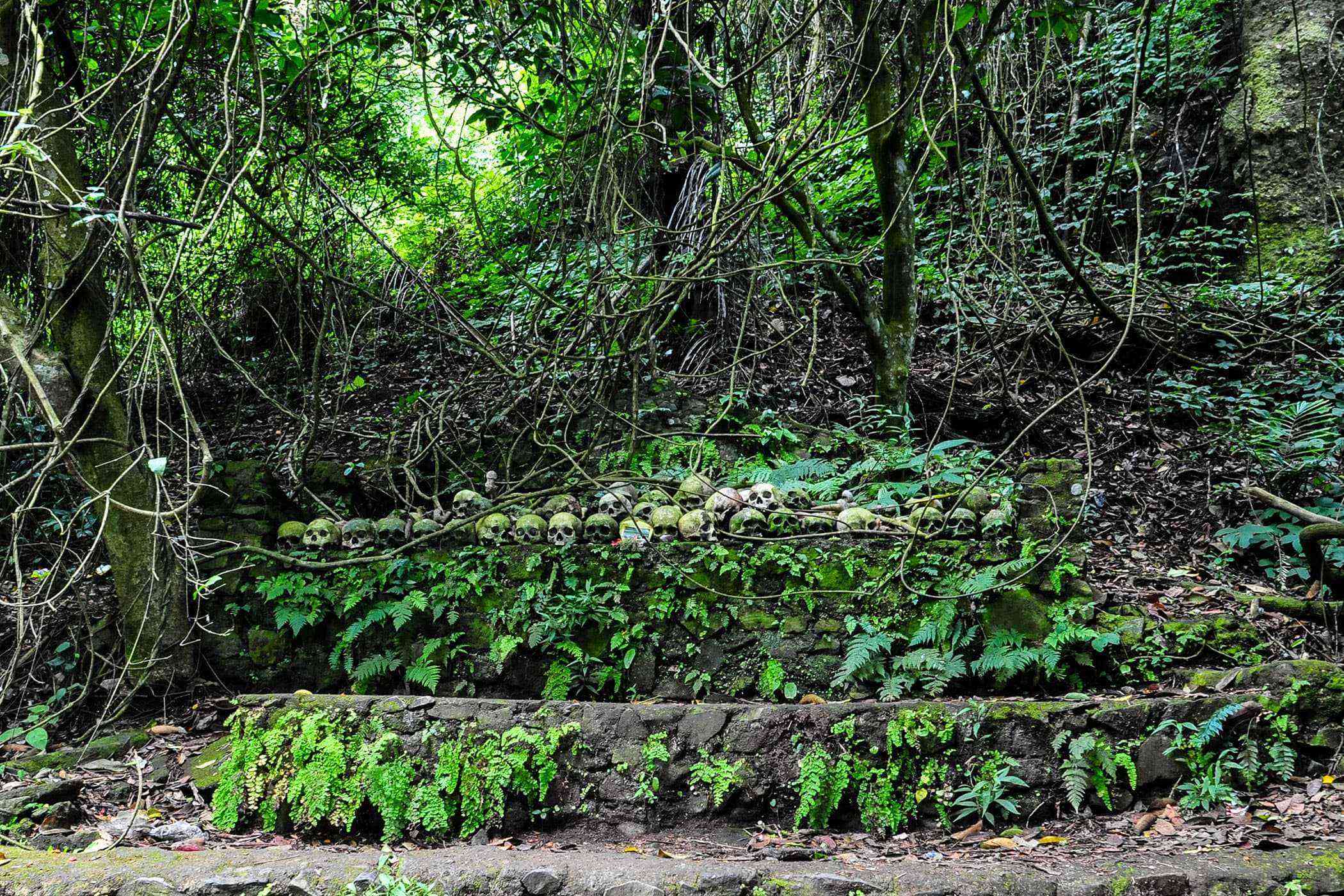 PHOTO:
Sertanyaman | Dreamstime.com
When local tradition dictates that you can't bury your dead, people have to find something else to do with all of those bones. In Bali, Indonesia, among some of the indigenous Bali Aga people, corpses are exposed to the elements to decompose. If you happened upon the cemetery in Trunyan—a village set against the shores of Lake Batur (a highland caldera lake)—and caught sight of the human remains left out in varying states of decay, you'd be in for quite a shock if you hadn't been warned ahead of time. The bones, once desiccated to a sufficient degree, are then arranged under a fragrant "magic" Taru Menyan tree to mask the smell of all of that rotting organic matter.
INSIDER TIP
You'll need to book a boat with a local to reach the cemetery. As tourism is big business here these days, be prepared to deal with aggressive touts offering a range of services at varying prices.
PHOTO:
Ross Brinkerhoff / Fodor's Travel
Given enough bones to work with, people, no matter where they happen to be, will try to do something creative with them. The Eggenburg Charnel, located cleverly enough in the small town of Eggenburg, Austria, is no exception to this rule. This charnel house (a vault for bones) serves as another example of how to skillfully stack skulls, femurs, tibiae, humeri and an assortment of other bones in a manner that's pleasing to the eye. Eggenburg Charnel, which is over 600 years old, hosts thousands of skeletal remains, which you can gaze upon at a distance, from above the charnel pit down to where all of those imaginatively piled bones lie.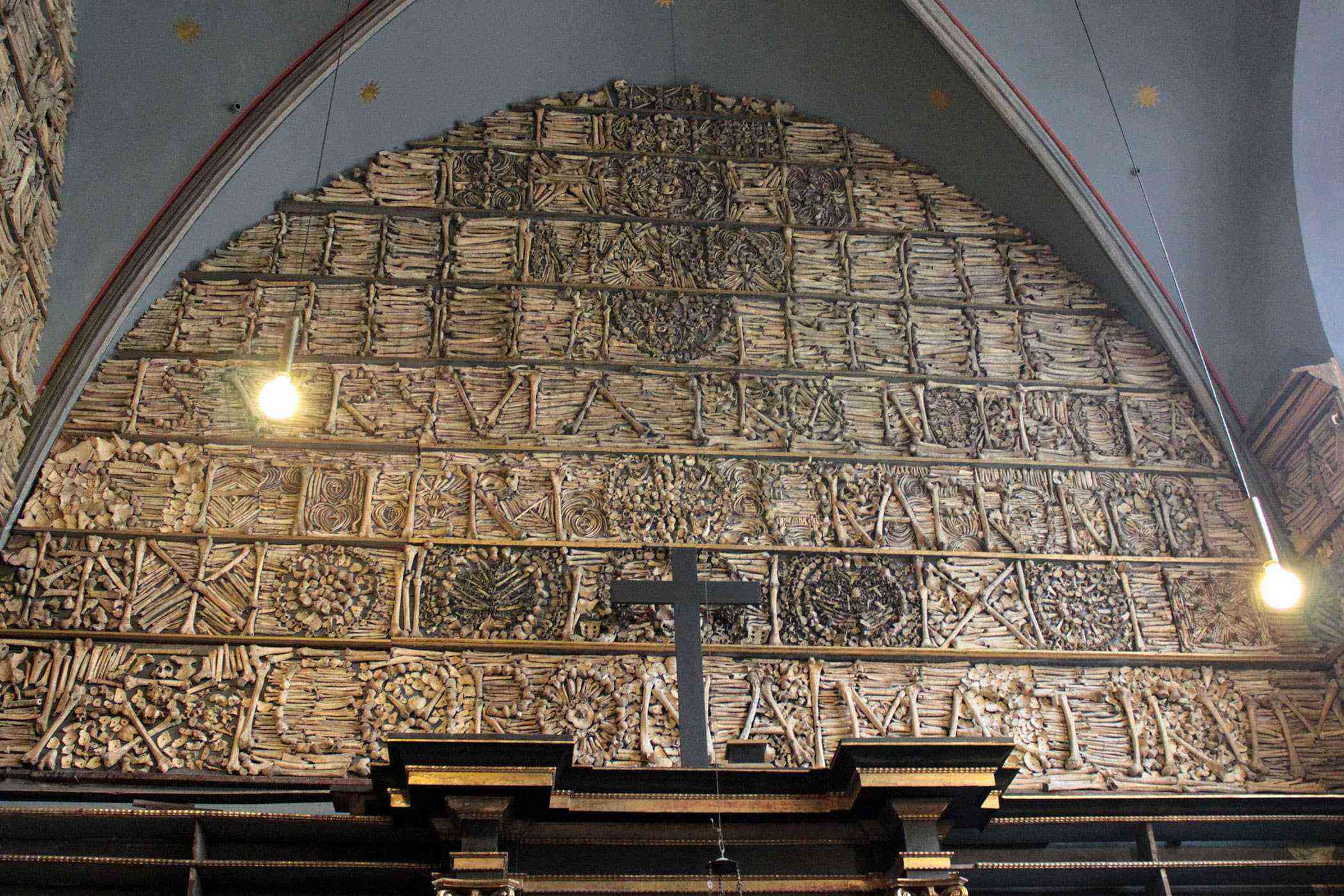 PHOTO:
Kevin Lakhani via Wikimedia Commons, [CC BY-SA 3.0]
The Basilica of St. Ursula
The Basilica of St. Ursula, in Cologne, Germany, houses the Golden Chamber, where the bones of St. Ursula and a whopping 11,000 virgins (probably a gross overestimate) are said to rest. Legend has it that St. Ursula and her accompanying virgins ran into the Huns on their way to Cologne and all met gruesome ends. Compared to other destinations on this list, the shallow surface patterns of human remains arranged across the walls of the Golden Chamber might be a bone of contention for fans of the macabre, hoping for stacks upon stacks of ingeniously exhibited bones. Even so, the tasteful skeletal splendor on display here is quite eye-catching, nonetheless.
Not to be left in the dust of its European neighbors, Poland offers up some bone viewing pleasure with Czermna's Skull Chapel. Like other human bone structures of its kind, thousands of bones adorn the ceilings and walls of this somber Baroque chapel, with a particular emphasis placed on skulls and tibiae. One detail of note is the fact that the remains come from souls who perished during the Thirty Years' War, the Silesian Wars, or succumbed to disease. The Kaplica Czaszek (Skull Chapel), assembled by the priest Vaclav Tomasek in the late 1700s, was built to help people reflect on death and salvation.
While Milan might be a premier fashion capital, it's also home to small church where the bones and skulls inside wear absolutely nothing at all (how immodest!). The ossuary was constructed in 1210 to house the bones from a nearby hospital cemetery, with the church coming later in 1269. The bones were used to adorn the walls of the chapel, giving this otherwise plain-looking church a spine-chilling (last bone pun, we promise) treasure inside, making a visit worthwhile.
INSIDER TIP
Once you're inside the church, make your way to the chapel (follow the sign) deeper inside, where the holy bone art is on display.