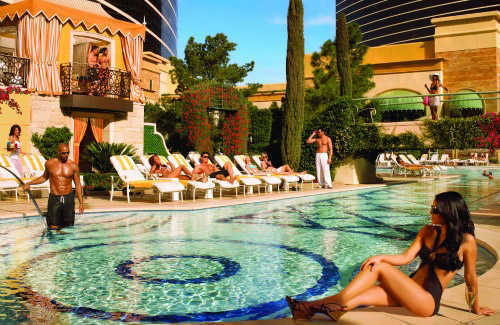 Courtesy Wynn Las Vegas
You, a lounge chair, and a tropical drink with an umbrella. Sound like paradise? Then plant yourself poolside in Sin City. Las Vegas might just be America's coolest landlocked beach resort. Swimming pools can be just as over-the-top as the Strip sidewalk shows: fringed with lush landscaping and tricked out with wave machines, swim-up bars, ultraquiet misting machines, and wild water slides. Or they can be snazzy affairs—think private cabanas, which range in price from about $40 to $500 a day. Tip: If swimming and sunning are important to you, book your stay at a hotel with a great pool.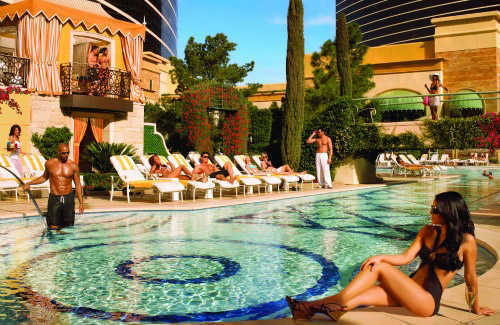 Courtesy Wynn Las Vegas
Wynn: Immerse Yourself in Luxury and Privacy
Top Pool Pick: This ultra-private, two-tier spread is actually three pools in one. The main pool—available to all guests— is shaped like a dumbbell; the middle serves as an excellent lap pool. On the second level, VIP Tower Suite guests have access to separate pools, which are connected by a bridge. On both levels, polite staff members tend to your every need, from Evian spritzing to all the fresh ice water you need. Cabanas chock full of amenities (including video games!) also are available for daily or weekly rentals. The Cabana Pool, a separate pool at the south end of the main hotel's pool complex, feels more like a nightclub than a swimming pool, and many women aren't wearing tops. During the day, a DJ spins techno and 80s tunes at the nearby Cabana Bar. If you prefer, try out the bar's poolside blackjack tables. No matter how you spend your afternoon, there are no wacky water slides, no distracting rafts or inner tubes, no craziness whatsoever—just supreme calm. Hotelier Steve Wynn wouldn't have it any other way. Wynn hotel review
Perks We Love: Chilled towels, poolside gambling, absolute exclusivity, solicitous attention
Courtesy Hard Rock Hotel & Casino
Hard Rock Hotel: Party with the MTV-Crowd
Top Pool Pick: No pool in town, especially after its 2008 expansion, has a more happening scene than this one. The Hard Rock throws fabulous pool parties and bears an uncanny resemblance to that Polynesian beach hideaway you've always dreamed about. The Hard Rock has buckets of soft sand, both in the two pools and in its lushly landscaped Beach Club. And lest you miss the pulse of the music while you're swimming laps, there's even a high-quality underwater sound system. Grab a colorful cocktail at Palapa Lounge, with its Indonesian vibe and tropical waterfalls. Feeling lucky? Hit the swim-up blackjack and craps bar. The cabanas are in keeping with the Polynesian vibe—they're gussied up to resemble Tahitian huts, with thatch roofs and rattan chairs. Predictably, the Hard Rock caters to a young-adult crowd of hipsters and bon vivants in their 20s and 30s. If you're outside this demographic, you may feel a bit like a fish out of water. Hard Rock Hotel review
Perks We Love: Underwater music, four Jacuzzis (more than most properties), swim-up gaming, the Palapa Lounge.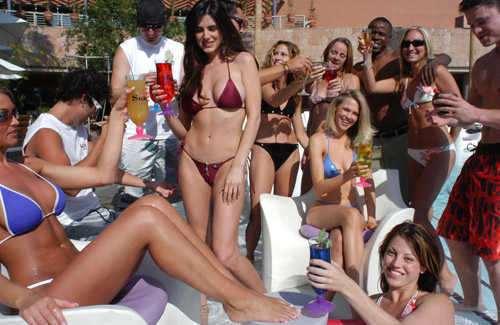 Courtesy Palms Casino Resort
The Palms: Play Without Reservations
Top Pool Pick: As part of The Palms' new tower—dubbed Palms Place—the resort recently dumped $40 million into its pool area to make it bigger and better. The new three-acre complex, which is open to the public (weekdays 9 am to 6 pm), has three separate pools, all of which are fed by waterfalls and boast colorful underwater lighting. Hands down, the best feature is the triangular Glass Bar, set cleverly under a glass-bottomed pool deck. In this area, modern spins on traditional tropical drinks like margaritas and mojitos are popular, and the menu (created by N9NE Steakhouse's executive chef) features delectable high-end poolside fare such as rock-shrimp quesadillas and Waygu beef hamburgers. If you want to go all out, book one of the 27 cabanas or bungalows, which are outfitted with high-end sound systems, plasma TVs, and swank furnishings. A handful of bungalows have their own lap pool, double-sided fireplace, bedroom, and lawn. For some, it seems, decadence knows no bounds. The Palms hotel review
Perks We Love: Poolside massages, swim-up blackjack, Astroturf, live concerts on weekends, views of the Spring Mountains.
Courtesy MGM Resorts International
Mandalay Bay: Soak Up Even More of the Sun
Top Pool Pick: The Mandalay experience includes an 11-acre beach spread with a huge wave pool (where else in town can you surf waves that rise as high as 6 feet?), a Euro-inspired topless pool with plush daybeds called the Moorea Beach club, a meandering river, and some of the cushiest cabanas in town. The beach is piled high with a couple thousand tons of California-imported golden sand, which feels just perfect between the toes. You can raft along the river, admiring the verdant foliage. After the sun sets, the beach becomes one of the city's hottest nightspots, attracting buffed and bronzed partyers for cocktails, music, and mingling. There are also two casual restaurants and a casino right by the beach. A huge soundstage overlooks the wave pool, hosting concerts by a wide range of rock and pop acts all summer long. The one complaint we have? It's relatively short on personal service and amenities. Mandalay Bay hotel review
Perks We Love: The comfy daybeds at Moorea Beach, sand—lots of it, the lazy river, the best outdoor concert venue on the Strip.
Courtesy MGM Resorts International
The Mirage: Float in a Tropical Oasis
Honorable Mention Pool: If you prefer a shaded, tropical spread, check out the verdant pool area at the classy Mirage. The two main pools are connected through a series of dramatic lagoons and waterfalls. The Mirage won't wow you with nonstop activities or goofy gimmicks—it's just a handsome, well-maintained pool that's ideal whether you're a serious aficionado or a toe-dipping dabbler. Lounge chairs are outfitted with comfy mesh sailcloth. The cabanas are chichi here, with teak chairs and high-end entertainment systems. The Mirage hotel review
Perks We Love: Chaise lounge reservations, flat-screen TVs and BOSE Wave stereos in the cabanas, ample misting coverage, above-average chow in the poolside café and bar.
Courtesy Harrah's Entertainment Inc.
Caesars Palace: Do Laps in Neptune's Pool
Honorable Mention Pool: The ancient Romans revered water for its healing powers, and they built sumptuous public baths amid fragrant gardens, exercise areas and playing fields. Caesars Palace has recreated those glorious havens with its 4.5-acre Garden of the Gods Pool Oasis, which is comprised of four pools and two whirlpool spas. Surrounding each pool are rental cabanas and ample room for sunbathing; the Neptune Pool is ideal for laps. A poolside bar serves up cold treats, as well as a full food menu. Caesars Palace hotel review
Perks We Love: Topless sunbathing at the Venus Pool, handheld face spritzers, Snackus Maximus (a.k.a. the snack bar), all those Corinthian columns.
Courtesy Harrah's Entertainment, LLC
Flamingo Las Vegas: Swim in the Strip's Center
Honorable Mention Pool: The Flamingo may have lost its luster, but its pool is one of the best around. Take a dip in Bugsy Siegel's original oval-shaped pool, play swim-up blackjack, explore waterfalls in the lagoon pool or swim beneath stone grottoes not unlike those at the Playboy Mansion (sorry, no naked women here). Throughout the entire pool area, real penguins, swans, and pink flamingoes roam free. Average pool furniture is on the cheap side, but it's Vegas—you can always pay to upgrade. Flamingo hotel review
Perks We Love: Ample supply of rafts and pool toys, separate kiddy pool with waterslides, exclusive cabanas.