Hotel Caruso courtesy of Orient Express Hotels & Resorts
When the mercury rises, travelers love to know that a great (and even decadent) swimming pool awaits them. And while most hotels and resorts have a pool (or several), some are simply way cooler than others. Here are 20 top places to plunge.
Hotel Caruso courtesy of Orient Express Hotels & Resorts
Best Infinity View: Hotel Caruso
Ravello, Italy
It overlooks Italy's stunning Amalfi Coast and its locale has been a vacationer's dream for four centuries (Ravello was especially popular with musicians, artists, and writers—from Richard Wagner to Tennessee Williams). But best of all, the gently heated infinity pool at 50-room Hotel Caruso is as postcard-worthy as it looks. Rooms from $800/night.
El Ganzo courtesy of El Ganzo
Best Edgy Beach Retreat: El Ganzo
San Jose del Cabo, Mexico
Be among the first to lounge on the rooftop sanctuary at El Ganzo, a recently opened 72-room boutique hotel in San Jose del Cabo. Featuring a 2,013-square-foot infinity edge pool with a glass-walled hot tub, the terrace also has an intimate sushi restaurant, Balinese daybeds, and an indy music mix, some of it recorded in the hotel's subterranean studio. Rooms from $193/night.
Dream Downtown courtesy of Dream Hotels
Best Urban Tanning: Dream Downtown
New York, NY
What you need to know about the pool at 316-room Dream Downtown, in NYC's Meatpacking District: It's slender and compact, but its glass-bottom portholes mean your strokes can be seen by folks in the lobby and the hotel's shiny metal façade means you'll need to apply SPF or risk end up looking like the Tanning Mom. Rooms from $395/night.
B2 Boutique Hotel + Spa/Thermalbad & Spa courtesy of Aqua Spa Resorts Group
Best Rooftop Sanctuary: B2 Boutique Hotel + Spa
Zurich, Switzerland
When it's cool or downright cold for two-thirds of the year, the water better be hot. In fact, it's a steamy 100+ degrees at the Thermalbad & Spa atop Zurich's 60-room B2 Boutique Hotel + Spa. A former brewery, the industrial-chic hotel partnered with the spa (there's also a subterranean thermal circuit) and guests can saunter on up for a soak with a view. Rooms from $345/night.
Holiday Inn Shanghai courtesy of IHG Hotels
Best Adrenaline Rush: Holiday Inn Shanghai
Shanghai, China
Guests swimming laps in this distinctive 98-foot-long pool at the 390-room Holiday Inn Shanghai Pudong Kangqiao are in for an unexpected view: nothing but air as the glass-bottomed pool cantilevers out over the street 24 stories up! Clearly this is not the Shanghai pool for travelers with a fear of heights. Rooms from $96/night.
Aulani courtesy of Disney Resorts
Best Family Fun: Aulani-A Disney Resort & Spa
Oahu, Hawaii
Kids don't relax by a pool—they attack it. So it's important for parents' peace of mind to make sure a resort's pool has all the necessary bells and whistles. The Waikolohe Valley water zone at 359-room Aulani-A Disney Resort & Spa on Oahu has two tubing streams, an 8,200-square-foot zero-entry pool with a tunnel slide, an interactive water play area, and four whirlpools (for Mom and Dad). Rooms from $434/night.
Jade Mountain courtesy of Jade Mountain
Best Pool for Two: Jade Mountain
St. Lucia
Lots of resorts have suites with private plunge pools, but none are as jaw dropping or as dramatic as the 25 "sanctuaries" at Jade Mountain, where each open-air suite features an infinity edge pool located steps from a romantically draped bed and overlooking St. Lucia's tropical paradise. There's also a communal pool on the resort's rooftop, but…why? Rooms from $1,150/night.
Fasano Rio courtesy of Fasano Hotels
Best Panorama: Fasano Rio
Rio de Janeiro, Brazil
What's better than being on famed Ipanema Beach in Rio? Being eight stories above it in the rooftop pool at 89-room, Philippe Starck-designed Fasano Rio. An all-day bar and dining menu complements spectacular views of sea and sand—plus iconic Corcovado and the Two Brothers peaks. Rooms from $795/night.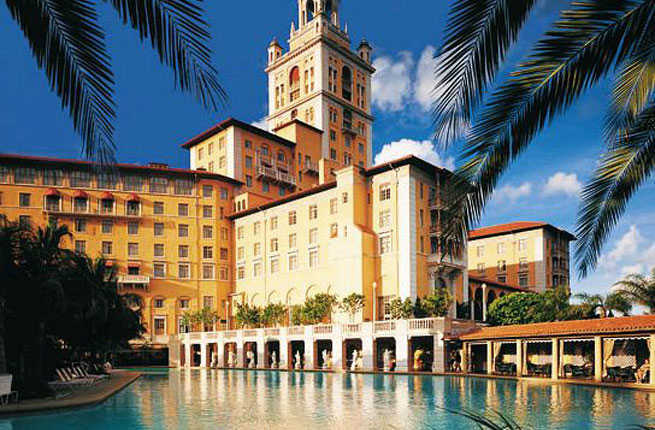 The Biltmore courtesy of The Biltmore Hotel
Best Old-School Pool: The Biltmore Hotel
Coral Gables, Florida
One glimpse of the Mediterranean-inspired circa-1926 Biltmore Hotel in Coral Gables and you know there's going to be a pretty impressive pool somewhere on its 150 acres. And there is: the country's largest swimming pool, which is a vast blue watery oasis worthy of a choreographed Busby Berkley aquatic performance. Rooms from $229/night.
Four Seasons Safari Lodge Serengeti courtesy of Four Seasons Hotels & Resorts
Best Nature Lovers' Dip: Four Seasons Safari Lodge Serengeti
Tanzania
The sleek infinity edge human "watering hole" at the new 72-room Four Seasons Safari Lodge Serengeti in Tanzania is just yards from the real deal: a shallow mud pool where elephants and other animals gather. It also faces west, making for unforgettable vistas as you sip sundowner cocktails. Rooms from $890/night, including meals.
Hotel du Cap-Eden-Roc courtesy of Hotel du Cap-Eden-Roc
Best Jetsetter Sun Spot: Hotel du Cap-Eden-Roc
Cap d'Antibes, France
The pool at one of the most celebrated luxury hotels on the French Riviera is literally a blast; it was created almost 100 years ago using dynamite to gouge out the basalt rock. Today the 118-room Hotel du Cap-Eden-Roc is a favorite of jetsetters and movie stars, especially during the Cannes Film Festival. Rooms from $1,042/night.
Ubud Hanging Gardens courtesy of Orient Express Hotels & Resorts
Best Zen: Ubud Hanging Gardens
Ubud, Bali
Anyone who's been to Bali knows this Indian Ocean island's dichotomy: a mind-blowing mix of sputtering scooters and soulful spirituality. It's easy to channel the latter at these tranquil twin infinity edge pools at 38-villa Ubud Hanging Gardens, which hover over peaceful jungle foliage and rice paddies. Rooms from $360/night.
Qasr al Sarab courtesy of Anantara Resorts
Best Exotic Plunge: Qasr al Sarab Desert Resort by Anantara
Abu Dhabi, United Arab Emirates
By day, the spectacular freeform pool at 206-room Qasr al Sarab Desert Resort by Anantara, located in the Liwa Desert about 90 minutes from downtown Abu Dhabi, offers stunning views of golden-hued sand dunes. After dark, the sky's the limit as you float and gaze up at twinkling galaxies far, far away. Rooms from $313/night.
InterContinental Resort Tahiti courtesy of InterContinental Resort Tahiti
Best Pinch-Me-Now Pool: InterContinental Tahiti
Papeete, Tahiti
Most travelers zip through Tahiti's gateway city Papeete on their way to Bora Bora or Moorea, but here's a good reason to spend a night or two: the blissful view from the sand-bottom Lotus infinity pool at the 257-room InterContinental Resort Tahiti, with its swim-up bar and endless panorama of blue. Rooms from $232/night.
Post Ranch Inn courtesy of Post Ranch Inn
Best Coastal High: Post Ranch Inn
Big Sur, California
Proof that good things come in small pools is right here at 39-room Post Ranch Inn, where this at-first-unimpressive pool mesmerizes you as you swim to the edge and have a look. You'll gaze straight down on grassy, rocky 1,200-foot cliffs to ogle the beautiful Big Sur coastline. Rooms from $800/night.
Perivolas courtesy of Perivolas
Best Mythical Swim: Perivolas
Santorini, Greece
There's no better place to sun, swim, and daydream about Zeus, Aphrodite, and Poseidon than at the oft-photographed infinity pool at 17-suite Perivolas. Located in Santorini's idyllic cliff-side town Oia (pronounced ee-ahh), it features seductive whitewashed Cycladic architecture. Rooms from $704/night.
Atlantis courtesy of Atlantis Paradise Island
Best Theme Park Splash: Atlantis
Paradise Island, Bahamas
Sometimes a pool is more than just a place to cool off—it's a wild water slide through clear plastic tunnels with sharks on the other side or a thrilling tube ride through rapids. You'll enjoy all that and more amid the 141-acre Water Park at 2,317-room Atlantis on Paradise Island. Rooms from $299/night.
Wet Republic/MGM Grand courtesy of MGM Grand Hotel
Best Adult Pool Party: Wet Republic at MGM Grand
Las Vegas, Nevada
Not just a pool, but rather an "ultra pool," the 53,000-square-foot adult playground (complete with celebrity DJs and bottle service) at the 5,000+-room MGM Grand Hotel & Casino in Las Vegas features a "poolscape" with party cabanas, in-pool splash dancing, and a dress code (guests are requested to wear "fashionable swim wear"). Rooms from $70/night.
Oberoi Udaivilas courtesy of Oberoi Hotels
Best Palatial Plunge: Oberoi Udaivilas
Udaipur, India
You'll feel like royalty at 87-room Oberoi Udaivilas in Udaipur no matter which pool you choose: the dramatic Escher-esque main pool, the serene spa pool with its graceful arches, or the semi-private pool accessible if you book a lake view room. Rooms from $750/night.
Amangani courtesy of Aman Resorts
Best Mountain Hideaway: Amangani
Jackson Hole, Wyoming
Perched at 7,000 feet and facing the majestic Grand Tetons in Jackson Hole, the heated 115-foot-long pool at 29-suite luxury enclave Amangani lets guests enjoy a relaxing dip with a jaw-dropping view no matter what the season. Rooms from $725/night.