Courtesy Alabama Tourism
April 12, 2011 marks the 150th anniversary of the first shot fired at Fort Sumter—and the official start of the U.S. Civil War. For the next four years (through April 7, 2015), battlefields and historic sites will recognize the sesquicentennial with special activities, displays, and re-enactments. While the entire country was affected by the war, and almost 400 principal battles were waged, we've picked the top places worth touring to remember the nation's conflict, from the edge of the Mason-Dixon Line to the Gulf of Mexico.
For more Civil War history, see Civil War Sesquicentennial: A Timeline of Significant Sites
Courtesy Alabama Tourism
Alabama: From Civil War to Civil Rights
As the first capital of the Confederacy, Montgomery is a great base for your exploration and Selma is only a one-hour drive away. For another dose of U.S. history, consider visiting the many prominent Civil Rights sites in the state.
First White House of the Confederacy: Built between 1832 and 1835, this Montgomery building was occupied by Jefferson Davis and his family while the government of the Confederacy was being organized. Learn More.
Selma: With the Confederacy's second-largest arsenal and foundry, the town was the target of Union attack in 1865, Alabama's only major inland Civil War battle. Learn more.
Worth Noting: Historic Blakeley State Park, Mobile Bay, Alabama Tri-State Civil War Association
dlewis33 / iStockPhoto
Arkansas: Site of Trans-Mississippi Battles
Another slave state west of the Mississippi, Arkansas seceded from the Union at the start of the war. Near the northern edge of the state, Pea Ridge Battlefield would combine nicely with a visit to Wilson's Creek Battlefield to get a better understanding of Civil War's Trans-Mississippi theater.
Pea Ridge Battlefield: This well-preserved area is a great place to learn about one of the most pivotal battles of the war. Learn more.
Worth Noting: Fort Smith National Historic Site, Arkansas Civil War Sesquicentennial Commission
Courtesy National Park Service
Florida: Peaceful Preservation
Though lacking the many battlefields of other Southern states, Florida has some Civil War era-citadels and a well-preserved capital. However, Union soldiers did play an important role in Florida's development as they returned home with tales of balmy weather and picturesque beaches. Because the state is so large (it's a 14-hour drive from the Panhandle to Key West), travelers often fly into one airport, explore with a rental car, and fly out of a different location.
Tallahassee: Tallahassee is Florida with a Southern accent. The only Southern capital east of the Mississippi spared in the Civil War, Tallahassee has preserved its past . . . more.
Worth Noting: Fort Zachary Taylor, Battle of Olustee, Fort East Martello Museum, Dry Tortugas National Park
divemasterking2000/flickr
Georgia: Chickamauga Victory to Atlanta Burning
Before U.S. General Sherman could lay claim to Atlanta, one of the last industrial cities left in the Confederacy, Union forces had to first enter the state. The Battle of Chickamauga in Georgia's northwest corner would be one of the Confederacy's last major victories in the Civil War, but it did little but buy the South time. Follow the Union trail south from Chickamauga to Atlanta, where the Atlanta Cyclorama and Civil War Museum offer an expansive perspective on the Battle of Atlanta. While in Atlanta, skip ahead in history to the civil rights movement with a visit to the King Center. Continue on to Savannah to follow Sherman's March to the Sea.
Atlanta Cyclorama & Civil War Museum: Experience the Battle of Atlanta (during which 90% of the city was destroyed) through one of the world's largest murals . . . more.
Chickamauga and Chattanooga National Military Park: In 1863 Union and Confederate forces battled for control of Chattanooga, the gateway to the Deep South . . . more.
Milledgeville: Sherman's troops stormed through Georgia's capitol during the war with a vengeance after the general heard hardship stories from Union soldiers who had escaped from a prisoner-of-war camp in nearby Andersonville . . . more.
Worth Noting: Andersonville National Historic Site, Kennesaw Mountain National Historic Site, Margaret Mitchell House & Museum, Martin Luther King Jr. Center for Nonviolent Social Change, Fort Pulaski, Georgia's Civil War Sesquicentennial site
www.kentuckytourism.com
Kentucky: Birthplace of North & South Presidents
Hotly contested during the Civil War, Kentucky was the birthplace of both Abraham Lincoln and Jefferson Davis; it was a slave state that never seceded from the Union. Both leaders had ties to the Bluegrass—Lincoln courted his wife in her Lexington home, and Davis attended Lexington's Transylvania University. Use Lexington or Louisville in Kentucky Bluegrass Country as your hub to explore.
Abraham Lincoln Birthplace: View the symbolic cabin that represents Lincoln's rise from farm boy to president and learn about his life. Learn more.
Worth Noting: Hunt-Morgan House, Mary Todd Lincoln House, Jefferson Davis State Historic Site, Kentucky Historical Society
Courtesy Louisiana Office of Tourism
Louisiana: Military Occupations & Grand Plantations
While there were a number of Civil War battles in Louisiana, what was unique about this Southern state was the long Union occupation of New Orleans. Follow in the Generals footsteps and use the city as a hub for exploring the area; Nottoway, the South's largest plantation house, is just an hour north. (For more plantation homes, be sure to drive the River Road between New Orleans and Baton Rouge). Alternatively, Vicksburg and the Natchez Trace are just over the border in Mississippi.
Nottoway: Saved from destruction during the Civil War by a Northern officer (a former guest of the owners, Mr. and Mrs. John Randolph) . . . more.
Worth Noting: Jackson Square, Colonel Short's Villa, New Orleans Civil War Museum, Washington Artillery Park
Coutesy Maryland Office of Tourism, Film, and the Arts
Maryland: The Deadliest One-Day Battle
The past is inescapable in Maryland—everywhere there are reminders of the boys in blue and gray who clashed here during the Civil War, nowhere more so than at Antietam, where over 23,000 Union and Confederate troops were killed or wounded. But history is also preserved at museums that remember everything from medicine to legends. Maryland's major sites are easy to combine with Arlington, Virginia and Washington, D.C.
Antietam: As history buffs know, Antietam was the site of the deadliest one-day battle in American history. Today the battlefield in Sharpsburg, Maryland, is maintained to look as it did on the fateful day of September 17, 1862 . . . more.
National Museum of Civil War Medicine: The critical role that early medicine played in the Civil War is front and center at this museum. Housed in a former funeral home that prepped the bodies of soldiers who died at Antietam, it's said that ghostly footsteps sometimes echo in the night . . . more.
Worth Noting: Monocacy National Battlefield, Barbara Fritchie House and Museum, Baltimore Civil War Museum.
woodStockimages / iStockPhoto
Mississippi: Blockades, Seiges, and Seaside Homes
Mississippi has several Civil War sites, including Vicksburg and the longtime home of Jefferson Davis in Biloxi. To connect your stops, be sure to drive the Natchez Trace—an old trail for Native Americans and river traders through wild emerald forests.
Beauvoir: This antebellum Biloxi beachfront home is where Jefferson Davis spent his last years; there's also a cemetery and the Tomb of the Unknown Confederate Soldier. Learn more.
Tupelo National Battlefield: In 1864 Union general A.J. Smith marched 14,000 troops against Nathan Bedford Forrest's forces in the last major battle in Mississippi. Learn more.
Vicksburg National Military Park: This area nearly encircles Vicksburg, following the line of the Confederate fortifications from Grant's 1863 siege on the city. Learn more.
Worth Noting: Fort Massachusetts on Gulfport's Ship Island, Holly Springs, Mississippi Civil War Sesquicentennial Site
Courtesy Missouri Division of Tourism
Missouri: Western Land & Border Wars
Missouri was a slave state, but it's border location also greatly impacted it's role in the war. St. Louis had already established itself as the Gateway to the West yet the conflict had a major impact on further settlement. To the Southwest, Springfield's Wilson's Creek Battlefield is another place to learn about the Kansas–Missouri Border Wars (1854–1858) over Kansas joining the Union as a slave or free state that led up to the War Between the States.
Wilson's Creek Battlefield: At the site of the second Civil War battle, today's visitors can tour Bloody Hill, the Historic Ray House, and a Civil War Museum. Learn more.
Worth Noting: Fort Davidson State Historic Site, Battle of Lexington State Historic Site, Missouri History Museum, Missouri Civil War Sesquicentennial Commission
Courtesy Bill Russ / North Carolina tourism
North Carolina: Lighthouses, Forts & Freedmen
The best preserved battlefields in the state are actually significant locations from the Revolutionary War so consider combining your Civil War trip with some earlier American history, a task easily achieved at places like Roanoke Island. And while two famous lighthouses, Cape Hatteras and Bodie Island, were both rebuilt after Civil War damage, they are great places to get a feel for the Carolina coast on barrier islands connected by the two-lane Route 12.
Fort Fisher State Historic Site: One of the South's largest and most important earthworks fortifications from the Civil War, so tough it was known as the Southern Gibraltar . . . more.
Fort Raleigh National Historic Site: Though better known for early colonial history as England's first settlement in the New World, Roanoke Island was occupied by Union forces and established as a Freedman's colony for African-American families . . . more.
Worth Noting: Bentonville Battlefield, Brunswick Town State Historic Site, Oakwood Cemetery, Bennett Place State Historic Site, Fort Macon State Park, North Carolina Civil War Sesquicentennial Commission
Courtesy Commonwealth Media Services
Pennsylvania: A Turning Point In The War
A stop in Pennsylvania to see Gettysburg is essential for those looking to recapture Civil War history. The Gettysburg National Military Park Museum and Visitor Center is the best place to start before beginning your tour of the battlefields. Be sure to pick up a map of a self-guided tour of the town's historic district, centered on Baltimore Street. The tour covers key museums, homes, and other sites that have Civil War significance.
Gettysburg National Military Park Museum and Visitor Center: Get a broad overview of the battle and its significance in the war here, with a dozen interactive galleries . . . more.
National Civil War Museum: Less than an hour away from Gettysburg, this Harrisburg institution has an ongoing series of exhibits dedicated to the sesquicentennial. Learn more.
Worth Noting: David Wills House, General Lee's Headquarters, National Civil War Wax Museum, Pennsylvania Civil War Sesquicentennial Commission
South Carolina: First Shots Fired
The first state to secede from the Union, South Carolina is home to one of the most important sites in Civil War history: Fort Sumter. It was here on April 12, 1861 that Confederates fired the first shots of the American Civil War. Charleston is chock-full of antebellum history as well, including the Middleton Place plantation and the Old Slave Mart.
Fort Sumter National Monument: An informative ferry ride across Charleston's harbor takes you back to the beginning of the Civil War . . . more.
Middleton Place: The original manor home was destroyed in the Civil War, but the home displays original furnishings, documents, and works of art . . . more.
Old Slave Mart: Documents, shackles, and other eye-opening artifacts bring home the inhumanity of this sordid chapter in history and Charleston's role in it . . . more.
Worth Noting: South Carolina Tourism, South Carolina Parks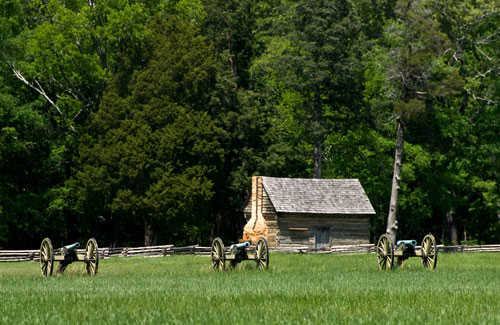 divemasterking2000/flickr
Tennessee: Gateway to the Deep South
The Civil War ravaged Tennessee like no other state except Virginia; brother literally fought brother, and neighbor fought neighbor. Military campaigns consisted mainly of Federal thrusts southward and Confederate attempts to stop them, and major battles included Fort Donelson, Shiloh, Stone's River, and Chattanooga.
Chickamauga and Chattanooga National Military Park: In 1863 Union and Confederate forces battled for control of Chattanooga, the gateway to the Deep South . . . more.
Fort Donelson National Battlefield: The unconditional surrender at Fort Donelson was the North's first major victory in the Civil War and led Union troops deeper into Dixie. Learn more.
Shiloh National Military Park: Site of the intense April 1862 battle, Shiloh National Military Park is the resting place of almost 4,000 soldiers, many unidentified. Learn more.
Worth Noting: Stones River National Battlefield, Tennessee Tourism Civil War Sesquicentennial site
Courtesy Virginia Tourism
Virginia: The Civil War Comes Full Circle
A timeline of the Civil War would run straight through Virginia in the beginning, middle, and end. Manassas National Battlefield Park (aka "Bull Run") was the site of the first battle, and the Appomattox Court House is where the war finally came to a close. After Virginia seceded in 1861, Richmond became the second capital of the Confederacy and the commonwealth was the epicenter of the war, with more Civil War battlefields than any other state. Since there are so many sites here, consider planning your route chronologically to follow the war's path through Virginia.
Appomattox Court House: To many history buffs, the war lives on, but in reality it ended here, when General Lee signed the articles of surrender . . . more.
Fredericksburg & Spotsylvania National Military Park: This 9,000-acre park actually includes four battlefields and four historic buildings. The centers offer recorded tours and maps to reach the battlefields . . . more.
Manassas National Battlefield: Explore the site of the first major Civil War land battle at this battlefield in the peaceful Virginia countryside. A second Battle of Manassas lasted three days and resulted in 3,300 killed . . . more.
Museum and White House of the Confederacy: This museum has the "world's largest collection of Confederate memorabilia." Next door, in the White House, preservationists have re-created Jefferson Davis's residence . . . more.
Petersburg National Battlefield: As an important supply city to the Confederate capital, Petersburg was under siege for almost a year. (more.
Worth Noting: Arlington National Cemetery, American Civil War Center, New Market Battlefield State Historical Park, Richmond National Battlefield, Pamplin Historical Park & the National Museum of the Civil War Soldier, Stratford Hall Plantation, Virginia Sesquicentennial Commission
Courtesy National Park Service
West Virginia: A Famous Raid & A New State
At the stunning convergence of the Potomac and Shenandoah rivers, Harper's Ferry is West Virginia's most popular Civil War site. Learn about the actions leading up to the war and how West Virginia later seceded from Virginia to create the Union's 35th state. It's easy to combine a visit here with nearby states; Frederick, Maryland is a good hub for exploring here and Sharpsburg (Antietam).
Harper's Ferry: Radical abolitionist John Brown's 1859 raid was the spark that ignited the conflict between North and South . . . more.
Worth Noting: Droop Mountain Battlefield State Park, Rich Mountain Battlefield Civil War Site, Carnifax Ferry Battlefield State Park, West Virginia Civil War Sesquicentennial Site
Francisco Diez / flickr
Bonus: Museums & Monuments in Washington, DC
While no major battles were fought here, Washington D.C.'s position—symbolically, as the capital of the Union and geographically, across the river from Confederate Virginia—provides a wealth of Civil War history. You can spend a few days revisiting Lincoln's presidential haunts and browsing Civil War artifacts in Washington's many museums, while other major war sites, including Arlington National Cemetery, Antietam, and Manassas, are just a short drive or Metro ride away.
African-American Civil War Memorial and Museum: Learn about the lives of slaves and freedmen, and discover whether your ancestors fought in black regiments during the Civil War . . . more.
Ford's Theatre: President Lincoln was assassinated by John Wilkes Booth here days after the Civil War ended . . . more.
Lincoln Memorial: Two of Lincoln's great speeches—the second inaugural address and the Gettysburg Address—are carved on the walls . . . more.
Worth Noting: President Lincoln's Cottage, Frederick Douglass National Historic Site, National Archives, National Museum of American History, National Portrait Gallery, Smithsonian American Art Museum: Civil War documents and memorabilia, Civil War to Civil Rights Trail, DC Tourism Civil War site