Courtesy Petit St. Vincent Resort / Neil Selkirk
Forget flowers, chocolate, and even jewelry—apparently, these days you're not really in love unless a private plane is involved. With an increasing number of travelers citing "unique experiences" as a deciding factor in trip planning, hotels are responding by offering elaborate packages for Valentine's Day and other romantic travels. With price tags ranging from $1,700 to over $5 million, these uber-luxe trips should get the home fires re-kindled. And hey, when it comes to love, what's a second mortgage?
Courtesy Petit St. Vincent Resort / Neil Selkirk
Petit St Vincent Resort, Caribbean
Your Exclusive Island Package: For couples that really need some alone time, this 113-acre, 22-cottage private Caribbean island resort can be rented out for your exclusive use. The five-night special includes accommodations in the villa of your choice, all water sports (snorkeling, hobie cats, and more), tennis, and all meals, which can be enjoyed anywhere you wish to on the island. Price per couple: $300,000 for five nights.
Courtesy The Leading Hotels of the World
Enchantment Resort, Sedona, Arizona
Grand Canyon by Air: Seventy private, red-hued acres of Boynton Canyon surround this famous western resort, which is a member of the Leading Hotels of the World. For more natural wonders than the beauty of Sedona, take advantage of this package that includes a six-hour exploration of the Grand Canyon. You'll start with a private Cessna flight to the canyon, then a helicopter jaunt to the Colorado River for a pontoon boat ride. Next, you'll fly back to the canyon, take a scenic tour, and finish with lunch on the rim before flying back to Sedona. The three-night stay at the Enchantment Resort also includes daily breakfast for two. Price per couple: Starting at $1,738. Learn">
Courtesy Small Luxury Hotels of the World
Fregate Island Private, Seychelles
Diamond Package: For the girl or guy who has everything, this in-the-stratosphere package—its total cost is over $5 million—begins with two first-class tickets on Emirates Airlines from anywhere in the world to the secluded, seven beach Fregate Island in the Seychelles. Once there, you'll enjoy a week's accommodations in one of the 17 thatched-roof villas, plus all meals. The topper: a one-of-a-kind chocolate tart garnished with 929 flawless diamonds —including one stone that alone is worth over $1 million. Price per couple: $5.3 million. Book through the VIP desk of Small Luxury Hotels of the World. Learn">
Courtesy Kimpton Hotels & Restaurants
Kimpton Palomar, Chicago, Illinois
Masterpiece Package: Create a lasting memory of your vacation with this art-themed Windy City special. Along with a two-night stay in the Artist's Suite, complete with in-room massages, bottle of Dom, and five-course dinner, couples will sit for a personal portrait painted by a local artist. (You'll get to consult on the style of your portrait and receive the finished product at home.) To prepare for the sitting, you'll also enjoy a $3,000 Nordstrom shopping spree with a personal shopper and a hair- and makeup-styling session. A personal chauffeur will also be at your disposal. Price per couple: $12,000 for two nights. Call the VIP reservation line at 312-325-7226 to book.
Courtesy La Mamounia / Anson Smart
La Mamounia, Marrakech, Morocco
One Million Dirham Ultimate Experience: One of the most romantic hotels in the world, La Mamounia's dream experience begins with private jet transfer to Marrakech from any city in Europe (within three hours), followed by airport pick-up in a Daimler Jaguar. Once settled into your private riad within the hotel grounds, you'll enjoy three days of butler service, bespoke menus, daily champagne breakfasts, and cocktails created in your names by the head mixologist. A helicopter will sweep you to the Atlas Mountains, where you'll share an evening under the stars in a secret location. Private spa time and a session with local artists are also included. Price per couple: About $122,629. Available Feb. 15th–May 31st, or Sept. 15th–Dec. 22nd, 2011. Learn">
Courtesy King Pacific Lodge
King Pacific Lodge, British Columbia, Canada
Treat Them Like Royalty Package: For an eco-friendly summer romantic escape in the heart of the Great Bear Rainforest (located along British Columbia's central coast), book the three-night special at the remote 17-room King Pacific Lodge. There, you'll enjoy a floatplane transfer straight to the hotel's dock; a heli-picnic on a private, white-sand island; an in-room couples massage; a private multi-course dinner customized by the chef; and a personal "wilderness concierge" to help plan adventures like whale-watching. Through it all, you'll sleep in the two-floor Princess Royal Suite, overlooking the ocean and rainforest. What's more, the Lodge will make a $400 donation in your names to an environmental charity and present you with an exclusive commemorative print. Price per couple: $14,745 for three nights.Learn">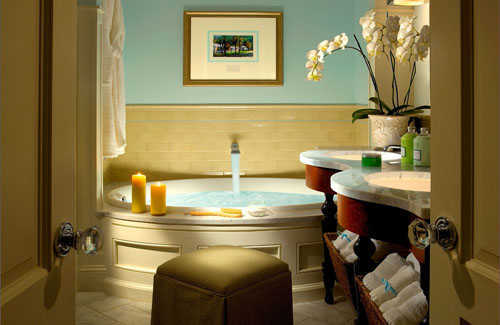 Courtesy the Omni Bedford Springs Resort
Omni Bedford Springs, Bedford, Pennsylvania
Sky's the Limit Package: Known for its mineral-rich hot springs and its top-notch golf course, Pennsylvania's historic Omni Bedford Springs Resort brims with charm. Their Valentine's Day package —available only on certain weekends in February —includes round-trip helicopter transport from within 150 miles of the hotel, accommodations in one of the Presidential Suites, personal butler service, a six-course in-suite dinner created by a personal chef, and an in-suite couples' spa treatment. You'll also enjoy private use of the Springs Eternal Spa after 8pm, breakfast in bed, a bottle of Dom (served in crystal flutes that are yours to keep), a carriage ride, take-home bathrobes, and private transport for exploring the quaint town. Price per couple: From $6,000 per night. Available February 11-14 and February 18-19.
Courtesy Villa By Barton G.
The Villa By Barton G., Miami, Florida
Fantasy Versace Weekend: Once the mansion of late fashion designer Gianni Versace, this intimate South Beach hotel's romantic package offers is the ultimate in exclusivity: it's only available to one couple each year. The experience begins with limo service from the guests' home to the airport, and from the airport to The Villa By Barton G. Once there, the lucky twosome will, for the first time in history, be allowed to stay in Gianni Versace's opulent personal living quarters, where they'll also enjoy a massage for two. The weekend continues with a private Aphrodisiac Dinner under the stars, complete with a live-music serenade, then a personal chocolate fountain and desserts back in the Versace suite. Price per couple: $25,000. Learn">
Courtesy Lighthouse Bay
Lighthouse Bay Resort, Barbuda
Just For Your Package: Spend a week in style at this nine-suite resort on the Caribbean island of Barbuda. The luxe package includes round-trip helicopter transfers from the Antigua airport to Lighthouse Bay Resort, six nights in the Grand Suite, three gourmet meals daily (including alcohol), a one-hour spa treatment for two daily, a helicopter to take you to play golf on Nevis or go shopping in St. Barths (your choice), and a day of deep-sea fishing, followed by a Chef's Beach BBQ featuring your day's catch. Price per couple: $25,000 for six nights.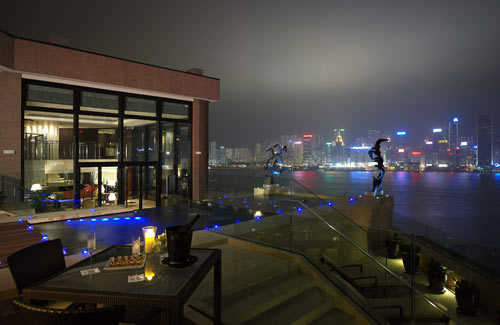 Courtesy Intercontinental Hong Kong
Intercontinental Hong Kong
Million Dollar Valentine's Day: It's tough to say what this decadent package doesn't include: After arriving in a Phantom VI Rolls Royce, where you'll enjoy a bottle of fine bubby in transit, couples will spend one night in Asia's most luxe Presidential Suite, which boasts a duplex living room, rooftop terrace, and a private pool, sauna, gym and Jacuzzi; a butler and chauffeur will also be at your disposal. Spa treatments, a personal bar, private string-quartet serenade, Michelin-starred meals, champagne breakfast, and more ensue, but the big ticket items include a designer shopping spree (worth HK $150,000); him-to-her gift (valued at HK $100,000); monogrammed Shanghai Tang silk bathrobes; and the delivery of 1,000 roses to the room. A banner proclaiming your love will also be displayed across Hong Kong Harbour via a private boat.Price per couple: Approximately $128,420 for one night.