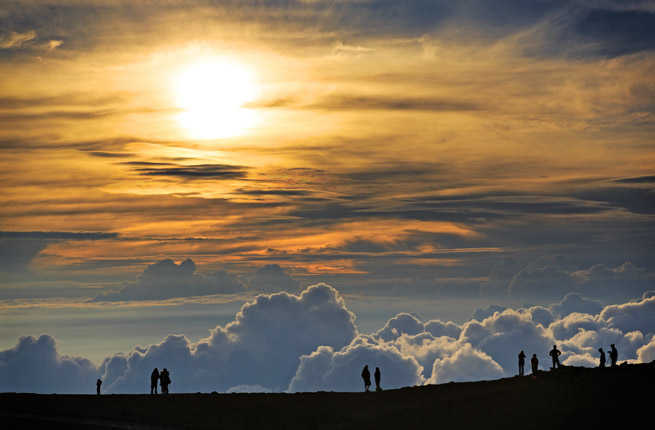 © Sarah Fields | Dreamstime.com
Across America, from our eastern coast to our western shores and island outposts, one can find truly stunning sunsets. This evening phenomena, known to inspire poets, instill romance in the unwitting—and cram our Instagram feeds full of wanderlust-instilling images—is particularly remarkable in certain spots, as we've highlighted here. Take in the slow-sinking sun at these top sunset spots across the country.
David M. Schrader/Shutterstock
Butterfly Beach, Santa Barbara, California
One of the best west-facing beaches, Butterfly Beach in Santa Barbara gets packed with visitors for a sublime sunset. What makes the sunset really unforgettable is when dolphins pop up out of the waves to enjoy the view with you.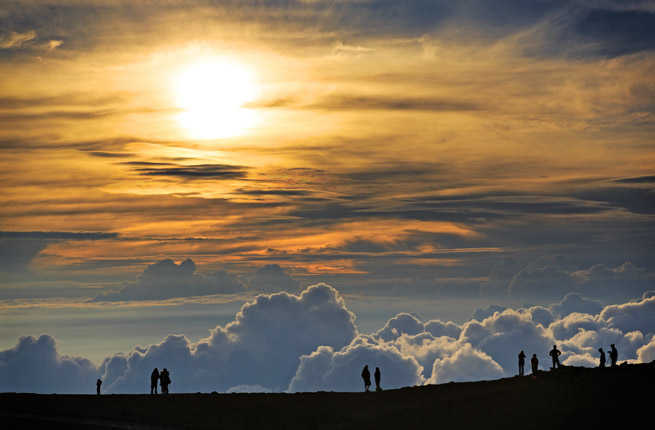 © Sarah Fields | Dreamstime.com
Mount Haleakala, Maui, Hawaii
At 10,000 feet high, Maui's Mount Haleakala serves up a spectacular sunset in a truly unforgettable, natural landscape. Here, you're as high as the clouds, and the sun's rays break through them in such a way that it creates a prism of golden lights. And you may even see the fabled green flash as the sun disappears into the ocean.
Dean Fikar/Shutterstock
Old Fort Marcy Park, Santa Fe, New Mexico
Thanks to its high, 8,000-feet elevation and number of historic ruins that serve as viewing platforms, sunsets in Santa Fe are special thanks to little light pollution. Blood-orange and pink hues comprise sunsets that often break through the clouds, creating a prism of colors. Most visitors head to Old Fort Marcy Park but there are plenty of options for viewing in the area.
(c) Littleny | Dreamstime.com
Laguna Beach, California
Just over an hour from Los Angeles, Laguna Beach has been a gathering place for sublime sunsets (and also full moons) thanks to its unbroken horizon views. Perched on a cliff is Studio restaurant at Montage Laguna, which offers outdoor seating and 360-degree views of the coast, not to mention a killer sunset atmosphere to boot.
(c) Kojihirano | Dreamstime.com
Hopi Point, Grand Canyon, Arizona
The sunset views in Grand Canyon are commanding, and some would even say life changing. In fact, it brings a whole other level of excitement and experience in the majestic mountains, so powerful that you may never see another sunset quite like this again. Take in the view at Hopi Point, one of the best spots to catch the sunset.
fotomak/Shutterstock
Four Seasons Miami, Miami, Florida
If you're staying in downtown Miami at a high-rise hotel, you'll be one of the lucky ones to catch the descending sun over the bay. Here, sunsets are known to inspire rooftop happy-hour scenes with priceless views. Head to Four Seasons Miami, the tallest building in Miami, for breathtaking bay sunsets.
Jose Gil/Shutterstock
Santa Monica Pier, Santa Monica, California
The Santa Monica Pier in Santa Monica may be the most Instagrammed place in the world—children and adults alike love the historic pier and its classic American aesthetic. The sunset here, whether watching it drop behind the twinkling pier on the beach or enjoying a cocktail on the pier itself, is what California dreams are made of.
Dan Kosmayer/Shutterstock
Gay Head, Martha's Vineyard, Massachusetts
There's a whole lotta sky at Gay Head in Martha's Vineyard, where unbroken sunset views are terrific and commanding. The sun plays various shapes and colors on the boulders and clay deposits. Head near the lighthouse, the perfect vantage point where there's nothing but sky and water sporting the view.
(c) Deepfrog17 | Dreamstime.com
Ensign Peak, Salt Lake City, Utah
Not only do visitors catch a stellar sunset on this prominent peak on the north edge of Salt Lake Valley in Salt Lake City, they take in history. Brigham Young and other pioneers climbed to the top of Ensign Peak to survey the valley for city planning. Oh, and we're pretty sure they also stayed for the sunset.
Mallory Square, Key West, Florida
Every night in Key West, it seems there's a party or festival celebrating the sun's passage into the horizon line. The sunset anchors the town's social scene, a tradition that extends back for decades or more. The perfect accompaniment to the sunset here is a jam band and a margarita, especially at Mallory Square, which is chockfull of street performers at dusk.