pio3/Shutterstock
Fresh seafood, kitschy shops, and deep-fried Oreos are just a few of the things you'll find along the boardwalks that hug America's shorelines, but they're not all carbon copies. Some boardwalks are quirky, some family-friendly, while others are geared toward thrill-seekers. No matter what, the best boardwalks offer unforgettable experiences on the waterfront, with great entertainment, food, and aquatic life. From Chicago to Texas, from Los Angeles to New York, these are America's best boardwalks.
by Zachary Laks
gary718/Shutterstock
Atlantic City Boardwalk
WHERE: New Jersey
As the oldest in the nation (established in 1870), Atlantic City's five-and-a-half-mile boardwalk is an American icon. Having undergone a complete restoration after Hurricane Sandy, this boardwalk has been restored to its former glory. From dollar pizza to some of the finest caviar in the world, you can find something for all tastes here. Begin at the towering Revel Resort and head west; you won't miss the protruding Steel Pier amusement park, complete with helicopter rides and a Wild Mouse roller coaster.
Insider Tip: Check out Lucy the Elephant, a national landmark oddity that stands as a six-story wooden wonder. Guided tours take you in and around the structure to explore the history of this Atlantic City staple.
PLAN YOUR TRIP: Visit Fodor's Atlantic City Guide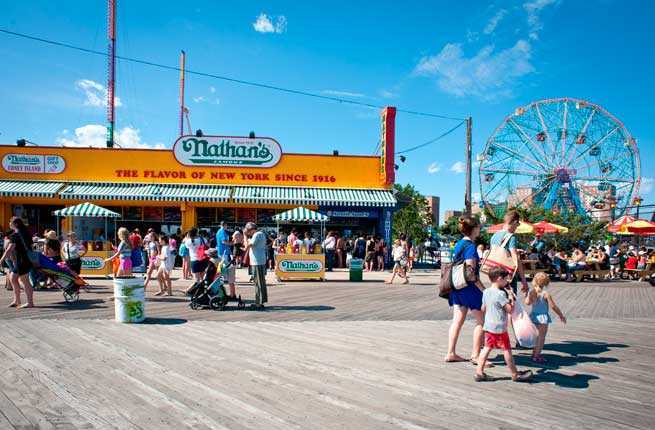 pio3/Shutterstock
Coney Island Boardwalk
WHERE: Brooklyn
Three miles of sandy beaches line the south Brooklyn neighborhood that practically invented the hot dog. Soak up the quirky vibe of old-world fringe as you grab some freshly spun cotton candy for your walk down the main strip. The Cyclone, built in 1927, remains a time-tested, hair-raising roller coaster that helped put Coney Island on the map. Indulge with a Nathan's Famous hot dog at the birthplace of the chain before heading over to the popular California Sea Lion show at the New York Aquarium. Easily accessible by public transit, the family-friendly boardwalk at Coney Island is a great way to spend a day at the beach.
Insider Tip: Every Monday in July and August, a 40-foot inflatable movie screen hosts the Coney Island Flicks on the Beach free screenings. This summer's movies include The Lego Movie, American Hustle, and Iron Man 3.
PLAN YOUR TRIP: Visit Fodor's Coney Island Guide
Lissandra Melo/Shutterstock
Virginia Beach Boardwalk
WHERE: Virginia
Virginia is for lovers—of the sun. The boardwalk at Virginia Beach is a popular three-mile stretch of quaint restaurants and beach-life staples running alongside to the world's longest recreational beach. A towering statue of King Neptune presides over the bustling walkway, making for a perfect photo-op. People watch from the comfort of one of the many rocking chairs available along the boardwalk before renting a surrey or a bike for a relaxing seaside ride. Be sure to check out the Virginia Legends Walk, honoring famous Virginians including James Madison, Edgar Allen Poe, and Ella Fitzgerald.
Insider Tip: Beach Street USA, the organization that oversees entertainment and festivals for Virginia Beach, brings the best music and activities to the Boardwalk each summer. Plan ahead to catch one of their many fireworks shows.
PLAN YOUR TRIP: Visit Fodor's Virginia Beach Guide
oneinchpunch/Shutterstock
Venice Beach
WHERE: Los Angeles
You'll certainly have plenty to look at when you take a stroll along the Venice Beach Boardwalk, as a host of colorful characters, performers, illusionists, and buskers line the path. Muscle men and women populate the famous Muscle Beach, where gawking is encouraged. Indulge in a funnel cake and deep-fried Oreos as you people watch with a view of the Pacific Ocean. Once dessert is over, rent some Rollerblades and go for a roll.
Insider Tip: Catch a wave and learn to surf with Go Surf LA, which offers a 90-minute beginners course for $80.
PLAN YOUR TRIP: Visit Fodor's Venice Beach Guide
ARENA Creative/Shutterstock
Ocean City Boardwalk
WHERE: Maryland
Off the Atlantic Ocean on the Delmarva Peninsula lies three miles of boardwalk perfect for a summertime vacation. Food is king at the Ocean City Boardwalk, where the fresh Maryland crab cakes and Delmarva fried chicken, two staples of the area, are best served seaside. Enjoy a salty indulgence at the famous Thrasher's French Fries, enhancing spuds since 1939, before heading over to Kohr Brothers to satisfy your sweet tooth with some frozen custard. With your hands filled with treats, meander through the t-shirt stalls and arcades filled with whack-a-moles and skee-ball challenges.
Insider Tip: The kayak excursions at Ocean City, led by SuperFun Eco Tours, are a great way to explore the coastline and enjoy some physical activity under the sun.
PLAN YOUR TRIP: Visit Fodor's Maryland Guide
(c) Danp68 | Dreamstime.com
Disney's Boardwalk
WHERE: Orlando
Disney World's Boardwalk Resort is a complex with a charming promenade from a by-gone era. More compact than the other featured boardwalks and privately owned by Disney, this promenade offers a perfectly themed take on beach lifestyle. Favorite sweets such as fudge, hand-dipped ice cream, and floats can be found at the Seashore Sweets shop. Dining specialties include fine dining Greek cuisine by celebrity chef Cat Cora and all-American burgers and beers at the ESPN Club. The music plays on through the night at Jellyrolls piano bar, where dueling 88s play the greatest hits.
Insider Tip: On the boardwalk you'll find the Big River Grille & Brewing Works, the only microbrewery at Walt Disney World. There's even an on-site brewmaster, who can be seen in action through glass windows.
PLAN YOUR TRIP: Visit Fodor's Disney World Guide
Songquan Deng/Shutterstock
Navy Pier
WHERE: Chicago
Chicago's giant pier is a destination for all. Standing 150 feet tall, the Navy Pier Ferris Wheel is the most noticeable visual attraction. This wonder wheel gives riders a seven-minute vista of the Windy City skyline that is sure to thrill. Small craft shops offering souvenirs, gifts, and collectibles line indoor and outdoor walkways of the pier. Grab a pint of local beer at The Landshark Beer Garden, open to all ages. This watering hole is a great place to relax and enjoy the vast horizon of Lake Michigan. Jet across the coast at a clipping speed with jet ski rentals. For 30 minutes, you get to take one of the powerful jet skis to see Navy Pier from a unique angle.
Insider Tip: With both classical plays and family fare, be sure to check out what's playing at the gorgeous Chicago Shakespeare Theater, located in the heart of the pier.
PLAN YOUR TRIP: Visit Fodor's Chicago Guide
Lowe R. Llaguno/Shutterstock
Mission Beach Boardwalk
WHERE: San Diego
One of San Diego's favorite places for a stroll, the Mission Beach Boardwalk has more to offer than the usual boardwalk attractions. Bump your way into one of the beach volleyball games at South Mission Beach as your feet dig into the warm sand, and be sure to take a ride on the classic Giant Dipper roller coaster at Belmont Park, thrilling visitors since 1925. Look for the kitesurfers in the bay who dare to go where the wind takes them. If you want to join in on the fun, kitesurfing classes are available on the boardwalk for $90/hour.
Insider Tip: For those seeking a sure way to surf, regardless of the waves of the day, head over to Wavehouse where the FlowBarrel wave machine provides a simulated swell for surfers to showcase their skills.
PLAN YOUR TRIP: Visit Fodor's San Diego Guide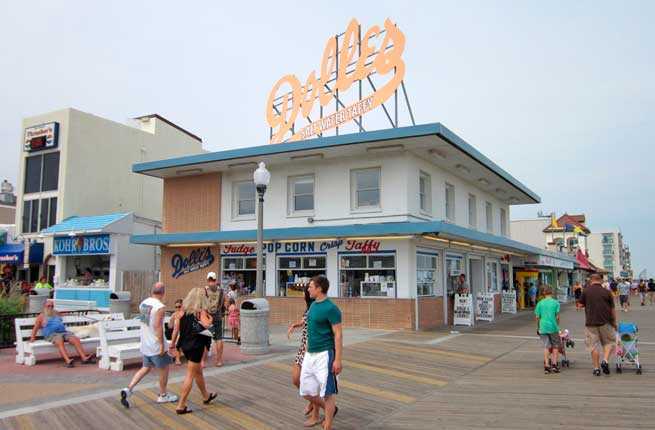 (c) Shootalot | Dreamstime.com
Rehoboth Beach Boardwalk
WHERE: Delaware
Just an hour north of the boardwalk at Ocean City, Rehoboth's Beach Boardwalk is considerably smaller and more family-friendly than its neighbor. With charm to spare, Rehoboth offers quaint up-scale restaurants and clothing boutiques all within walking distance of the beach. The innovative boardwalk benches offer backs that rotate, so you can either people watch or wave gaze. Stick around after sunset as The Rehoboth Beach Bandstand gazebo brings live music to the area. Stop by The Ice Cream Store for their famous, unique flavors, such as bacon, beer, and fluffer nutter.
Insider Tip: Escape into some air conditioning and catch one of the summer live musicals at the Clear Space Theater, just steps away from the boardwalk.
PLAN YOUR TRIP: Visit Fodor's Rehoboth Beach Guide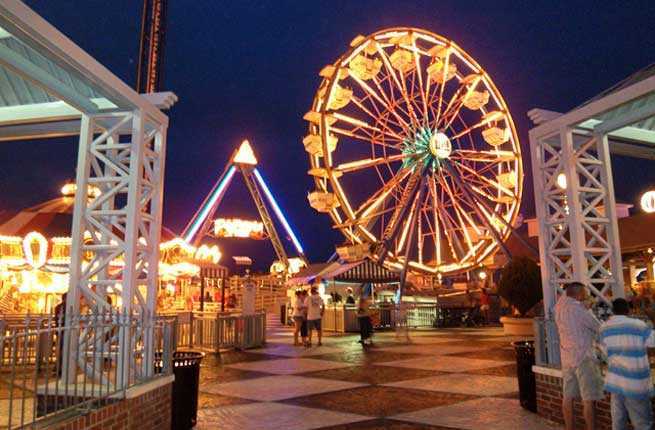 Kemah Boardwalk
WHERE: Kemah, Texas
Only 20 miles from downtown Houston, the Kemah Boardwalk on Galveston Bay is a destination for great food and fun. The kiosks and small shops filled with souvenirs and fun gifts are a great way to spend some time on the boardwalk. Packed with amusement rides including the great Boardwalk Bullet roller coaster, Kemah is chock-full of thrills. Hop on the Boardwalk Beast, a speed boat ride, for an open-air tour along the coastline that reaches speeds of 40 mph. Stop by the Stingray Reef for your chance to touch and feed live rays, and stay for dinner at the Aquarium Restaurant, where you can dine under the sea among the various ocean creatures.
Insider Tip: The Boardwalk FantaSea cruise offers dinner cruises as well as floating dance parties off the Kemah Boardwalk. Enjoy a beautiful night on the calm waters of the bay.
PLAN YOUR TRIP: Visit Fodor's Houston Guide