Paul B. Moore / Shutterstock
There's a reason so many kids grow up with dreams of one day becoming a cowboy—the lure of the American West, and its scenic, wide-open spaces, is certainly powerful. But beyond the stunning landscapes, you'll find great museums, delicious dining, fascinating historical landmarks, and new age experiences, too. Here's how to explore the West through the eyes of a cowboy, prospector, pioneer, gourmand, historian, spiritualist, and modern-day adventure traveler.
by Kathleen Squires
A serial traveler who often lets a country's cuisine dictate her itineraries, New York City-based writer Kathleen Squires has visited all 7 continents and over 60 countries, with stints living in London, Tokyo, and Buenos Aires. Her work also appears in The Wall Street Journal, Saveur, Cooking Light and National Geographic Traveler.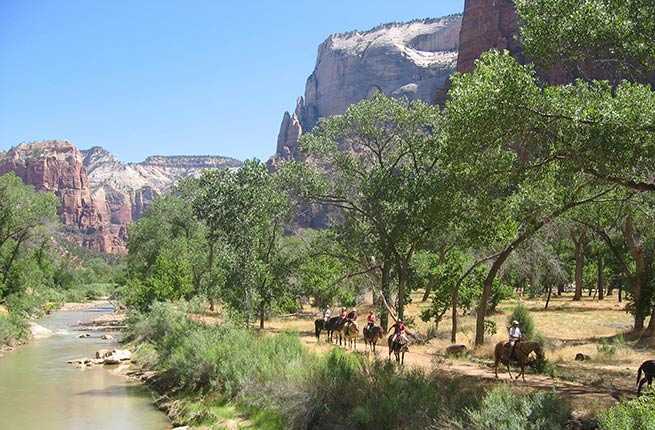 Stephanie Lupoli / Shutterstock
On Horseback
WHERE: Zion, Bryce, and Grand Canyon National Parks
It's the oldest and most authentic form of transport in the West. The cowboys of Canyon Trail Rides in Zion, Bryce, and Grand Canyon National Parks not only know the trails, but a lot about the geology and history of the areas, too. Guests can saddle up on a mule for a ride along the Grand Canyon's North Rim; explore natural wonders via horseback, including famous rock formations such as the Three Patriarchs and the Beehives; and gallop through picturesque cactus gardens.
PLAN YOUR TRIP: Visit Fodor's Grand Canyon Guide
Courtesy of Historic Trails West
By Covered Wagon
WHERE: Mills, Wyoming
Travel on the same path as the pioneers through Yellowstone Park and learn about the Oregon Trail, the California Trail, the Pony Express, and the Native Americans of the West aboard a Prairie Schooner wagon train. On Historic Trails West's overnight expedition, visitors can also sleep in an Indian Lodge, experience a cattle drive, and savor an authentic campfire meal, while surrounded by the majestic mountain peaks of Wyoming.
PLAN YOUR TRIP: Visit Fodor's Wyoming Guide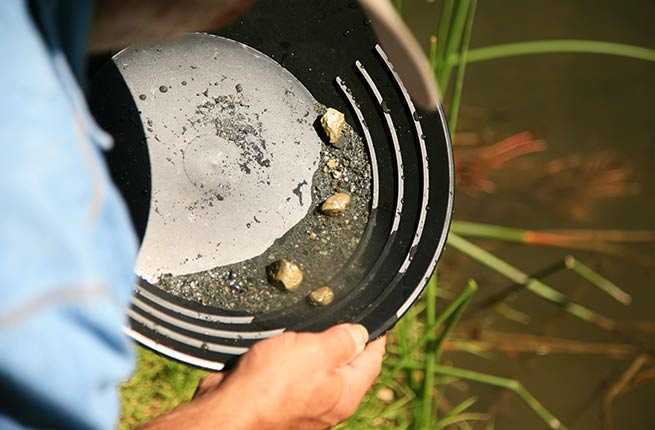 mikeledray / Shutterstock
Panning For Gold
WHERE: Jamestown, California
Be a prospector for a day with California Gold Prospecting Adventures. At the Jimtown Mining Camp, which dates to 1849, guides, dressed in period costume, walk a new generation of gold rushers through the panning experience. Keep the gold that you find and enjoy entertainment, such as reenactments of Old West gunfights, while collecting your loot. (According to the outfitter, guests have walked away with 300 ounces of gold from Jimtown).
PLAN YOUR TRIP: Visit Fodor's California Guide
Rafting down the Salmon River
WHERE: Salmon River, Idaho
Certainly more refreshing than a horseback ride, a four- to six-day journey coasting rapids down the famous Middle Fork of the Salmon River in Idaho offers the best of the wet Western wilderness. During the 100-mile journey, commune with local wildlife, soak in hot springs, marvel at canyons, and, if you float with Middle Fork Wilderness Outfitters, your tents and campsite will be set up upon arrival, with a gourmet meal waiting for you at the end of a long day on the River.
PLAN YOUR TRIP: Visit Fodor's Idaho Guide
Ken Schulze / Shutterstock
Hiking in New Mexico
WHERE: Taos
When ski season is over, there are few better ways to become familiar with the varied, breathtaking terrain of Taos's valley than on foot. There are more than 50 hiking trails tucked away in the mountains, foothills, and canyons ready for all levels of hikers to explore. Climb the peaks, loop through the alpine scenery, frolic among the wildflowers, discover old mining pits, and of course, take countless pictures of the unmatchable landscape.
PLAN YOUR TRIP: Visit Fodor's New Mexico Guide
(c) Benkrut | Dreamstime.com
Museums
WHERE: Cody, Wyoming and Denver
The cultured cowboy might want to take in some art inspired by the West while traveling across the American frontier. The Buffalo Bill Center of the West is a great place to start, with its five on-site museums, including the flagship Buffalo Bill Museum, set in a log cabin modeled after Bill Cody's house; the Whitney Western Art Museum with its fantastic collection; the Cody Firearms Museum, holding one of the most comprehensive collections of weaponry in the world; the Plains Indian Museum, which educates visitors about Native American life; and the Draper Natural History Museum, which focuses on the science and ecology of the area. If traveling through Colorado, a stop at the Western American Art collection at the Denver Art Museum is an absolute must to marvel at historical works such as William Jacob Hays' Herd of Buffalo and Frederic Remington's bronze The Cheyenne.
PLAN YOUR TRIP: Visit Fodor's Wyoming Guide and Fodor's Colorado Guide
Courtesy of Dornan's Moose
Authentic Dining
WHERE: Jackson Hole, Wyoming
Experience the good old grub of the American West at Dornan's Moose Chuckwagon, a Jackson Hole institution since 1948. Here, all-you-can-eat dinners are cooked and served Western style, which means in a Dutch oven over a campfire. Expect dishes such as salmon from local streams and steak from Dornan's own butchery. If you're lucky, there will be a hootenanny on the agenda, which is free and open to the public.
PLAN YOUR TRIP: Visit Fodor's Wyoming Guide
Courtesy of The Grand Canyon Railway
By Rail
WHERE: Williams, Arizona
Originally established in 1901, the Grand Canyon Railway was the way to travel in pre-automotive America. Today, it remains one of the U.S.'s great train journeys. Take in some of the country's most commanding landscapes along the 65 miles to the South Rim. The rail cars have been lovingly restored to their 1920s grandeur, while the depot retains details from its 1910 construction. In addition to the scenic ride, passengers can also enjoy ample time within the Canyon.
PLAN YOUR TRIP: Visit Fodor's Arizona Guide
Xavier Pironet / Shutterstock
Ghost Towns
WHERE: Goldfield, Arizona and Bodie, California
Want to feel like you're on the set of a spaghetti western? A true-blue ghost town, like Goldfield, Arizona along the Apache Trail, is the perfect place. Goldfield features a historic goldmine, a museum, and an antique train, not to mention staged gunfights. A less-kitschy stop can be found in Bodie, California, a State Historic Park that once held a population of 10,000 people. Today, the population is zero, and only small portions of the town's structures remain.
PLAN YOUR TRIP: Visit Fodor's Arizona Guide and Fodor's California Guide
Paul B. Moore / Shutterstock
Native American and Shaman Culture
WHERE: Sedona, Arizona
Get in touch with the spiritual side of the West through the ancient arts of the shaman in Sedona. Crossing Worlds introduces sacred landscapes via tours and ceremonial retreats that celebrate the traditions of the Hopi and Navajo people. Take part in a sunset-starlight circle, experience sound healing, and participate in lucid dream work. Guests leave with insight, wisdom, and the peace of the cherished landscape of the American West embedded within their souls.
PLAN YOUR TRIP: Visit Fodor's Arizona Guide