Courtesy of Jackson Hole Mountain Resort
Fully immerse yourself in winter landscapes by taking advantage of one of the best low-impact, total-body workouts around: cross-country skiing. The sport is as fun as it is challenging, and can take you through the majestic valleys of Utah or the mountainous regions of Washington. With terrain that's horizontal but by no means flat, these freshly groomed trails are waiting for you in the 10 most scenic cross-country skiing destinations.
By Zachary Laks
Courtesy of Aspen Skiing Company
WHERE: Aspen, Colorado
Boasting more than 95 kilometers of cross country ski trails, Aspen Snowmass is one of the largest free groomed cross country ski systems in North America. The trails connect the ski villages of Aspen, Snowmass, and Basalt and provide opportune places for pit stops. A wide array of trails offer terrains that range from beginner levels up to the most advanced, challenging runs. Scale the scenic Mt. Daly for some of the best views as the sun reflects off of its nearly 14,000-foot peak.
Insider Tip: When the sun sets, unwind to the live music and fun atmosphere of the historic Red Onion restaurant. Located in downtown Aspen, the Colorado landmark building has been standing since 1892.
PLAN YOUR TRIP: Visit Fodor's Aspen and the Roaring Fork Valley Travel Guide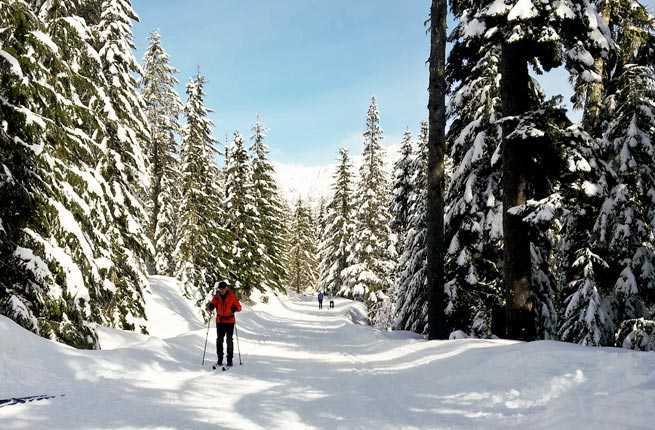 too Trick Pony Productions
WHERE: Snoqualmie Pass, Washington
About an hour outside of Seattle, The Summit at Snoqualmie offers 50 kilometers of groomed cross country trails throughout its varied terrain. Four sections of the mountain range offer challenges and rewarding sights for the physically inclined. A favorite among cross country skiers is the Hidden Valley trail that journeys through the open valley between Mt. Catherine and Mt. Hyak. A new chair lift is currently being installed to add more access to the numerous cross country trails.
Insider Tip: Take a seat in one of the giant inner tubes on site and let gravity do its duty at The Summit at Snoqualmie's tubing hill. This custom built hillside drop adds a thrilling twist to the day.
PLAN YOUR TRIP: Visit Fodor's Washington Cascade Mountains and Valleys Travel Guide
Courtesy of Schweitzer Mountain Resort
WHERE: Sandpoint, Idaho
Nearly every day is a snow day at Schweitzer Mountain as cross country skiers take to the 32 kilometer stretch of fine trails and even finer views. For the beginners, start with Schweitzer's Picnic Point Out and Back trail, a designated 5 kilometer round trip circuit that starts at the village trailhead and continues through the mountainside. Make sure to pack some food as the picnic setting provides the ideal opportunity for lunch before heading back. The panoramic views paired with the challenging yet often accessible terrain make Schweitzer notable for its cross country excellence.
Insider Tip: Release the tension from a long day of physical activity at the Solstice Spa on campus. Opt for the Thai massage (50 minutes, $90; 70 minutes, $110; 120 minutes, $200), which features acupressure, compression, and assisted stretching to soothe energy flow and relax tense muscles.
PLAN YOUR TRIP: Visit Fodor's Idaho Guide
PJ Wirchansky
WHERE: Big Sky, Montana
Yellowstone National Park's picture-perfect, near-constant snowfalls bring skiers to Lone Mountain Ranch's 85 kilometer trail system each winter. Notable for the pristine condition of the trails, southwest Montana's destination ski resort uses state-of-the-art equipment to maintain the bending paths throughout the Rocky Mountains. Opt for one of the guided tours Lone Mountain Ranch offers, where experts seek out animal tracks and make pit stops at stunning vistas.
Insider Tip: The Big Sky Blue Moon Bakery in Big Sky serves up the perfect homemade treats to accompany you on your ski journey. Make sure to pick up the tasty brownies, pecan bars, and peanut butter bars to munch on during your visit.
PLAN YOUR TRIP: Visit Fodor's Helena, Bozeman, and Southwest Montana Travel Guide
Courtesy of Jackson Hole Mountain Resort
Jackson Hole Mountain Resort
WHERE: Jackson Hole, Wyoming
Jackson Hole's vast recreational trails are the perfect destination for cross country skiers seeking the serene majesty of the Grand Teton. Start in Jackson Hole at the Teton Pines Country Club and Resort, where 16 kilometers of well-maintained trails wind through the countryside. The mountainside's Shooting Star Nordic Track also offers a sloping path that spans 15 kilometers and takes adventurers through a host of terrains. Your tour of the trails brings you close to the native moose, deer, coyotes, and bald eagles often seen in the outback.
Insider Tip: Continue to explore the rugged land from a new angle by paragliding. There's no experience necessary to fly in tandem from one of the great mountain cliffs, where you can soar over the snow-dusted tree tops and admire the trails from a bird's eye-view.
PLAN YOUR TRIP: Visit Fodor's Jackson Hole and Northwest Wyoming Travel Guide
ORDA/Dave Schmidt
WHERE: Lake Placid, New York
Home of the 1980 winter Olympics, Lake Placid's Whiteface Mountain offers world class cross country ski trails that extend 50 kilometers throughout the Adirondacks. Explore the beauty of the lake, the towering Mt. Van Hoevenberg, and the dense white pines on the quiet hush of the ski. Known for their biathlon, Whiteface offers visitors the opportunity to experience the adventure of the U.S. team's training course with group and private lessons, as well as equipment rentals.
Insider Tip: Power up for the day's activities with a breakfast at Chair 6, the Lake Placid restaurant that uses local ingredients to serve up American comfort classics such as corned beef hash and their famous southern-style sausage biscuits.
PLAN YOUR TRIP: Visit Fodor's The Adirondacks and Thousand Islands Travel Guide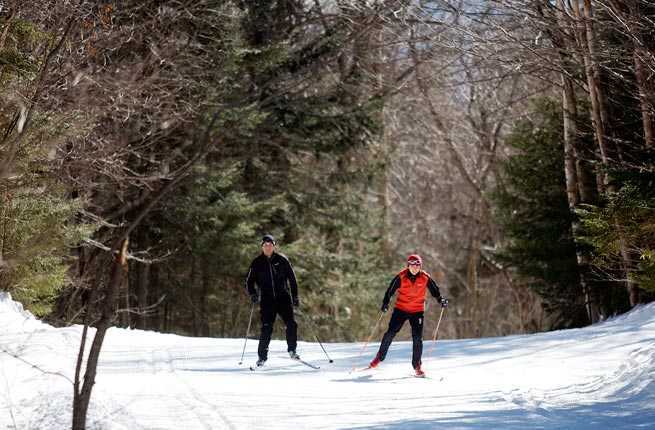 Justin Cash
WHERE: Bolton Valley, Vermont
The awe-inspiring views of Bolton Valley's 5,000 acres alongside Mt. Mansfield make cross country skiing a highlight of Bolton Valley's winter operations. An impressive 100 kilometers of trail, with 15 kilometers groomed, take you through a scenic loop around the freshwater pond. Bolton Valley's Nordic Center is a hub for the area, as skiers corral at the Center for trail maps, guided tours, lessons, and rentals. The area's annual average 300 inches of snowfall paired with the onsite snowmaking system guarantees a white, wintry adventure throughout the entire season.
Insider Tip: After you've worked up an appetite on the trails, head over to the popular Prohibition Pig in Waterbury, where the local beers on tap and duck fat fries rule.
PLAN YOUR TRIP: Visit Fodor's Vermont Travel Guide
Telluride Ski Resort | Brett Schreckengost
WHERE: Telluride, Colorado
Make your way up to the top of Lift 10 for Telluride Ski Resort's TopAten Snowshoe and Nordic Area where 10 kilometers of well-manicured trails await high in the sky. The acclaimed trails take skiers through snow-covered evergreens and rolling meadows and provide spectacular views of Prospect Bowl, Palmyra Peak and the surrounding San Juan Mountains. For the more advanced cross country skiers, winding trails to Alta Lakes on National Forest trails are just off site.
Insider Tip: The Telluride Fire Festival is an exciting annual weekend long festival celebrating the many ways flames are manipulated and transformed into performance art.
PLAN YOUR TRIP: Visit Fodor's Southwest Colorado Travel Guide
Courtesy of Soldier Hollow Cross Country Resort
Soldier Hollow Cross Country Resort
WHERE: Midway, Utah
Soldier Hollow Cross Country Resort in the Wasatch Mountains State Park takes great pride in its manicured cross country trails throughout the scenic Heber Valley. The resort, created for the 2002 Olympics held in Salt Lake City, was the site of the biathlon and cross country skiing events. Featuring the world's largest snowmaking system for cross country skiing, the 31 kilometers of trails range from beginner to Olympic standard. Start the day on the beginner's City Slicker trail before trying the more challenging 4 kilometer Roller Coaster trail, a free-falling, winding, banked-turn course that attracts cross country skiers from around the world.
Insider's Tip: Stop by Tony's Tacos in town for the excellent and affordable tacos, as well as generous plates of classic Mexican dishes. The Super Nachos are a must at this fun local joint.
PLAN YOUR TRIP: Visit Fodor's Utah Travel Guide
TFoxFoto / Shutterstock
WHERE: Bend, Oregon
Winter has a way of lingering longer than usual at Mt. Bachelor, which has one of the longest ski seasons in the Northwest. Serving as a training ground for many professional cross country skiers, including the U.S. Ski Team, Mt. Bachelor's snow, paired with its steady sunshine, make for ideal conditions. The impressive 56 kilometers of trails through the Deschutes National Forest range in difficulty, with some double diamond courses demanding warrior-strength to conquer the 600-foot elevation gains.
Insider Tip: The physical exertion of many of Mt. Bachelor's trails can take its toll on your ski gear. Stop by the Bend Factory Stores for great deals on all the ski necessities.
PLAN YOUR TRIP: Visit Fodor's Central Oregon Travel Guide