Courtesy of Galleria Dallas
There's no better place to celebrate Christmas than by the side of a festively trimmed and glowing evergreen. The tradition of decorating and transforming trees into holiday works of art dates back to sixteenth-century Germany. Since then, advances in design and technology have made way for some remarkable achievements in Christmas tree décor. With trees that tower well over 100 feet, and some that are adorned with miles of lights, take note of the ten most awe-inspiring Christmas trees across the country this year. —Zachary Laks
Courtesy of Tishman Speyer/Photographer Gregory Scaffidi
WHERE: New York, New York
The icon of Christmas in New York City since 1933, Rockefeller Center, in the heart of Midtown, celebrates the holiday season with an enormous evergreen tree that towers over the plaza. Every year, a Norway Spruce standing between 75 and 100 feet is erected and adorned with approximately 45,000 multicolored lights. The famed golden statue of Prometheus sits at the base of the tree, presiding over an ice-skating rink and restaurants. A legendary New York tradition, the annual tree lighting ceremony is watched by millions on national TV.
PLAN YOUR TRIP: Visit Fodor's New York City Travel Guide
Paul Morigi for the National Park Foundation, 2014 National Christmas Tree Lighting
WHERE: Washington, D.C.
A tradition since 1923, D.C.'s Christmas tree is a national emblem of the holiday spirit, as it glows brightly just a few steps south from the White House. The annual ceremony, televised for millions each year, is attended by the President and First Lady, as well as assorted celebrities and musical artists.
PLAN YOUR TRIP: Visit Fodor's Washington, D.C., Travel Guide
Courtesy of Galleria Dallas
WHERE: Dallas, Texas
Towering at 95 feet, The Galleria Dallas's Christmas tree is the country's tallest indoor holiday greenery. Impossible to miss in the center of the shopping mega-mall, this picture-perfect tree is surrounded by an indoor ice-skating rink. With 450,000 LED lights and 10,000 colored ball ornaments, the five floors of shopping provide ideal vantage points to appreciate all aspects of the mammoth tree.
PLAN YOUR TRIP: Visit Fodor's Dallas Travel Guide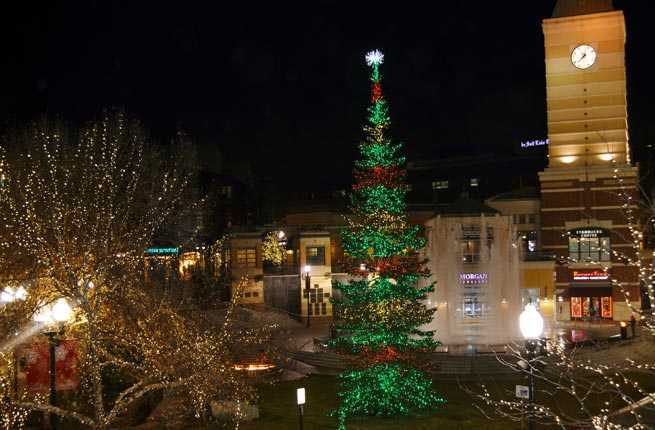 Ashley Torman
WHERE: Salt Lake City, Utah
Standing tall inside the Gateway Mall, this year's Christmas tree is a 62-foot Douglas fir from California. Decorated with 400,000 lights, this tree is the tallest the Gateway Mall has ever featured, and it certainly brightens shoppers' spirits.
PLAN YOUR TRIP: Visit Fodor's Salt Lake City Travel Guide
Courtesy of the City of Chicago
WHERE: Chicago, Illinois
The 103rd Annual Tree Lighting Ceremony, takes place at Millennium Park in Chicago. The 69-foot Norway Spruce was selected out of 120 submissions!
PLAN YOUR TRIP: Visit Fodor's Chicago Travel Guide
William & Jill DiMartino
WHERE: Kansas City, Missouri
The centerpiece of downtown Kansas City is Crown Center Christmas Village, where the Mayor's Christmas Tree stands at an impressive 100 feet tall in 2016. After the holidays, the wood from the tree is used to create commemorative Christmas ornaments, which are sold the following year to benefit local families in need. Crown Center additionally features ice-skating, a Hallmark crafts exhibit, as well as a giant play area for kids.
PLAN YOUR TRIP: Visit Fodor's Kansas City Travel Guide
Scarpetta Photography
WHERE: Boston, Massachusetts
The impressive Christmas tree at Beantown's Faneuil Hall and Quincy Market is a holiday landmark. The tree is part of Boston's treasured Blink! show, a state-of-the-art sound-and-light extravaganza that transforms Faneuil Hall into an illuminated spectacle.
PLAN YOUR TRIP: Visit Fodor's Boston Travel Guide
Courtesy of Outlets at Anthem
WHERE: Anthem, Arizona
Approximately the length of two and a half city blocks, the nation's tallest fresh-cut Christmas tree in 2016 can be found at the Outlets at Anthem, located on the north side of Phoenix. This year's tree was transported nearly 750 miles from northern California on a 75-foot stretch trailer. Three miles of Christmas lights wrap around the tree, which is topped by a copper star, emblematic of Arizona's flag and its rich history with copper mining.
PLAN YOUR TRIP: Visit Fodor's Phoenix Travel Guide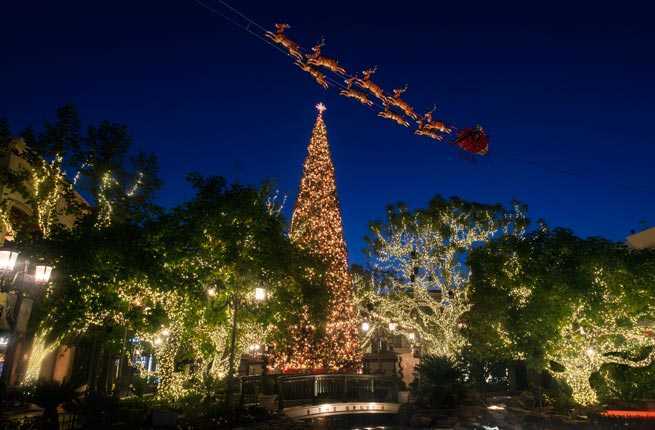 Courtesy of Caruso Affiliated
The Americana at Brand & the Grove at Farmers Market
WHERE: Los Angeles, California
L.A.'s popular outdoor shopping complex The Americana at Brand and sister center the Grove (and Farmers Market), goes all out for Christmas each year, and this season is no exception. The main attraction is the 100-foot-tall White Fir, which is decked out in some 15,000 lights and 10,000 ornaments.
PLAN YOUR TRIP: Visit Fodor's Los Angeles Travel Guide
Courtesy of Pier 39
WHERE: San Francisco
San Francisco's Pier 39, a destination for food, shopping, and fun, decks out its boardwalk with bold holiday panache each year. This year's 60-foot tree towers over the bustling pier, complete with traditional ornaments, bows, and glistening lights. Be sure to take advantage of the special pier promotion, "Half Off for the Holidays," touting special holiday rates at featured merchants.
PLAN YOUR TRIP: Visit Fodor's San Francisco Travel Guide