Four Seasons Resort Bora Bora
Close your eyes and imagine paradise: Perhaps you see a deserted tropical island or even a snowy peak, but what about an overwater bungalow? Elevated over the ocean, these hotel rooms on stilts are most often found in the Maldives and the South Pacific, but they also crop up in unexpected places such as Switzerland, Malaysia, and Cambodia. Some of the world's best overwater bungalows come with huge wraparound decks, private plunge pools, glass-paneled floors, and that all-important ladder leading down to the water, ensuring you never have to move very far to get from your bedroom to the water. Here's our look at 10 of the best in the world.
By Christina Valhouli
Courtesy of Song Saa Private Island
Song Saa Private Island
WHERE: Koh Ouen and Koh Bong, Cambodia
This resort, which opened in 2011, is spread over two islets in Cambodia's Koh Rong archipelago, which are connected by a footbridge. Come here for total privacy, as Song Saa Private Island is the only resort in the archipelago. The bungalows feature indoor and outdoor showers, private pools, and uninterrupted views of the sea. Song Saa also has impressive green credentials: Driftwood and recycled timber from old Cambodian fishing boats were incorporated into the villas' design and furniture.
Insider Tip: Though it may be hard to tear yourself away from your villa, Song Saa offers kayaking through mangroves, hiking through the jungle, beach picnics, and visits to Prek Svay fishing village on the neighboring Koh Rong Island.
PLAN YOUR TRIP: Visit Fodor's Cambodia Guide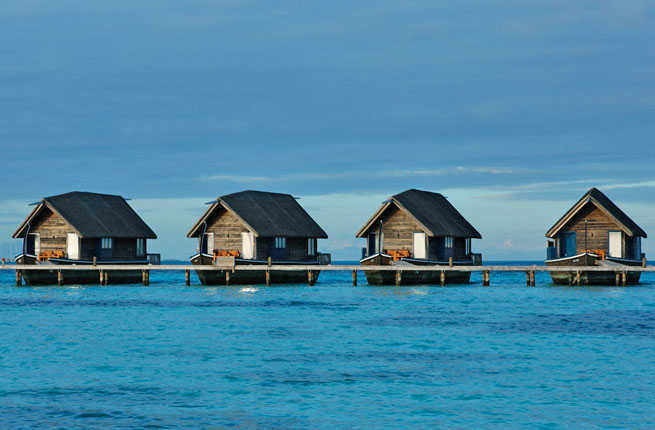 Courtesy of COMO Hotels and Resorts
Cocoa Island by COMO
WHERE: Maldives
Although there are plenty of beautiful overwater resorts in the Maldives, what makes Cocoa Island by COMO stand out is its design. Instead of the traditional thatched roof bungalow, guest rooms are built to look like traditional dhoni boats. All overwater suites have private sundecks with loungers, and guests can enjoy the services of Cocoa Island's butlers, who tackle everything from arranging romantic dinners to giving guided snorkeling tours.
Insider Tip: Cocoa Island's surrounding waters are filled with coral reefs, manta rays, and even a shipwreck. Shark viewing is offered for experienced divers.
PLAN YOUR TRIP: Visit Fodor's Maldives Guide
Courtesy of Cayo Espanto
Cayo Espanto
WHERE: Belize
This four-acre private island resort has only seven villas, and those looking for total privacy can rent the entire island. One Cayo Espanto villa, the Casa Ventanas, is built over the water, located off a 150-foot-long dock, and surrounded on all sides by the Caribbean Sea. Guests can relax on sun loungers at the end of their dock, where a private dinner can also be served.
Insider Tip: Casa Ventanas has a glass-paneled floor, which reveals fish swimming right under your bungalow.
PLAN YOUR TRIP: Visit Fodor's Belize Guide
Courtesy of Moeava de Rosemont, Four Seasons Resort Bora Bora
Four Seasons Resort Bora Bora
WHERE: Bora Bora
Bora Bora is often described as one of the most beautiful spots on earth, but the Four Seasons Bora Bora kicks it up a notch, featuring 100 overwater bungalows perched on stilts above a private lagoon. The largest ones have private plunge pools and ladders leading down to the water. Guests who feel motivated to leave their villas can unwind at the spa, where treatments incorporate local ingredients like vanilla.
Insider Tip: Head to the resort's own private lagoon to snorkel, view coral grafting exhibits, watch octopus feeding sessions, and discuss the Polynesian ecosystem with a marine biologist.
PLAN YOUR TRIP: Visit Fodor's Bora Bora with Maupiti Guide
Courtesy of Rosewood Mayakoba
Rosewood Mayakoba
WHERE: Riviera Maya, Mexico
The Rosewood Mayakoba is spread over 1,600 acres of beach and jungle, connected by a series of lagoons. The hotel is located just south of Cancún, but guests won't find a spring breaker in sight. While all guest rooms have a contemporary design, the Deluxe Overwater Lagoon Suite sits above the resort's lagoon and comes with its own deck, private plunge pool, and outdoor garden shower.
Insider Tip: Guests can sign up for a daily, guided eco-tour of the resort's lagoon, led by the resort's on-site biologist.
PLAN YOUR TRIP: Visit Fodor's Caribbean Coast Guide
Courtesy of Hotel Palafitte
Hotel Palafitte
WHERE: Neuchâtel, Switzerland
Billing itself as Europe's only overwater accommodation, the Hôtel Palafitte's bungalows are built on stilts over Lake Neuchâtel. With an industrial-modernist look, the rooms resemble shipping containers, and some of them have ladders leading down to the lake.
Insider Tip: Don't miss the Musée d'art et d'histoire de Neuchâtel, known as MAHN. Highlights include three frescos by Léo-Paul Robert, and the 18th-century Jaquet-Droz automatons.
PLAN YOUR TRIP: Visit Fodor's Fribourg and Neuchâtel Guide
Courtesy of Pangkor Laut Resort
Pangkor Laut Resort
WHERE: Malaysia
Located off the coast of Malaysia in the Straits of Malacca, Pangkor Laut Resort offers a mix of overwater and garden bungalows. The Sea Villas are built on stilts above the water, which has an unusual green hue thanks to the abundance of surrounding vegetation, and feature large balconies and bathtubs with seaside views. You'll feel like you've escaped to the middle of nowhere, as about 80% of the island is undeveloped jungle.
Insider Tip: Spend an afternoon exploring the surrounding area. Pangkor Laut arranges excursions to a restored Dutch fort and the Fu Lin Kong Temple, a Chinese Taoist temple built into the hillside.
PLAN YOUR TRIP: Visit Fodor's Malaysia Guide
Courtesy of InterContinental Bora Bora
InterContinental Bora Bora Resort and Thalasso Spa
WHERE: Bora Bora
This resort is nestled between Motu Piti Aau, a coral island on a barrier reef, and can only be accessed by boat. All of the InterContinental Bora Bora's overwater villas have a spacious shaded terrace, loungers, and a private pontoon for sunbathing. Even the resort's wedding chapel has a glass-bottomed aisle, where couples can see the fish while saying "I do."
Insider Tip: Visitors don't have to feel guilty cranking up the eco-friendly air-conditioning here: The A/C units churn out cool air by processing cold deep-sea water that's extracted from the Pacific Ocean.
PLAN YOUR TRIP: Visit Fodor's Bora Bora with Maupiti Guide
Courtesy of Ayada Maldives
Ayada Maldives
WHERE: Maldives
One of the newest places to stay in the Maldives is the Ayada. The resort has a streamlined modern design, and bungalows come with private verandas, plunge pools, and overwater hammocks. Unwind with a visit to the AySpa, which features a Turkish hammam, or choose from six different restaurants that offer everything from Japanese to Indian food.
Insider Tip: Sign up for lessons in long-line fishing—if you're lucky, the chef will cook the day's catch.
PLAN YOUR TRIP: Visit Fodor's Maldives Guide
Courtesy of Tobias Zimmer/Misool Eco Resort
Misool Eco Resort
WHERE: Indonesia
The new, private island Misool Eco Resort is difficult to reach but well worth the journey. It's located in Indonesia's Raja Ampat archipelago, nestled among uninhabited islands. The resort has plenty of green credentials, including reclaimed tropical hardwood that was used to build the resort. The overwater cottages have hammocks built into the cabanas and steps leading down to the sea, so guests can snorkel right off their decks.
Insider Tip: Even the resort's dive center is built on stilts. Misool Eco Resort offers three guided dives every day, including underwater excursions at dusk or at night.
PLAN YOUR TRIP: Visit Fodor's Indonesia Guide