Courtesy of Halekulani
America is known as a melting pot of influences, and its hotels are no exception. Across the country, our favorite hotels tend offer unique amenities and showcase a region's best attributes. Guests can enjoy breathtaking views of the Pacific Ocean and California coastline at El Encanto, hike up a volcano at Hawaii's Volcano House, or explore New Orleans' storied history at the Hotel Maison de Ville. While some properties pay homage to a bygone era with period architecture and antique furniture, others offer modern interiors and tricked-out, in-room technology. But every hotel on our list provides a remarkable stay worthy of inclusion in the Fodor's 100 Hotel Awards. For 2013, these are America's best hotels.
By Emily Wasserman
Courtesy of The Brazilian Court Hotel
Pool at The Brazilian Court Hotel
WHERE: Palm Beach, Florida
Take a trip back to the Roaring Twenties at Palm Beach's Brazilian Court Hotel. Guests enter through a white-draped entry, and then take in the lobby's cypress ceilings, all of which add to the historic ambiance. Every room features limestone baths and showers, wine refrigerators, and a personal butler service. Visitors can also enjoy a variety of luxury amenities, including a hair salon and spa, signature gourmet restaurant, and 24-hour in-room dining services.
PLAN YOUR TRIP: Visit the Fodor's Palm Beach Guide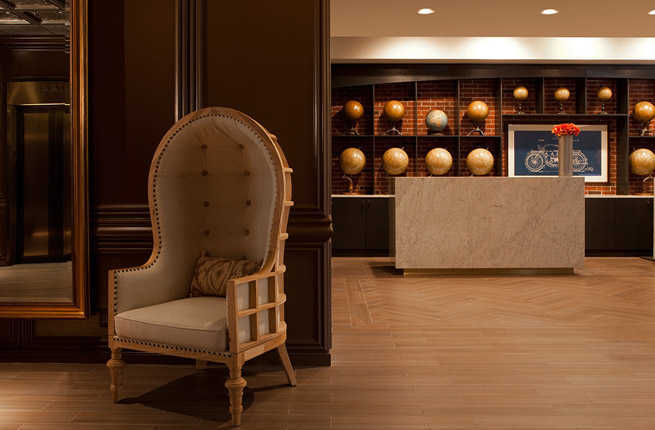 Courtesy of The Commons Hotel
WHERE: Minneapolis, Minnesota
The Commons Hotel is anything but ordinary. Just steps away from the University of Minnesota, the hotel offers a unique visiting experience designed to please your "inner geek." Guests can roast s'mores in the driveway, take part in mixology lessons, or participate in Sudoku "sleep-ins." Guest rooms feature a variety of high-tech gadgets, including iPod docks, LCD TVs, rain showers, and free Wi-Fi.
PLAN YOUR TRIP: Visit the Fodor's Minneapolis Guide
Macduff Everton
WHERE: Santa Barbara, California
El Encanto has withstood the test of time to become one of America's finest hotels. Built in 1915, the complex was designated landmark-preserved and still retains much of its original architecture. The recently refurbished interiors include top-of-the-line furnishings, heated floors, plush beds, and free Wi-Fi. Guests can also enjoy on-site gourmet cuisine inspired by the California coast, and breathtaking ocean views from the hotel terrace.
PLAN YOUR TRIP: Visit the Fodor's Santa Barbara Guide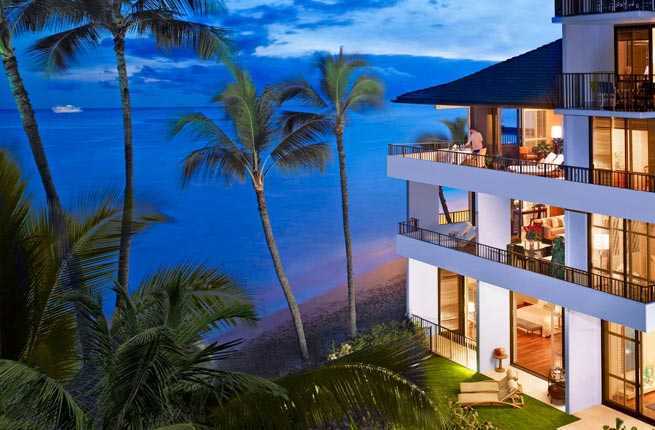 Courtesy of Halekulani
WHERE: Honolulu, Hawaii
Halekulani translates to "house befitting heaven," and the hotel lives up to its name. The secluded beachfront property offers guests the ultimate luxury experience: from private, in-room registration to spacious verandas overlooking the ocean, every detail is designed for comfort. Guests can take a dip in the freshwater, mosaic-tiled pool, or check into the hotel's award-winning spa for a day of pampering.
PLAN YOUR TRIP: Visit the Fodor's Honolulu Guide
Courtesy of Hotel Bel-Air
WHERE: Los Angeles, California
Once a hotspot for golden-era celebrities, Hotel Bel-Air strikes the perfect balance between old Hollywood glamour and contemporary chic. Designers Alexandra Champalimaud and David Rockwell renovated the iconic hillside property, and the sprawling guest rooms now include Bang & Olfusen TVs and iPads that control room settings. Some of the hotel's original features remain intact, including the popular, oval-shaped swimming pool and Swan Lake.
PLAN YOUR TRIP: Visit the Fodor's Los Angeles Guide
Courtesy of Hotel Jerome
WHERE: Aspen, Colorado
Breathtaking mountain views and contemporary-chic décor make Hotel Jerome a favorite among travelers. The hotel, which first opened in 1889, recently underwent a multi-million dollar makeover that combines modern interiors with traditional elegance. Period antiques and cowhide chairs add an authentic touch, and the hotel's Living Room and popular J-Bar offers guests a change to mingle.
PLAN YOUR TRIP: Visit the Fodor's Aspen Guide
Craig Macaluso
WHERE: New Orleans, Louisiana
A secluded oasis in New Orleans' lively French Quarter, Hotel Maison de Ville takes guests back in time. Once the home of a famous apothecary, the hotel's main building dates back to the 1780s, and tapestry-covered walls, and antique fireplaces and furniture add to the historical feel. Rooms are spread out over a courtyard and main house, and guests can also stay in the hotel's two-story carriage house.
PLAN YOUR TRIP: Visit the Fodor's New Orleans Guide
Cris Molina for Kimpton Hotels
Hotel Monaco Philadelphia
WHERE: Philadelphia, Pennsylvania
Located in Philadelphia's historic Lafayette Building, Hotel Monaco combines Old World grandeur with contemporary design. Rooms feature modern amenities like LCD TVs and iHome stations, but also contain classic vintage furniture and décor. The hotel is more than just a feast for the eyes: Guests can enjoy panoramic views from the popular rooftop Stratus bar, or grab a bite to eat at Red Owl Tavern, a gourmet deli and butcher shop that doubles as an upscale-comfort food destination.
PLAN YOUR TRIP: Visit the Fodor's Philadelphia Guide
Hotel Palomar Phoenix | CityScape
WHERE: Phoenix, Arizona
The biggest dilemma you'll face at Hotel Palomar is whether or not to leave your room. Although conveniently located just footsteps away from Phoenix's shopping, dining and nightlife scene, the hotel itself offers enough activities to keep guests entertained for days. Amenities include a cabana-ringed outdoor pool, in-room spa services, a rooftop garden with happy hour and DJ nights, and a "gastro-lounge" that serves 33 specialty drinks.
PLAN YOUR TRIP: Visit the Fodor's Phoenix Guide
Courtesy of Hotel Triton
WHERE: San Francisco, California
For guests looking for an out-of-the-box visiting experience, Hotel Triton fits the bill. The hotel's psychedelic interiors and friendly staff create a playful atmosphere, and an on-call tarot reader reveals guests' fortunes. Small, colorful guest rooms reflect the best of San Francisco's eclectic culture, and celebrity-themed suites offer unexpected perks: guests in the Haagen-Dazs "Sweet Suite" can enjoy a fridge full of ice cream.
PLAN YOUR TRIP: Visit the Fodor's San Francisco Guide
Hyatt Union Square New York
Hyatt Union Square New York
WHERE: New York, New York
Located in one of the city's busiest neighborhoods, Hyatt Union Square offers an authentic New York experience. Guests can borrow bikes and scooters to explore the city, and enjoy high-tech amenities like iPad check-in and flatscreen TVs that link to an online concierge. The hotel is also home to three restaurants: Singl bar; the Latin-influenced Botequum; and The Fourth, an American Bistro whose doors open out to the city.
PLAN YOUR TRIP: Visit the Fodor's New York City Guide
Courtesy of InterContinental Chicago
Room at InterContinental Chicago Magnificent Mile
WHERE: Chicago, Illinois
One of Chicago's most famous streets is also home to one of its grandest hotels. Originally built in 1929 as a luxury men's club, the InterContinental Chicago Magnificent Mile has since undergone extensive renovations, but still retains its original grandeur. Each room in the hotel pays homage to a different historical era, and guests will enjoy the hotel's renowned junior Olympic swimming pool.
PLAN YOUR TRIP: Visit the Fodor's Chicago Guide
Courtesy of The James Royal Palm
WHERE: Miami, Florida
In the heart of South Beach is the James Royal Palm, the city's latest "it" hotel. Laura Rottet of Rottet Studios redesigned the property with modern touches and classic South Beach decor. Rooms include minibars with local Florida products, and the hotel's popular spa, pools, or nearby beach offers guests the opportunity to unwind.
PLAN YOUR TRIP: Visit the Fodor's Miami Guide
Stirling Elmendorf
WHERE: Washington, DC
Named for one of America's most beloved founding fathers, The Jefferson is the epitome of refined elegance. Doormen in top hats escort guests to their room, where they will find luxurious amenities and a variety of period artifacts. Beaux-Arts décor, fine dining restaurants, and high-tech features strike the perfect balance between old and new.
PLAN YOUR TRIP: Visit the Fodor's Washington, DC Guide
Courtesy of Nobu Hotel
WHERE: Las Vegas, Nevada
Nobu Hotel is the ultimate destination for foodies. Named for one of its founders, celebrity chef Nobu Matsuhisa, the hotel features a gourmet restaurant, an exclusive Nobu-crafted room service menu, and a green tea welcome gift. The gourmet perks don't stop there: guest rooms come equipped with custom Natura Bisse products and a Nobu-selected mini-bar with everything from blood orange-chili juice to Pocky chocolate sticks.
PLAN YOUR TRIP: Visit the Fodor's Las Vegas Guide
Courtesy of The St. Regis Hotel, New York
WHERE: New York, New York
Few New York hotels can match the elegance and grandeur of the St. Regis. The hotel is known for its refined décor and outstanding service: personalized butlers attend to guests, and lead the way to lavish suites. Rooms feature silk wall coverings, French antiques, and crystal chandeliers, and bedside consoles control lighting, audio, and climate.
PLAN YOUR TRIP: Visit the Fodor's New York City Guide
Courtesy of Sun Mountain Lodge
Dining Room at Sun Mountain Lodge
WHERE: Winthrop, Washington
Set in the foothills of the North Cascades, Sun Mountain Lodge offers unparalleled views and a spectacular mountain setting. Guests can enjoy a variety of outdoor activities, including horseback riding, skiing, boating, and hiking along the property's 100 miles of trails. The hotel is also known for its upscale dining room, which serves gourmet fare inspired by the Pacific Northwest.
PLAN YOUR TRIP: Visit the Fodor's North Central Washington Guide
Michael Weber
WHERE: Bridgehampton, New York
Foodies rejoice at "Top Chef" judge and chef Tom Colicchio's Topping Rose House. The Bridgehampton inn is home to a renowned restaurant, which features a wrap-around porch, two-fireplace bar, and upscale American menu that highlights local wines and produce. Many ingredients are sourced from the inn's farm and orchard, and the restaurant's inviting atmosphere will make guests feel at home.
PLAN YOUR TRIP: Visit the Fodor's Long Island Guide
Photo by Tony Soluri/Courtesy of 21c Museum Hotels
WHERE: Cincinnati, Ohio
Part boutique hotel, part contemporary art museum, 21c Museum Hotel is known for its attention to detail and cutting-edge décor. Four-foot tall red penguins stand guard on the hotel's roof, and guests can visit the hotel's collection of modern art installations. All rooms are designer-decorated, and bathrooms come equipped with oversized tubs, peppermint soap, and rubber duckies.
PLAN YOUR TRIP: Visit the Fodor's Cincinnati Guide
Courtesy of Union Station Hotel
WHERE: Nashville, Tennessee
Once a bustling 20th-century train hub, Union Station Hotel features stunning architecture and a warm, welcoming atmosphere. The hotel retained many of its original features, including a 65-foot barrel-vault ceiling in the lobby, and luminous stained glass windows and marble floors. Guest rooms come equipped with comfortable bedding and Web-equipped TVs.
PLAN YOUR TRIP: Visit the Fodor's Nashville Guide
R.S. Ortega
WHERE: Monument Valley, Airzona
The View Hotel in Arizona lives up to its name: The hotel offers panoramic views of stunning rock formations, and is the only lodging inside the Monument Valley Navajo Tribal Park. All rooms include private balconies, and most face the iconic Mittens and Totem Pole formations. Colorful Navajo bedspreads and hand-carved furnishings give the hotel an authentic feel.
PLAN YOUR TRIP: Visit the Fodor's Northeast Arizona Guide
Kate Russell Photography
WHERE: Big Island, Hawaii
Also known as Hawaii's oldest hotel, Volcano House recently reopened after extensive renovations. Located in Hawaii Volcanoes National Park, the hotel was designated a UNESCO World Heritage Site and offers spectacular views of Kilauea's Halema'uma'u Crater. Guests can get a taste of authentic Hawaiian culture at the Rim Restaurant, which features fresh, locally sourced cuisine, or browse handmade crafts and jewelry at the hotel's gift shop.
PLAN YOUR TRIP: Visit the Fodor's Big Island Guide
Adrian Gaut
WHERE: Brooklyn, New York
Located on the Brooklyn waterfront, Wythe Hotel was once a 20th-century factory that has since been converted into a 70-room boutique hotel. The property pays homage to its rich history, as guest rooms include exposed brick walls and custom beds made from the building's reclaimed ceiling pine. The hotel also features many local influences, such as custom-made wallpaper, commissioned art and a full-service, locally sourced minibar.
PLAN YOUR TRIP: Visit the Fodor's New York City Guide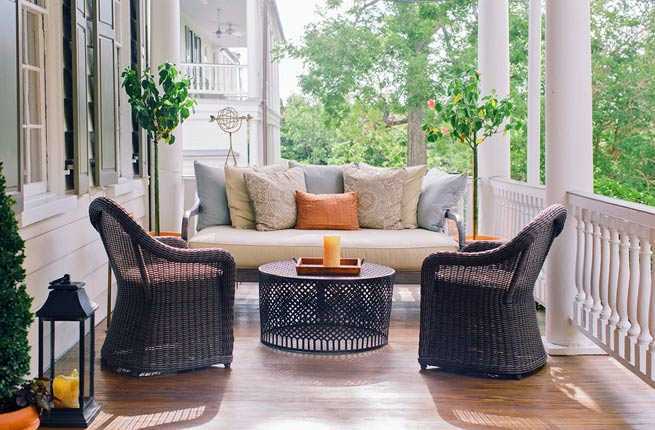 Courtesy of Zero George Street Hotel
WHERE: Charleston, South Carolina
Tucked away in the heart of Charleston's Ansonborough neighborhood is Zero George. The hotel comprises five restored 19th-century residences, and is a short walk away from the city's main attractions. Guests can experience local culture through one of the hotel's packages, which include cooking, sailing, history, art, and architecture classes.
PLAN YOUR TRIP: Visit the Fodor's Charleston Guide