Morgans Hotel Group
Around the country, hotels bars have become increasingly hip destinations that sometimes overshadow the hotels themselves, and the newest properties are no exception. From a rooftop watering hole in the heart of Manhattan, to a 1920s-era San Francisco drinking den, here are 10 of the best new hotel bars around the U.S., where farm-fresh cocktail ingredients and international wine lists are de rigeur.
by Kristine Hansen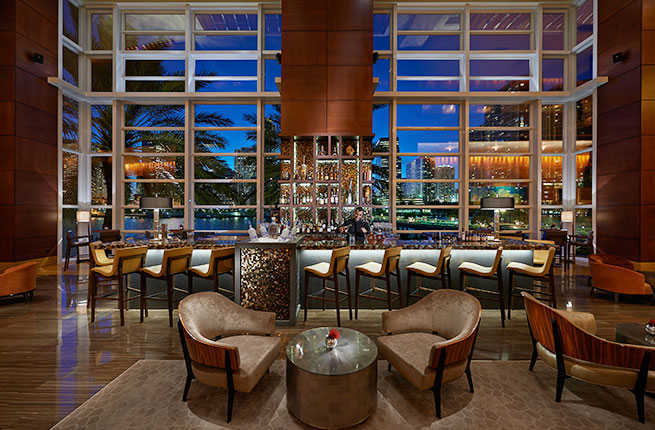 Courtesy of the Mandarin Oriental Hotel Group
MO Bar + Lounge, Mandarin Oriental
WHERE: Miami
When it popped up in late February, in Miami's tony Brickell area, MO Bar + Lounge added a new reason to visit the Mandarin Oriental, Miami. Featuring lots of wood, leather, and polished metal—paired with bay views—the glam bar touts jazz and Latin-music performances nightly.
Drink to Try: Give one of the many housemade ingredients a test-drive with the Lemongrass Gin & Tonic.
PLAN YOUR TRIP: Visit Fodor's Miami Guide
Joie de Vivre Hotels
Jack O'Neill Lounge, The Dream Inn
WHERE: Santa Cruz, California
Still doing pop-ups along the California coast, surf legend Jack O'Neill now has a bar to his name, in a partnership with O'Neill Wetsuits. Tucked into The Dream Inn, the Jack O'Neill Lounge honors Jack in a photographic mural, and naturally, the cocktails adopt a Cali-cool bent with a twist of vintage.
Drink to Try: Cool off with the Santa Cruz Saint—Hendrick's gin, St. Germaine, cucumber and lemon juice topped with Domaine Chandon sparkling wine from Napa.
PLAN YOUR TRIP: Visit Fodor's Santa Cruz Guide
Courtesy of The Cromwell Las Vegas
Bound by Salvatore Calabrese, Cromwell Las Vegas
WHERE: Las Vegas
Forget everything you know about Sin City lobbies because Bound by Salvatore Calabrese, inside the new Cromwell Las Vegas, features a unique sultry setting with a circular bar, plush seats, and curtains. Drinks featuring espresso are served in a frozen Moka pot, plus there is a raspberry-laced "Bunny Bubbles," an homage to centerfold playgirls.
Drink to Try: Nurse a hangover with the Breakfast Martini, a gin cocktail mixed with orange marmalade.
PLAN YOUR TRIP: Visit Fodor's Las Vegas Guide
Morgans Hotel Group
Sonny's Soda Shoppe, Mondrian SoHo
WHERE: New York City
Channeling mid-century soda fountains with a bit of Italian-beach-club flair tossed in, Sonny's Soda Shoppe takes over the roof at Mondrian SoHo. Whether your poison of choice is Rosé wine, Italian cocktails, or a drink made from Laboratorio Gelato (try the spiked affogato and blood-orange gelato float), it's all good, especially when the DJs get to work.
Drink to Try: Frozen limoncello crafted by mixologist Julio Torres.
PLAN YOUR TRIP: Visit Fodor's New York City Guide
The Hotel Zamora
Castile, Hotel Zamora
WHERE: St. Pete Beach, Florida
Inspired by Spain, Castile is the rooftop lounge at the new Hotel Zamora. Soak up 360-degree views of the Gulf of Mexico (including a gorgeous sunset) while sipping cocktails, mining the seafood-centric menu for a catch of the day, or tuning in to your favorite sports team (thanks to flat-screen televisions). Each Saturday and Sunday features a $4 Bloody Mary bar.
Drink to Try: Olives in the Three Olive Martini are stuffed with crab, shrimp, and caviar.
PLAN YOUR TRIP: Visit Fodor's Florida Guide
Johnny Knight Photo
El Tapeo, Le Méridien Chicago-Oakbrook Center
WHERE: Oak Brook, Illinois
One of Chicago's 'burbs heated up with the early-August opening of El Tapeo, a tapas bar inside the brand-new Le Méridien Chicago-Oakbrook Center. The drinks, with accents like cinnamon syrup, black-walnut bitters, and organic-fig preserves, are just as colorful as the small plates, with a chef who cut his chops at The Drake Hotel and Peninsula Hotel Chicago (and St. Regis properties worldwide).
Drink to Try: What else would you drink with Spanish tapas than a glass of sangria?
PLAN YOUR TRIP: Visit Fodor's Chicago Guide
Courtesy of The High Line Hotel
Champagne Charlie's, The High Line Hotel
WHERE: New York City
After strolling the High Line in Chelsea, head to the nearby Champagne Charlie's in The High Line Hotel (a former seminary with English Gothic appeal) and raise a flute. Open since July, high-end Champagnes are poured by the glass and bottle at the courtyard bar and matched with oysters, burgers, and crudos.
Drink to Try: A flute of Ruinart Brut Rosé Champagne, from a house in France dating back to 1729.
PLAN YOUR TRIP: Visit Fodor's New York City Guide
Four Seasons Hotel San Francisco
MKT Restaurant-Bar, Four Seasons Hotel
WHERE: San Francisco
As luxurious as the hotel it's in, MKT Restaurant-Bar hearkens back to 1920s San Francisco. Menus mimic a newspaper from that era and the walls are covered in recycled newsprint. Wash a steak down with cocktails boasting ingredients that are sourced from within 100 miles, like the Meyer lemon in the San Francisco Sazerac.
Drink to Try: Blue Bottle Espresso Martini uses beans from the city's celebrated coffee roaster, Blue Bottle Coffee Company.
PLAN YOUR TRIP: Visit Fodor's San Francisco Guide
Christian Harder
The Magdalenae Room, The Dean Hotel
WHERE: Providence, Rhode Island
What was once a brothel is now the hip Dean Hotel. Neon signs from Rhode Island School of Design alumni hang on the walls and each of the room's mini bars are stocked with regional snacks. The Magdalenae Room mimics a cozy European bar with dim lighting, banquette seating, and timeless furnishings.
Drink to Try: Opt for a classic with one of the speakeasy-style cocktails.
PLAN YOUR TRIP: Visit Fodor's Providence Guide
Al Powers, Powers Imagery
Double Barrel Roadhouse, Monte Carlo Resort & Casino
WHERE: Las Vegas
Just when you think you've figured out Vegas' club scene, along comes the city's first roadhouse-style bar. Within Monte Carlo Resort & Casino, and behind a retractable garage-style door, Double Barrel Roadhouse recalls the South with adorably packaged comfort foods—mini corn dogs or pie in a jar, anyone? Drinks range from beer on tap to Double Barrel's signature spiked iced tea, and just about everything in between.
Drink to Try: Housemade wine coolers come in two flavors: Blackberry or Summer Sangria.
PLAN YOUR TRIP: Visit Fodor's Las Vegas Guide